One of my favorite ways to enjoy cherries in their peak season right now: tossing them in salads. While I used Rainer cherries here, any type will do.
This salad (or a similar variation of this depending on what I have on hand) has been on repeat for the past few weeks. It's easy, delicious, and works as a side salad to any weeknight meal. To make this even easier to just toss together, I'll usually make a batch of my fav white balsamic vinaigrette and candied pistachios (with a hint of chili powder for a kick- don't skimp on these!) for the week.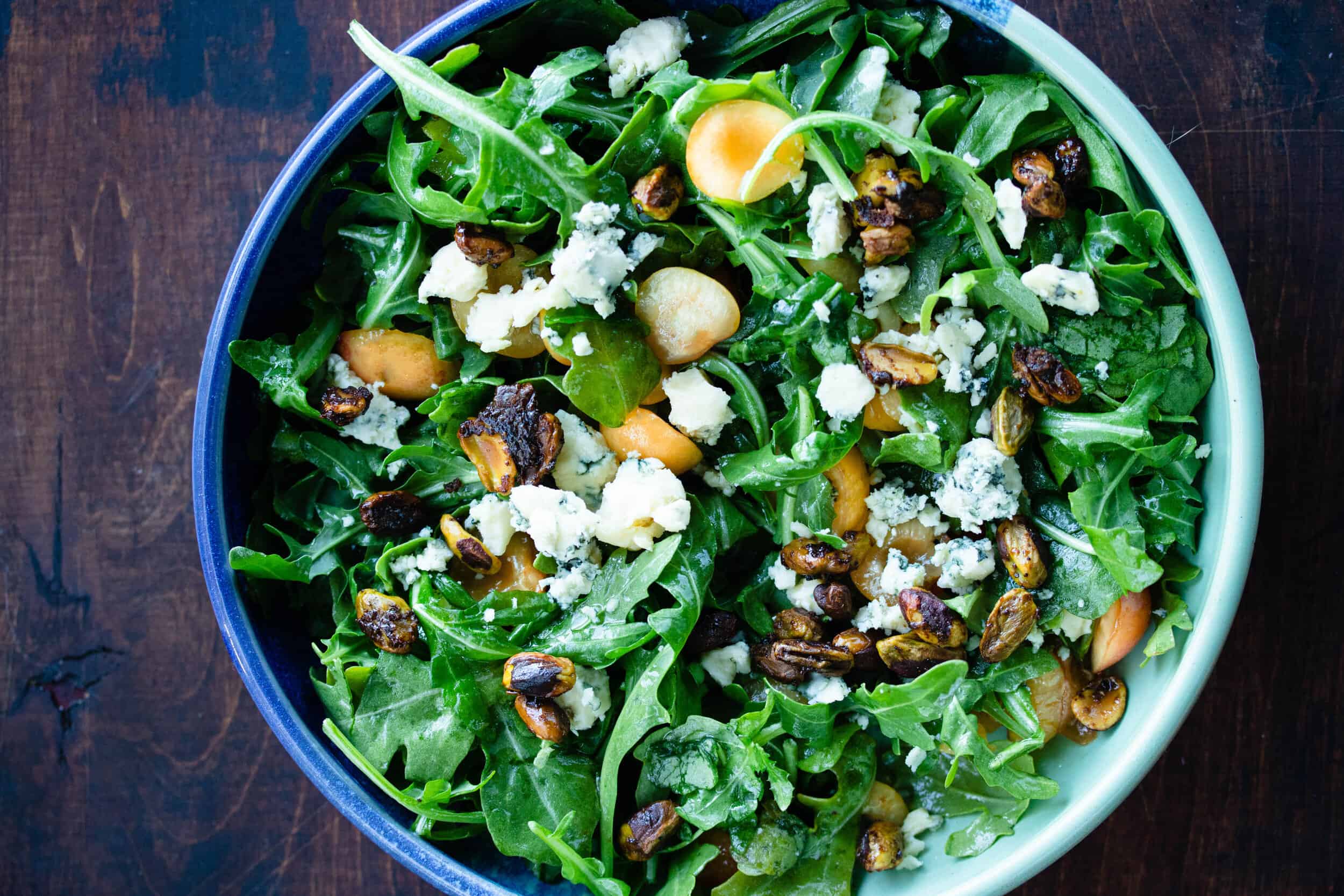 Summer Cherry Pistachio Salad
Time: 10 minutes (20-30 minutes if making dressing and pistachios- do them beforehand for the week!)
Ingredients
Please keep in mind that the amount of each of these ingredients is TOTALLY flexible and up to you. This is just a general idea of what I do, but I'll also add more or less of each ingredient depending on how I feel and how it looks.
3-4

cups

lightly packed arugula

1/2

cup

chopped cherries

(Rainer, Bing, or Sour)

2-3

ounces

blue cheese

crumbled (goat cheese would work great here too)

1/4

cup

candied pistachios

(see recipe here, but use pistachios instead of pu)

White Balsamic Vinaigrette

(see here)
Instructions
In a large bowl, toss arugula in white balsamic vinaigrette.

Add in cherries, blue cheese, and pistachios. Lightly toss and add more vinaigrette if needed. Season with salt and pepper.
Easy Sweet & Spicy Candied Pistachios
Ingredients
1

cup

pistachios

(unsalted)

1-2

tablespoons

coconut oil, butter, or grapeseed oil

1/2

teaspoon

sea salt

1/4

teaspoon

cinnamon

1/4 to 1/2

teaspoon

chili powder

(depends on how much spice you want!)

2

tablespoons

coconut sugar or brown sugar
Instructions
Preheat oven to 375. Place pistachios on a baking sheet (dry, no oil). Place in oven until turning slightly brown and are fragrant, about 7 minutes.

Place a large skillet over low to medium heat. Add in coconut oil and pistachios. Sprinkle in sea salt, cinnamon, and chili powder and stir until the pistachios are thoroughly and evenly coated. Saute for an additional minute and then place in a large bowl or container for them to cool.

Store in an airtight container for up to 2 weeks.