First peach recipe of the season and it's a keeper! I'm super excited about this No-Churn Honey Ice Cream with Jammy Peach Swirl. A creamy base made with honey laced with a peach compote is hard to beat. It's a simple and straightforward process that requires minimal kitchen equipment. More uniquely: it has no refined sugar and only made with honey. Most no-churn ice creams have sweetened condensed milk- which is loaded with sugar. Not here! After trying one recipe that used condensed milk, I've turned away from any other recipe that has it (which is most no-churn ice creams). Condensed milk is just way too sweet for me and there's no way to control the sweetness factor when using it.
Then I found a recipe in Dining In by Alison Roman, calling for homemade whip cream and labne to make an "ice cream." I was blown away. I immediately obsessed over this method and started to adapt it by playing with ratios, steps, and ingredients.
Because of the tanginess from the labne, I'd consider this a mix between an ice cream and frozen yogurt. I'm cautious to call it a frozen yogurt though, because in my mind, a frozen yogurt is lighter and not as creamy, which this definitely is. Whatever term you want to use, it's delicious. And there's no processed sugar in it- only honey.
The reason behind the ingredients in this no churn peach ice cream:
Heavy cream adds a dreamy creaminess to the base, while also keeping it light because it's whipped.
I had never used Labne before, but after looking into it, I saw it was surprisingly similar to other ingredients I consider pantry staples (skyr and kefir). Labne is essentially like kefir in thick yogurt form. I have yet to try this with skyr, but that's my next step. I think will be an easy sub since labne is a bit harder to find in the store. I found this one by Cedar Foods at Whole Foods.
A simple peach compote brings out the natural sweetness and flavor of the peaches. I often will make extra because this is like gold! Use it as a topping for yogurt for a snack or breakfast.
Other ways to use this peach swirl compote:
Sometimes I'll make a double batch of this peach compote because it's so good! You can add it on yogurt, toast, and oatmeal. It stores in the fridge in an airtight container in the fridge.
Can you make this with other fruit? Of course! any stonefruit will do and berries would work too, but you may need to add a bit less water or reduce it more to make sure it has the jammy texture.
Enjoying the cold no-bake desserts? Try out a few of my other favs: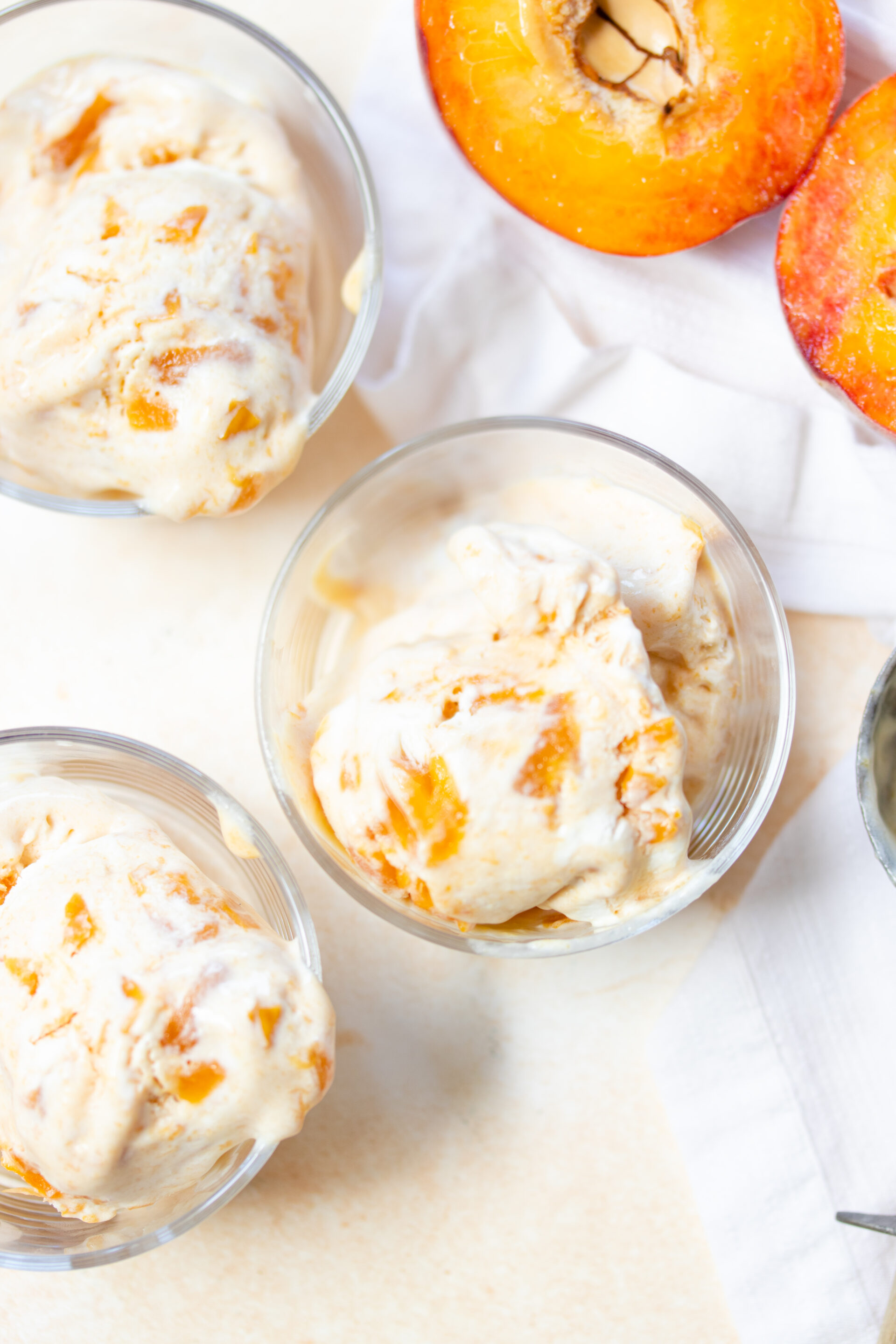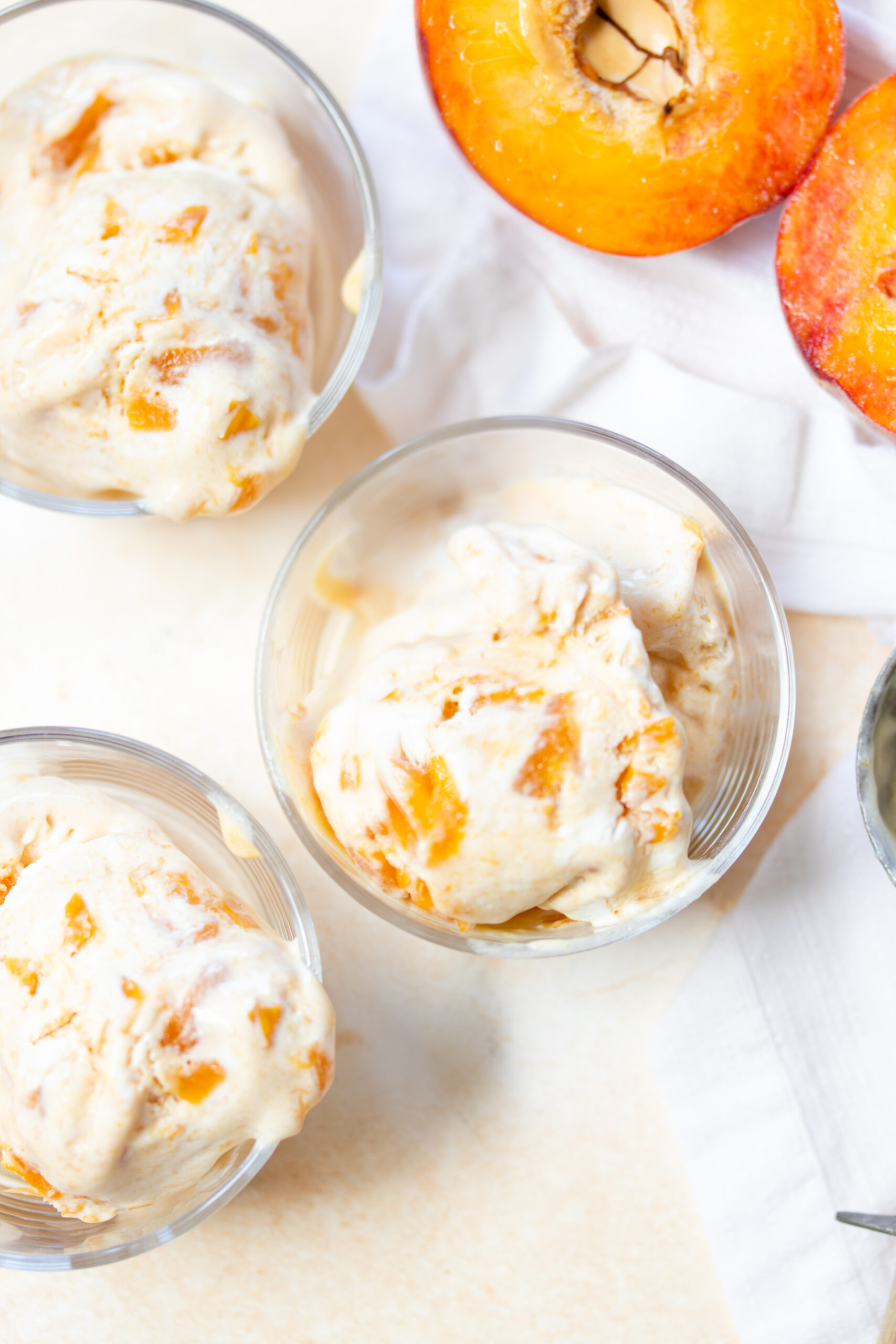 Healthyish No Churn Peach Ice Cream
Jammy Peach Compote:
1

pound

peaches

,

, diced (about – 2 large, 3-4 medium- 10 ounces)

2

tablespoons (42g)

honey

optional: 1

tablespoon (12g)

coconut sugar or light brown sugar

,

adds a bit more sweetness and caramel flavor

1/4

cup (2 ounces)

water
Labneh Ice Cream Base:
1/4

teaspoon

kosher salt

1/4

cup (84g)

honey

1/2

cup (112g)

heavy cream

1

cup (227g)

labne
Jammy Peach Compote:
Add diced peaches, honey, coconut sugar (if using), salt, and water to a small sauce pot. Place over low to medium heat and bring to a boil. Once bubbling rapidly, reduce down to a simmer.

Simmer 20 minutes, until jammy and not watery (check after 15 minutes- depending on both the strength of the burner as well as how ripe/watery the peaches are, this can vary by about 5 minutes, give or take).
Labneh Ice Cream Base:
Pour heavy cream into a medium bowl. Using an electric mixer, whip heavy cream into a whip cream with soft peaks (use whisk attachment on medium speed- this takes anywhere from 2-4 minutes)

Add in labneh, honey, and salt and continue to mix until smooth and creamy.

Add in two tablespoons of the jammy peach compote and mix until evenly distributed.
Assembly:
Spray a loaf with oil and then line with plastic wrap.

Pour in a third of the labneh ice cream base, followed by a third of the jammy peach compote. Repeat in layers until completely full.

Cover with plastic wrap and place in freezer for at least two hours to firm up. You can keep this in the freezer for up to a week as well, it just requires about 10 minutes at room temperature to soften.