While I've never done a whole 30 myself, I like to use the label because it quickly gets across that this is dairy-free, sugar-free, and grain-free. I've essentially made this recipe every other week since May (seriously). Sometimes trials take a long time… why? Well basically I'd make the trial recipe, have 6 popsicles throughout the two weeks, and then repeat.
Luckily, every time it was delicious, so I ate these popsicles as a snack or dessert easily. So why so many trials? Beyond just taste, there are other things I wanted in this recipe (and my recipes in general):
The consistency of the "batter": It needed to be thick and creamy for texture, but not so thick that 1) my blender couldn't handle it and 2) it took forever to pour into the molds.
The amount of "batter". The first time I did this I had about 3x the amount I needed. I wanted the exact amount to make 6 popsicles.
The dipping of the chocolate. It took a bit of practice and time to figure out the best method to dip these bars and get the results I wanted. Omit if you want these to be truly whole 30 or find a whole 30 compliant chocolate.
Some FAQ's/reasoning behind the recipe:
Why soak the cashews? This is a key component to when your goal is to using cashews to make something creamy, like in a sauce or a dessert. Soaking them softens and makes it a lot easier to blend and achieve that luxurious creamy texture, rather than a slightly grainy one. Even with the most powerful blender, soaking is key. You can soak for up to half a day, but at least 2 hours (and honestly more if you can- I try to do 4 hours if possible) will do the trick. Soak in hot water if soaking for a shorter amount of time.
Do you do whole 30? Why are these Whole 30? No, I don't and I never have. It's personally not for me. However, I enjoy my desserts and like having some options that I feel like I can easily have everyday without having sugar overloaded. In fact, with the bananas and nuts, these have a lot of nutrients and filling and healthy protein/fat. The reason I use the term Whole 30 is it quickly gets across that these don't have dairy or refined sugar.
Can I substitute the cashews? Short answer: no. Not without dramatically changing the flavor and texture of these pops. Cashews are one of the most mild tasting nuts out there, making them a perfect neutral base. Something else will add in a strong flavor.
Can I substitute the nut butter? Absolutely. You can use any nut butter you have on hand. Just keep in mind it will affect the flavor.
Can I use a dairy based milk? Absolutely. I didn't because I wanted these to be dairy-less, but milk would do great here.
Why do you have weights in grams for something that isn't baking? I'll say it all day, every day: IT'S EASIER. By using weights, I don't need to use a single measuring cup or spoon. And I get perfect results every time. I put my blender directly on the scale, zero it out each time I add an ingredient, and then just add the ingredient in until the measured weight.
How long do these last in the freezer? I've stored them in the freezer in an airtight container (to prevent freezer burn) for at least a month.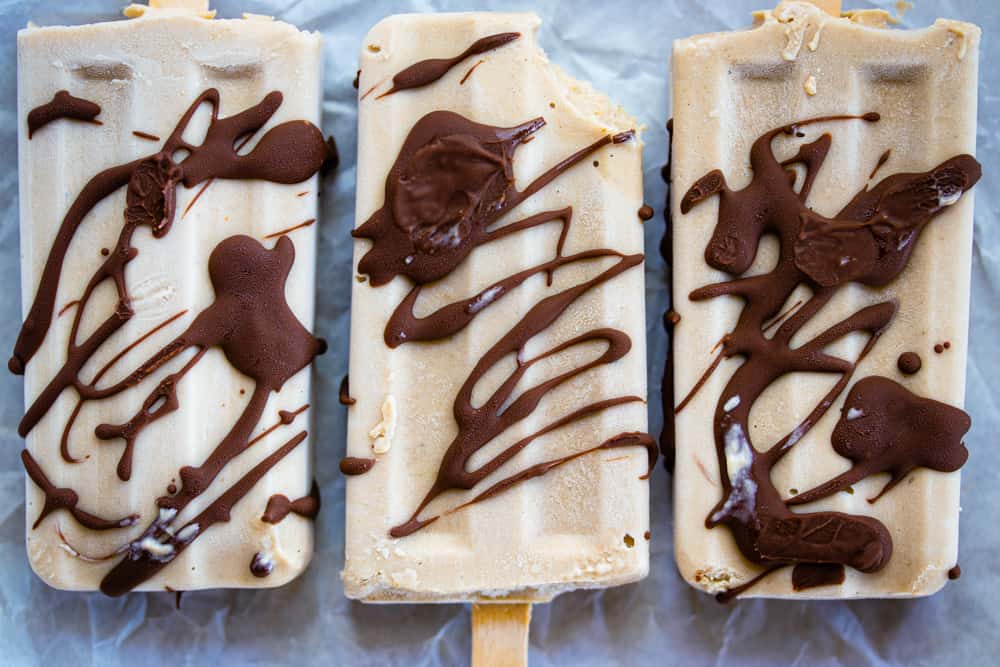 Whole 30 Creamy Peanut Butter Banana Pops
Popsicles:
12 (85g)

Medjool dates

,

, pitted

3/4

cup (85g)

cashews

,

, soaked in warm water for at least two hours (ideally four and can be up to 1/2 day)

2

tablespoons

cashew butter or peanut butter

1

ripe banana

,

(anywhere from 113g-120g)

1

cup

almond milk

,

,240g

2

tablespoons

coconut oil

,

,32g

pinch

sea salt
Chocolate Dip & Toppings:
1

cup

chocolate chips of your choice

2

tablespoons

coconut oil

1/4

cup

toasted almonds and coconut

,

chopped
Drain soaked cashews. Place all ingredients except chocolate dip/toppings in a blender. Blend until smooth and creamy.

Pour into popsicle molds and freeze- it normally takes at least 3 hours to freeze.
Optional Chocolate Coating:
Place chocolate chips and coconut oil in a microwave save or heatproof bowl.

Double Boiler Method: Fill a small saucepot filled 1/2 way with water. Bring water to a simmer and place bowl over saucepot. Stir frequently and continue to heat until chocolate is fully melted.

Microwave Method: Microwave the bowl in 30 second increments. After each 30 seconds, stir and check. Repeat until chocolate is fully melted. If you do longer than 30 seconds, there's a chance the chocolate will burn.

Dip popsicles (after frozen) into chocolate or using a small spatula or fork, drizzle melted chocolate on top of popsicles. Optional: Sprinkle on almonds and coconut (do this quickly so it sticks to the melted chocolate- it won't work once it's hardened). Place on parchment paper. Place back in freeze for about 10 minutes to freeze.