I know peaches are all the rage, but apricots should get equal attention. When ripe, they're just as sweet, tangy, and flavorful. This Upside Down Apricot Snacking Cake takes advantage of its smaller size. You can fit 10 whole apricots in one cake and keep them mostly whole. Not chopping or dicing here. Literally cut them in half and take out the pit.
This cake is like many of my other cakes (like this rhubarb snacking cake!)- sweet, but not overly so. It teeters between a sweet afternoon treat and a light summer dessert. Add some vanilla ice cream or homemade whip cream to make it a sweeter dessert if you'd like.
I was originally inspired by this idea of caramel and apricots in Erin McDowell's recipe for a Caramel Apricot Pie. I'll be honest though- the pie itself was a lot of work and I found the end product to be too sugary for my taste, as well as a bit liquidy. However, the recipe quickly made me fall in love with the combination of apricots and caramel. A light, spongy summer cake that had a caramel-like top seemed like the perfect fit to showcase it.
Behind the Recipe: Upside Down Apricot Snacking Cake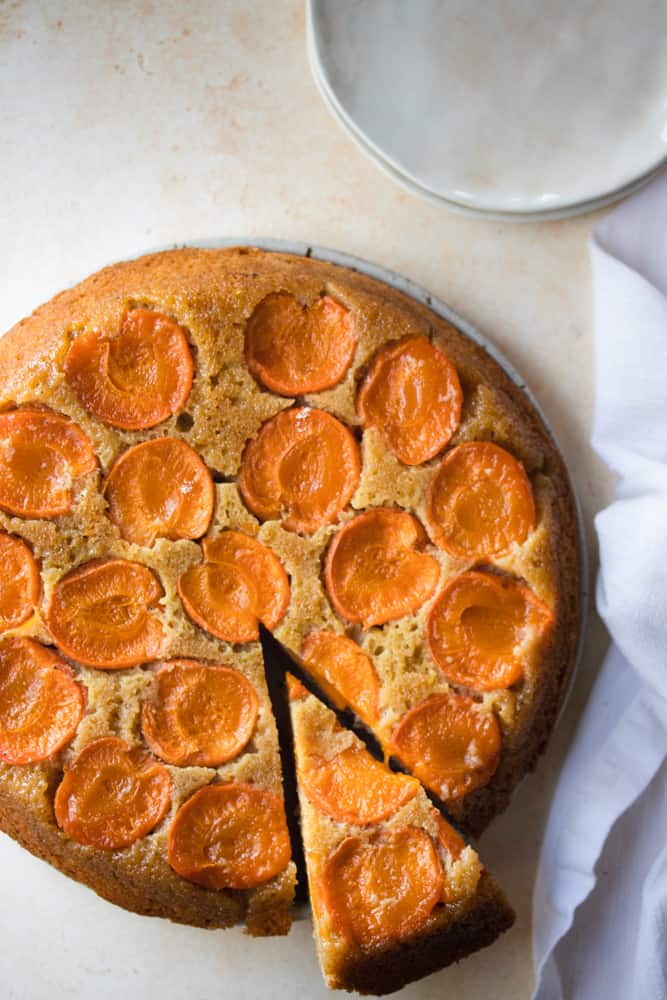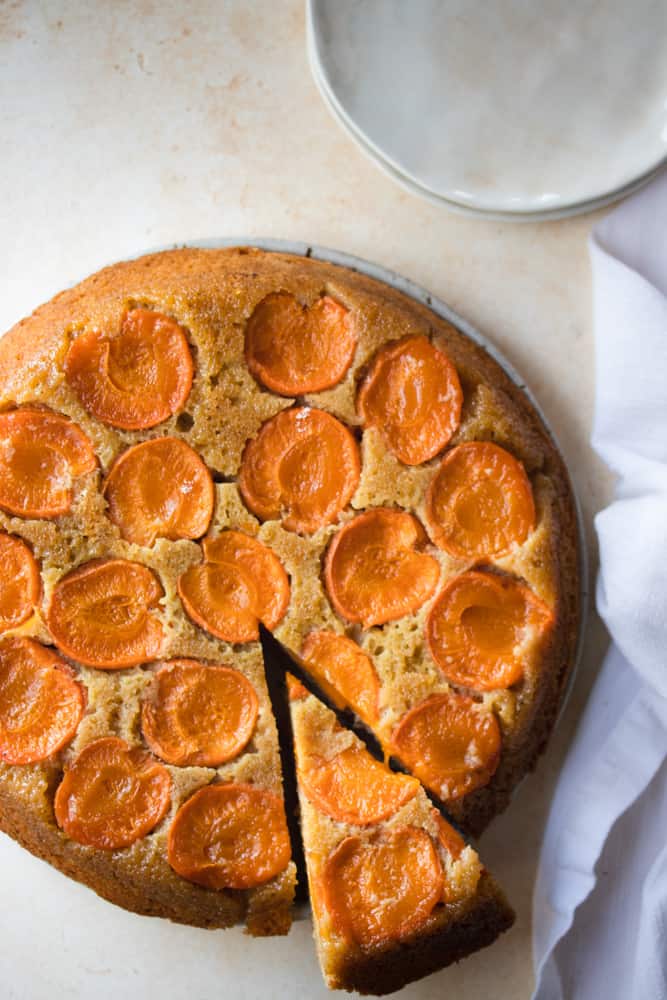 Whole Wheat Pasty Flour: The key to using whole grains in a cake without being tough or too dense. Yes, there is a difference between whole wheat flour and whole wheat pastry flour, and they are not interchangeable. However, if you only have whole wheat flour, use half all-purpose and half whole wheat flour to get a similar result. This will include whole grains while keeping it nice and light and fluffy. You can also just use all-purpose flour if you prefer.
Greek Yogurt/Skyr: It's similar to adding in sourcream or buttermilk, two other dairy products that many cakes often have and traditionally are folded in right at the end. It helps bring a lightness to the entire cake and also will activate the baking powder/soda due to its acidity. This is one of my favorite ingredients to add to my cakes, as you can see in these strawberry lemon cupcakes and brown butter summer berry cake.
Blanched Almond Flour: Almond meal gives it a fluffy and buttery taste and texture. Be sure to use blanched fine almond flour like this one from Bob's Red Mill. If you use a coarse almond flour, it will affect the texture of the cake. I also like to quickly sift my almond flour using a strainer because it can often clump. It takes about a minute to do and will make sure you don't have any clumps.
A combination of light brown and white sugar: White sugar helps keep the cake nice and light, while light brown sugar adds in a caramel undertone.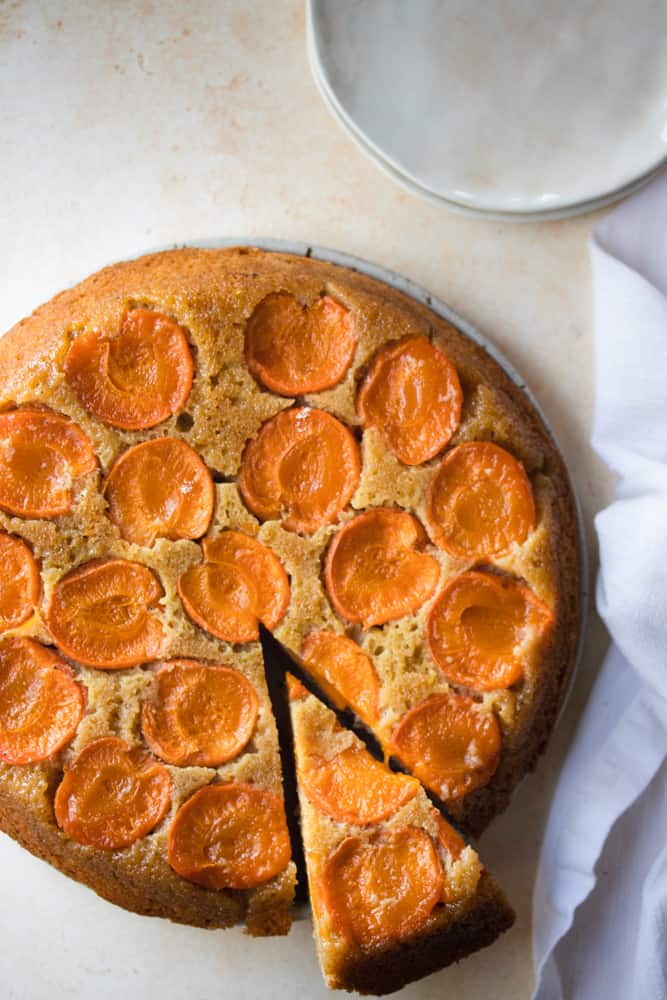 Upside Down Apricot Snacking Cake
10-12

small apricots

,

halved and pitted

1

stick (4 oz)

unsalted butter

,

1 tb goes on bottom with 2 tb honey

1

cup (128g)

whole wheat pastry flour

1

cup (128g)

blanched almond flour

,

, sifted in mesh strainer

2

tablespoons

honey

,

, for bottom (you could also probably use 2 tablespoons white sugar if you prefer, but I have not tested this)

1/4

cup (50g)

light brown sugar

1/4

cup (50g)

white sugar

1

teaspoon

salt

1

teaspoon

baking powder

1/2

teaspoon

cardamom

2

eggs

1

teaspoon

vanilla extract

1/2

cup (120g)

plain greek yogurt or skyr

,

, 1% or higher fat
Add butter to a 8'' cast iron pan (the one you plan to bake and serve in). Heat over low to medium heat until completely melted.

Pour almost all of the butter in a large bowl, leaving one tablespoon or so behind in the pan.

Add honey to pan and place pan back over low medium heat until honey is rapidly bubbling. Let sit bubbling for about 1-2 minutes.

Turn heat off and place halved apricots on the pan. Apricots should be skin side up/cut side down and arranged in a concentric pattern (start with the outside of the pan and then go in). Set pan aside.

In a separate medium bowl, add sifted almond flour and whole wheat pastry flour. Add in baking powder, baking soda, salt, and cardamom. Stir. Set aside.

Add sugar to the large bowl with the melted butter and whisk vigorously. Add in eggs and vanilla until lighter in color. Then fold in flour mixture with a spatula- add in about a third of the mixture, fold, and then repeat until all used.

Fold in yogurt until well incorporated.

Pour batter into 8'' skillet. It will be quite thick, don't worry.

Bake for 25-30 minutes, until it has pulled away from the side of the pan a bit and a toothpick comes out clean. Let cool before using an offset spatula to loosen the cake from the pan, then flip upside down onto a cooling rack.