They're sweet, but not overly so- Matt felt like their sweetness was more like a muffin, but I still wouldn't categorize these as muffins because their texture is much lighter and fluffier (like you'd expect from a cake or cupcake). These recipe is very straight forward and a great weekend bake. The only slightly fussy thing you need to do is sift the flour to ensure that light texture!
You can also make this in a cake- I've even used doubled it to make 2 or 3 layer tiers.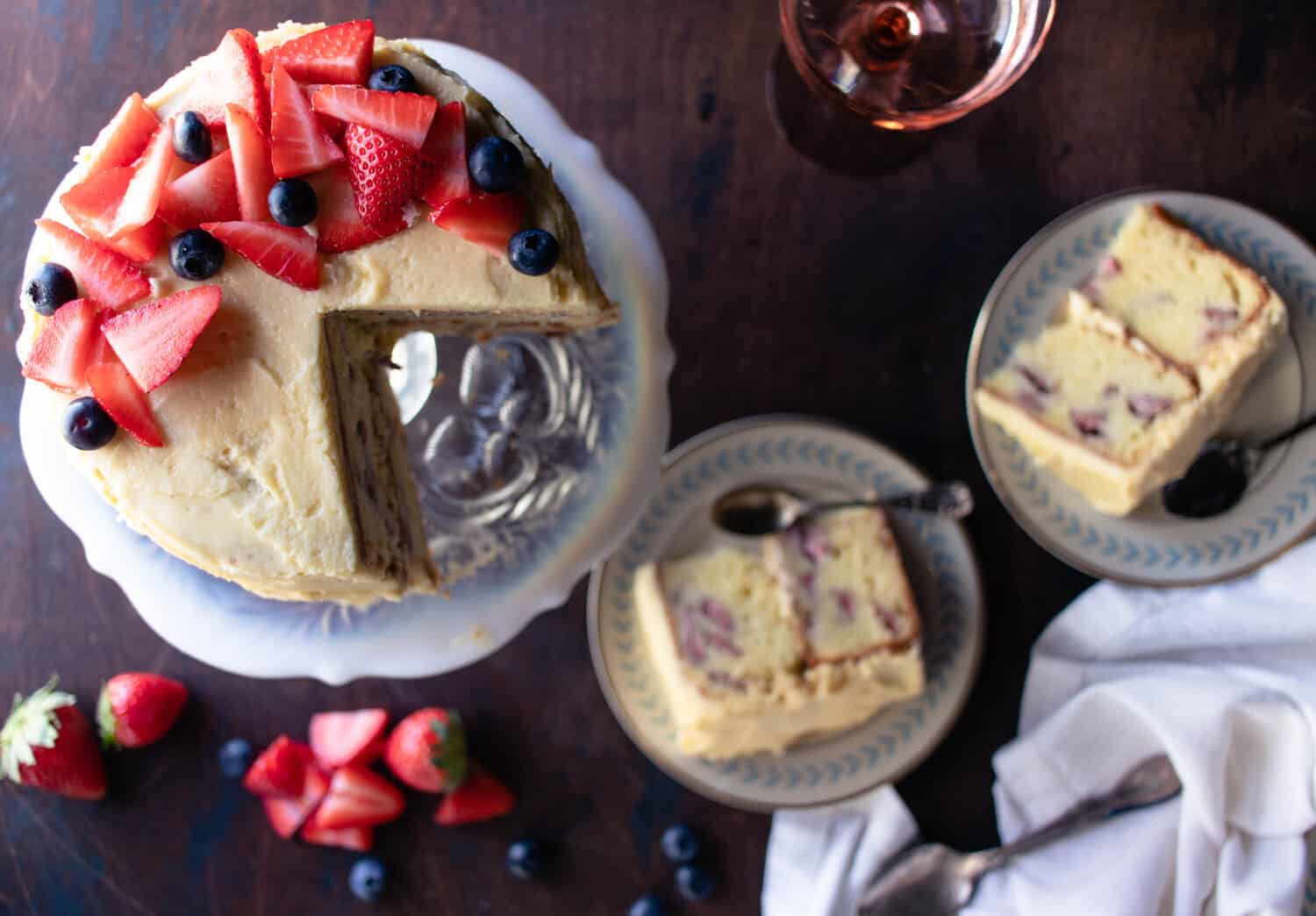 Strawberry Lemon Cupcakes or Cake
Makes 12 cupcakes or one 8'' cake **If you're wanting to make this into a 2-tiered 6'' cake, just message me and i can give you the amounts- it's the same ratio, but different amounts.
Ingredients
1

stick (4 ounces)

butter

at room temp

Zest of 2 or 1 large

lemon(s)

(about 2 teaspoons zest)

1

cup (200g)

sugar

3

eggs

at room temp

3

teaspoon

vanilla extract

1/2

cup (120g)

full fat skyr or greek yogurt

1

cup (120g)

all purpose flour

1/3

cup (40g)

almond flour

1.5

teaspoon

baking powder

1/2

teaspoon

kosher salt

5

ounces

fresh diced strawberries or other berry of your choice
Frosting:
Lemon Swiss Meringue Buttercream (see recipe below) or Citrus French Buttercream! You can use any frosting of your choice here. I like this citrusy french buttercream seen at the very bottom of my macaron post, BUT it's something that you need to reserve some time for. The lemon swiss meringue recipe below is easier/less time consuming, but it will still take some time too (although it's not cloyingly sweet like some icing with powdered sugar, which is why I personally think it's worth it).
Instructions
Preheat oven to 375. Prep cake pans/muffin tins by generously spraying with oil or rubbing with butter.

In a standing mixer with paddle attachment or using a handheld electric mixer, cream butter, sugar, and lemon zest together until light and fluffy, about 5 minutes. Then add eggs in one at time. Lastly add in greek yogurt/skyr and vanilla extract.

In a separate medium bowl, sift flours, baking powder, and salt. Add in gradually to the egg mixture and beat.

Add in strawberries and beat until just mixed.

Bake 22-24 minutes for cupcakes or 25-30 minutes for cake, until a toothpick comes out clean. Let rest on baking rack until completely cool before removing from pan.
Lemon Swiss Meringue Buttercream (from my Pumpkin Buttercream)
Ingredients
50

g

egg whites

105

g

(1/2 cup) white sugar

2

sticks

(226g; 8 ounces) unsalted butter

softened at room temperature

1

teaspoon

vanilla extract

zest of 1 lemon

pinch of salt (1/4 teaspoon kosher salt)
Instructions
Make a double boiler (a small saucepot filled with 1/3 of water, heated to a simmer with a small heatproof bowl resting on top- it should not be touching the water).

Add in egg whites and sugar into bowl and heat until sugar is completely dissolved and not grainy. The mixture should be quite warm (160F, but you don't have to use a thermometer here)

Pour egg white/sugar mixture into bowl of standing mixer. Using whisk attachment, mix on high speed (speed 8) until a meringue with soft peaks (looks like marshmellow fluff) has formed and the outside of the bowl is room temperature to touch (about 70F), about 5-10 minutes. If it's too hot, the butter will melt when you add!

Add in softened butter, a bit at a time, with mixer running at low to medium speed. Mix until smooth and incorporated.

Add in lemon zest, a pinch of salt, and vanilla. Mix until smooth. Use immediately or store in fridge but bring to room temp when using.