The bounty of tomatoes and eggplant has me almost overwhelmed- but in the best way. This Late Summer Tomato & Eggplant Linguine is one of the handful of recipes I'm squeezing in this season. Yes, it's quite late in the summer (okay it's technically fall now), but there's still copious amounts of eggplant and tomatoes at the market. And I just HAD to buy them! At first, I looked at the pile I got (all for myself, I might add) thinking I went overboard. But thanks to this easy, minimal, and delicious recipe, I quickly used up ~2 pounds of eggplant within days.
According to the farmer here in Cambridge, we have about two more weeks left of eggplant, primarily due to the unusually warmer weather right now. I plan to take full advantage. Eggplant in season and locally sourced at the market is like an entirely different breed than the gigantic Italian eggplant you see at the grocery store. So much more tender, thinner skin, and I prefer the smaller size as well. I used fairytale eggplant in this recipe. These are like baby Italian eggplants- still round at the bottom and somewhat plump, but about the size of your hand. My other favorites are Chinese and Japanese eggplants- learn more about these varieties and what to do with them here.
This recipe is purposefully simple and includes ingredients I pretty much always have on hand. It's a little unique in its quantities for each ingredient though. So let me explain…
Behind the Recipe: Late Summer Tomato & Eggplant Linguine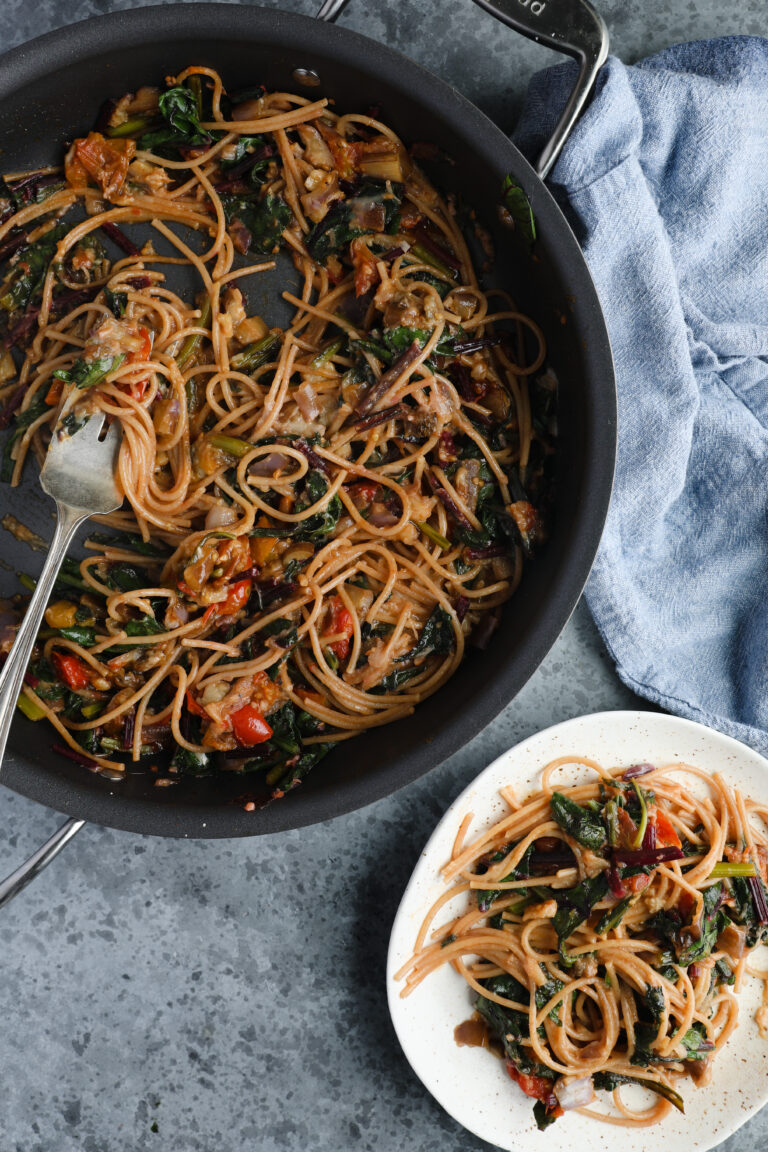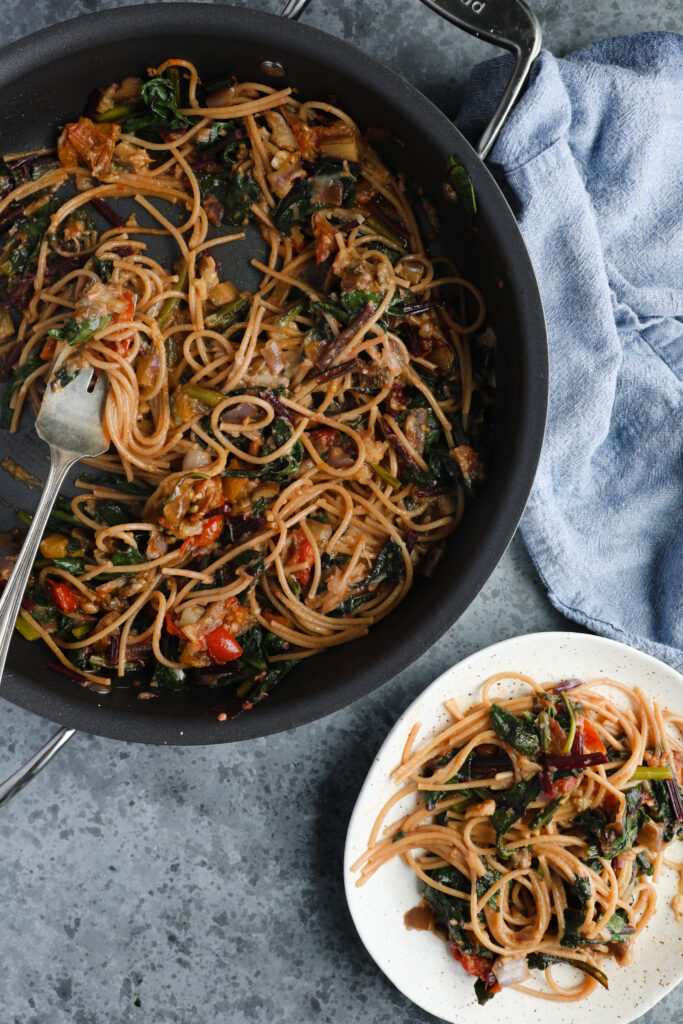 Olive Oil: Yes, there's a good amount of olive oil here- more than I typically do. But because the "sauce" is pretty much just olive oil cooked in vegetables, it's key to have this amount. I really wanted to create a pasta dish that didn't require me to open a bottle of wine, tomato paste, or any of my other go-to's when creating a pasta sauce. It's all about the vegetables. So this amount really is needed to keep things luxurious, tender, and almost silky. If you skimp on the amount of oil, both the vegetables and pasta will turn out dry.
Garlic: Yes, 6 cloves is a lot (and yes if you're like my mom and really aren't into garlic, you can reduce it… but I would do at least 2-3). More than I normally do. But similarly to my reasoning for a lot of olive oil, this much garlic is key to a flavorful dish at the end because there are so few ingredients in total. And because it simmers in copious amounts of olive oil for about 30 minutes, it's mellowed out a bit (unlike garlic in stir fries. I wouldn't do more than 2 cloves because it tastes more pungent since it doesn't have that much time to cook). Here, it has a lot of time. This helps reduce its strong taste.
Parmesan: The amount of parmesan in this recipe is actually quite low- it's not meant to be the dominant flavor here. Of course, add more as you please, but I like that it's a subtle addition of salty flavor right at the end.
Whole Wheat Linguine: I've tried a few and while I've never had a particularly bad experience with a whole wheat variety (can't say the same for gluten-free or chickpea-based ones!), I've really grown to like the Whole Foods 365 Brand spaghetti and De Cecco 7 grain high protein spaghetti.
Taking Advantage of Late Summer Produce
This recipe embraces using local, seasoning food to a tee. It's just as much a vegetable dish as it is a pasta one.
Eggplant: If you can find fairytale eggplant (see above for picture), this is an amazing way to use them! These little guys are not only cute, but also very tender. They just meld into the olive oil. If you can only find larger eggplant, no worries. They key is to dice the eggplant into small cubes so they really cook down when sauteeing them. They should be caramelized and brown and almost velvety in texture by the end.
Greens: I've been getting all the beets recently and looking for ways to creatively use my beet greens. They have a perfect consistency- slightly more body and texture than spinach but less tough than kale- for here. I highly recommend using this recipe as a way to try them out! If you're feeling less adventurous or don't like beets, spinach works great here too.
Tomatoes: It's hard for me to not just eat baby heirloom tomatoes like their candy, but I've learned to always just get a second pint for snacking. They intensify and deepen in flavor thanks to the heat and olive oil. Because of the amount of olive oil, it's almost like a confit. While I haven't tried it, I'm sure you could also sub in one or two medium tomatoes here, although I would salt them first so they don't release too much moisture. From my experience, the larger tomatoes often hold more water, which we don't too much of here.
Similar Recipes
If you like this substantial and filling vegetarian recipe that really can be a whole meal on its own, you might also like these..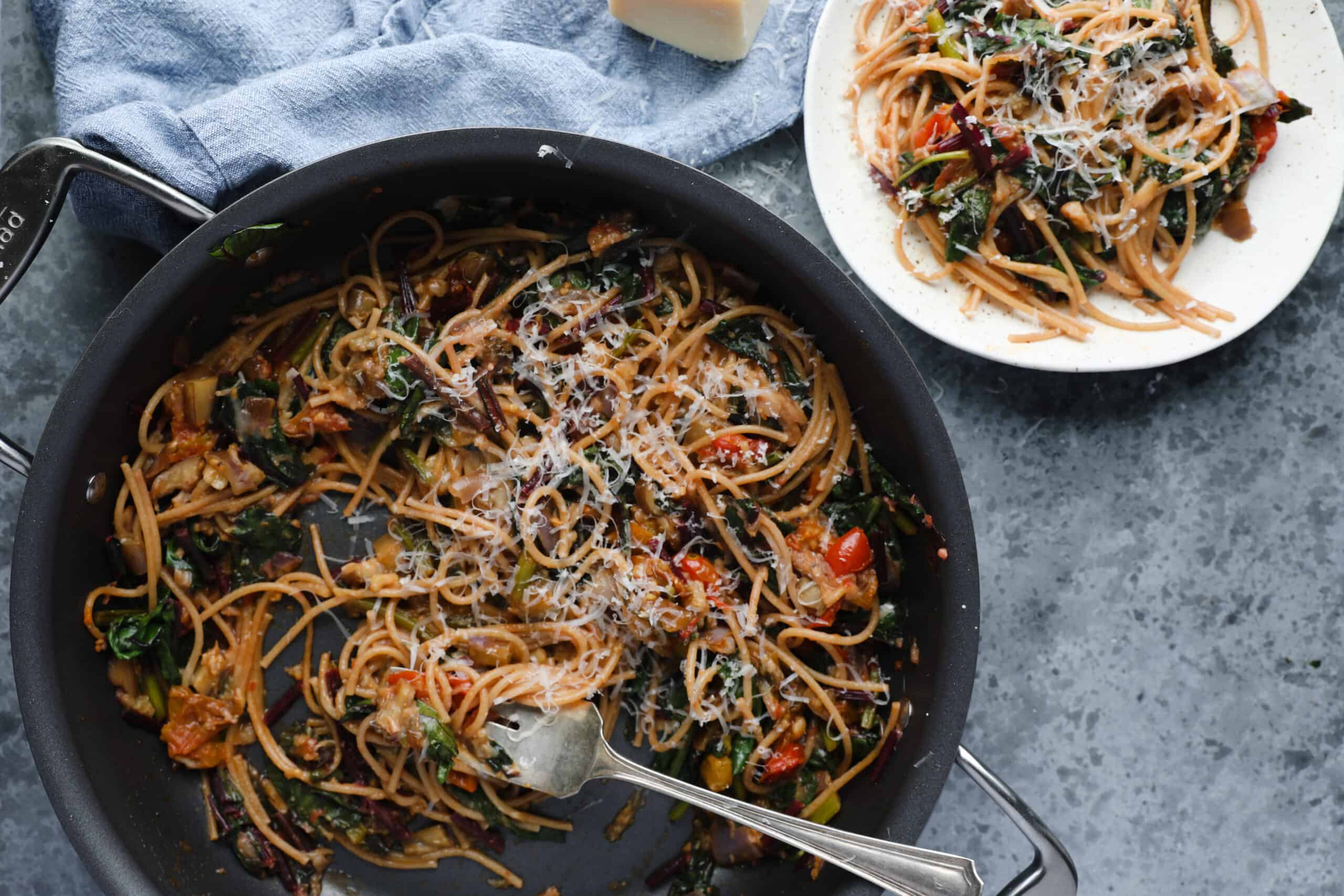 Late Summer Tomato & Eggplant Linguine
This makes 2 large servings for dinner, assuming you aren't cooking anything else to go with this vegetarian meal!
1/4

cup (1.6 oz)

extra virgin olive oil

3-4

small (12 oz total)

fairytale eggplant

,

, diced (if you can't find these, you can use other eggplant- I prefer to find those that are on the smaller side)

8

oz

baby heirloom tomatoes

,

, halved

6

garlic cloves

,

, crushed

~1.5

teaspoons

diamond kosher salt (if using any other salt, use half the amount)

1

bunch (8 oz)

greens

,

, cut into thin ribbons (I used beet greens, but you can also use spinach or baby kale)

4-6

oz

whole wheat linguine

,

(add more or less as you want- 4 oz won't be a ton of pasta, 6 oz is a more "traditional" amount)

optional: 1

tablespoon

unsalted butter

1-2

ounces

freshly grated parmesan or Whole Foods Italian Blend shredded cheese

,

(add more or less as you like!)
Heat a large skillet over low heat. Add in olive oil, diced eggplant, halved tomatoes, and garlic. Saute over low to medium heat, stirring ocassionally, for a total of 20-30 minutes (while you cook the pasta). Season with salt. There should always be a decent amount of oil here (add more if you notice any sticking) and the goal is to lightly brown the eggplant and have everything become quite tender.

Cook pasta according to package directions- lean toward the al dente side (usually about 9 minutes if using whole wheat linguine). Make sure your pasta water is generously salted and reserve about 1/2 cup pasta cooking liquid halfway through its cooking time.

With about 5-6 minutes left on your pasta cooking time, push the eggplant/tomato mixture to one side of the pan. Add in the greens (normally my greens have just a bit of water on them because I just washed them- this actually works well because it helps them steam and reduce in size quickly). Add in a touch more oil if anything is sticking or it looks like there isn't much oil in the pan.

Let greens completely wilt (usually about 3 minutes) and then stir in with tomatoes and eggplant mixture.

Using tongs (I do this directly from the cooking pot), add pasta to the pan with the eggplant and tomato. Add in about 1/4 cup pasta cooking water, or more if the mixture quickly absorbs it and looks like it could use more. Season as needed. Stir in parmesan and butter, if using, right before serving.