Normally my September posts are filled with denial that summer is almost over. I hang onto every last thread and can't bear shifting to pumpkins and apples until every last tomato and eggplant is gone. It wasn't until I looked around at the farmers market last week that I made a realization. There's something seriously special about the bounty of September. Instead of sadly looking at it as an indicator that summer's over, I needed to see September as a time when you get the best of both world. Both summer and fall produce are "in season" in some weird way. In the next few weeks, I'll be posting recipes (mostly salads like this Blistered Corn & Delicata Squash Salad) that take advantage of both summer and fall. It's a unique time to combine vegetables and fruits that often aren't paired together, but work. First up: a salad that takes advantage of the last few ears of corn and gets me excited for all the winter squash!
Behind the Recipe: Blistered Corn & Delicata Squash Salad
Blistered Corn: Normally summer produce is on its last legs during this time, so it may need a bit of love or a different technique to still let it shine. Here, I broiled corn to give it a flavor boost and some char. P.S. If you like this technique, you probably will also like this Summer Kale Caesar Salad with Corn & Tomato.
Charred Green Bean: When broiling the corn, I add some green beans into the mix because why not? It adds another flavor, more nutrition, and the broiler's already on. I'll keep them in for the same amount of time as the corn.
Roasted Delicata Squash: The delicata squash takes a bit more time (about 30 minutes to roast). I roast a bigger batch ahead of time and enjoy over the next few days. Delicata squash is one of my favorite varieties because it's a bit more delicate. In particular, the skin is very thin and edible, so you don't have to peel it.
Kale: You can use any green that's calling your name, but I've been on a kale kick recently. The key is julienning it very finely so it isn't too tough.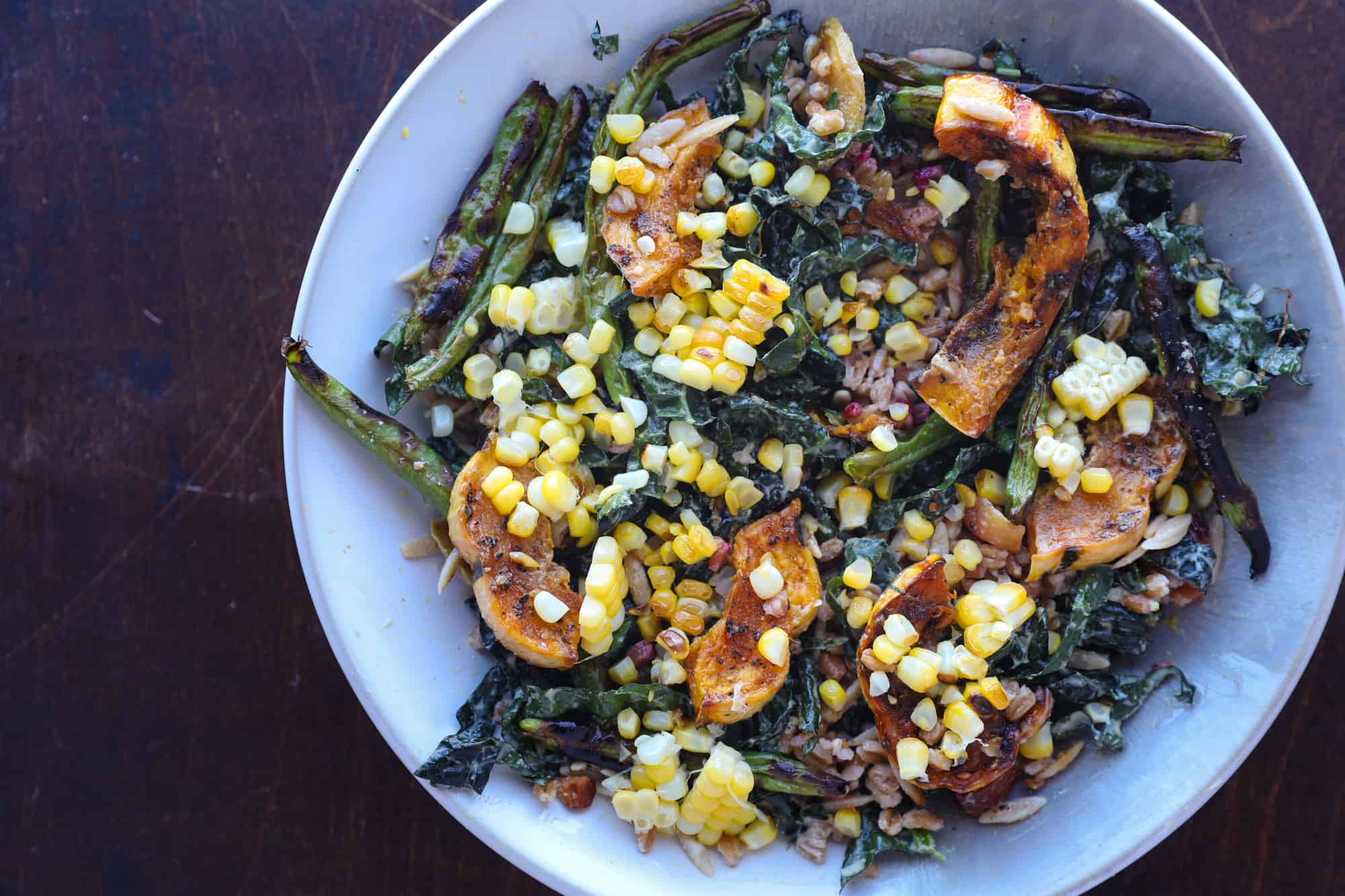 Blistered Corn & Delicata Squash Salad
Roasted Delicata Squash
(this can be done ahead of time and will make more than you need for this one salad)

1

delicata squash

,

, cut in half lenghtwise, seeds removed, and then cut into 1/4'' thick slices

1-2

tablespoons

extra virgin olive oil

3/4

teaspoon

diamond kosher salt (if using any other salt, use half the amount)

1/2

teaspoon

paprika

small

pinch

cinnamon
Remaining Salad Ingredients
1

ear

corn

,

, husked and cleaned

1

cup

green beans

,

, trimmed and cut in half

1

tablespoon

extra virgin olive oil

1/2

teaspoon

diamond kosher salt (if using any other salt, use half the amount)

4-5

leaves of

Lacinato kale

,

(about 1.5 ounces), tough stems removed and then cut into very thin ribbons

dressing of choice (see below for the creamy lime dressing I used)
Roast the Squash: (can be done ahead of time; up to a few days in advance)
Toss sliced delicata squash in olive oil, salt, paprika, and cinnamon. Spread onto a parchment lined baking sheet and place baking sheet near the bottom rack in the oven. Bake until golden brown, about 35 minutes total. Halfway through (around 20 minutes), check and flip the squash.
Make the Remaining Salad
Preheat broiler. Place green beans and corn on a foiled lined baking sheet. Drizzle with olive oil and salt. Toss green beans to evenly distribute oil. Place baking sheet about 6'' from top of the oven and broil until lightly charred, about 7-10 minutes. Halfway through, check and move around the pan to lightly toss the green beans (and rotate the corn). Once lightly charred, remove and set aside to cool slightly.

Once corn is cool enough to handle, use a knife to remove kernels from cob.

Place kale in a large bowl. Add in 3/4 of the dressing and massage dressing into kale to make it less tough (about 30s). Add in green beans, squash (I use about a third of what I get from a whole squash), and corn. Drizzle on remaining dressing and serve.