As far as fall veggies go, it's taken me some time to actually enjoy beets. I've always loved their rich colors (especially when you combine both golden and red), but I wasn't the biggest fan of their flavor, especially if cold. If you're like me and a bit wary of beets, this Beet, Farro & Cotija Kale Salad is a great entry point into the beet world.
Here's why: it's all about how you cook them. Slowly, as I got more and more beets in our CSA box, I started exploring different methods to prepare them. What I've learned: I don't love steamed or boiled beets (which seems to be how they are often served). Both the texture and sweet flavor left something to be desired. The solution: steam-roasting. This method keeps the beets' gorgeous color while also caramelizing the sugars into a richer and deeper flavor.
Along with the beets, earthy flavors from farro, kale, and almonds dominate this autumn salad. It's full of earthy, nutty tones and chewy textures. Cotija comes out of left field and gives a salty, creamy contrast that pops. A fall-fitting apple cider vinaigrette tops this salad off with just a bit of sweetness.
Make it Easy: "Salad Prep"
This salad is a prime example of making some components ahead of time so you can whip up a salad in minutes. Components like the farro, toasted almonds, and vinaigrette can be made up to 5 days in advance. Generally, I like to prepare them on the weekends so they are ready for quick weekday lunches. The beets I prefer on a slighter more narrow timeframe and generally cook up to 2-3 days in advance.
While you could just make large batches and have this same salad over a few days, I highly encourage you to mix it up. All 3 components (farro, almonds, vinaigrette) can be used with a variety of veggies and proteins. See below for options/recommendations on ways to customize this.
Behind the Recipe: Beet, Farro & Cotija Kale Salad
Beets: Whether you're looking to add variety or simply aren't convinced by beets, some other earthy vegetables work great here. These includes carrots, winter squash (delicata and kabocha are my favorites), sweet potato, butternut squash, or parsnips. All of these have a substantial texture and an earthy yet sweet flavor an
Farro: My current choice of grain for fall salads. Its nutty flavor and slightly heartier texture is perfect for the cooler weather. While you can cook it just like pasta (but for about 30 minutes), I prefer to cook it like rice with a 2:1 water:farro ratio- do take note that this is for whole grain farro, which cooks longer and absorbs more farro than processed/pearl farro. Learn more about cooking farro and other grains in this handy guide. Here is the farro I use- Bob's Red Mill Farro.
Almonds: Almonds compliment the nutty, earthy flavors already going on here, but feel free to use what you have on hand. Pepitas, pecans, or walnut would also be great here.
Cotija: A personal new favorite of mine. It packs a subtly salty and creamy punch in here. Goat cheese would also work too.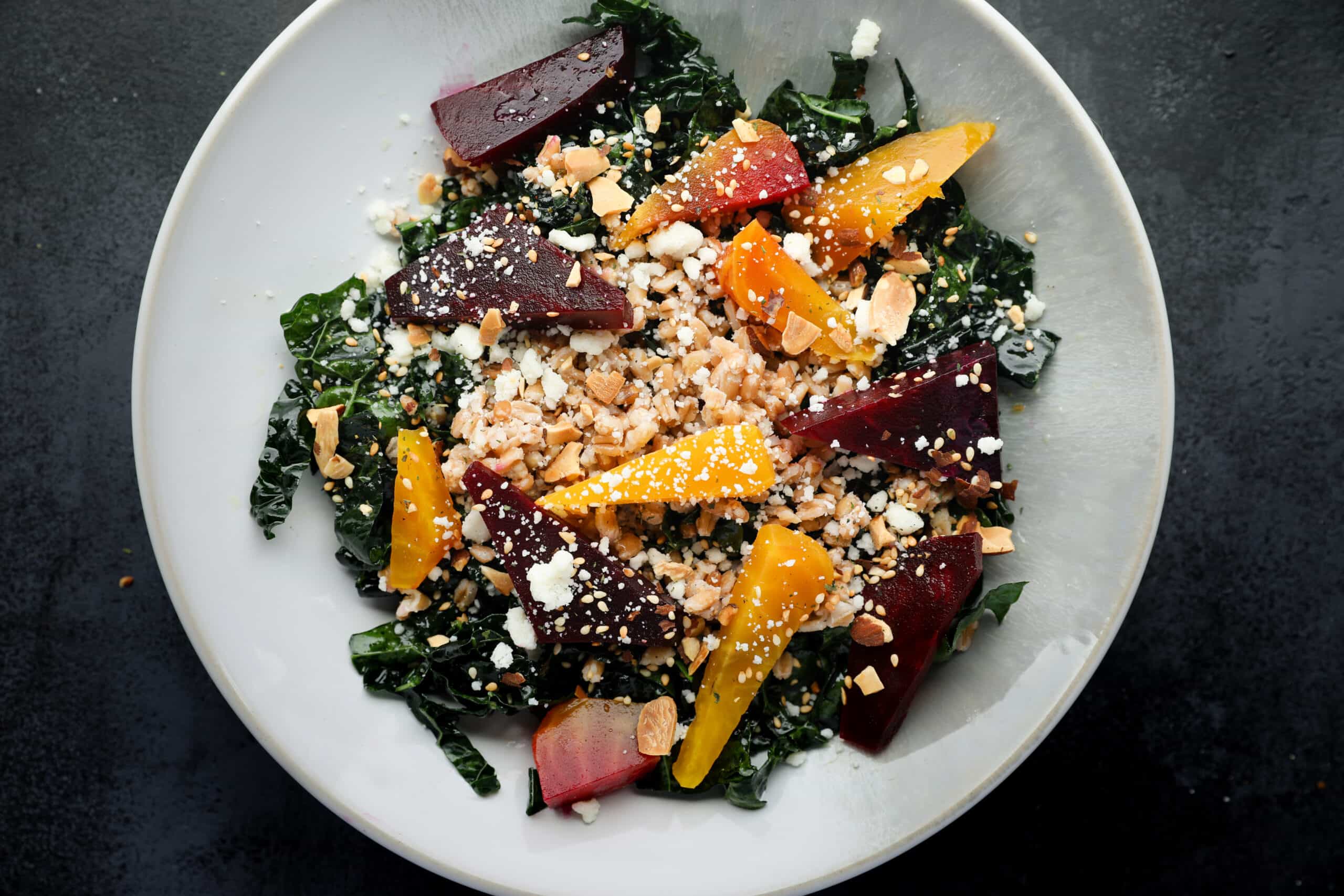 Beet, Farro & Cotija Kale Salad
2

cups

Lacinato Kale

,

, cut into ribbons

1/2

cup

cooked farro

1

cup

roasted beets (see below)

2

tablespoons

crumbled cotija cheese or goat cheese

2

tablespoons

chopped toasted almonds

,

(see below on how to toast)

apple cider vinaigrette (see below)