When it comes to building your own bowls- Cava or Sweet Green style- it's all about making the most out of simple ingredients. You need a combination of textures: crunchy, chewy, smooth. And more importantly a mix of flavors: sweet, salty, refreshing, umami, bitter and sour (take a look at the flavor wheel below for some inspiration and if you like to nerd out about this stuff like me!). Lastly, it's about mixing it up. Swapping out an ingredient or two and you get a whole new vibe.
Generally, my bowls include the following things:
Greens: arugula, kale, mixed greens, romaine, spinach, collards, or beet greens
Grains: rice, quinoa, farro, orzo
Vegetables: the list is really too long here, but I usually like to include a combo of cooked and uncooked
Protein: chicken, hard boiled eggs, or whatever is leftover from dinner the night before
Optional, but oh so good:
Sauce/Vinaigrette
Below you'll see a guide for cooking a variety of grains, vegetables, and nuts/seeds as well as my go-to roasted chicken recipe to help get you started. I also have a list of my favorite dressings below.
All the (Whole) Grains: Cooking Guide
A few rules of thumb:
Generally, if I cook something with a rice method (adding water and rice, bringing to a boil, and then simmer until water is absorbed), I add a tablespoon of extra virgin olive oil. It brings out just a touch of flavor and keeps the grain from being too dry.
I usually do 1 teaspoon kosher salt (or 1/2 teaspoon sea salt) per cup of grain. It is SO crucial to season before you cook the grains, not after. It will not be the same!!
When in doubt, follow the directions on the product- normally I've had good success with this if I'm not sure about the grain. The only time I've had issues is with banza pasta (which seems to overestimate the time needed to cook the pasta).
Grain
Grain: Water Ratio
Cooking Time
Notes
White Rice
1 cup: 1.5 cups
15 minutes +
10 minutes sitting with no heat
This is directly from the instructions on Lundberg Rice. I use it for all of my rice and find it to quite foolproof.
Brown Rice
1 cup: 2 cups
30-45 minutes
Brown rice will always take longer, so just make sure you plan ahead if needed.
Quinoa
1 cup: 1.5 cups
15 minutes
Cook just like rice.
Whole Grain Farro
1 cup: 2 cup
30-35 minutes
This method is between rice and pasta. Keep the water at slightly above a simmer, but below a strong boil.
Orzo
(cook like pasta)
7-10 minutes
(depends on brand/type)
Cook like pasta
Roasting Guide: Veggies
A few rules of thumb:
I usually use 1 tablespoon of oil for 1 pound of veggies. You can certainly add a bit more if you'd like (up to 2 tablespoons, past that and I think it's too oily), but I'd refrain from adding less. The oil here isn't just about the flavor, but it helps the vegetable brown. Without enough oil, the vegetables will be dry, not very crispy, and it's very hard to get that browning/caramelization/char that is SO good.
Similarly, I use 1 teaspoon diamond kosher salt (1/2 teaspoon sea salt) for 1 pound of veggies. I occasionally add black pepper and some think it's equally necessary, but I'd argue that adding salt is so, so, SO critical. It's the key to bringing out flavor.
All of the times below are estimates. The biggest factor in determining time is the size of your cut/vegetable. Take carrots for example- if you keep them whole rather than slice them, you need to add more cooking time. In general, almost everything takes at least 20 minutes so when I'm not sure, I'll just start for 20 minutes and then check and go from there. If you're still not sure, check every 10 minutes until brown.
Vegetable
Cooking Time
Ways to Cut
Carrots
20-30 minutes
– keep whole (add 10 minutes to cooking time)
– slice lengthwise into quarters
– cut on bias
Broccoli
15-20 minutes
cut into florets
Cauliflower
35-40 minutes
– cut into "steaks"
– cut into florets
Green Beans
20-25 minutes
– trimmed (keep whole)
– cut in half
Zucchini or
Summer Squash
15-20 minutes
– cut into planks lengthwise
– cut on bias
Asparagus
15-20
– trim and cut off woody ends
Romanesco
40 minutes
– cut into florets
Eggplant
35-40 minutes
– sliced into 1/4" circles or cut in half lengthwise if using Asian Eggplant

Salt beforehand to remove excess water (see notes above).
Winter Squash (Kabocha, Delicata)
35-40 minutes
Keep peel on; slice in half lengthwise and remove seeds. Then cut into halfmoon slices.
Sweet Potato
40-50 minutes
– Keep peel on (it's nutritious!)
– Cut into "fries"
– Diced
Proteins
There's a variety of things you can do for protein, but here's an easy and delish option! I highly highly recommend getting bone-in chicken for maximum flavor. I used to get just boneless and then started trying bone-in. Recently I went back to boneless for a recipe and it was just SO much drier and less flavorful I couldn't believe it. Go for the bone. It's generally the same price-point FYI.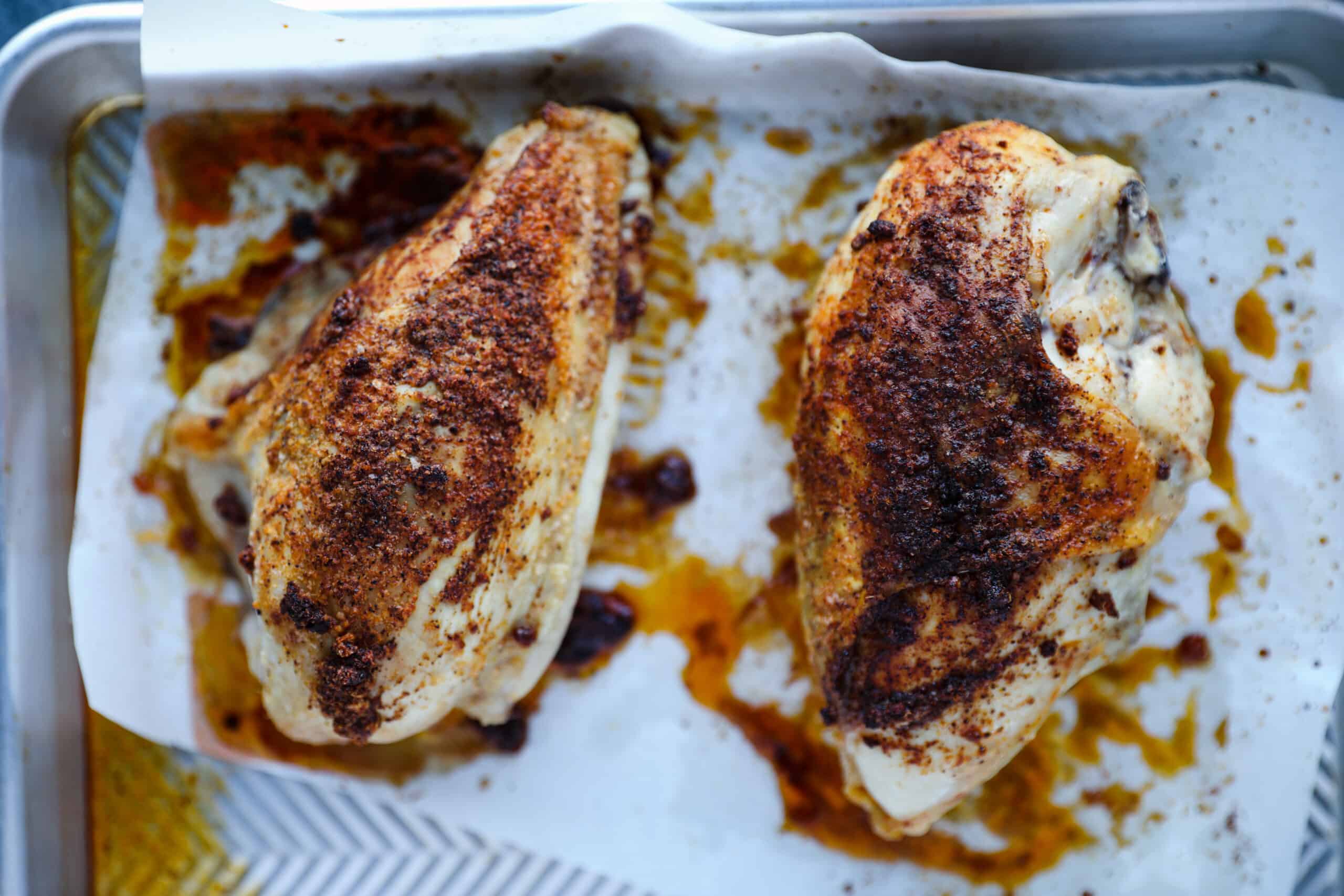 Paprika Roasted Chicken
3-4

pounds

bone in chicken (breasts, legs)

diamond kosher salt (if using any other salt, use half the amount)

2

tablespoon

olive oil

2

garlic cloves or 1/2 teaspoon garlic powder

1

teaspoon

paprika

1

teaspoon

chili powder

1

teaspoon

light brown sugar

pinch

cinnamon

pinch

cumin
Pat chicken dry with paper towel. Place on parchment-lined baking sheet. Generously season with kosher salt. Let sit for about 10 minutes (while you make the spice mixture).

Combine garlic, paprika, chili powder, light brown sugar, cinnamon and cumin in a small bowl. Add in olive oil.

Rub olive oil/spice mixture. all over chicken, including underneath skin (gently do this so you don't break the skin), followed by the spice mixture.

Place in oven and bake until chicken registers an internal temperature of 165 degrees at the thickest point and is fully cooked, about 30-35 minutes. Let chicken rest and cool for about 10-15 minutes before cutting.