This recipe is a bit outside my normal flavors, which is why I'm loving it right now. It's like Mother Nature knows I have plans to cook this, because every time I've made this it's been on a rainy day that calls for a comforting and cozy recipe.
This recipe is true to me- meaning it has some modifications like using banza chickpea rice, going easy on the butter, and adding in both cauliflower to boost the veggie content. I've had this on its own, but scallops go perfectly with these flavors and give a boost of protein.
Two things to note about this recipe:
Take the little bit of extra time to make the corn stock. It's easier than you think and is key for flavor.
Have everything ready to go (all ingredients measured and out) once you add in the rice. While it's fairly smooth sailing after that point, you have to be near the pan and stirring almost non-stop, so being prepared will make this stress-free.
See my story highlights on instagram to watch me make this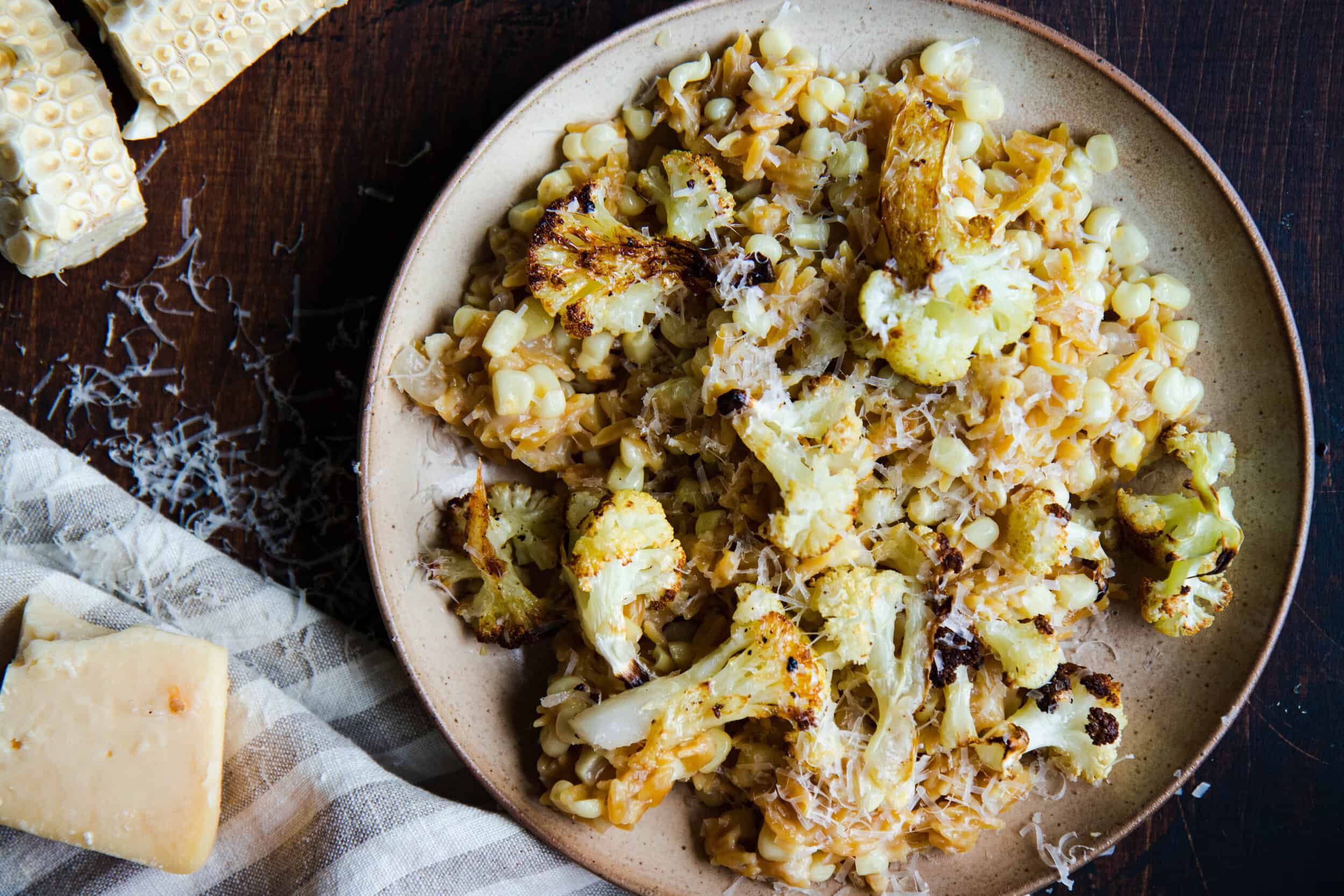 Summer Corn Risotto
Inspired from NYT Cooking
1

tablespoon

butter

,

add another tablespoon if doing scallops

2

small or 1 large shallot

,

~1/4 cup diced

1

package banza rice of 1 cup arborio rice

1/4

dry white wine

2-3

tablespoons

heavy cream or coconut cream

1/2

cup

freshly grated parmesan cheese

,

divided

1

ear of corn*
Corn Stock:
4 1/2

cups

water

1

ear of corn

,

kernels removed

1/2

yellow or white onion

,

sliced into 1 inch slices

1

clove

of garlic

,

smashed

1/2

teaspoon

salt

1/2

teaspoon

black peppercorns
Other:
1

head cauliflower

,

chopped into florets

1-2

tablespoons

olive oil

Salt and pepper

,

to taste
optional: scallops, about 3-4 per person, cleaned and patted dry
Corn & Corn Stock:
Optional: Place the ear of corn into the broiler for about 5-10 minutes on the top rack if you prefer it a little blistered (I do- otherwise it's a bit sweet for me).

Cut kernels off from ear. Use the leftover corn cob without the kernels for the stock.

Make the stock: In a medium saucepot, add the water, corn cob, onion, garlic, salt, and black peppercorns. Bring to boil and then simmer 25-30 minutes. You can choose to strain this, but I just loosely '"strain" this when ladling the stock into the risotto- you just have to be a little careful about the peppercorns.
Corn Risotto & Cauliflower:
Preheat oven to 425. Toss cauliflower in a tablespoon or two of olive oil (enough to coat all the cauliflower) and season. Roast for about 25 minutes (let roast while making the risotto)

*Important Note: Once you start the risotto, things move quickly and you have to be stirring for most of this. Have ingredients out and ready to go before you start this! You won't have time to go to the fridge or grate the parmesan.

Heat a medium to large skillet (about 1 to 2'' deep) over medium heat. Add in butter and shallot. Saute, stirring occasionally, until the shallot is lightly browned, about 5 minutes. Season with salt.

Add in dry rice and stir to coat the rice in the butter/shallot mixture.

Pour in wine and saute, stirring constantly, until it has been fully absorbed, 1-2 minutes.

Add in corn stock, one to two ladles at a time, stirring constantly, until stock has been fully absorbed. Once the stock has been absorbed, add in another ladle. Continue to do this until all corn stock is used- this will take about 20-25 minutes. Halfway through this process, add in the corn kernels.

Stir in about 3/4 of the fresh parmesan and heavy cream. Serve with cauliflower and top with the remaining 1/4 fresh parmesan. Add scallops on top if using.
Scallops:
Heat a medium saute pan over medium heat. Add in butter. Once hot, add in scallops. Let sit and brown, about 2 minutes. Flip and repeat on other side. Season with salt and serve immediately.