This Preserved Lemon & Garlic Chicken is perfect if you love bold, aromatic flavors. Preserved lemon paste, lemon zest, and lemon quarters paired with caramelized garlic and shallots gives a serious boost of flavor that the cannellini beans just soak up. Pair this with some peppery arugula tossed in just a bit of lemon, olive oil, salt and pepper for a full meal.
This recipe is inspired by Alison Roman's recipe, but results in a crispier, golden skin on the chicken and a more balanced flavor in my opinion.
Dry Brining Chicken: The In's and Out's
I use my current go-to method for these chicken thighs: dry brining them. Ideally for 8 hours. If that sounds intimidating or like too much work, hang on a second. All it requires is a touch of planning. Dry brining is essentially just coating the chicken in salt and letting it sit. Yup.
Is it okay to leave the raw chicken uncovered in the fridge? Yes. I had this initial concern as well. But after a lot of research on both turkey (for Thanksgiving) and chicken, I realized this was totally fine. The key is to make sure it's not near anything else. I like to put it on a small half-sheet pan. If your fridge is crowded, you can very lightly cover with plastic wrap.
What's the point? The salt not only diffuses into the chicken to maximize flavor but it also draws out moisture- which is the key for crispy, golden brown chicken.
Should I add more seasoning and flavors? Every time I make this, Matt assumes I've added in other flavors, but with this method you can keep things simple. Salt and ghee do the trick. Of course, more spices won't hurt, but it's not necessary in my opinion.
Preserved Lemon & Garlic Chicken: What is preserved lemon?
Preserved lemon is made by taking fresh lemons, cutting them in quarters or halves, generously salting them, placing them in a jar, and covering them with the juice from the lemons. Then you let the lemons sit for about a month. A quick google search will give you more details if your curious about making your own or you can see this article by Serious Eats here.The effect? A lemon peel that's more palatable and soft and a bigger punch of flavor. It's a bit hard to describe.
I love this preserved lemon paste from Shuk because it has all the essence and flavor of preserved lemon, but it's a more usable form that doesn't require any chopping. I've also used it in salad dressings. Be careful- a little goes a long way- the first few times I made this I realized I added way too much to the pan and it overwhelmed the rest of the dish. A teaspoon will be plenty.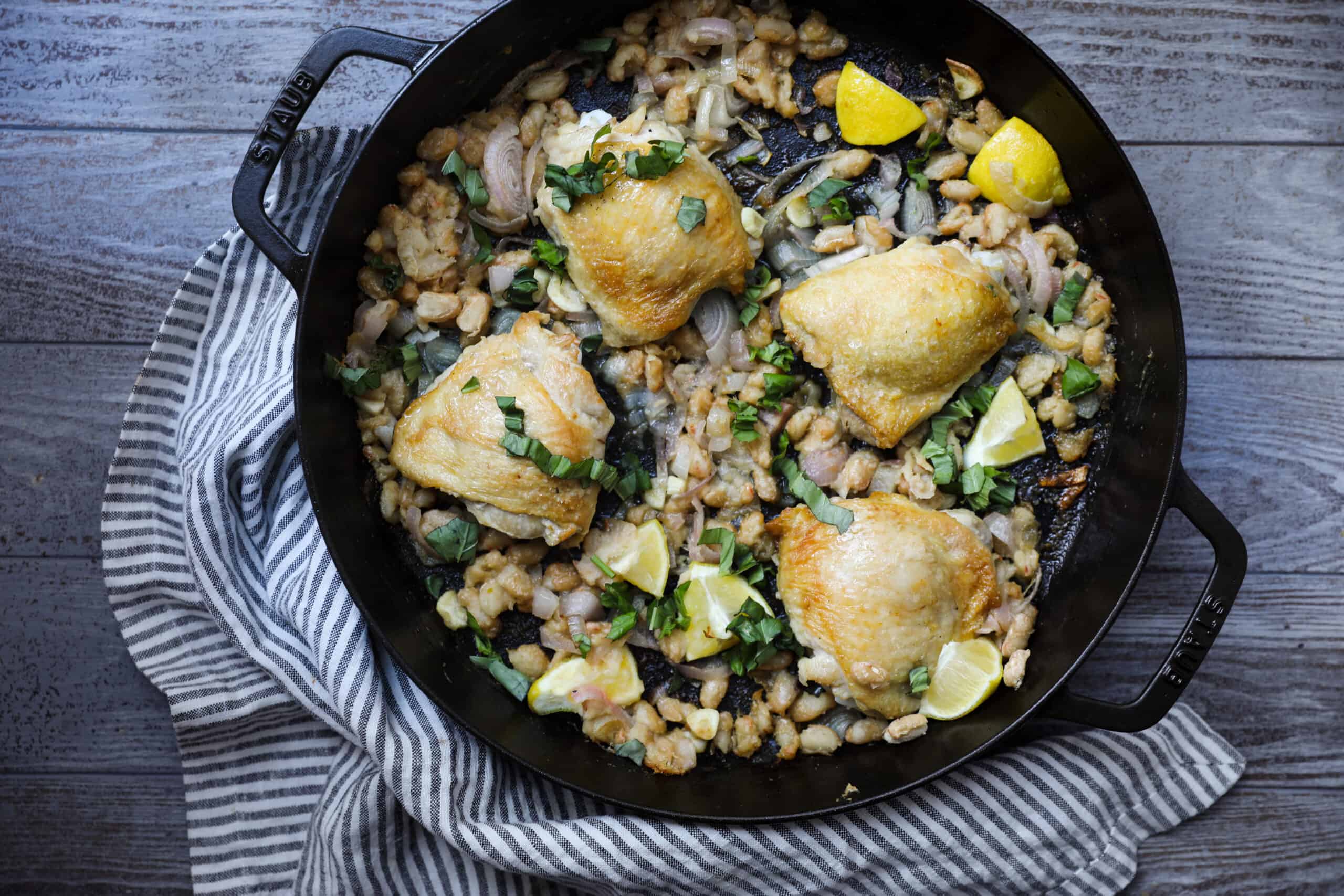 Preserved Lemon & Garlic Chicken
2

teaspoons

diamond kosher salt (if using any other salt, use half the amount)

1.5

pounds

chicken thighs

,

(skin and bone on)

2

tablespoons

unsalted ghee or butter

2

large or 4 small shallots

,

sliced thickly

4

garlic cloves

,

sliced

1

teapoon preserved lemon paste

1

can cannelini beans

,

rinsed and drained

1

lemon

,

zested and quartered

handful

fresh basil or parsley

,

chopped
At least 2 hours in advance, up to 8 hours in advance: Pat chicken dry with a paper towel. Season generously with salt and place in fridge, uncovered, until ready to use.

Heat a large cast iron skillet over medium heat. Add in a tablespoon (or two- enough to cover the bottom of the pan generously) of ghee or butter. Once melted, add in chicken, skin side down. Let sit for about 3-5 minutes, until it easily pulls off and is golden brown. Flip on other side and let sit for another 3-5 minutes. Push chicken off to one side.

Add in another 1/2 tablespoon or so of ghee (enough to prevent any sticking) and add in shallots, garlic cloves, lemon paste, cannellini beans and lemon. Let saute until garlic is brown, about 3 minutes. Spread everything out evenly and distribute chicken around the pan. Place in oven until chicken is fully cooked through, about 15-20 minutes. Top with fresh herbs and serve immediately.