This Cider Roasted Chicken & Brussels Sprouts has all the fall vibes in a simple, almost one-pan meal thanks to apple cider, charred and caramelized onions and deeply browned brussels sprouts. This recipe is designed for two, but can be scaled to four. Not including oil and salt, it has only five ingredients and no sides are needed.
Apple cider brings back memories for me. Sipping on apple cider so hot you can see the steam coming off it. Outside where the trees show a spectrum of fall colors- oranges, yellows, reds. A crisp and cool air. The ground filled with leaves that have been there for just enough time to rustle as you step through them.
So cooking with apple cider in this Cider Roasted Chicken & Brussels Sprouts takes me back there. However, cooking with apple cider requires a bit of technique to get the most of it. Because it's mostly water, it's easy for its flavor to get diluted. The answer? Reducing it. Evaporating out most of the water helps concentrate its flavor into a sweet, highly aromatic, and apple-y goodness. It heightens and adds flavor to every component to this otherwise simple dish.
Behind the Recipe: Cider Roasted Chicken & Brussels Sprouts
The chicken: The first time I did a dry brine it was a bit by accident/change. After I saw how flavorful, crispy, and juicy it made the chicken, I knew this would be something I'd always do for recipes like this.
What's a dry brine? Essentially adding salt (and sometime other spices- not in this recipe though) to the chicken and letting it sit for an extended period of time before cooking it. It allows the salt to diffuse into the chicken and amplify its flavor, while also drawing out any excess moisture, so the chicken skin get super crispy. See tips below.
The apples: The apple you choose will affect how it cooks. Try to get a very firm, crisp, good "baking" apple so it doesn't break down too much. I like to check on the apples specifically halfway through my baking time because they can be delicate and break down more quickly than all the other components. You can remove them halfway through and set them aside if you notice this.
The brussels sprouts: The goal here is to caramelize, caramelize, caramelize. Putting them on a separate sheet pan so they have plenty of space and dousing them with a generous amount of oil is the key.
Easy Tips for Dry Brining
Dry brining sounds more technical and complicated than it is. Essentially you add salt (and sometime other spices- not in this recipe though) to the chicken and let it sit for an extended period of time before cooking it. Because it's meat, this happens in the fridge. While the article below recommends doing this uncovered on a tray in the fridge, there's no way I have enough room in my fridge to that- and I've found that storing in a ziploc bag works just fine.
A few tips:
Use diamond kosher salt if you can. I need to write an article about this to fully go into why, but take my word for it or check out Salt, Acid, Fat, Heat by Samin Nosrat for why.
Be generous with your salt. It should fully coat the chicken. Especially if you're using diamond kosher salt, it's hard to overdo it.
So what happens? Basically, it does a few things…
The salt has time to diffuse into all parts of the chicken so its flavor is amplified.
It draws out any excess moisture, so the chicken skin gets super crispy and brown (thanks to the Maillard reaction, a chemical reaction between proteins and sugars that happens on the outside of meats when they reach high temperatures).
To me, those are the key points. I'm simplifying here, but if you want to read more and get into the nitty-gritty detail, see this article by Serious Eats.
Similar Recipes
If you like this Cider Roasted Chicken & Brussels Sprouts, you'll probably also enjoy these…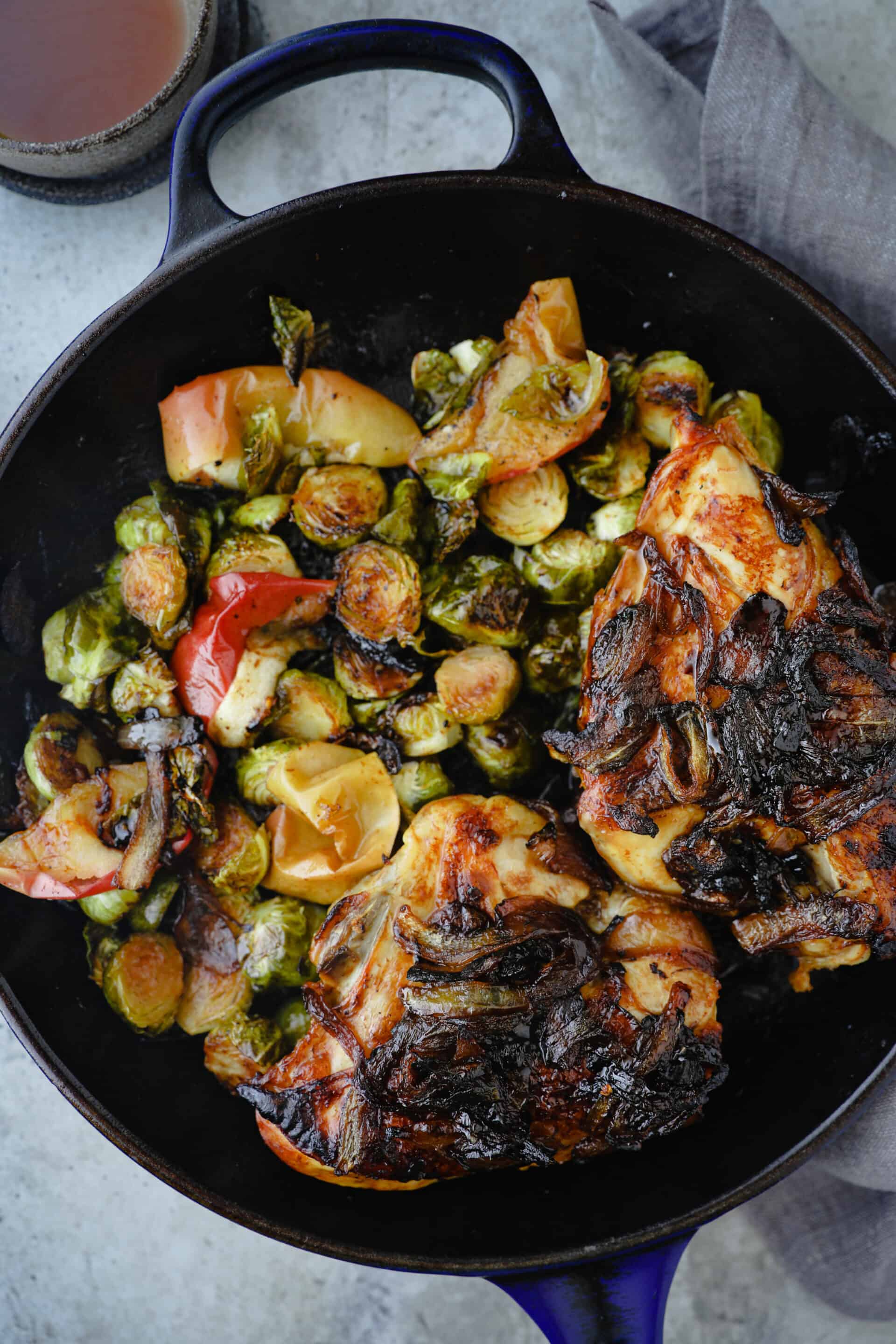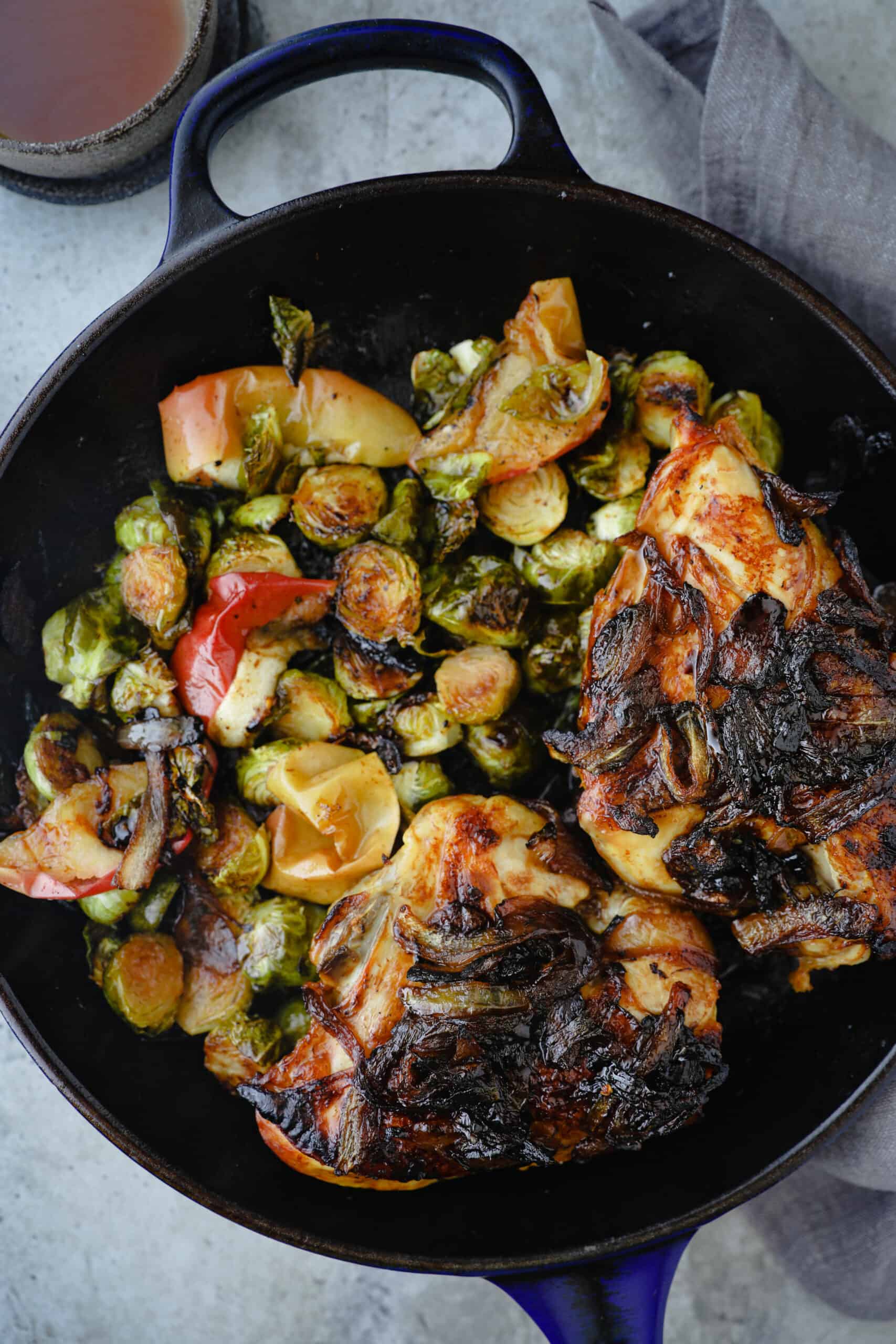 Cider Roasted Chicken & Brussels Sprouts
2

bone-in chicken breasts or thighs

,

(about 1.5 pounds)

1

teaspoon

diamond kosher salt (if using any other salt, use half the amount)

1

small or 1/2 large

vidalia onion,

,

sliced

2-3

tablespoons

extra virgin olive

,

or butter if you're a bit decadent

1/4

cup

cider

,

divided, 2 tablespoons for onions and 2 tablespoons right before the oven

1

apple,

,

halved and cored

1/2

pound

Brussels sprouts

,

cut in half if small or quarters if large
At least 5 hours, up to 24 hours in advance: Pat chicken dry with paper towel. Generously season with kosher salt. Place in ziploc or container of choice and let sit in fridge until ready to use.

This simple step does require some advance planning, but will improve the flavor of chicken dramatically! See above for why.

Preheat oven to 400 and remove chicken from fridge to get it closer to room temp while you prep the other ingredients.

Prepare Brussels sprouts by spreading them out onto a pan and drizzle with some olive oil and salt. Toss to coat. Let sit while you prepare the chicken.

Heat a 8 or 9'' cast iron skillet over medium heat. Add about a tablespoon or so of oil and once hot, add in the onions. Saute, stirring only occasionally, until slightly charred and well caramelized, about 10 minutes.

Add in 2 tablespoons of apple cider to deglaze the pan. Once most of the liquid is gone, push onions to the side, add just a touch more oil if needed and then place the chicken, skin side down. Add the apples, skin side up, to the pan as well.

Let chicken fry and sit (without touching- resist the urge) for a few minutes, until it easily pulls away from the pan and is golden and crispy. Flip over and let chicken sit for another few minutes.

Place pan with chicken into oven and add in the Brussels sprouts pan as well. Cook until chicken is fully cooked through (reaches at internal temp of 165) and Brussels sprouts are browned and slightly crispy, about 20 minutes.