While my feelings on chicken sometimes waver, recipes like this remind me just how good chicken can be. Golden and cripsy on the outside, perfectly tender on the inside. There's just something so wholesome about this One-Pot Roasted Paprika Chicken & Heirloom Tomatoes.
By far my favorite part about this recipe is that it truly functions as a whole dinner, protein and veggies included. I do like to serve this with some arugula and rice, but the arugula requires zero prep and I usually have rice on hand to round out meals like this.
Oh and my other favorite part (that was intentional on my end)- there's only a small handful of spice/flavors and they're all ones you'd typically already find in your pantry (lemon, paprika, garlic). It's actually a bit surprising because the final product tastes deceptively complex. I think it's the combination of these staples with the juices released from the tomatoes.
This One-Pot Roasted Paprika Chicken & Heirloom Tomatoes is adapted from Bon Appetit by Andy Baraghani. The original recipe caught my eye because just look at those tomatoes! And I always love a good lemon, especially when roasted. I've changed up the seasonings and flavors quite a bit, opting for a heavy dose of paprika to be the main spice used. Its strong and bold flavor can hold its own without being overpowering.
Make it Perfect: Let's Talk about Chicken
While this recipe is intentionally unfussy and simple, there are some key details and tricks to making this One-Pot Roasted Paprika Chicken & Heirloom Tomatoes really sing.
What type of chicken to buy?
There's flexibility on what part of the bird you use, but not on how it's prepared: it has to have skin and bone! Skin and bone adds key flavor here and the cooking method is heavily reliant on having them. As far as what part of the bird, I've done this with thighs, drumsticks, and breasts- all work, although the cooking time will vary just a bit. Because of this, I HIGHLY recommend using a thermometer to take out all guessing games. It's one of my most used tools and you can get an affordable one for $20 on Amazon.
Keys for Crispy and Tender Chicken:
Huge rule of thumb for almost anything you're trying to brown or get crispy: IT HAS TO BE DRY! It is so crucial to pat the chicken dry before you add it to the pan.
Don't rinse your chicken. This is actually less sanitary because it's more likely for bacteria to spread in your sink.
SALT! The other key to maximizing flavor here is salting your chicken generously before it goes in the pan. I am a HUGE fan of Diamond Kosher Salt and since using it, I swear my food has gotten substantially more delicious. Go buy it.
Use a somewhat high heat (without going crazy and having oil go everywhere) when browning it on the stovetop.
And keep the skin exposed and on top when putting in the oven- if it hits a lot of liquid, it won't stay as crispy.
Behind the Recipe: One-Pot Roasted Paprika Chicken & Heirloom Tomatoes
Chicken: I've talked a lot about chicken above, so won't go into much detail on that here- see above.
Lemon: I'm all about the lemon, and roasting it adds another dimension and complexity to it. Instead of just being bright and acidic, it'll also have some charred/caramel tones to it.
Tomatoes: While it's fun to have different colored heirloom tomatoes for presentation, you can also just use on the vine tomatoes as well. No matter what, they'll roast up and taste great. This is also a great time to use tomatoes that may be on their way out- a little soft and just past their prime.
Chickpeas: A key add for me, both in terms of flavor and bulk. they add more substance to the meal, and while they won't get quite as crispy as plain roasted chickpeas, they'll get a little crispy and soak up some of the extra tomato juice/olive oil on the bottom. Yum.
Red Onion: An under-appreciated, but delicious flavor in this recipe. The first time I made this, I didn't have red onion and didn't think much of not including it. The next I made it, the red onion was the first ingredient Matt commented on, raving about. And I totally agreed.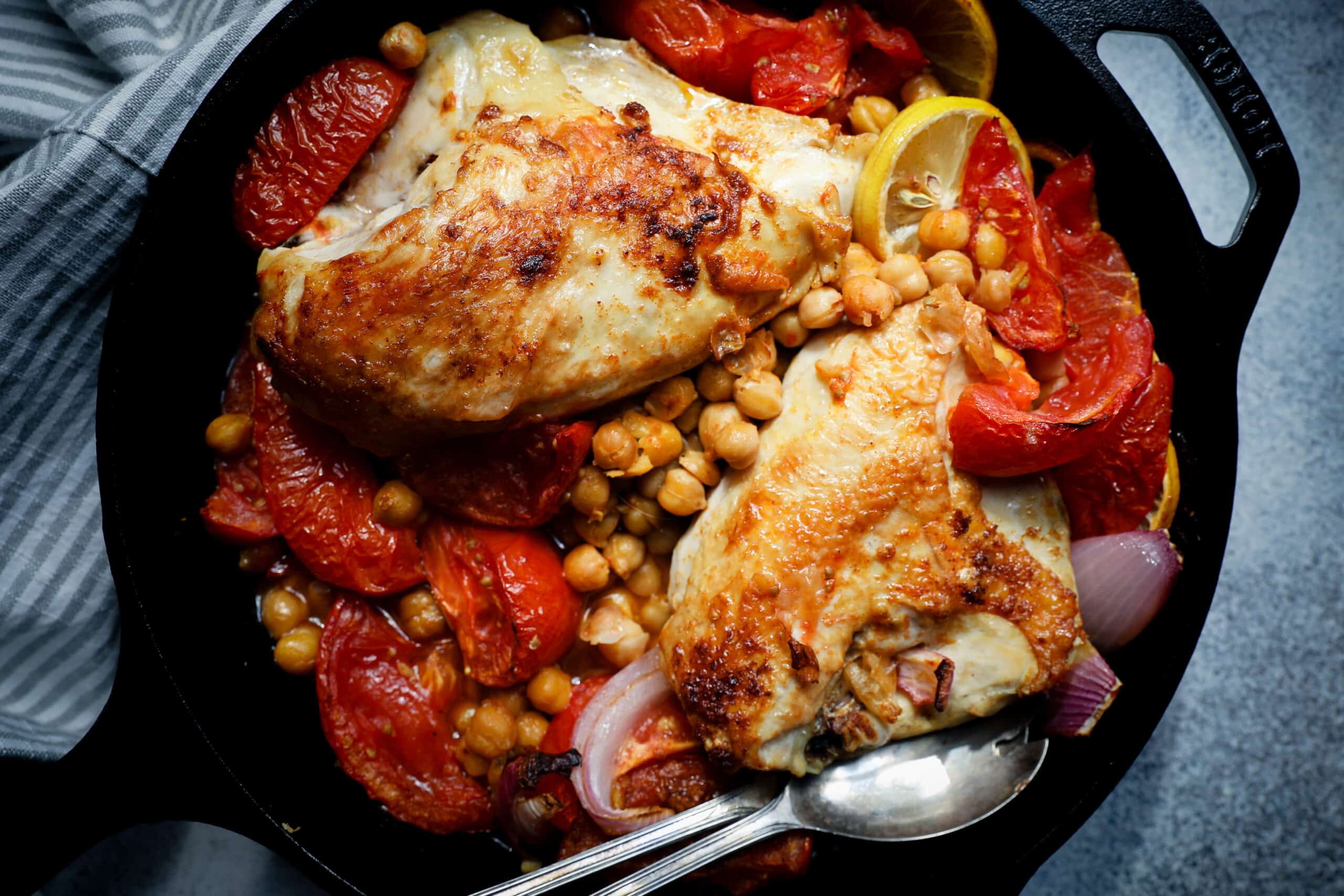 One-Pan Roasted Lemon Paprika Chicken & Heirloom Tomatoes
2

pounds

bone in chicken thighs, drumsticks or breasts

3-4

tablespoons

extra virgin olive oil

1.5

teaspoons

kosher salt

,

, or 3/4 teaspoon sea salt (or to taste)

2-3

garlic cloves

,

, pressed or minced

1 1/2

teaspoons

paprika

1

teaspoon

fresh thyme**

,

(optional: add in if you have it, but I personally wouldn't buy it just for this! I've done it with and without, and both were tasty)

1

lemon

,

sliced thinly

2-3

heirloom tomatoes

,

, quartered into thick slices

1/2

red onion

,

, quartered into thick slices

1

can chickpeas

,

, rinsed and drained
Mix extra virgin olive oil with garlic and paprika in a small bowl.

Pat chicken dry and season generously with salt.

Place a large cast iron skillet (ideally the largest one you have) over medium heat. Add in about half of the oil mixture. Once hot, add in chicken, skin side down first. Let chicken sit, without stirring, until golden and crispy, about 4 minutes/side. Flip and repeat with other side. (this can get slightly messy and the oil will sputter a bit because of the heat; watch semi-closely so it doesn't get too hot and oil sputters everywhere!).

Pat chickpeas as dry as possible. Then add into skillet, along with tomatoes, red onion, and lemon slices. Season again with salt and drizzle in the rest of the olive oil mixture. Gently toss to combine using tongs. Drizzle with more oil if it looks a bit dry and is needed.

Place skillet into oven until chicken is fully cooked through (165 degrees), tomatoes are slightly blistered, and chickpeas are a bit crispy, about 20-30 minutes (see notes below). Serve.

When doing this, I found that the chicken legs and thighs were smaller and so took less time (about 20 minutes), while the chicken breasts took about closer to 30-35 minutes longer, mainly just due to their larger slice. I highly recommend using a thermometer to check for doneness (165 at thickest part).