Another salad to add to my collection of September salads, this Roasted Tomato & Cauliflower Kale enjoys the last bits of summer (tomatoes) and the new fall produce (cauliflower). Learn more about these September Salads and get more inspo here.
So far, I've been using this Preserved Lemon Vinaigrette on repeat for these salads. Preserved lemons are essentially a product of fermentation- they're made by generously salting halved lemons and letting them sit in their own juices, covered, for at least a month. It's an easy process, but takes some planning. This recipe uses a product of preserved lemon- preserved lemon paste– which is super easy to just toss into a dressing like this and give it a pop of flavor! Just like roasting tomatoes, preserving lemons gives them more depth and umami, making it a perfect transition into fall.
Behind the Recipe: Roasted Tomato & Cauliflower Kale Salad
Roasted Tomatoes: Roasting the tomatoes gives them a richer and deeper flavor that feels more appropriate for fall. Instead of being refreshing and juicy, they have an almost umami flavor. These store great in the fridge. I highly recommend doing a big batch on the weekend and enjoying throughout the week. 

If you like these, be sure to check out these other recipe that use these tomatoes!

Roasted Cauliflower: This was the first time I've used cauliflower since last winter and it was the perfect introduction! All you need is some evoo and s&p. To speed up the process while still getting perfect caramelization, cut the cauliflower into very small florets. This can also be made ahead of time, but if you're able to, it's divine when just cooked.
Parmesan: Freshly shaved parmesan is probably my favorite cheese to add to salad. Use a vegetable peeler and use fresh parmesan for the ultimate treat.
Farro: Farro adds substance to this salad, but is also key to those "it's now fall" vibe. Why? It has more body and texture than most other grains. It actually FEELS substantial. It also has a slightly nutty flavor, which complements the parmesan.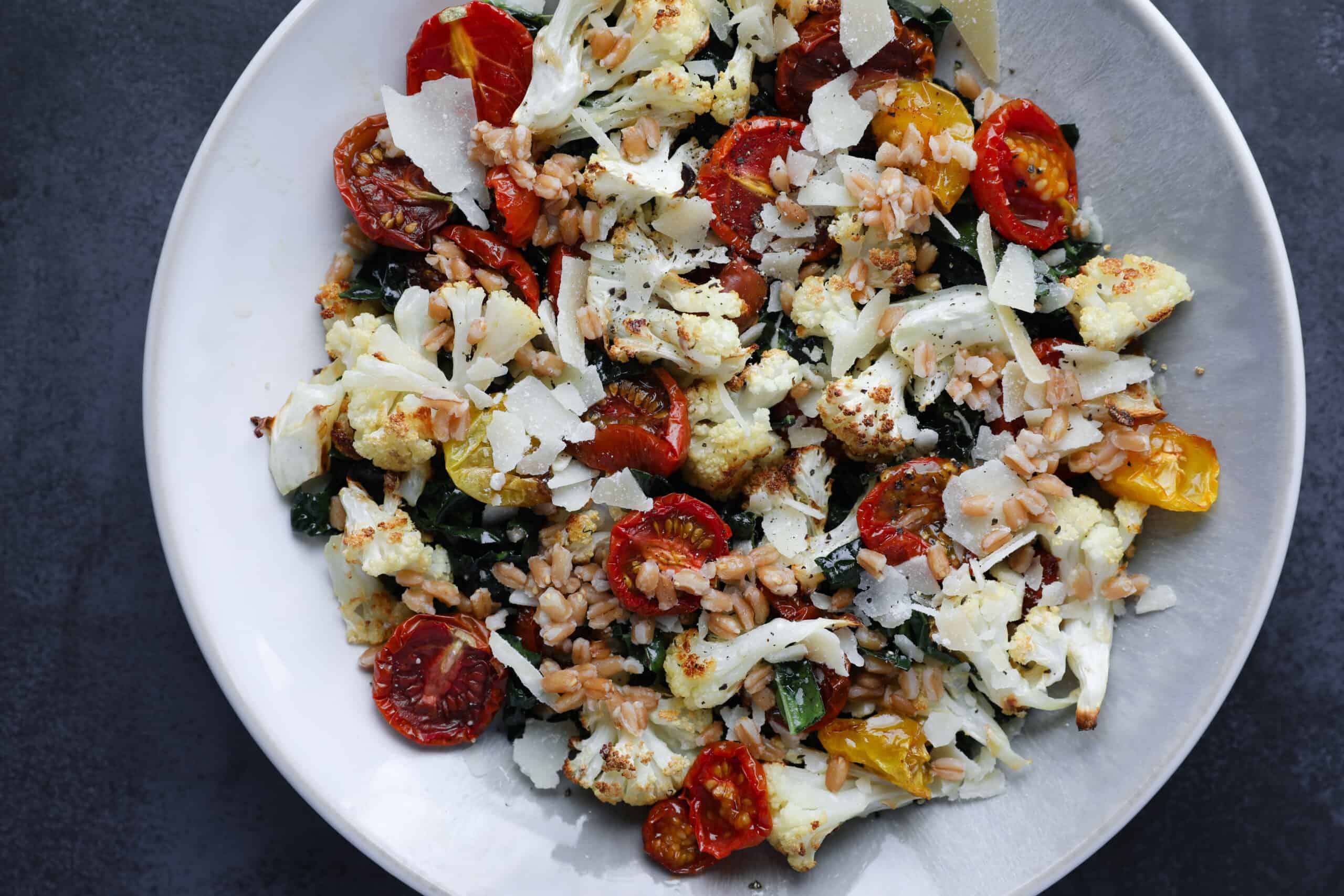 Roasted Tomato & Cauliflower Kale Salad
1

cup

slow roasted tomatoes

,

(see recipe below)

2

cups

cauliflower florets

,

, about 1/2 small cauliflower

1

tablespoon

extra virgin olive oil

1/2

teaspoon

diamond kosher salt (if using any other salt, use half the amount)

4

cups

lacinato kale

,

, cut into thin ribbons (about 5 leaves or 1/2 bunch)

preserved lemon vinaigrette (see below)

2

ounces

freshly shaved parmesan

optional: 2

cups

cooked farro