This is a great meal when you're looking for something super quick and full of protein and veggies. The first time I made this for Matt he immediately declared this as one of his favorite meals yet, so this will be making it into our regular rotations now (which I'm very happy about, given how easy and quick it is).
To keep things flexible, there are a couple of options:
1. Cook the chicken and serve with raw veggies. As seen in the above picture, you can make this a play on a Lettuce Wrap and serve the chicken with thinly sliced raw veggies and lettuce.
2. Cook the chicken and the veggies for a stir fry (add in some rice too). I didn't think Matt would be full enough from a lettuce wrap, so this is how I made it for him as a more filling dinner.
3. Add mushrooms. I loved adding diced shitake mushrooms to the chicken for an extra boost of veggies and texture. This can easily be omited or added, you just need to add more sauce if adding them (see details below).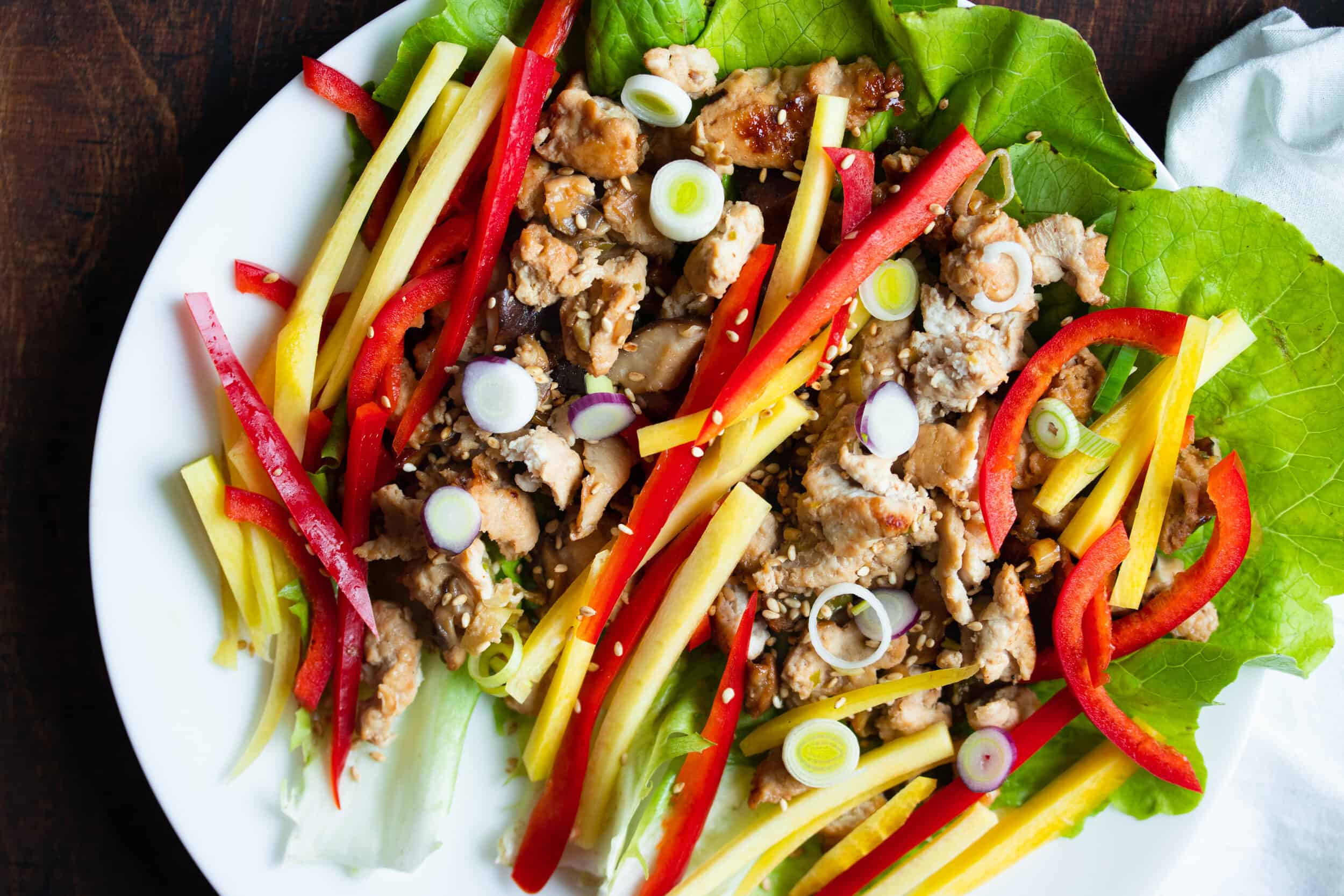 20-Minute Ground Thai Chicken Stir Fry
Sauce
** Half of the sauce will be used on the chicken. half will be on the stir fried veggies. If wanting to do both the stir fry vegetables AND mushrooms option, increase the sauce by 1.5x (6 tablespoons soy sauce, 3 tablespoons coconut sugar, 3 teaspoons fish sauce)
1/4

cup

soy sauce

,

tamari, or coconut aminos (for whole 30/paleo)

2

tablespoons

coconut sugar or brown sugar

2

teaspoons

fish sauce

1/2

teaspoon

(mild) to 2 tablespoons (spicy) sriracha
Chicken:
2

tablespoons

grapeseed or canola oil

3

scallions

,

diced

2

garlic cloves or green garlic stalks

,

minced

1

pound

ground chicken

mushroom option: 1/2 pound diced shiitake mushrooms

,

(no stem), diced
Stir Fry Vegetables Option:
If wanting to do lettuce wraps, use the same veggies except zucchini and garlic and serve raw. Just add a few leaves of bibb lettuce to make it a wrap.
1

red pepper

,

sliced thinly

1

yellow pepper

,

sliced thinly

2

small carrots

,

sliced into matchsticks

1

zucchini

,

sliced into matchsticks

1

green garlic stalks or garlic cloves

,

diced
Make the sauce: combine soy sauce, coconut sugar, fish sauce, and sriracha in a small bowl and set aside.

Heat a large skillet over medium heat and add 1-2 tablespoons of oil. Add in scallions and garlic and saute until lightly browned, about 2 minutes.

Add in ground chicken. Saute, stirring occasionally, until chicken is opaque (about 70% cooked), but not brown, about 4-5 minutes.

If adding mushrooms, add in mushrooms and the soy sauce mixture. If not adding mushrooms, just add in half of the soy sauce mixture. Continue to saute until the mushrooms and chicken are quite brown on the outside, about 5 more minutes. Set aside chicken in a serving platter/bowl.

If stir frying the veggies, heat the same pan (no need to clean) over medium to high heat and add in another tablespoon of oil. Add in the peppers, carrot, zucchini, and garlic. Saute over high heat until just a little brown, about 2 minutes. Add in remaining soy sauce mixture and saute until veggies are quite brown and just sightly wilted, an additional 2-3 minutes.

Top with sesame seeds and serve.