If you're a fan of hummus, you'll love this dip from @maydandc @bonappetitmag. Tahini and garlic are reminiscent of hummus, but blending them with sautéed Swiss chard rather than chickpeas brings out a darker and smokier flavor.
Serve this dip with some raw veggies and a grilled yogurt flatbread doused in a shallot and sesame oil. Veggies contrast the dip, while the flatbread accentuates its smoky flavors (and who doesn't love a good bread?)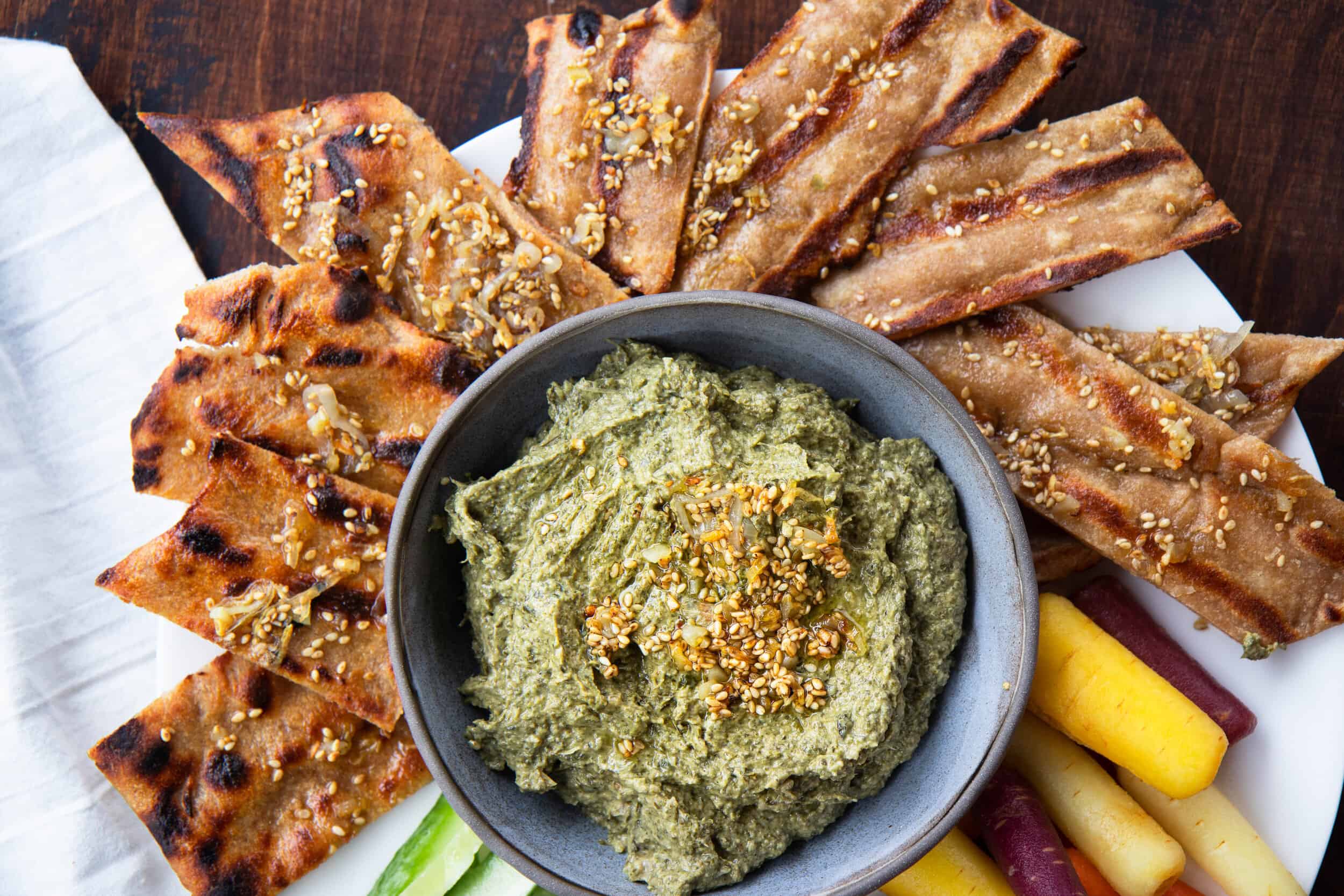 Smoky Green Tahini Dip
1

large bunch (about ~ 1 pound; mine was 13 ounces) swiss chard

1/4

cup

extra virgin olive oil

1/4

cup

fresh lemon juice

,

(juice of 1 large or 2 small lemons)

5

garlic cloves

1/2

cup

tahini

1

teaspoon

sea salt
Grilled Sesame Flatbread
12

ounces

yogurt flatbread dough (see below) or pizza dough/pita of your choice

1

tablespoon

sesame seeds

1/4

cup

extra virgin olive oil

4

cloves

garlic

,

minced

1/2

shallot

,

minced
Make the swiss chard tahini dip:
Heat a large skillet over medium heat. Add in a tablespoon or two of oil to generously coat the pan. Add in swiss chard- it's okay if it stacks; it will quickly reduce in size and then be fine. To speed up cooking process, cover pan for about a minute to wilt the chard (only a minute though- any longer and you'll be steaming more than sauteeing, which will change the flavor of the dip). Remove cover and saute until quite wilted, about 7 minutes. Remove from heat and set aside to slightly cool.

In a food processor, add in extra virgin olive oil, lemon, garlic, tahini, and sea salt. Process until blended. Add in sauteed swiss chard and continue to blend on high until the chard is blended in and the dip is smooth, about 1-2 minutes. Season as needed and set aside.
Make the shallot sesame oil:
Combine sesame seeds, extra virgin olive oil, garlics, and shallot in a small bowl. Set aside.
Grill the flatbread:
Roll out flatbread dough into a rectangular shape that is about 1/4'' thick. To be honest- As long as the dough is rolled out, the shape doesn't matter too much because you'll be cutting it into strips anyway.

Preheat grill to 500 degrees. Brush flatbread with some olive oil to coat it and oil the grill to prevent any sticking. Place flatbread onto grill and let sit for about 4 minutes (with grill closed, checking occasionally), until there are char marks. Flip and continue to grill another 4 minutes. The more your grill, the less fluffy and the more crispy the bread is, so it's up to you exactly how much you cook it for. Remove flatbread and place on a cutting board.

Brush on sesame seed oil. Let cool slightly.

Cut flatbread into 2'' strips or whatever shape you would like for serving.