Recently I've been focusing on designing recipes for weeknight meals- ones that are a bit more simple and easy, but still have some twist, ingredient, or step that makes it different.
Here: a take on a classic quesadilla, but with the addition of marinated mushrooms that are PACKED with umami flavor. Yes, giving them this depth of flavor takes an extra step and 15 minutes, but marinating the mushrooms adds such a boost of that I'm never not marinating mushrooms again.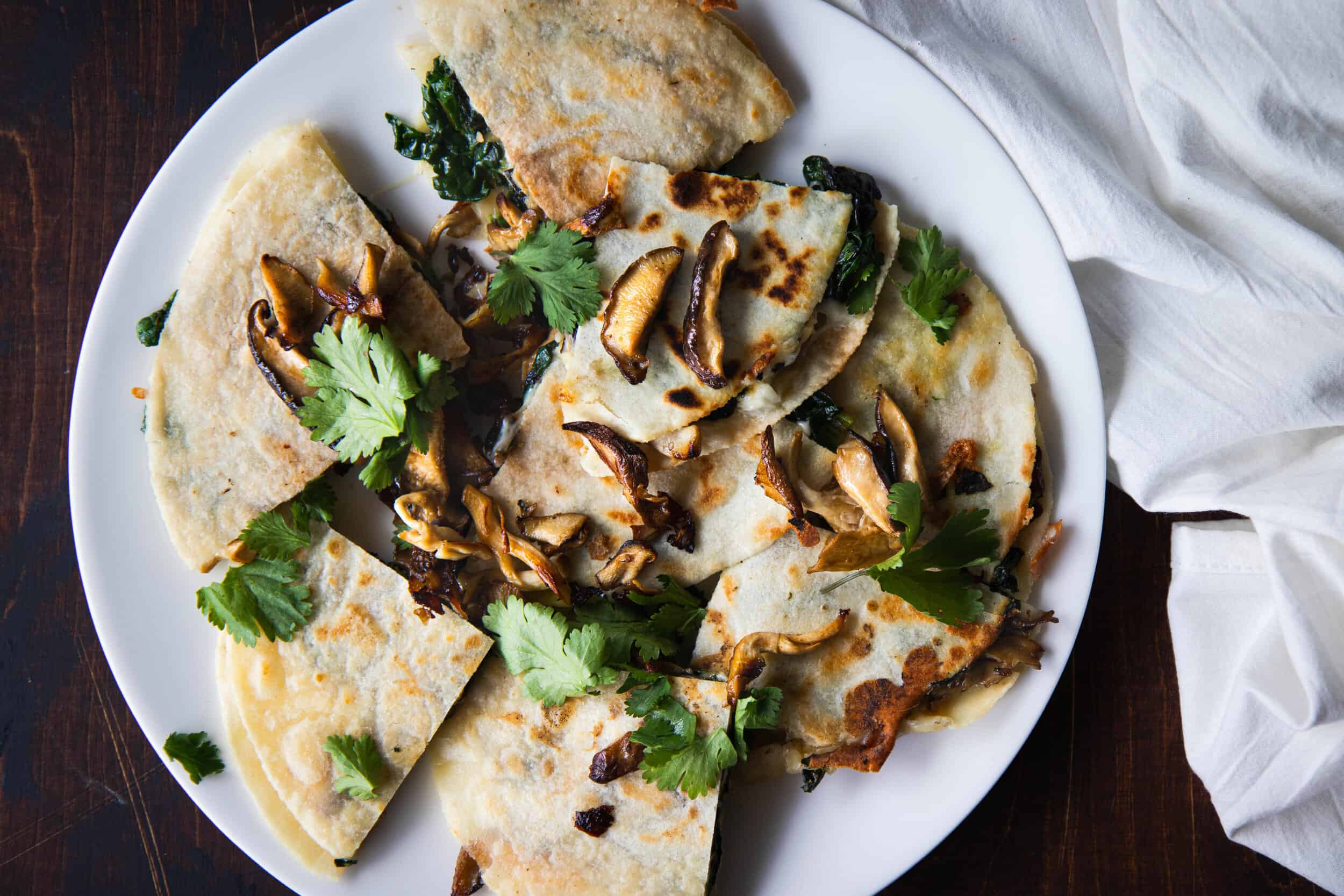 Mushroom Quesadillas
1/2

tablespoon

soy sauce

1/2

tablespoon

Worcestershire sauce

1

tablespoon

extra virgin olive oil

2

garlic cloves

,

minced finely

juice of 1/2 medium orange (1.5 ounces; 3 tablespoons)

1

pound

assorted mushrooms

,

(shitake, oyster, cremini will all work)(11 ounces with stems removed)

3

cups

spinach

,

lightly packed

olive oil

8 to

rtillas

,

(2 tortillas/person)

1

– 1 1/2 cups Mexican cheese

,

(about 1/4-1/3 cup per quesadilla)

cilantro and avocado

,

optional for garnish/toppings
Remove stems from mushrooms (just tear off with your hands- this is the easiest way to do it). Then chop mushrooms in bite size pieces. Place in a large bowl.

In a small bowl, combine all the marinade ingredients. Whisk with a fork. Pour marinade over mushrooms and toss to evenly coat. Set aside for 15 minutes.

Meanwhile, saute spinach (if you want to add it in). Heat a large skillet over low heat. Add enough olive oil to generously coat the bottom of the pan and then add in spinach. Saute until wilted, but still vibrant green. Set aside in a small bowl

After the mushrooms have marinated for 15 minutes: Heat a large skillet (I use the same one as the spinach) over medium heat. Add oil/butter. Once hot, add in mushrooms. Saute, only stirring occasionally, until mushrooms are golden brown on most sides. Place mushrooms in a bowl or dish to set aside.

You can use the same skillet to make the quesadilla- just give it a quick rinse and dry. Then spray with oil. Place tortilla on, then add a bit of cheese, the mushrooms, the spinach, more cheese, and then another tortilla. Let sit for a few minutes until brown on one side, and then flip. Repeat for the rest of the quesadillas.