Quiche: one of the most versatile dishes out there. It can be served for breakfast, brunch, lunch, and even dinner. You can make it ahead of time (even a day ahead). It's easy to transport and bring to a gathering. It's the perfect snack or meal to have waiting for you in the fridge.
While I used asparagus and spinach in this quiche, you can easily substitute this with whatever vegetables you have on hand or are in season. Generally, you will need to cook them- roast or saute- before putting them in the quiche.
If looking to make this even easier, use store bought pie crust. By doing this, you can easily make this dish within 15 minutes (and then add on 45 minutes to bake). Although I seriously recommend this whole grain and nut pie crust. It's SOOO delicious and one of my favorite things to make now.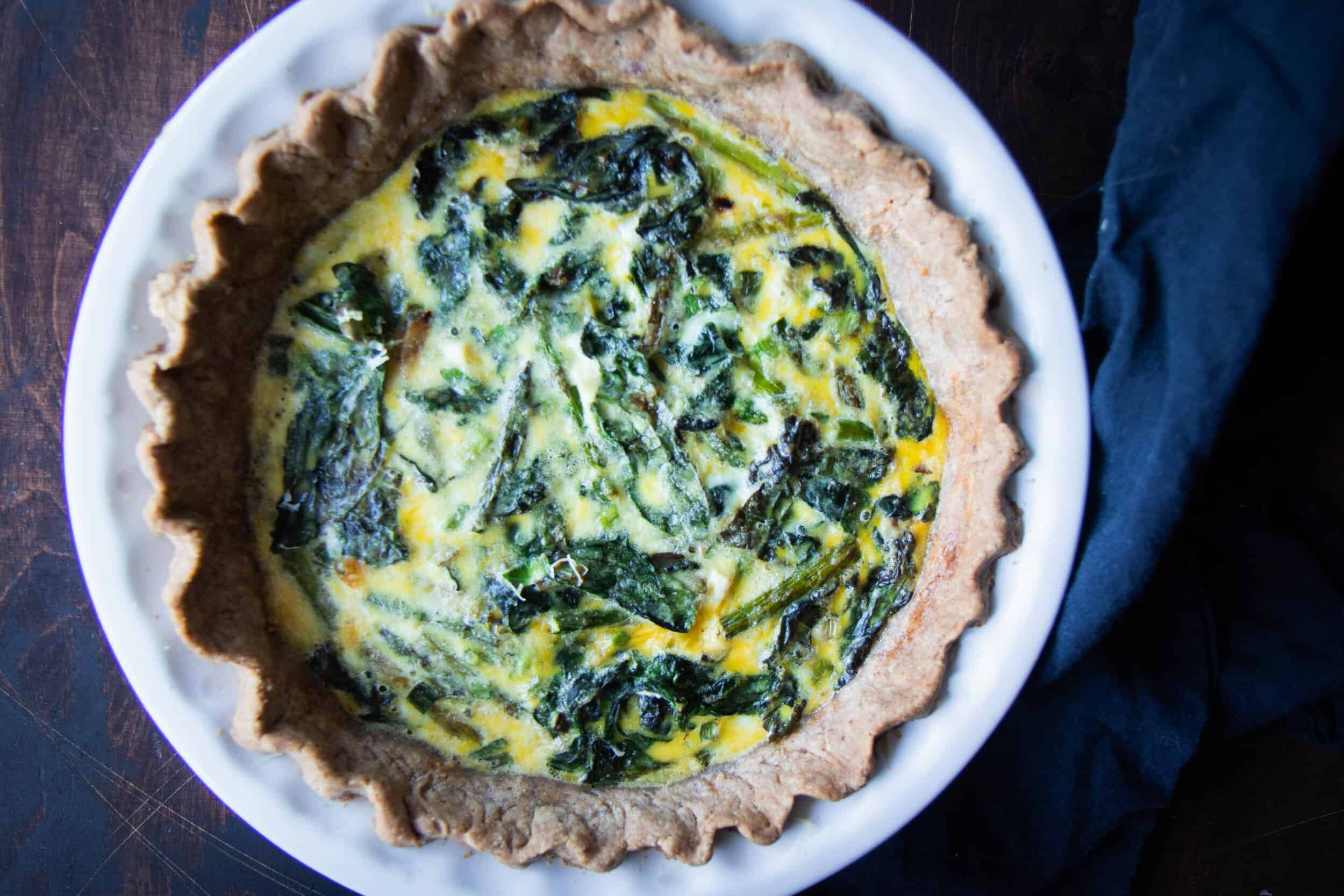 Spring Vegetable Quiche
Add 20 minutes if making pie crust
1-2

tablespoons

extra virgin olive oil

2

cloves

garlic

,

minced

1/2

bunch asparagus

,

chopped into bite size pieces

6

ounces

about half a bunch spinach or greens of your choice

5

eggs

3/4

cup

2% milk

,

can also do whole milk

1/2

teaspoon

sea salt

big pinch pepper

optional: a few ounces

freshly grated gruyere or parmesan

Pie crust of your choice or see link for my whole grain & nut pie crust
Preheat oven to 375.

Saute asparagus and spinach until asparagus is vibrant green and spinach is just wilted. To do this, heat a large saute pan over low to medium heat. Add in enough olive oil to coat the pan. Once hot, add in garlic and saute until garlic is light brown, about a minute. Add in spinach and asparagus and saute until vibrant green and spinach is just wilted, about five minutes. Set aside.

Make pie crust and place in pie plate (see here for details if using my pie crust!).

Combine eggs and milk in a bowl and whisk to combine thoroughly. Add in salt and pepper.

Place in asparagus and spinach on top of pie dough. Pour egg mixture over asparagus and spinach. Top with grated cheese if using.

Bake for 40-45 minutes, until set and a knife comes through cleanly.