This recipe has been in the making since early summer- sometimes it just takes time to find the perfect ratios and cook time. I wanted a version of these delicious hoisin glazed short ribs I made in 2016 that was instant pot friendly and a little lighter- the hoisin is still there, but not as dominating and heavy.
The recipe is super streamlined: Combine sauce ingredients, pour over meat, and cook in instant pot.  It's also perfect for leftovers- I'll make a batch and then repurpose it in different ways: a stir fry (as seen here), tacos, or even quesadillas.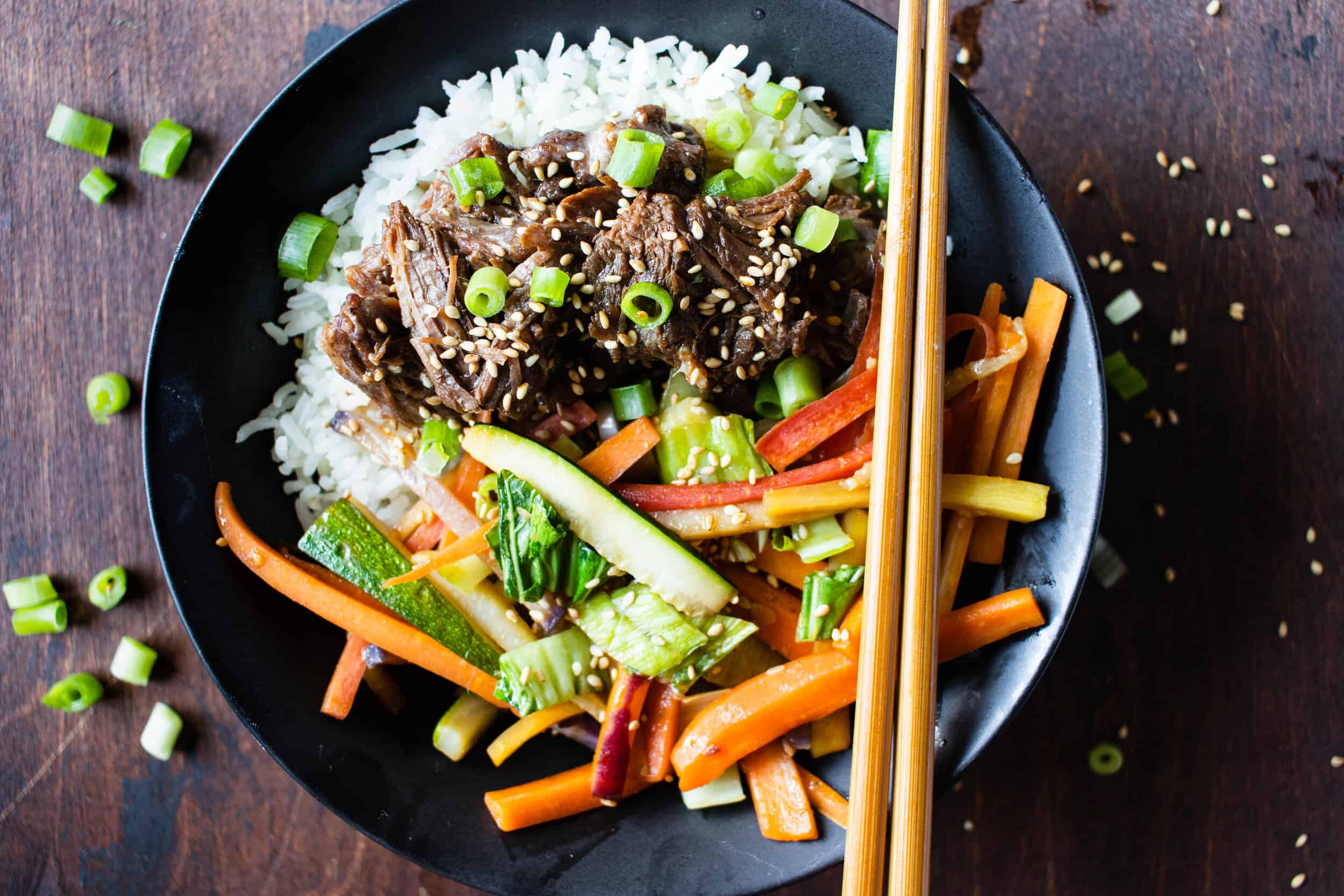 Hoisin Glazed Beef
Difficulty Level: 2
1

pound

stew meat or chuck roast

,

cut into cubes

3

cloves

garlic

,

minced or pressed

1

tablespoon

fresh ginger puree

1/2

cup

hoisin

,

120g

2

tablespoons

fish sauce

1-3

teaspoons

sriracha

,

depending on the amount of heat you want

Optional: 1 tablespoon coconut or brown sugar** (I've found that the flavor of hoisin sauce can really vary from brand to brand. Some are more sweet

,

some more salty. Taste the sauce and see if you think it needs this before pouring over the meat.
Vegetable Stir Fry. Use about 3 cups of various vegetables cut into julienned matchstick. Here's what I used:
5-7

medium carrots

,

matchsticks

1/2

purple radish

,

julienned

1/2

kohlrabi

,

julienned

1

zucchini

,

julienned
Easy Stir Fry Sauce:
1.5

tablespoons

soy sauce

1

teaspoon

honey

1

teaspoon

fresh pureed ginger

1

garlic clove

,

crushed

1

teaspoon

rice vinegar

Optional: sesame seeds and scallions

,

for topping
Salt the meat: Place meat with remaining 1/2 teaspoon salt and let sit for 10 minutes.

Make hoisin sauce: In a small bowl, combine garlic, ginger, hoisin sauce, fish sauce, sriracha, and 1/2 teaspoon sea salt. Mix well until thoroughly combined.

Add the sauce and cook: Pour about 1/2 of the glaze and toss to thoroughly coat. Add in the 1/2 cup water. Cook for 38 minutes on high and let pressure release naturally.

Cool and shred: Remove meat from instant pot and place in a large bowl or container. Let cool a bit, and then shred to desired consistency. Toss shredded beef in remaining hoisin glaze. Keep in mind that this will lose some moisture when kept in the fridge, so I usually over glaze if using for leftovers.

Make the stir fry: Combine stir sauce ingredients in a small bowl. Heat a large skillet over medium-high heat. Add in a bit of oil and once pat is hot, add in veggies. Let veggies sit, without stirring much, for a few minutes and then add in the sauce. Again, stir somewhat infrequently and cook veggies until desired texture, about 2-3 more minutes.

Serve hoisin beef, stir fry veggies with some rice and top with scallions and sesame seeds.
Notes