I like to think of this as a cheese board, but dressed as a salad. Crisp and juicy pear matched with sharp white cheddar is an unbeatable combo. And if you've never had Marcona almonds- oooooh you need to! I use them sparingly since they're on the pricier end, but a little goes a long way and unlike other nuts, I don't have to do a single thing to them to make them delicious. P.S. This is also a plug to add them on your next cheese or charcuterie board (a perfectly acceptable dinner, btw).
The crisp/crunch: pear, marcona almonds
The sweet: pear, white balsamic vinaigrette (any slightly sweeter dressing goes well here!)
The creamy: sharp white cheddar
The salty: sharp white cheddar and Marconi almonds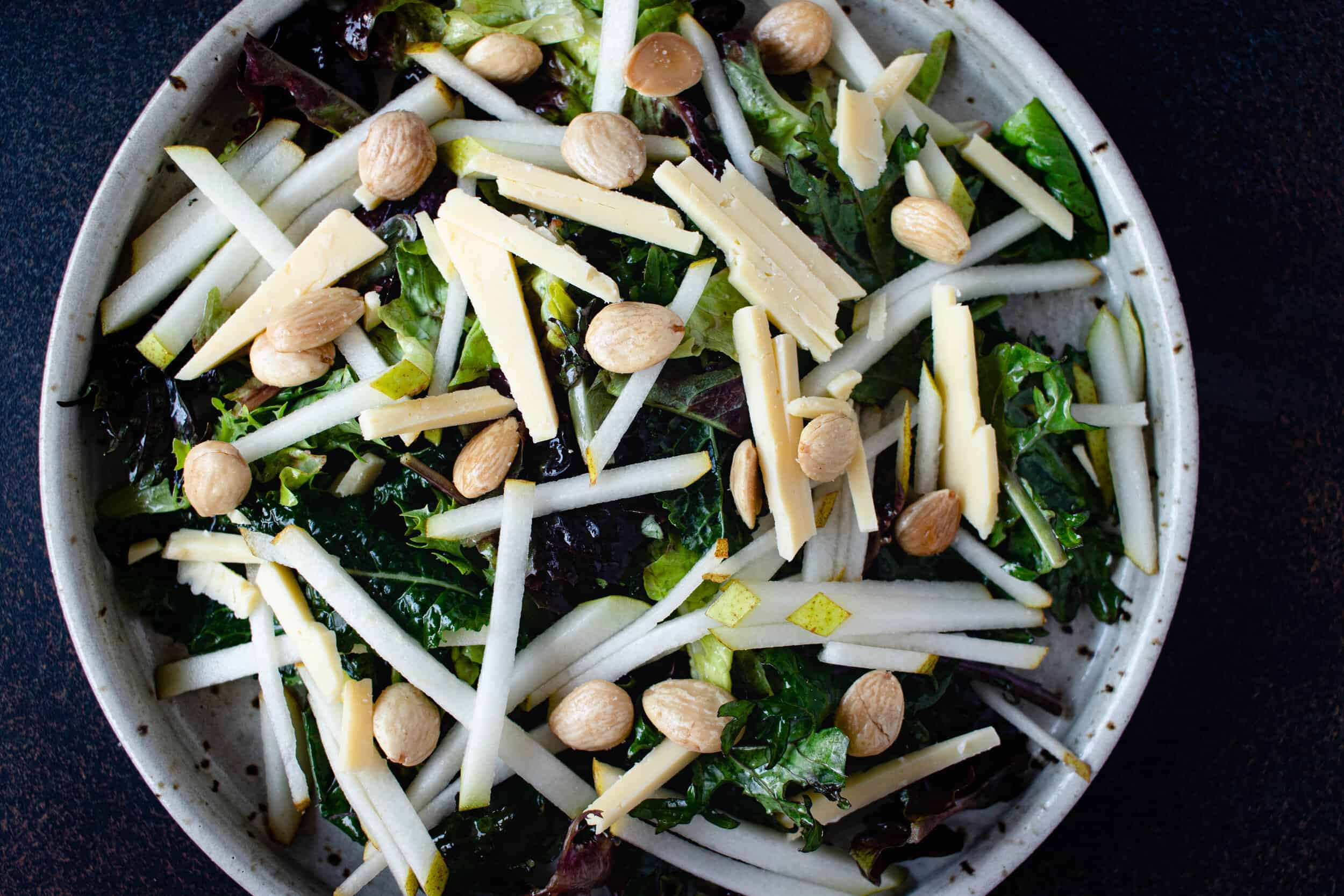 White Cheddar & Pear Salad
Difficulty Level: 1. Makes 1 Monster Salad or 2 Regular OnesAs always… quantities are really just suggestions. You do you.
1

pear

,

julienned (slice into thin slices and then slice again into matchsticks)

2-3

ounces

cheddar

,

sliced into matchsticks as well (I like that they are the same shape as the pear)

2

tablespoons

small handful marcona almonds

3-4

cups

lightly packed mixed greens or baby kale

White Balsamic Vinaigrette

, see my recipe here
Slice pear and cheddar and set aside.

Place mixed greens/kale in large bowl. Lightly pour in vinaigrette and toss to coat. Place greens in whatever bowl you serving the salad in. Add in pear, cheddar, and marcona almonds and serve.

If doing this ahead of time, keep in mind that the pear will oxidize, so only cut it when you are ready to serve and eat.