This Roasted Fig & Carrot Kale Salad pairs one of my all-time favorite veggies to roast (carrots) with a seasonal gem (figs). Even though they're quite different, roasting works on both to bring out and caramelize their natural sugars.
So far I've only seen figs that are a bit on the disappointing side. Sadly I haven't spotted any local ones yet and the ones at the grocery have been not ripe. Luckily, roasting is a great solution to turn a mediocre fig into a delicious one. And roasting is almost as simple as serving them raw. Just add a splash of honey or maple syrup and balsamic vinegar. Then toss in the oven for about 20-30 minutes.
While not necessary, using rainbow carrots add a fun splash of color (and can be roasted ahead of time). Add in some cheese (I had white cheddar on hand), almonds, kale, and preserved lemon vinaigrette and call it a day.
Behind the Recipe: Roasted Fig & Carrot Kale Salad
Given that this salad is quite simple, this section will be shorter than some of my other recipes.
Carrots: Go for rainbow if you can- especially if you are serving this to others. It not only adds a pop of color, but each variety has a slightly different taste so it add scomplexity. While you can cut them any way you want (just beware the cut may change the roasting time), I'm biased toward a matchstick style cut. Slice them in half lengthwise, and then repeat. Then cut them once in half so they aren't too long. They'll be like a skinny fry. Roast on parchment paper for perfect browning. While seasoning with salt is a MUST, other seasonings are optional. and feel free to add a dash of spices (paprika, chili powder, sumac) for a kick.
Figs: Roasting is a very forgiving method and as I said above, helps transform any fig- even if it's not super ripe or juicy- into one that is deeply caramelized and sweet. If you try a half raw and they're delicious raw, then I'd actually by pass this step and just enjoy it as it is.
Preserved Lemon Vinaigrette: My new obsession. It's similar to my lemon vinaigrette, but the preserved lemons adds almost an umami and almost musty (but in the best way!) flavor to it that brings the dressing from summer into fall. Using this preserved lemon paste makes it really easy to cook.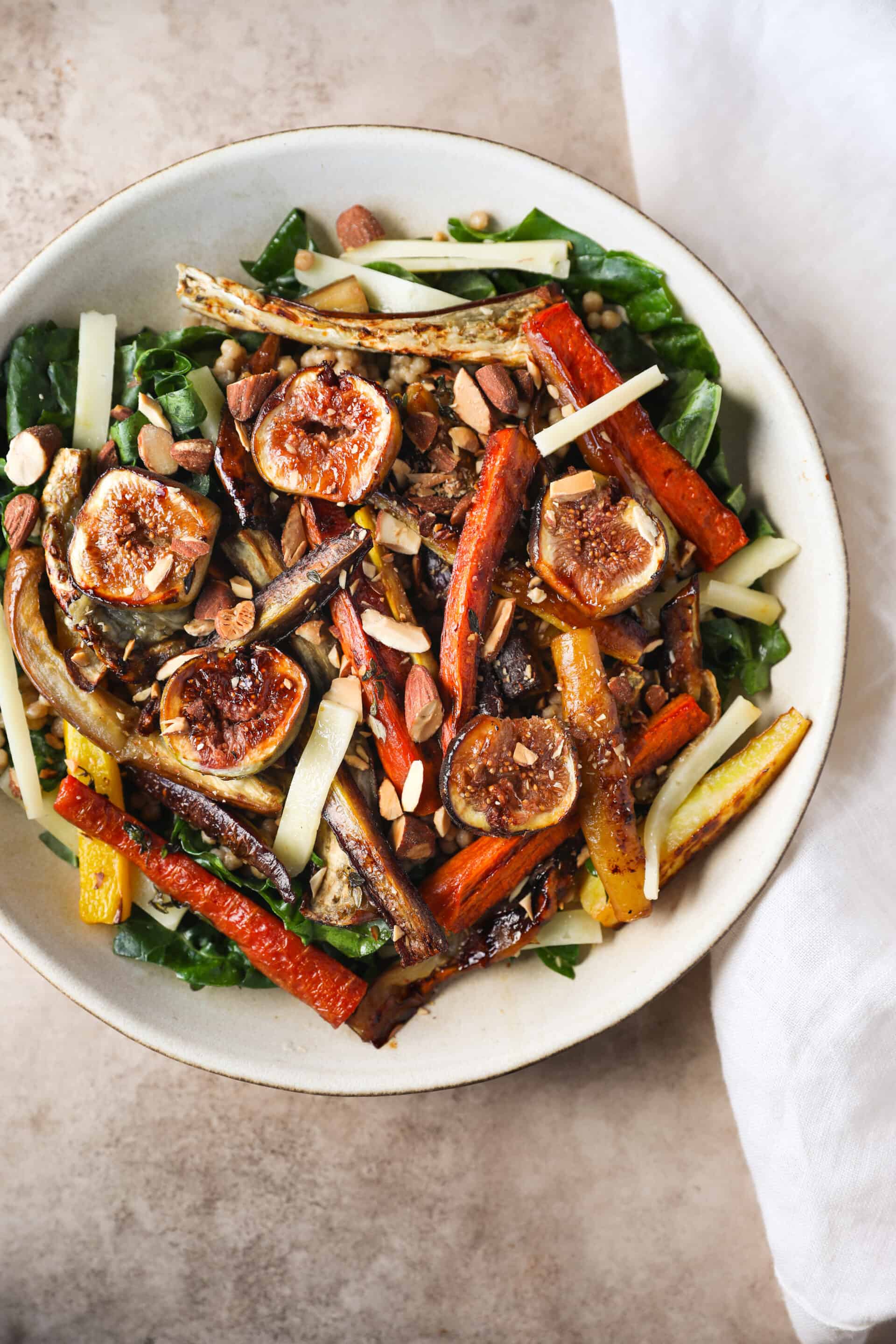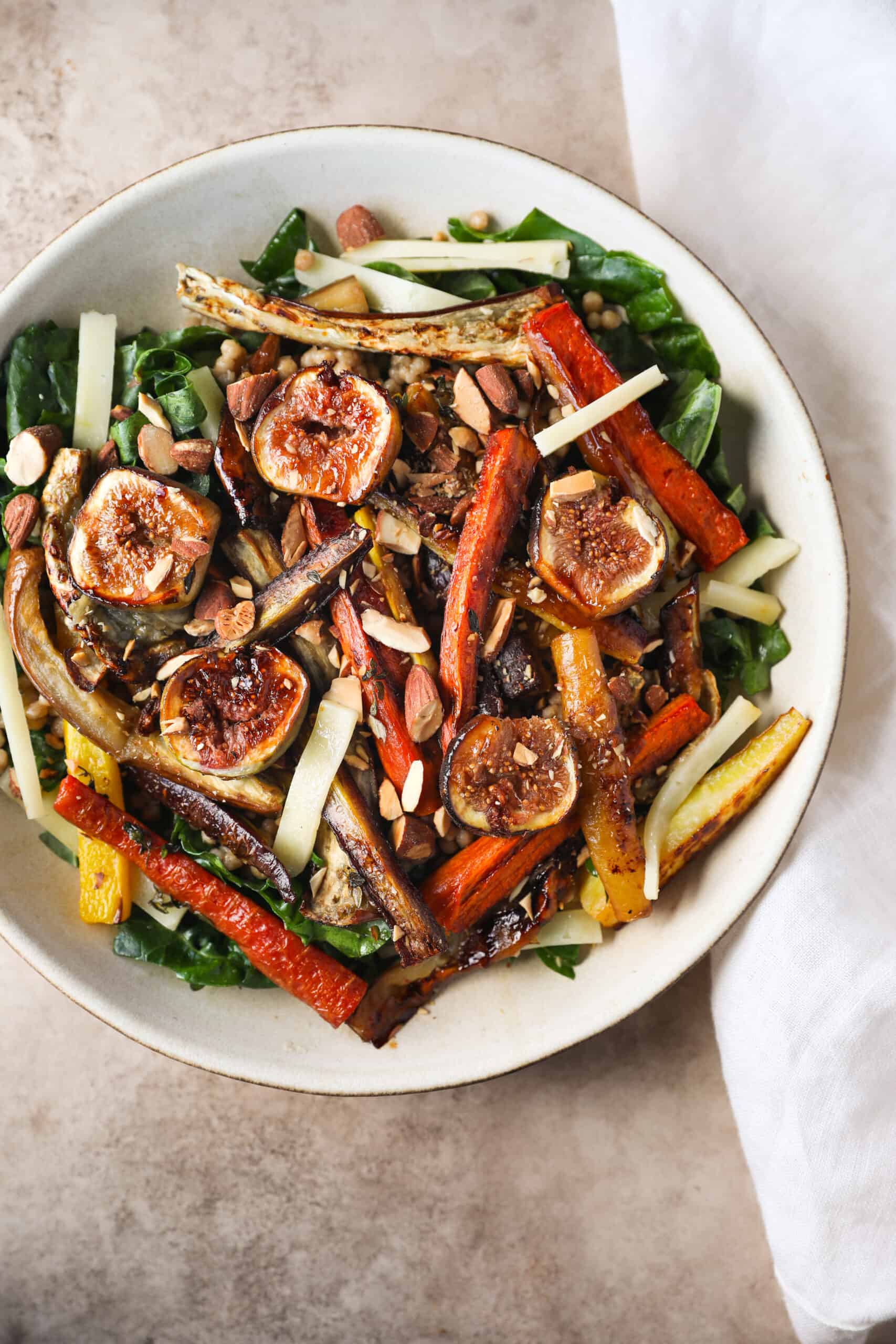 Roasted Fig & Carrot Kale Salad
3

somewhat tightly packed cups (~ 3 ounces)

Lacinato kale

,

, cut into ribbons

8

figs

,

, halved

4

rainbow carrots

,

, cut in quarters lengthwise (see above for description)

1

heaping tablespoon

extra virgin olive oil or avocado oil

generous sprinkling

diamond kosher salt (if using any other salt, use half the amount)

optional: 1

teaspoon

honey or maple syrup

1/2

teaspoon

balsamic vinegar

1/4

cup

toasted almonds (see recipe for toasting below)

2

ounces

cheese of your choice (goat cheese, feta, cheddar parmesan)

preserved lemon vinaigrette (see below)
Preheat oven to 400 degrees.

Line a baking sheet with parchment paper. On one side, add the carrots. On the other side, add the figs. Drizzle with olive oil and season with salt. To the figs ONLY, add on the balsamic and optional honey/syrup. Keeping the carrots and figs seperate, lightly toss to coat the carrots and figs in the oil and seasoning.

Roast until carrots and figs are deeply brown and caramelized, about 25-30 minutes. Set aside to cool slightly.

Place kale into a bowl. Pour about a tablespoon of the preserved lemon vinagirette onto kale and massage dressing into kale for about 30 seconds. Add carrots, figs, cheese, and almonds and serve.