This Sesame Maple Silky Roasted Eggplant is a great substantial side to add to any meal. Roasting for a long time transforms the eggplant flesh into a luxuriously silky texture. It also gives plenty of time to absorb and soak the marinade. The marinade- simply a combination of toasted sesame oil, avocado oil, soy sauce/shoyu, and maple syrup- can be made in 5 minutes with no equipment (no knife, no garlic press, nada!).
If you're looking for a quicker recipe that takes about 10 minutes, see this Easiest Garlic Roasted Eggplant. It has a similar caramelization/char to this recipe, but you won't get the same silky soft inside because it is sliced thinner and uses the broiler. However, because of the method, it takes a fraction of the cooking time.
Behind the Recipe: Sesame Maple Silky Roasted Eggplant
The success behind this recipe is about small but key details in the directions.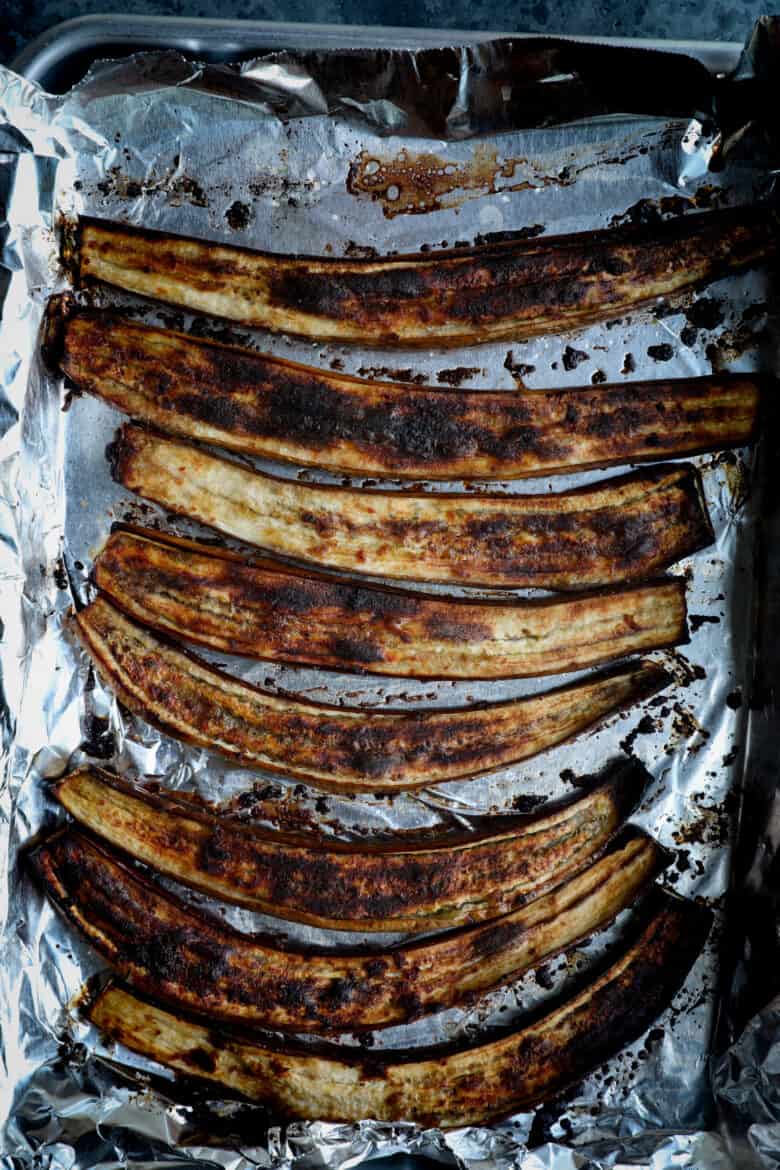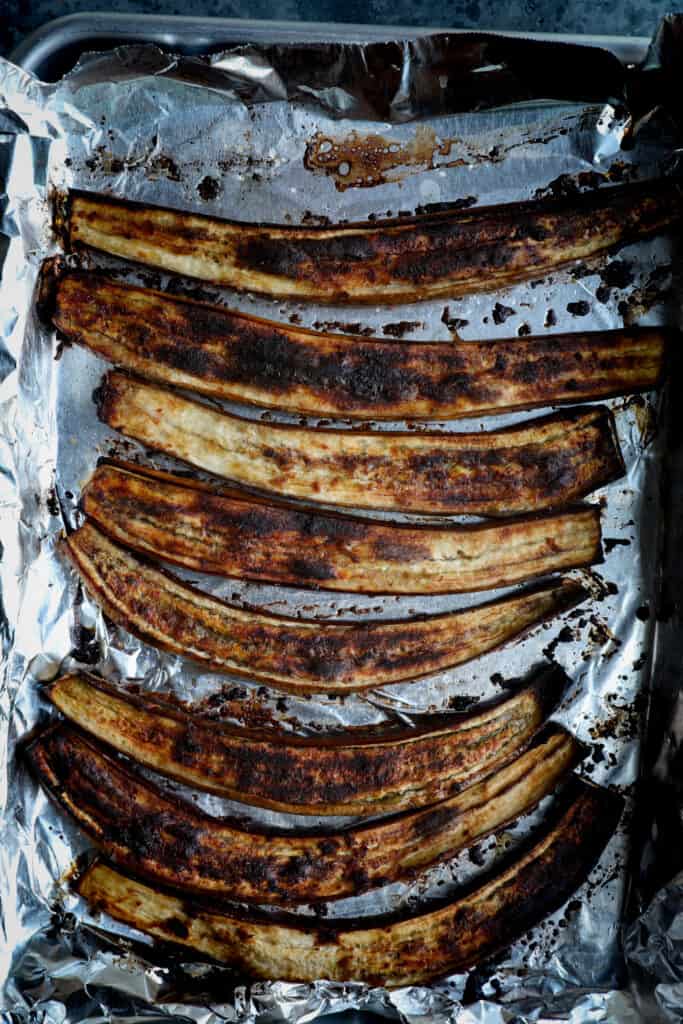 Brushing on the marinade. Use a pastry/basting brush (like this one) if you have it. It helps distribute the marinade more evenly and thoroughly. If you don't have it, I'd actually use your hands to rub the marinade on the eggplant rather than pour it. Eggplant is very porous and just like a sponge, immediately absorbs the oil. If you pour it, it's hard to really distribute because it will immediately soak into where you poured it.
Another small but critical step: salting the eggplant. This draws out the water of the eggplant and helps infuse the marinade into the flesh. Learn more about why here. I do this step first and then work on other components of this recipe or whatever else I'm making while the eggplant sits.
The marinade: This marinade packs a punch quickly, thanks to two of my favorite flavor bombs: toasted sesame oil and soy sauce. Maple syrup balances things out by adding a touch of sweetness. Honey would also work well! Of course, you can add more components like garlic and ginger to this, but this has plenty of flavor and I like its simplicity.
Furikake: This seasoning is used in Japanese cooking as a condiment. It's usually made of nori (seaweed), sesame seeds, bonito, and MSG. I used the Trader Joe's brand, which is a bit different from traditional furikake because it doesn't have bonito (dried fish) or MSG. If you don't already have this, toasted sesame seeds also work!
What are Asian Eggplants?
One of my absolute favorites at the market, Asian eggplants usually have a season from late summer into early fall (August and September usually being peak months). Asian Eggplant includes both Chinese (the darker color) and Japanese (the lighter color. From my experience, they both cook the same and have a very similar flavor.
While Italian eggplant is a common staple at grocery stores, these types of eggplants usually aren't (sadly). So I always do my best to take advantage of their season. You can sometimes find them at grocery stores (particularly Asian markets), but not your commonplace ones.
I prefer these varieties because they cook a lot quicker and are a lot easier to make more tender, making them perfect for this Charred Garlic Eggplant. While they still retain water and need to be salted to extract the water, they hold a bit less water compared to an Italian eggplant, which makes them a bit more flavorful and easier to caramelize. They also have fewer seeds.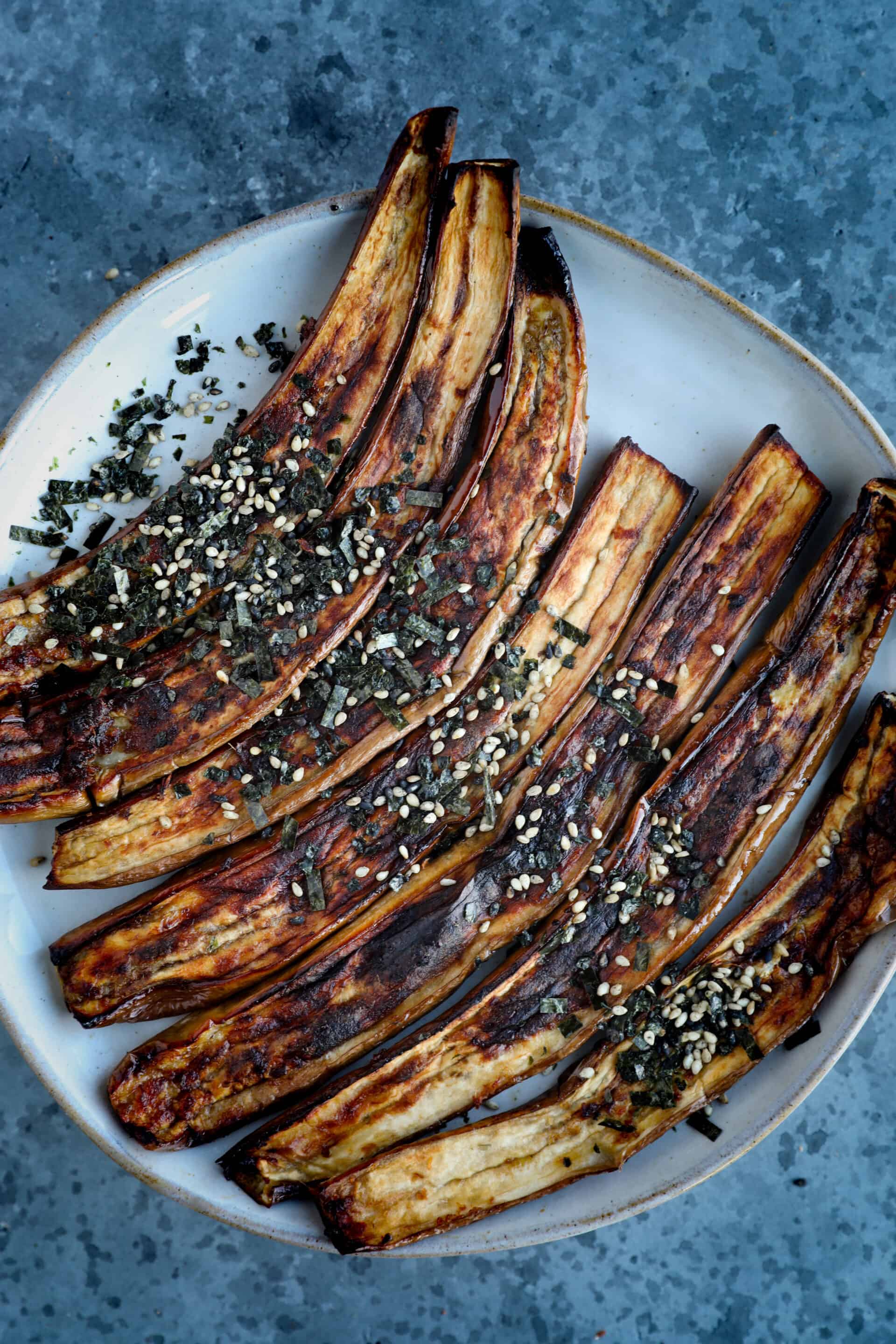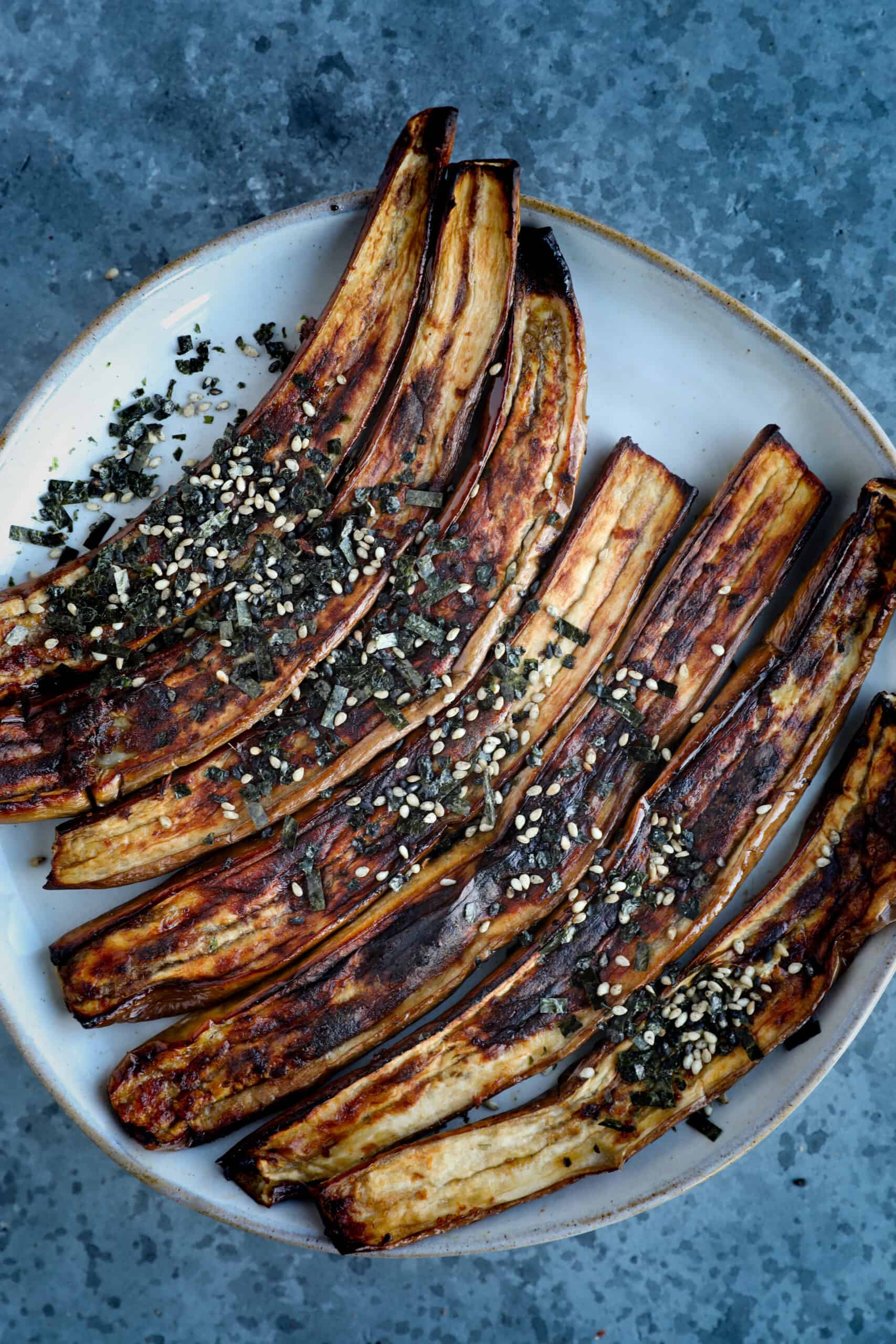 Sesame Maple Silky Roasted Eggplant
1

tablespoon

toasted sesame oil

1

tablespoon

avocado oil or canola oil

1

teaspoon

soy sauce

3/4

teaspoon

maple syrup

1

teaspoon

diamond kosher salt (if using any other salt, use half the amount)

3

medium asian eggplant

,

(Japanese or Chinese), ends trimmed, sliced in half lengthwise

optional:

Furikake seasoning or sesame seeds

,

, for topping
Preheat oven to 400 degrees.

Place eggplant on a parchment-lined or foiled-lined baking sheet, cut side up. Season with diamond kosher salt and let sit for about 10-15 minutes while you make the marinade.

Combine toasted sesame oil, avocado oil, soy sauce, & maple syrup in a small bowl.

After 10-15 minutes, pat the eggplant dry with a paper towel to remove any excess moisture (the salt should have drawn out some water).

Brush oil mixture onto cut-side of the eggplant- focus on the cut side up, but lightly brush the skin side as well.

Bake on a middle rack in the oven until eggplant is quite brown and the inside is soft and almost silky, about 35-40 minutes. If you notice the eggplant isn't browning after about 30 minutes, move it to a top rack.

Optional: Top with Furikake seasoning or sesame seeds if desired.