I'll be honest- I created these Healthy Zucchini Banana Muffins on a bit of a whim. I had been making zucchini bread all week long and loving the flavor of the zucchini in a baked good. I wanted to make a version that was a bit healthier and transportable so I could have it for an on-the-go snack or breakfast. Additionally, everything can be tossed in one bowl (wet ingredients followed by dry), making this the perfect recipe if you're short on time! I'm currently testing out freezing and reheating them, so stay tuned on that front.
These are a great combination of flavorful yet substantial and filling, in the best way. Between the zucchini, applesauce, and banana, these actually have three fruit/veggies in them. These, combined with oats, eggs, and healthy oil, make these muffins nutritious.
One thing to keep in mind if you've baked a lot of muffins before: These have a longer baking time than most muffins this size. That's because they have a good amount of moisture in them due to both the zucchini and applesauce.
Oh and P.S. If you like these, you'll probably really enjoy these muffins too.
Behind the Recipe: Healthy Zucchini Banana Muffins
Zucchini: FAQ's

How do I grate the zucchini? Use a medium-sized hole cheese grater like this.
Do I need to drain the zucchini? No, you don't! While zucchini does hold a lot of water and often is drained in recipes like for fritters, the extra moisture works great here and keeps the muffins really moist. And let's be real- draining it is a pain.
Why is there a weight for the zucchini? What if I don't have a scale? While a scale is a worthwhile investment and I highly recommend getting one, the reason for the weight is because zucchini can really range in size! Having done this recipe a bunch, I've noticed there's a range that works. If you don't have a scale, just go for a medium one.

Banana: The banana is a key ingredient for adding sweetness and flavor. Be sure it's ripe and well spotted. It will be easier to mash and it will be sweeter.
Applesauce (and substitutions): Applesauce is often used in "healthier" baking recipes because it's a good sub for oil and butter. In particular, it works for recipes like this that have other strong flavors because it will kind of hide its flavor. Be sure to get unsweetened and plain. The only pain about applesauce in my opinion? Getting a big jar and then having it in the fridge for a solid week, unused. If you can relate and prefer to not, you can just use 1/4 cup more oil in place of the applesauce.
Lemon zest, pumpkin pie spice, ginger, vanilla: From my experience way back when I found that many "healthier" baking recipes bypass some of the more traditional baking methods and tricks. Specifically, they often lack in the flavor department because they miss out on key add-on's like lemon zest and spices! You might think it sounds like a lot, but these really boost up these muffins in the flavor department and make them more like a traditional muffin. Don't skimp and trust me on it.
Whole Wheat Pastry Flour: Using whole wheat pastry flour is my secret to using whole grains without being tough or too dense. Yes, there is a difference between whole wheat flour and whole wheat pastry flour, and they are not interchangeable. Whole wheat pastry flour has a lower protein content. However, if you only have whole wheat flour, use half all-purpose and half whole wheat flour to get a similar result. This will include whole grains while keeping it nice and light and fluffy. You can also just use all-purpose flour if you prefer.
Oats: These give these Healthy Zucchini Banana Muffins both a boost of nutrition, along with a "breakfasty" feel. I prefer quick cooking oats because they integrate better into the batter, whereas rolled oats will have a stronger texture. You can use rolled oats, but just keep that in mind.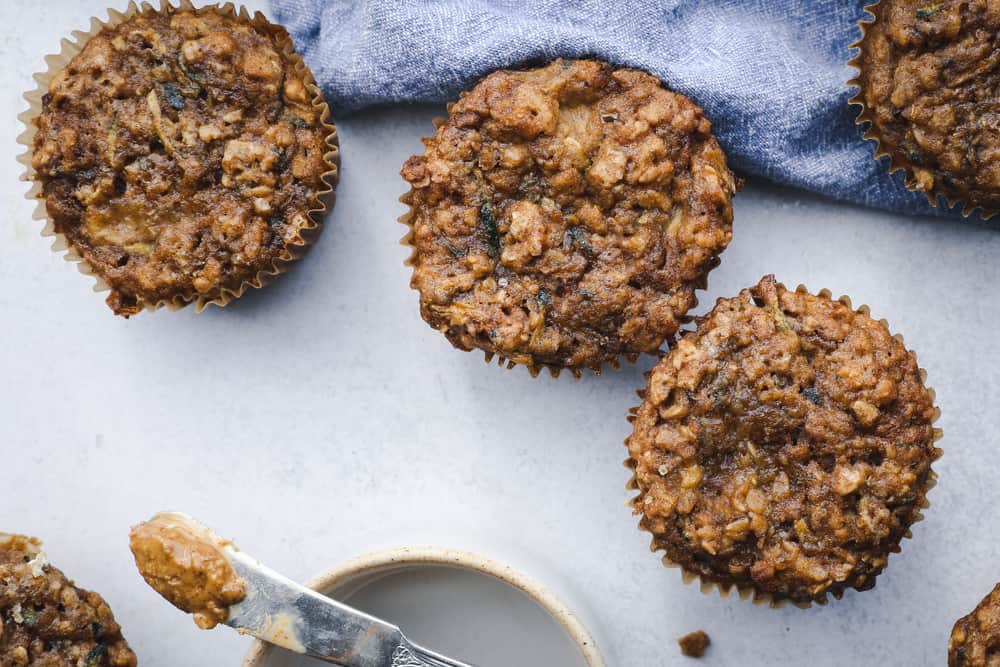 Healthy Zucchini Banana Muffins
2

quite ripe bananas

,

mashed (180-200g)

1

medium zucchini

,

grated (7-9 oz worth)

2

large eggs

1/3

cup (75g)

applesauce

1

teaspoon

vanilla extract

1/2

cup (100g)

coconut sugar or light brown sugar

1/3

cup (50g)

neutral oil like canola or grapeseed

1

cup (128g)

whole wheat pastry flour or all purpose flour

1

cup (80g)

quick cooking oats

,

*see note above if you want to use rolled oats

1

teaspoon

kosher salt

,

or 1/2 teaspon regular salt

1

teaspoon

baking powder

2

teaspoons

pumpkin pie spcie

1/2

teaspoon

ginger

zest of 1

lemon
Preheat oven to 350 and line a cupcake tin with liners.

Place zucchini, mashed banana, eggs, applesauce, vanilla, sugar and oil in a large bowl. Using a fork, mix up and mash banana any more if needed.

Add flour, oats, salt, baking powder, pumpkin pie spice, lemon zest, vanilla on the top. Mix thoroughly with a fork, making sure to get the sides of the bowl.

Use the 1/3 measuring cup to scoop batter into cupcake tin- a heaping 1/3 cup should do. Batter will make 12 muffins.

Preheat oven to 350. Bake 30 minutes.