For me, this summer was all using fruit in new savory ways like in this Watermelon & Blueberry Jalapeno Mint Salad. Adding in herbs, along with some heat and spice, does wonders. It breaks up the sweetness and adds complexity & balance so you can serve these with dinner (and not just as a dessert).
For herbs, mint and basil are my favorites but you can use whatever you have on hand. For heat, this is a perfect opportunity to use any fresh small peppers you spot at the market. Jalapeno, habanero, or maybe a new one you haven't tried but are curious about. If you don't have fresh peppers, just add a small pinch of chili powder and chili flakes for a kick. 
Lastly, don't forget some sea salt on top and just a drizzle of extra virgin olive oil. These two staples tie everything together. While I'm primarily featuring this Watermelon & Blueberry Jalapeno Mint Salad, the combinations are endless- see below for more ideas and details!
Endless Combinations beyond this Watermelon & Blueberry Jalapeno Mint Salad
If you're someone that likes a clear, structured recipe, just jump to the recipe for this Watermelon & Blueberry Jalapeno Mint Salad. If you like experimenting and playing around with different combinations, read below for suggestions on how to make savory fruit salads.
The fruit: In all of my combinations, I stuck with two different fruits. Two keeps things simple and not too muddled, but also interesting. In particular, I like to play with two fruits that have different textures/sizes. Here are some ideal summer fruits to choose from:

Stonefruit: peaches, nectarines, plums, pluots
Melons: honeydew, watermelon, canataloupe
Berries: blueberries, strawberries, blackberries (you could do raspberries, but they tend to break down and get mushy quickly)

The heat/spice: I'm often drawn to the usually colorful and festive array of small peppers I see at the market, but then I get overwhelmed by the possibilities and what to do with each one. This is the perfect place to try, explore, and experiment with different spicy peppers. Not only is the salad is flexible enough that you can try new varieties, but you can also really taste each pepper and get a sense for its heat and flavor. No matter what you choose, I follow a few rules of thumb:

Mince as tiny as possible: This helps to make sure the pepper is distributed throughout the salad and you get a bit of heat in each bite (and not a lot of heat in one!).
Remove the seeds: The seeds contain a lot of heat, so this is another way to control and moderate the heat.
Start with half (or even a quarter): It's easy to add more heat than to remove heat. Start with a small amount, taste, and adjust as you want.

Herbs: Mix, match, and choose whatever looks good or you have on hand for these savory fruit salads.

Basil, mint, cilantro: These are the three herbs I've used most in these salads.

Other Add-Ins:

Lemon or lime zest is a great add for another kick of flavor!
Sesame seeds or pumpkin seeds: When adding these, I like to toast the seeds in the oven or stovetop to bring out their natural flavor.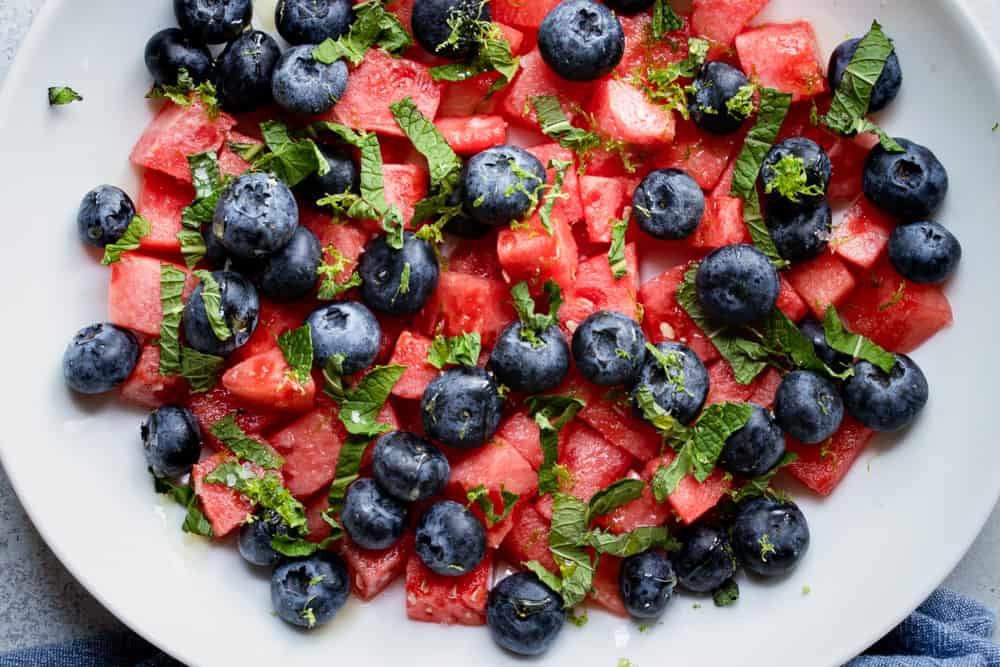 Watermelon & Blueberry Chili Mint Salad
3

cups

diced watermelon

,

(about 1/4 of a medium watermelon)

1

cup

blueberries

1/2

jalapeno pepper

,

, minced (see above for other options- you can use any hot small pepper in here)

handful

fresh mint or basil

,

, julienned or chopped (you can also sub in other herbs based on what you have around and what sounds good!)

1

tablespoon

extra virgin olive oil

sprinkling

kosher salt or flakey sea salt

optional:

lemon or lime zest

optional:

toasted sesame seeds or pumpkin seeds
Place watermelon, blueberries, jalapeno, and mint/basil together in a bowl. Toss to combine. Drizzle lightly with olive oil and salt. If using optional ingredients, add before serving. Serve.