Nothing beats a tangy, refreshing and ice cold drink when its getting this hot. As per usual, I have an abundant amount of rhubarb in the fridge, so including it just seemed like the obvious option.
This is my take on a simple syrup- it's only made with honey (and an option to add some stevia). It's easy and stores in the fridge for at least a week (tbh, I haven't tried longer, but I'm exploring that and also freezing it).
Customize this drink as you want and use this as a starting point. Let me know if you make any adjustments or additions! P.S. I think some gin or vodka would go real well in this (I just haven't tried it).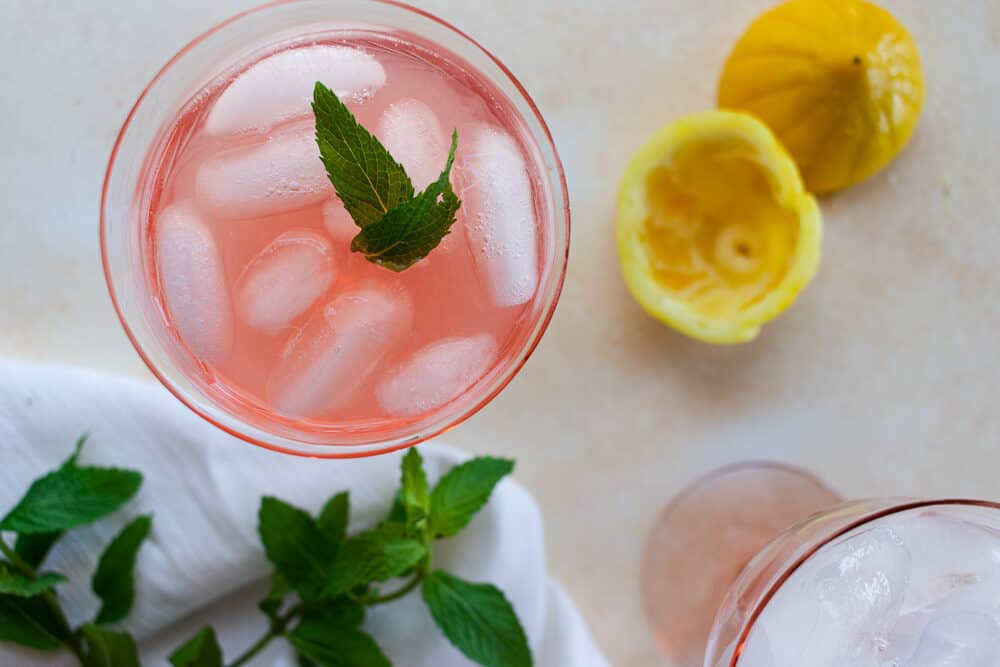 Honey Rhubarb Lemonade Spritzer
Recipe adapted from Food 52
Rhubarb Honey Syrup (makes about 1 cup)
5

ounces

rhubarb

,

diced (about 1 stalk)

3

tablespoons

honey

,

(if not using stevia, add in another tablespoon of honey)

6

ounces

water

,

(3/4 cup)

2

packets

stevia
Rhubarb Lemonade Spritzer
3

ounces

rhubarb honey syrup

,

1/3 cup

2

ounces

fresh lemon juice

,

1/4 cup

2

ounces

lime sparkling water

mint

,

for garnish (optional)
Make the Rhubarb Honey Syrup
Place rhubarb, honey, and water in a small saucepan. Bring to a boil over medium heat and then reduce to a simmer. Simmer for 20 minutes.

Remove from heat and let cool just slightly before straining it through a colander to remove the rhubarb "pulp". Try to get as much liquid from the rhubarb when straining.

Immediately after straining, add in stevia and stir to dissolve. Then let cool completely. It will be more liquidy than a typical simple syrup, but trust me on it.
Make the Lemonade
Combine all ingredients. Taste and adjust as desired.