The first time I made these, Matt quickly declared these as one of his favorites. My immediate thought: perfect because I had really simplified down a more complex recipe and these were just as good! Bonus points because this BBQ sauce is full of flavor and plenty sweet, but has no refined sugar and just a tablespoon of maple syrup.
Since then, I've made these for a small gathering and a dinner- they're versatile enough that they can work as an appetizer or a full meal, depending on what you serve it with. You can also do cook wings instead of drumsticks if you prefer!
What to serve with? Crispy cucumbers doused in just a bit of rice vinegar is the perfect summery and refreshing compliment to the BBQ sauce. Last night I served this with a Caesar salad and sweet potato fries.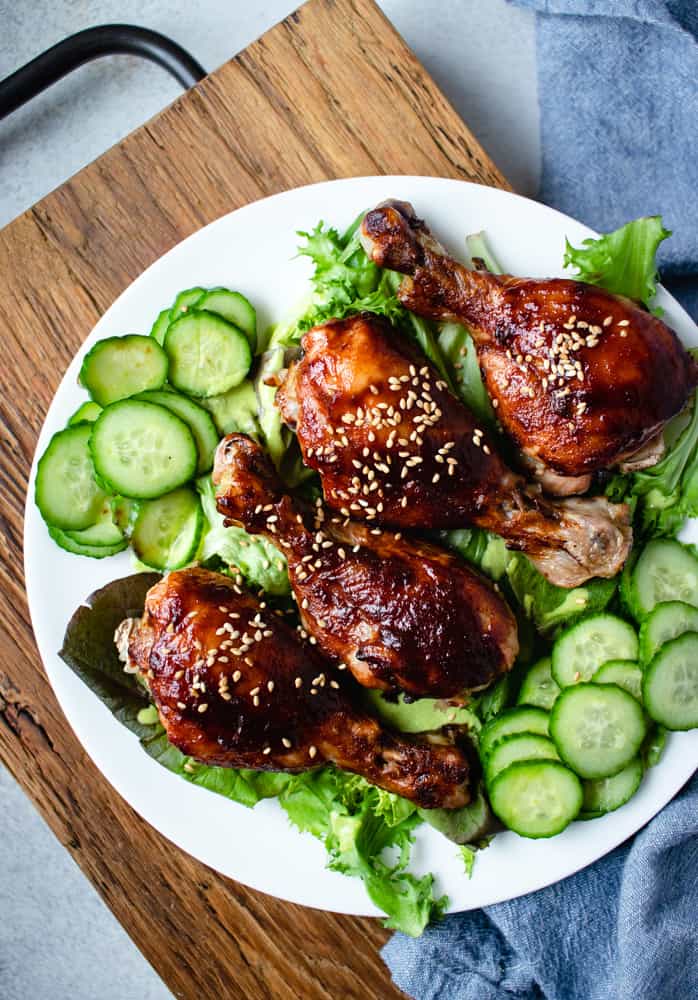 Sticky Pomegranate BBQ Drumsticks (Whole 30-Ish)
1/2

cup

pomegranate juice

1/2

cup

canned tomato sauce

2

tablespoon

shoyu or soy sauce

1

tablespoon

maple syrup

1

teaspoon, divided

kosher salt

,

1/2 teaspoon for sauce + 1/2 teaspoon for seasoning chicken

1.5

pounds

chicken drumsticks

,

(about 6)
1. Preheat oven to 425 and prep chicken. Pat chicken with paper towel to dry and then place on parchment lined baking sheet. Sprinkle generously with kosher salt. Set aside and once oven is ready, place in oven. Bake for 20 minutes (they will continue cooking for about 15 more minutes after this initial 20, but you'll need the sauce for this part!).

2. Make the sauce. Meanwhile, while oven is preheating and the chicken is starting to cook, make the BBQ sauce: Add pomegranate juice to a small sauce pot and put on a low boil for about 5 minutes, until the juice has reduced in half.

3. Add canned tomato sauce, soy sauce, maple syrup, and salt to the small pot and continue to simmer for about 10 minutes, until thickened. The longer you simmer, the more intense the flavors, so it's a bit up to you. 

4. Baste and bake. After the initial 20 minutes of cooking, the chicken should be partially cooked. At this point, remove the chicken, brush on the BBQ sauce, and then place back in the oven. Repeat this for every 5 minutes for 15-20 minutes (a total of 35-40 minutes), or until chicken is fully cooked.