Looking for a fun weekend baking project that you can enjoy all week long? This is it. I've adapted my bagel recipe into pretzel form and with spelt flour.
Fluffy on the inside, a crispy exterior, and lots of flaky salt and seeds, these are going to be delicious no matter what shape you make them. Have fun with a traditional twist or make your own.
Pretzels are definitely a nostalgic food for me- anyone else obsessed with those "Super Pretzels" you'd store in the freezer and microwave?
These are a little different- they require a lot more than a 30 second blitz in the microwave. Buuuuut there's the satisfaction of making the dough yourself, seeing it rise, and having full control as to what goes into the dough.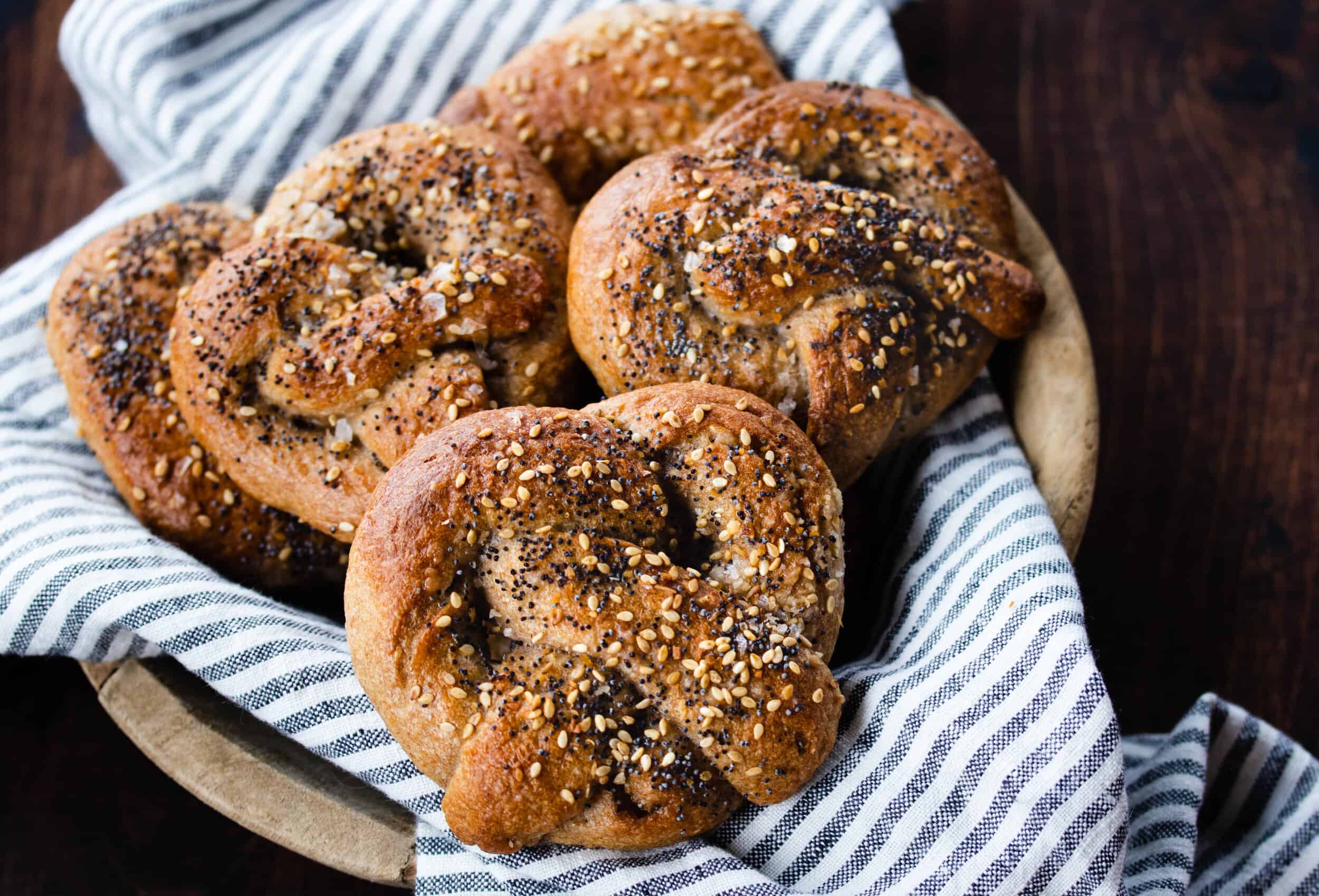 Homemade Spelt Pretzels with Everything Seasoning
9

ounces

(1 cup + 2 tablespoons) warm water (about 100 degrees- just above room temperature)

1

teaspoon

active dry yeast

1

tablespoon

honey

15.5

ounces

(just under 3 1/2 cups) total flour

,

1) 8 ounces all purpose flour (or whole wheat flour; if using whole wheat flour, add another tablespoon (0.5 ounces) of water into the mix) 2) 7.5 ounces spelt flour

3

teaspoons

salt

,

divided- 2 teaspoons salt for dough; 1 teaspoon salt for boiling water

1

teaspoon

baking soda

1

egg

,

beaten (for egg wash)

toppings of your choice- for an everything bagel: flaky sea salt

,

my favorite; Maldon poppy seeds, sesame seeds, dry minced garlic (regular garlic powder works in a pinch too), & dry minced onion

The beauty about this is you can omit or add more of whatever spices you like!
This is a simplified version of the directions. If this is your first time making a dough like this, please see here for a more detailed version. The steps are exactly the same, except you will shape the pretzels differently than a bagel!
In a large bowl, add in warm water, yeast, and honey. Let sit for 5 minutes to bloom.

Add in flour and salt (2 teaspoons) and stir into dough. Let sit for another few minutes.

Knead dough for a brief period of time (3 minutes).

Place dough into a well oiled bowl. Cover with plastic wrap and place in fridge for an hour.

Divide dough into 9 pieces and roll into a bagel shape and place on baking sheet. Cover with plastic wrap and place in fridge overnight.

Preheat oven to 500.

Let dough come to room temperature while bringing a large pot of water to a boil. Add in baking soda and 1 teaspoon of salt. Reduce heat to a simmer.

Do the float test.

Boil each bagel for 90 seconds– flip each one about halfway through. Place back on baking sheet.

Brush egg wash onto each bagel lightly and sprinkle seasonings onto each bagel.

Reduce oven temperature to 450. Bake bagels until golden, about 16-20 minutes, rotating the sheet halfway through to ensure even browning.