This cookie is like the perfect match for Matt and me- all the decadent gooey chocolate for him; sea salt, browned butter, dark chocolate, and rye for me.
Here are a few other reasons why I'm loving this recipe:
It's almost a one bowl cookie recipe. Yes, two bowls and a pan, but it's still straight forward and simple enough to enjoy making, maybe even on a weeknight.
Brown butter and brown sugar give this a nutty caramelized flavor that is subtle yet so on point.
Its brownie like batter seriously tests your willpower on eating raw dough. Clearly I have none.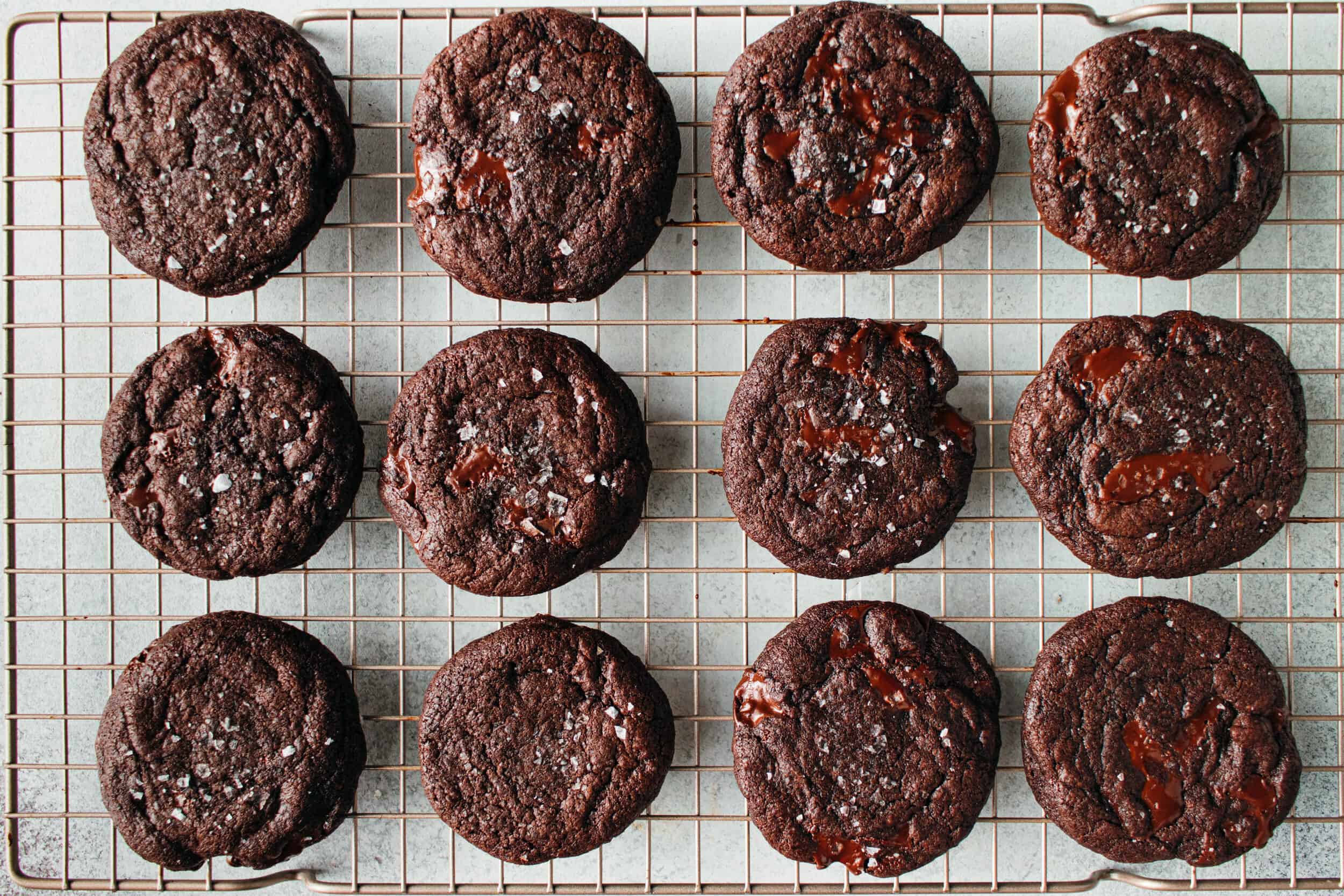 Dark Chocolate Brownie Rye Cookies
2

eggs

,

at room temp

6

ounces

dark chocolate

,

(~60-70%), cut into bite size pieces

2

sticks

,

8 ounces unsalted butter

1

cup (128g)

all purpose flour

2/3

cup (84g)

rye flour (can also substitute with more all purpose flour or whole wheat flour)

1

teaspoon

baking soda

1/3

cup (38g)

unsweetened cocoa powder

1/2

cup (100g)

light brown sugar

1/2

cup (100g)

white sugar**

,

** Depending on how dark the chocolate is you may want to add more sugar. I recommend tasting and adjusting as needed (maybe add in a tablespoon more if you think it needs to be sweeter).

1

teaspoon

salt

1

teaspoon or so

flaky sea salt

,

for topping
Brown butter by placing the sticks of butter in a small saucepan over low heat. Let simmer until lightly golden and you just see the beginning of brown specks, about 7 minutes (after about 5, watch closely as it can go from golden to burnt quickly). Place in large bowl and set aside to slightly cool.

Meanwhile, cut chocolate into small 1/4'' pieces.

Place flours, baking soda, and cocoa powder (NOTE: If you find that the cocoa powder is clumpy, sift first!) into a medium bowl.

Add sugars and salt to large bowl with slightly cooled butter. Before adding eggs, check that the mixture is not too hot, or it could accidentally cook them! On a time, add in eggs and whisk vigorously for about 30 seconds (you can also use an electric mixer here if needed), until the mixture is like a golden caramel texture and color.

Stir and fold in in flour ingredients with a spatula or spoon until there are no clumps. Then stir in chocolate until combined thoroughly.

Place dough in fridge for at least 30 minutes to thicken. About 10-15 minutes before you take out the dough, preheat oven to 375.

Line 2 baking sheets with parchment paper or silpat. Take about a 2-tablespoon portion of the dough and roll into a ball and place on baking sheet. Repeat with remaining dough (it will make about 22 cookies).

Lightly sprinkle the flaky sea salt on top right before you baking.

Bake cookies until the outside is set, but the inside is still a bit gooey, about 9 minutes.