Okay, I know I'm a little late for Hanukkah, but these super crispy latkes should be enjoyed all year long and are the perfect way to showcase butternut squash.
I usually make these in small batches, as these are best eaten right away. Recently I've been loving them with a bit of avocado and sometimes even a fried egg- they pair perfectly with the squash and work for brunch or a breakfast-style dinner.
A few tips:
Buy a butternut squash that has a longer "neck" to get more bang for your buck. The amount of seeds in the base just makes it hard to get much from it, so I try to find one that has a very small base.
Additionally, I've found a big difference in how easily I can peel the skin off of the squash when I use squash from the farmers market. Just another reason to buy local!
If you have a scale, weigh your egg- it seems silly, but I actually weighed out how much egg I used, and used about 2/3 of the egg to prevent the latke from getting more of a pancake texture (unless that's what you want).
Try to drain out as much excess water from the squash by salting, draining, and pressing it. This results in a crispier latke.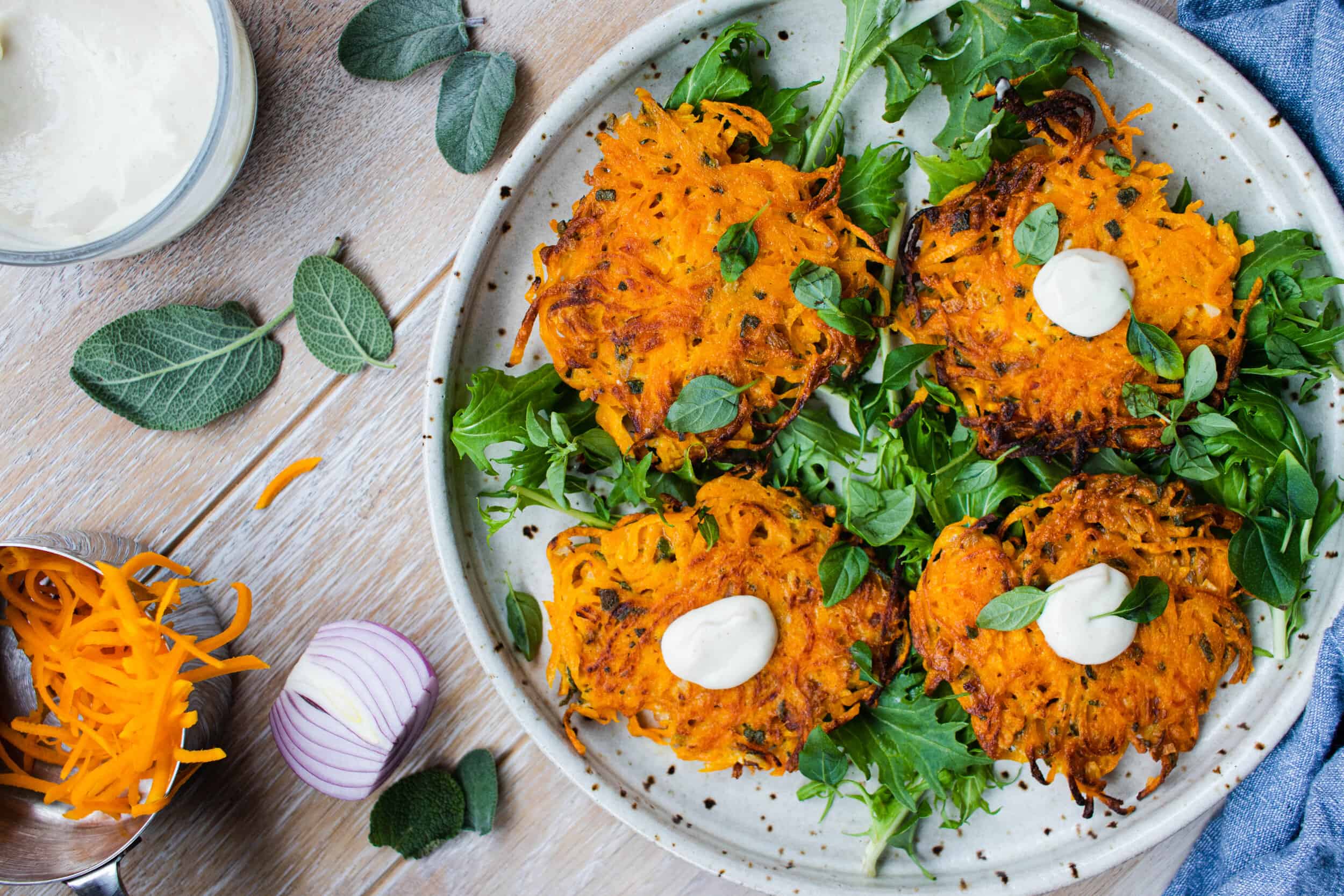 Easy Butternut Squash Latkes
Difficulty Level: 2
8

ounces

butternut

,

(from 1 small butternut squash)

1/4

teaspoon

salt + 1/4 teaspoon salt

,

(divided)

2

tablespoons

(24g) gluten free AP flour or regular AP flour

2

garlic cloves

,

minced

4-5

sage leaves or 1 spring rosemary

,

minced (you could really use a variety of herbs here, I just recommend using one. Next time I may try cilantro)

2

tablespoons

minced red onion

30

g

egg

,

whisked (scant 1 egg)

2

tablespoons

coconut oil or other high heat oil

,

for frying
Grate butternut squash. Season generously with salt and surround with paper towels in a colander. Place a heavy weight over and drain for 15 or so minutes. When done, press out with paper towels to remove any excess moisture.

Add butternut squash to a large bowl. Add in flour and toss lightly to coat butternut squash in flour.

Add in garlic, sage, and red onion and toss. Pour in egg and toss again.

Place a large skillet over medium heat. Add in coconut oil. Once hot, take about 1/4 cup of the butternut squash mixture into your hands and flatten into a flat patty. Add to pan. It should immediately sizzle. Repeat for the rest of the mixture, but don't stack or squish the fritters together in the pan- you'll most likely have to do 2 batches.

Once one side is brown, about 3 minutes, flip and repeat until the other side is also brown. Remove fritter onto a plate. If you notice there is a lot of excess oil, place the fritter on top of a paper towel.