This festive and healthy side is the perfect easy addition to your holiday meal. Here's why:
It comes together in about an hour, and most of that is just waiting for the veggies to roast and the rice to cook.
It's perfect for leftovers for the rest of the week.
While pomegranate and butternut squash/sweet potato are needed for color and vibrance, almost all the other ingredients are flexible and you can adjust based on what you have on hand. I've added in celery for a crunch and mushrooms for an umami flavor, but you can easily sub in another veggie. Similarly, toss in whatever herbs you have on hand and call it a day.
While I love the unique color and texture of wild rice, it's more expensive and harder to find. Use farro, quinoa, or white rice as a sub.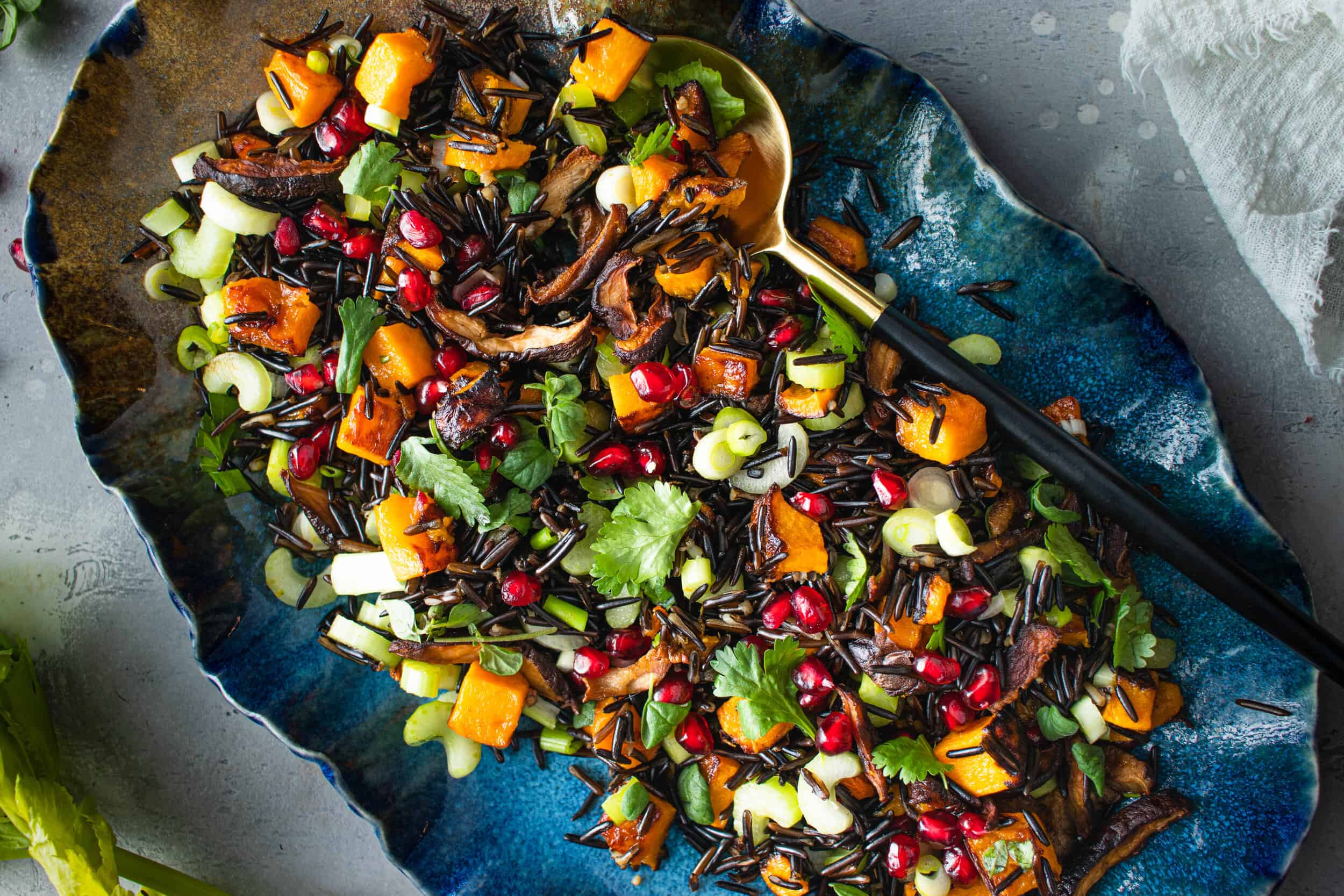 Pomegranate & Roasted Butternut Squash with Wild Rice
Difficulty Level: 2. Serves 4. Keep in mind here, like most of my salads, the quantity of ingredients is quite "loose" and really up to you. Adjust quantities based on how it looks and feels to you, and add more of what you like!
1

cup

wild rice

,

cooked according to directions

1

medium butternut squash

,

diced into 1/2'' cubes (1 tablespoon olive oil, sea salt and pepper, to taste)

seeds from 1/4 pomegranate

,

about 1/3 cup

2-3

celery stalks

,

thinly sliced

1/4

cup

cilantro leaves

,

or other herb of your choice

2

scallions

,

diced

1

tablespoons

olive oil

1

tablespoon

or so fresh orange juice

roasted mushrooms

,

see below for separate directions and ingredients if adding
If adding roasted mushrooms:
1/2

pound

shitake mushrooms

2.5

tablespoons

tamari/soy sauce

1

teaspoon

smoked paprika

1

teaspoon

maple syrup

1 1/2

tablespoons

avocado oil

,

can also use extra virgin olive oil, grapeseed oil or canola oil
Preheat oven to 425. Toss butternut squash in 1 tablespoon olive oil, salt, and pepper. Place on a parchment lined baking sheet and place on a rack that is closer to the bottom of the oven. Bake for about 25-30 minutes, until well browned on all sides. Check halfway through and toss to ensure even baking on all side.

If roasting mushrooms, roast at this time too! Toss mushrooms in the tamari, smoked paprika, maple syrup, and avocado oil. Then spread onto another baking sheet lined with parchment and bake for about 25-30 minutes as well. Check halfway through and toss as well.

Meanwhile, cook wild rice according to directions.

Let butternut squash and mushrooms cool slightly before tossing in with other ingredients.

Toss together the wild rice, celery, cilantro, & scallions with a tablespoon of olive oil and just a squeeze of fresh orange juice (roughly a tablespoon or so- I recommend doing this to taste). Season generously with salt.

Add in pomegranate, butternut squash, and mushrooms. Toss lightly so as not to crush anything. Season again as needed and serve.