Super excited about this one- Matt had been craving ramen (and really, who isn't given how cold it is right now) and we had just roasted a whole chicken, so I was ready to make some homemade stock. My goal was to minimize steps by combining both the step to make the chicken stock with the miso broth- toss everything into the instant pot, and it's done in an hour.
Add in some ramen, fresh crisp veggies (here is a seasonal combination of daikon, purple radish, green luobo radish, carrots, & boy choy), and a jammy egg.
So next time you do a roast chicken- save the carcass and make this!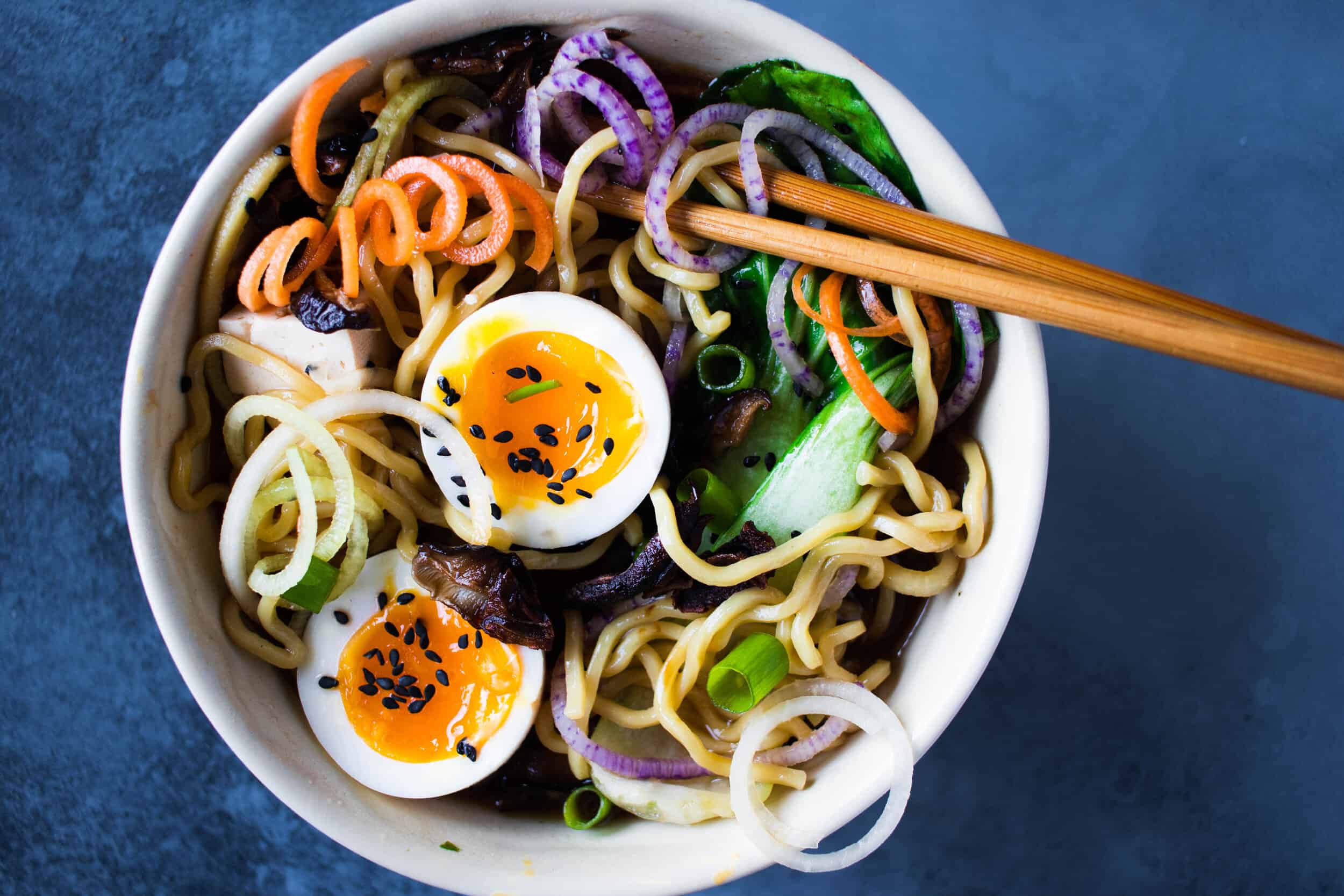 Cozy Miso Ramen
Homemade Miso Broth:
1

chicken carcass

6

cups

water

2

celery stalks

2

carrots

1

teaspoon

black peppercorns

1/4

cup

red miso

1.5

tsp

salt

6

or so shiitake mushrooms

,

(optional, but recommended)
Other Ingredients:
1

package ramen noodles

,

(I got Sun Noodle and loved! Lotus Foods has a great brown rice & millet noodle as well)

2

cups

(1/2 cup/person) spiralized or julienned veggies (choose ones that will be crispy and fresh like radishes, carrots)

1

small bunch baby boy choy

1 14

ounce

block tofu

,

cut into cubes OR some shredded chicken (already cooked)

1

jammy egg/person

,

(directions below)
Place all ingredients for miso broth in instant pot. Cook on high pressure for 45 minutes and let it release naturally.

If using immediately: Add the tofu in the instant pot on the saute function while you cook the ramen noodles according to directions (you can also cook the ramen noodles right in the stock if you're in a pinch, but I'm not sure that's probably a faux pas).

If using later: Reserve broth and store in an airtight container in fridge until ready to use. When ready, pour broth in a medium sauce pot and simmer until warm (you can also do this for a single serving and just do a small amount of broth!). Add tofu and let simmer while you prepare the noodles.

Cook ramen noodles according to package directions in a separate pot of boiling water (see Step 2 if you're looking for a shortcut and wanting to minimize the number of pots you use).

Once noodles are done and right before serving, add in the box choy to the broth and simmer for 2 minutes, until wilted.

Place ramen noodles and veggies in a bowl and pour over very hot broth over the noodles and veggies.

Top with egg.
Jammy Egg Directions (can be done ahead of time):
Heat a small saucepot over high heat until boiling.

Gently add egg into boiling water and let sit in boiling water for 7 minutes. Get an ice bath ready to immediately cool down the egg and stop cooking.

After 7 minutes, place in ice bath until completely cool. Once cool, remove shell and serve.