Updated Description:
My ultimate go-to. It's delicious every time, easy and straight forward to make, and great for leftovers for the week. Whenever I'm feeling a bit uninspired, tired, or just wanting comfort food, I normally make this. It's the perfect balance of some vegetables, beans, and meat. Five years later, this is still my favorite recipe.
This recipe is also quite flexible- sometimes I'll add in a teaspoon more of a spice or two, other times I'll add in a can of pumpkin or switch the beans I use for a new flavor. Top with freshly shredded cheese, some avocado, and maybe even some tortilla chips for the ultimate meal.
Initial Description: (Published in March 2018)
This recipe came about for two reasons:
I love chili, but I've been making so much of my favorite recipe (see here) that I was worried I'd get sick of it. So this is a perfect variation!
I've had canned pumpkin in my pantry for WAY too long.
Luckily, this turned out really well. It's a great way to change up chili a bit- the pumpkin flavor is subtle, but you'll definitely notice it!
This recipe has been updated, but I wanted to keep my old original picture because it of the memories it provides. It's also a good reminder of my growth in photography skills!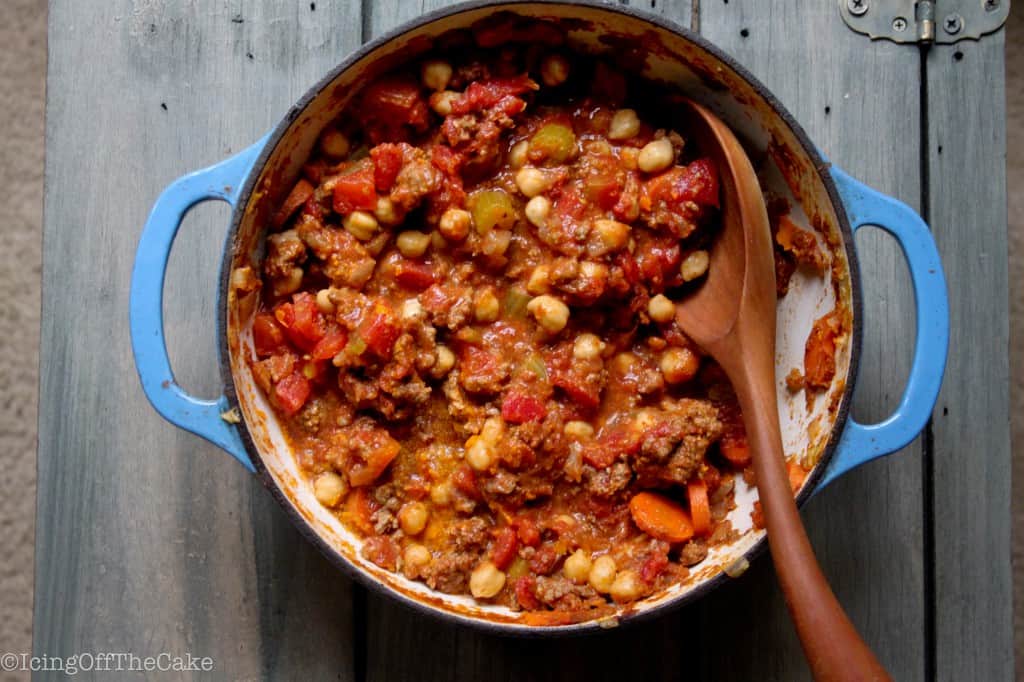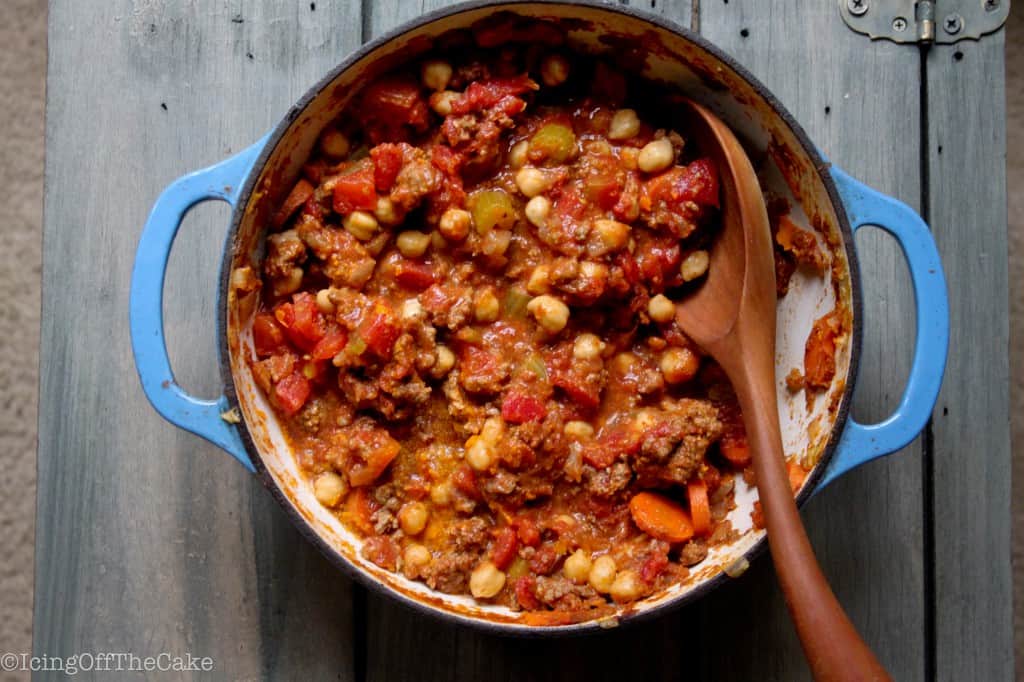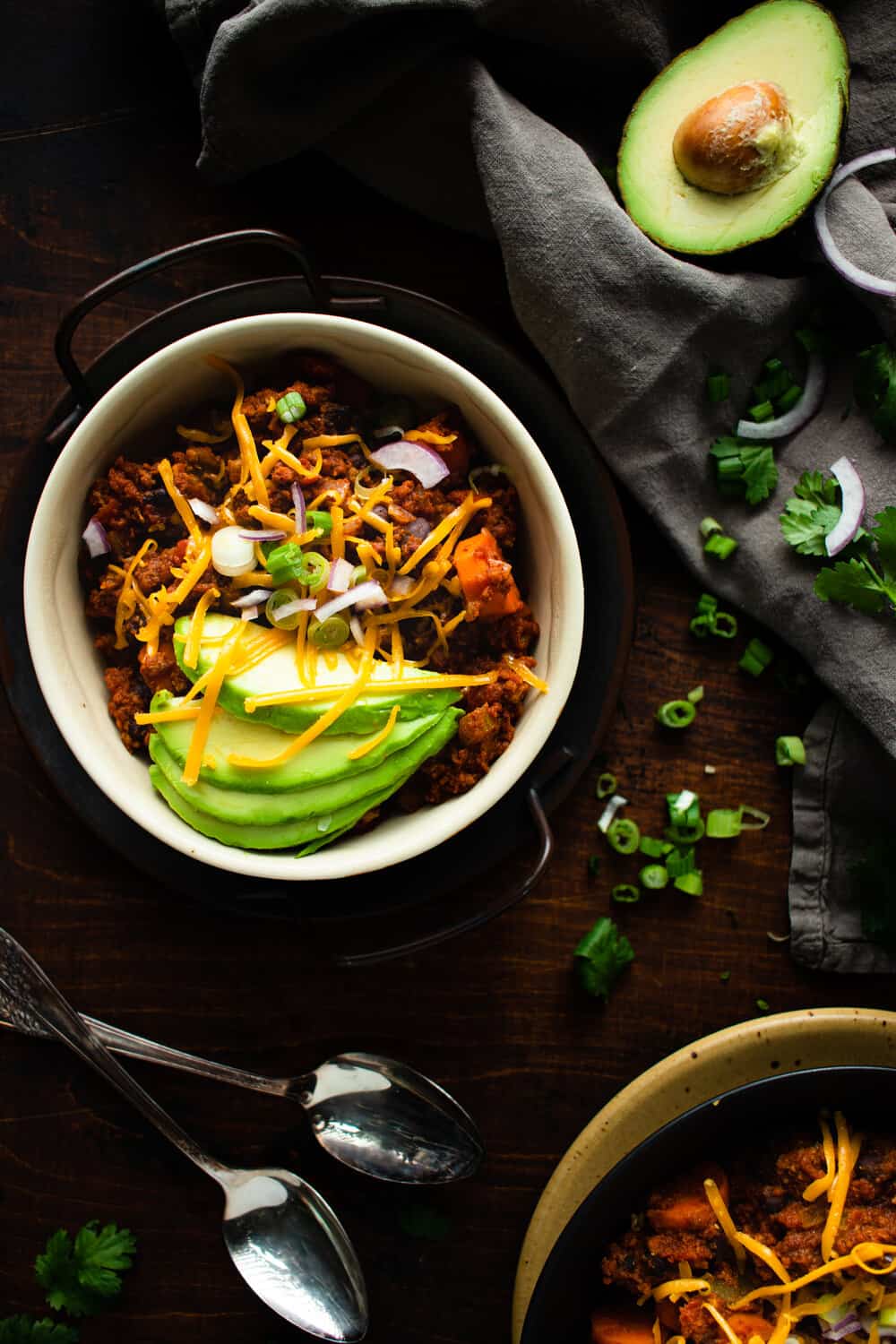 Pumpkin Chili
Difficulty Level: 1
1-2

tablespoons

olive oil

,

divided

2

large carrots

,

chopped

3

stalks celery

,

chopped

1

small yellow onion

,

diced

1

green pepper

,

diced

2-3

garlic cloves

,

minced

1

pound

ground beef

1 28

‐oz. + 14 oz. can crushed tomatoes

1/2

small can

pumpkin puree

,

you can also do a whole can for stronger flavor, it will just be a thicker texture

1

can black beans

,

rinsed and drained

1

tablespoon

paprika

2

tablespoons

chili powder

1

teaspoon

cumin

1

teaspoon

salt

1/4

teaspoon

pepper

1/4

teaspoon

cinnamon
Optional Toppings:
2

avocados

,

sliced

1

cup

shredded cheddar cheese

fritos chips (if you're Matt this is not optional)
Heat a large sauce pot over medium‐high heat. Add enough olive oil to coat the pan.

Once hot, add in onions, celery, carrots, green pepper, and garlic. Cook for a few minutes, until onions are translucent and celery and carrots are brighter in color.

Add in a bit more olive oil, and add in the beef and crushed tomatoes. Stir well.

Add in pumpkin puree, spices, and beans.

Heat over high heat until it it just about to boil. Lower the heat to a simmer, and cook, partially covered, for about 45 minutes.