What to do when you have beautiful fresh tomatoes and mozzarella from the market? Caprese salad is a must. The freshness of the tomatoes feels like summer and who doesn't love the sweet burst of a tomato paired with creamy mozzarella? Making this into a grilled pizza boosts its summer vibes while also making it a dinner that can stand on its own.
This seemed like the perfect recipe to post right before Memorial Day- while there's no blue, it somehow looks patriotic to me and using the grill is the perfect way to kick off the start of summer. The process itself is easy, festive, & fun (and hard to mess up). Use store bought pizza dough or make my favorite high protein yogurt one- it works well on the grill, you just have to oil the dough and the grill beforehand!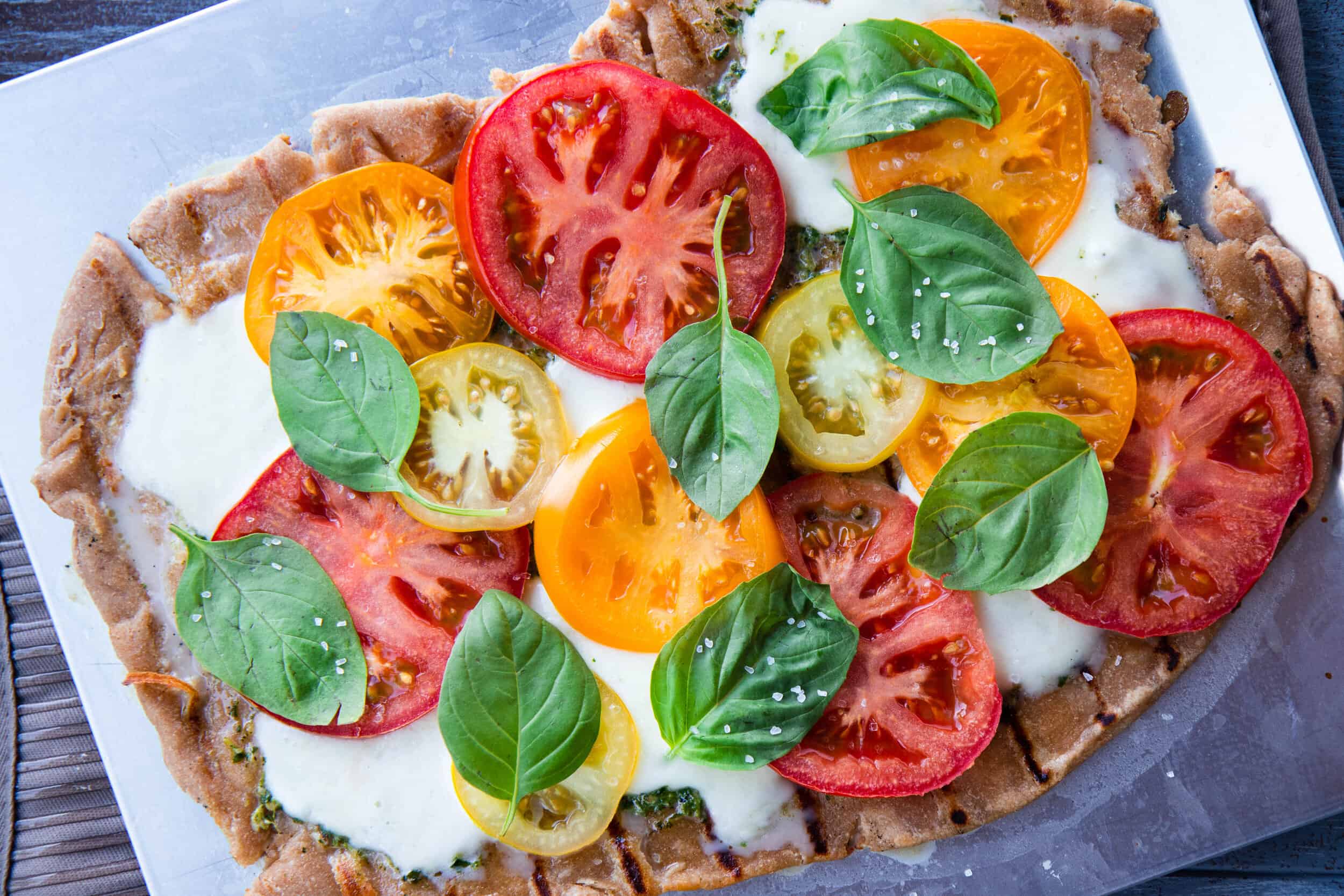 Grilled Caprese Pizza
Serves 2 as a dinner, 4 as an appetizer
1 12-

ounce

ball pizza dough

, (see HERE for my fav!)

2-3

tablespoons

olive oil

,

divided, optional: 1 tablespoon pesto**

2-3

small tomatoes

,

assorted colors (it just looks nicer-but all red is fine too), sliced

1 8-

ounce

ball mozzarella

,

sliced (I used about 3/4 of it, but I think it's better to have a little extra just in case)

1/4

bunch of basil leaves

,

(about 8-10 leaves)

coarse sea salt

,

(can you fine grain, but the coarse really brings out the flavor and is great for topping)
**I mixed the pesto with the oil to get a little bit of that pesto, herby flavor- however this was an easy step because I almost always have leftover pesto in my fridge. You could easily just use oil here and it'd be fine. I personally would not make pesto or buy pesto if I didn't already have it on hand.
Have all ingredients set out and ready. Have pizza dough on a baking sheet (you'll use that later), sliced tomatoes, mozzarella and basil ready, and a small bowl of oil with a brush.

1. If using pesto and making the pesto oil, combine 1 tablespoon of olive oil with 1 tablespoon of pesto and set aside.

2. Dough should be rolled out.

Preheat grill to 400-500. It will lose heat as it's open, but generally try to keep the temperature around here.

Oil grill with a spray and brush oil onto dough. Place dough onto grill. Close grill and grill for about 2-3 minutes, until there are noticeable grill marks on the dough. Flip and grill on other side for another 2-3 minutes. Place dough on baking sheet.

Brush pesto oil or just regular oil onto top of pizza. Then place on tomatoes and mozzarella (mozzarella first). Place the entire baking sheet directly onto the grill (yes, it'll be okay) and grill until mozzarella is just slightly melted and tomatoes are warm, about 4 minutes. You can grill for longer if you prefer them to be more melted and cooked- it's really about what you want.

Remove from grill. Top with basil and sea salt. Serve.