For the past three weeks, I've made ice cream on a weekly basis. The ability to make your own ice cream- and add whatever flavors and sweetener you want- is almost empowering. Want a little more cardamom? Go for it. Less sugar? Easy.
I've made this recipe purposefully flexible, while also making sure that certain ingredients/steps AREN'T flexible because otherwise it affects the quality of the final product. The biggest thing I love is that it's actually really easy to make this dairy-free by using coconut milk. If you're not a fan of coconut- don't worry- the flavor won't come through too much (ask Matt- he didn't want it to taste coconut-y and he didn't even notice).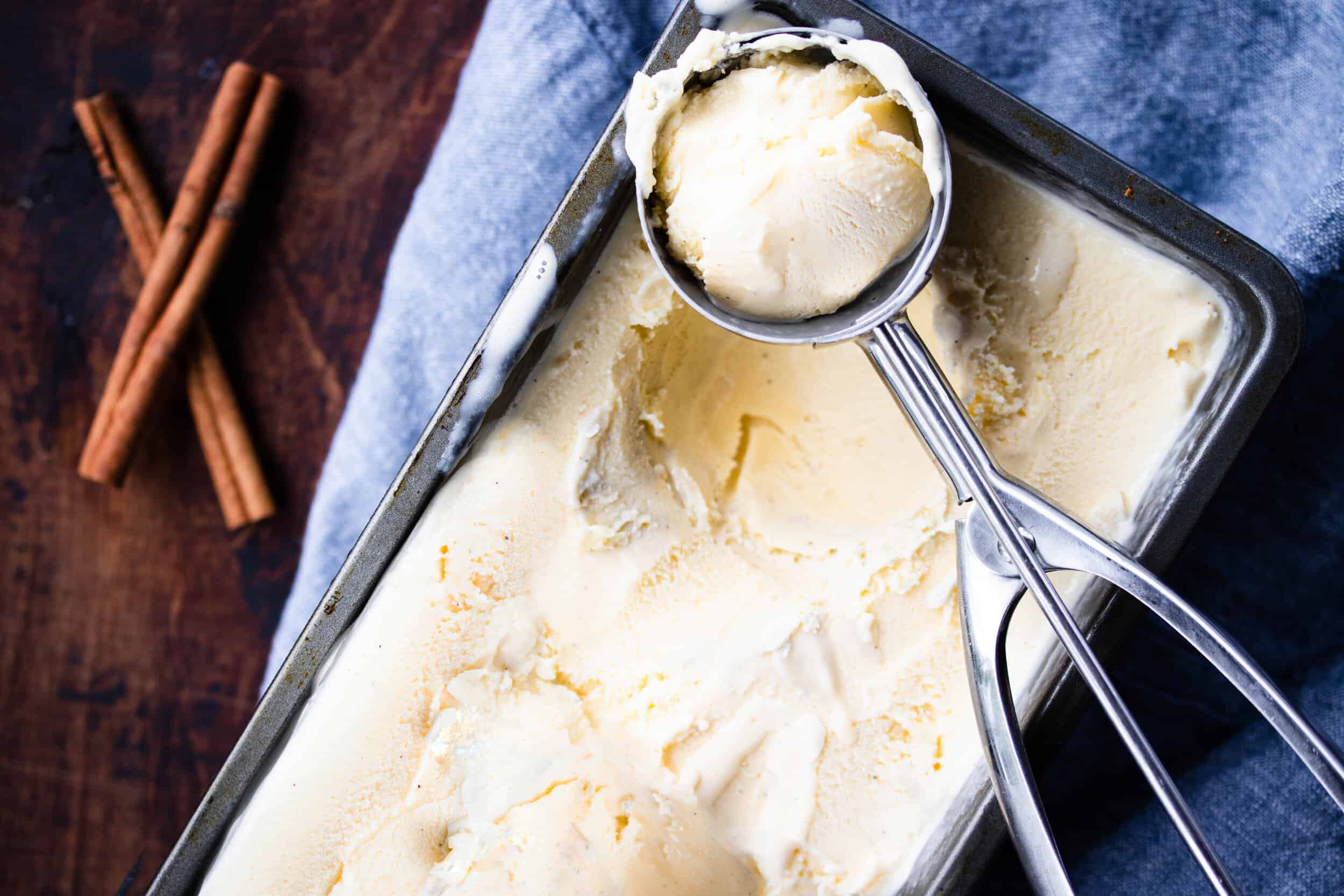 Cinnamon Spice Ice Cream
3

cups

milk/cream – see options below:

,

I've done all and it's worked well

– super creamy and luxurious option: 2 cups heavy cream 1 cup whole milk

– creamy but a little lighter: 2 cups whole milk 1 cup heavy cream

– creamy but dairy free: 2 cans coconut milk

,

full fat is a must

3-4

tablespoons

light brown sugar

,

(35g-48g) ** see note

3-4

tablespoons

white sugar

,

(35g-48g) ** see note

1

teaspoon

vanilla extract

2

cinnamon sticks

1/2

teaspoon

cardamom

1/4

teaspoon

sea salt

6

egg yolks
In a small sauce pot, add milk, sugar, vanilla, cinnamon sticks, and cardamom. Heat over a low flame and stir with a whisk to dissolve the sugar, about 3-5 minutes.

Whisk egg yolks in a separate bowl. Add in about 1 cup of the milk mixture to the egg yolks and whisk well to combine. Then add in both the egg yolks and the milk.

Continue to heat over low heat until mixture reaches 170 degrees. It should be slightly thicker, but never boil or get close to a boil. Turn off heat and let mixture sit for 30 minutes.

Strain mixture through a fine mesh sieve into a tupperware or bowl that you can put in the fridge. Let sit in the fridge for at least 3 hours, up to a day.

Place mixture into ice cream machine according to directions. For me, it takes about 30 minutes for the ice cream to churn properly. Serve immediately or place in a freezer safe container and keep in the freezer.

P.S. You can make ice cream sandwiches with these with a cookie of your choice- I loved combining these with these peanut butter miso cookies. Just scoop some ice cream on to a cookie, add another, and place in the freezer to harden before eating.
Notes
**Sugar Notes:
You can use all white sugar if you don't have light brown sugar and it won't make a huge difference.
I've done this with both a total of 1/2 cup (4 tablespoons each of white and brown sugar) and a total of 1/3 cup sugar (3 tablespoons each)- Matt actually didn't notice the difference in sweetness, nor did I. 1/3 cup seemed plenty. I'll always be doing 1/3 cup from now on. However, if you're looking for a sweeter dessert and don't care about the amount of sugar, use 1/2 cup for good measure.