This modern take on a pasta salad has quickly become a crowd favorite. This roasted tomato feta and basil orzo salad at the root of everything I love about recipe development: tons of intention and thought behind this combination of flavors, but the recipe itself is super simple. The end product is one full of flavor that is also practical for both gatherings and weekday lunches.
Why this is perfect for gatherings and potlucks:
You can easily make this ahead of time. Here's how to break it down:

Make the tomatoes and orzo up to a day in advance (or earlier in the morning). The tomatoes take the longest but require almost NO effort, so it just requires a bit of planning.
I'll generally try to add in the basil and feta last (ideally 30-60 minutes before serving), but you could add earlier in the morning if needed.

You can travel with it easily, making it the perfect item to bring for a picnic, potluck, or other outdoor gathering. Try to keep cold as long as you can. Even if it gets a bit warm, it'll hold up much better than a leafy salad.
Likewise, it's great for lunches for the week. If you can, add the cheese and basil at the end. If not, just note that the flavors will meld a bit more. You could also add in the basil the day of or just withhold it.
Roasted Tomato & Feta Orzo Salad: A look behind the ingredients
If you've never had slow roasted tomatoes– you're welcome. They're nature's candy. It is one of my favorite ways to enjoy baby tomatoes in the summer. A slow and low roast intensifies their flavor while still keeping them juicy and fresh- it's nothing like a sundried tomato.
Pairing these slow roasted tomatoes with a tangy, slightly sharp feta and a robust herb like basil packs this salad with flavor. Orzo is one of my favorite pastas to make, especially cold. The key to good orzo is 1) cooking it like any normal pasta- aka in generously salted pasta water and 2) tossing it a bunch of olive oil right after it's cooked. Olive oil not only adds a luxurious flavor, but it's important for texture and to prevent the orzo from sticking.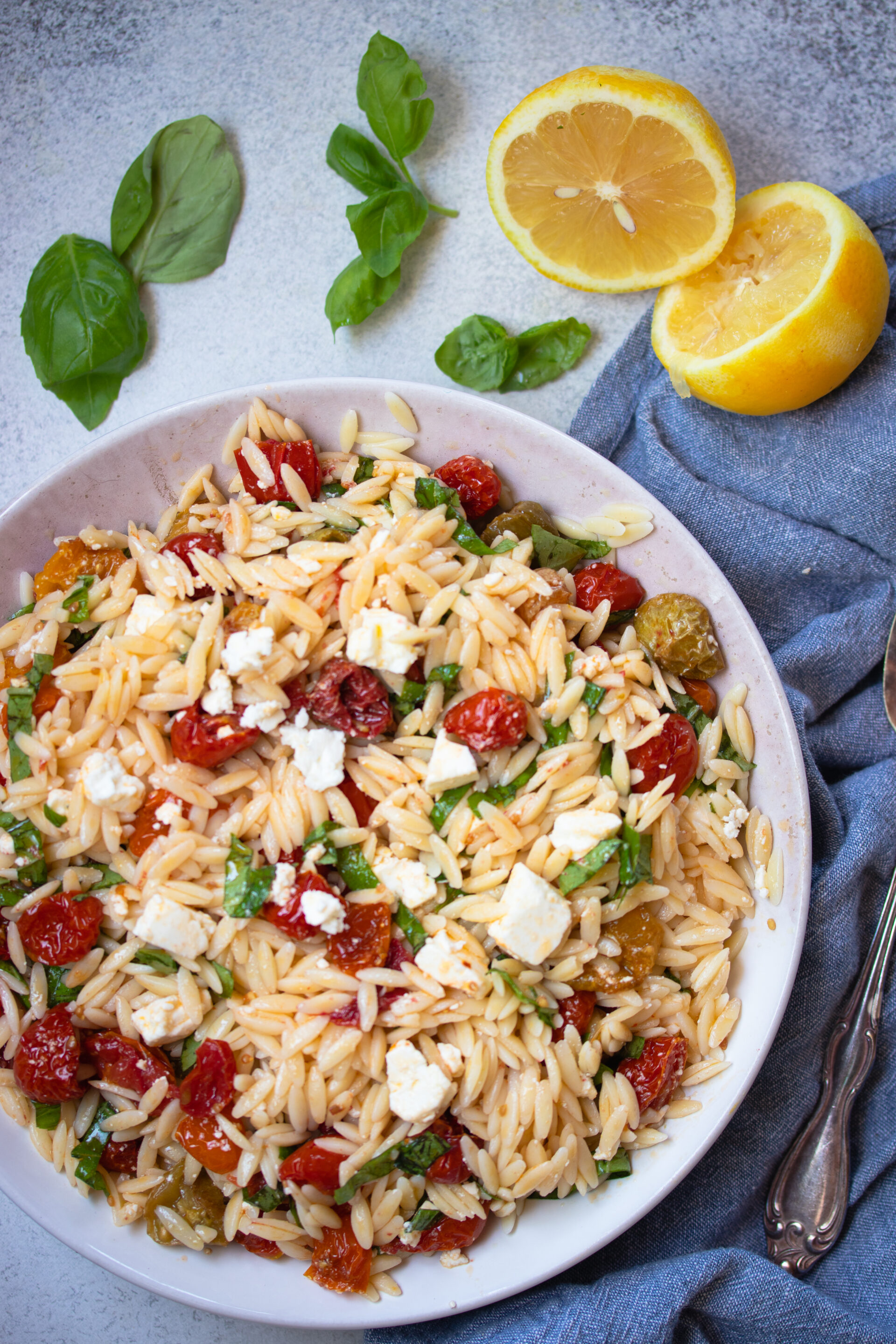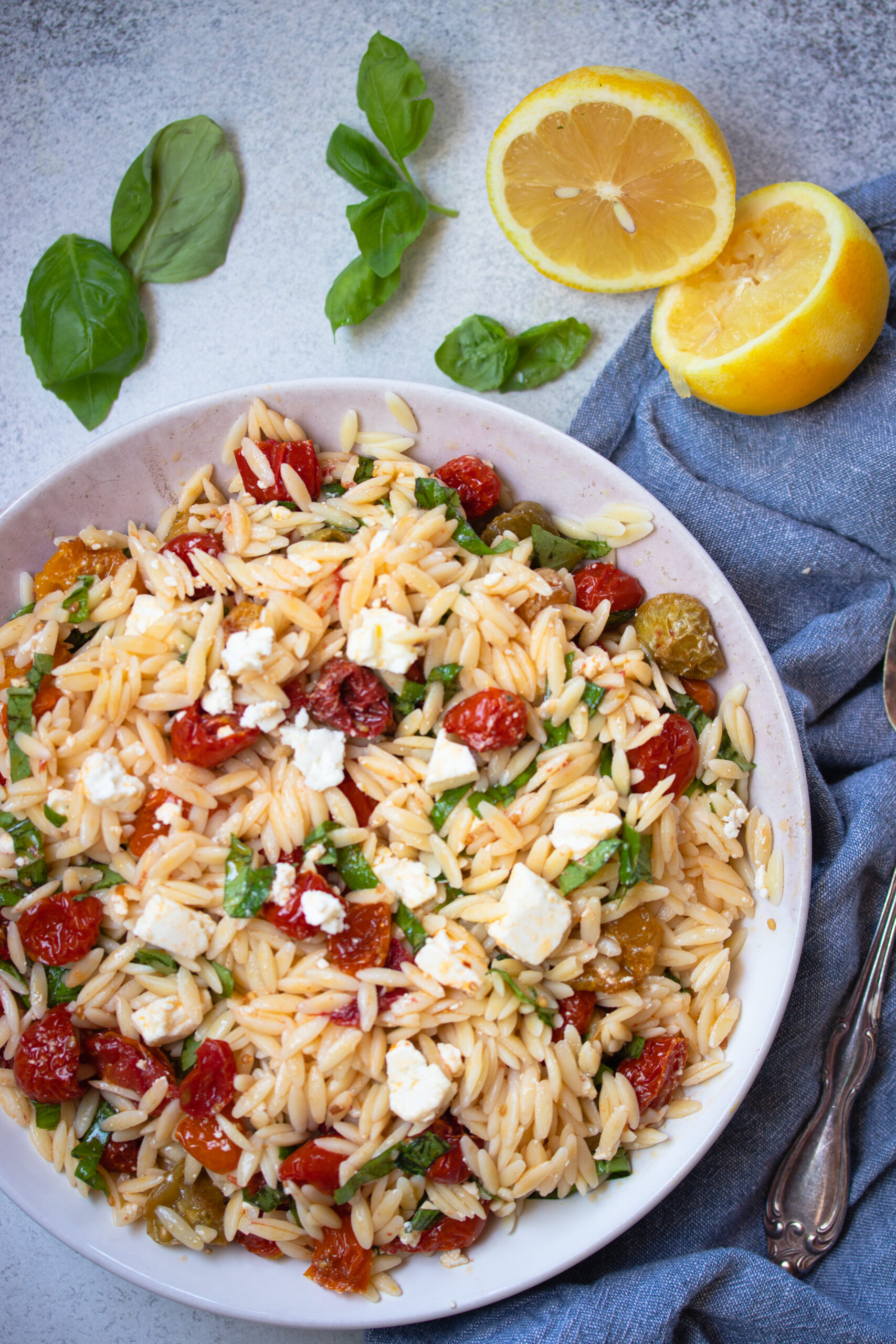 Roasted Tomato, Feta & Basil Orzo Salad
Recipe time does not include slow roasting tomatoes, which adds 2 hours, but is super easy to do!
1

pound

baby tomatoes

,

sliced in half

1 1/2

cups

dry orzo

,

cooked according to package directions (you can also make this 1 cup if you prefer less orzo- I've done both and it works)

1/3

cup

chopped basil

,

(about 1/2 large bunch)

4

ounces

feta

,

, chopped roughly

1

lemon (for both zest and juice)

2-4

tablespoons

olive oil

,

, see below

1/2

teaspoon (or to taste)

kosher salt
Roast Tomatoes:
Place all the tomatoes on a parchment lined baking sheet in an even layer. Drizzle generously with olive oil (about 1-2 tablespoons) and season with salt.

Roast for 1.5-2 hours. Check after 1.5 hours and taste one. You really can't go wrong here, it just depends on how intense/shriveled you prefer the tomatoes. The longer you bake, the less water they will hold and the more intense/shriveled they will be.
Cook the Orzo:
Cook orzo according to package directions. I prefer to cook my orzo on the al dente side. Immediately after cooking, toss in a tablespoon of olive oil to prevent sticking. This can be done up to a day ahead of time.
Prepare the Salad:
Toss orzo with tomatoes and zest of 1 lemon, lemon juice, and olive oil. Begin to season with lemon juice, salt, and olive oil- a lot of this is personal preference, so I recommend starting minimally and then adding as you go. Begin by adding just the juice of 1/2 lemon, 1 tablespoon of olive oil, and 1/2 teaspoon kosher salt. After adding, toss orzo around and taste. – Adjust and add more lemon juice, olive oil, and salt as needed.– If you find the flavor too sharp or acidic, add more oil.– If you find the flavor too bland, add more salt or lemon juice.

Add in chopped basil and feta right before serving or. Toss gently to combine. Serve immediately. This can be made ahead of time, but I prefer to add in these parts last and as late as possible for maximum freshness.

This will store in an airtight container in the fridge for a few days as well, although I think it's best fresh.