From 2020:
Calling all hummus lovers! This recipe is for you: another creamy, flavorful dip with a hint of tahini.. but a little smokier, thanks to the charred eggplant. Matt's a tried and true hummus lover, but immediately requested me to make this again after trying it out.
If you've had this before but never made, don't be intimidated: It's actually quite simple:
1. Broil a whole eggplant until it's seriously charred (literally- you broil it for a whole hour). Let it cool. Slice open, scoop out the flesh and discard the skin.
2. In a food processor, mix eggplant with garlic, lemon juice, tahini, salt, and extra virgin olive oil and mix (the original recipe goes into a few more details and didn't use a processor- I ended up using one because I preferred the texture).
This recipe is from @seriouseats (see link) that I simplified down just a bit. For those who want all the deets (like me)- there's an extensive article detailing the reasonings and explanations behind the methods in this recipe. The only thing I'll do differently next time is skip the step of using a salad spinner to drain the eggplant (IMO it was a bit cumbersome and didn't seem to actually help the texture).
I served this with a seasonal crudite of peppers, cucumber, zucchini, blanched greens, and some of leftover homemade naan.
From 2013: Prior to now, I had only made baba ganoush once. And for some reason I kept thinking that it was a huge pain. Maybe it was because I had to make it for a 90-person dinner, so it turned into a looong process. Well, turns out that when you're just making a normal quantity, baba ganoush is easy and fun to make! If lack of time is what's stopping you from making this recipe, fear not. Baking the eggplant just requires you to be in the house for at least an hour, and then you just puree everything in a food processor.
Baba Ganoush
Serves 4-6.
From Serious Eats (POST UPDATED IN SEP 2020)
3 medium or 2 large eggplants (about 1.5-2 pounds total)

3 tablespoons tahini

1/3 cup extra virgin olive oil

3 cloves garlic, crushed

1/2 to 1 teaspoon sea salt (to taste)

2 tablespoons fresh lemon juice (just about 1 lemon, a little under)

1/4 cup parsley, chopped finely
Preheat broiler. Place racks about 6 inches below the broiler. Place eggplants on a baking sheet and broil until completely charred (use tongs to turn occasionally), for about 1 hour (yes, seriously- I know that sounds like a long time, but it should be really charred). Remove from oven and let cool before handling.

Slice open eggplant and scoop out flesh with a large spoon. Place in a food processor.

Add in all ingredients except olive oil and parsley and blend in food processor. With food processor still running, slowly drizzle in olive oil.

Top with parsley and serve with fresh vegetables, pita bread, or pita chips.
Baked Pita Chips
4 pockets of pita bread

1-2 tablespoons extra virgin olive oil

sea salt

pepper (optional)
1.Preheat oven to 350. Slice pita bread pockets in half, so that the top and bottom parts of the falafel are separated. Stack the layers, and then cut into 8 pieces, like a pizza.
2. Spread pita bread pieces onto a baking pan and brush or drizzle olive oil onto each piece. Season with salt and pepper and place in oven until the bread is golden and crispy, about 15-20 minutes. Watch closely once they are beginning to turn golden, as they cook quickly.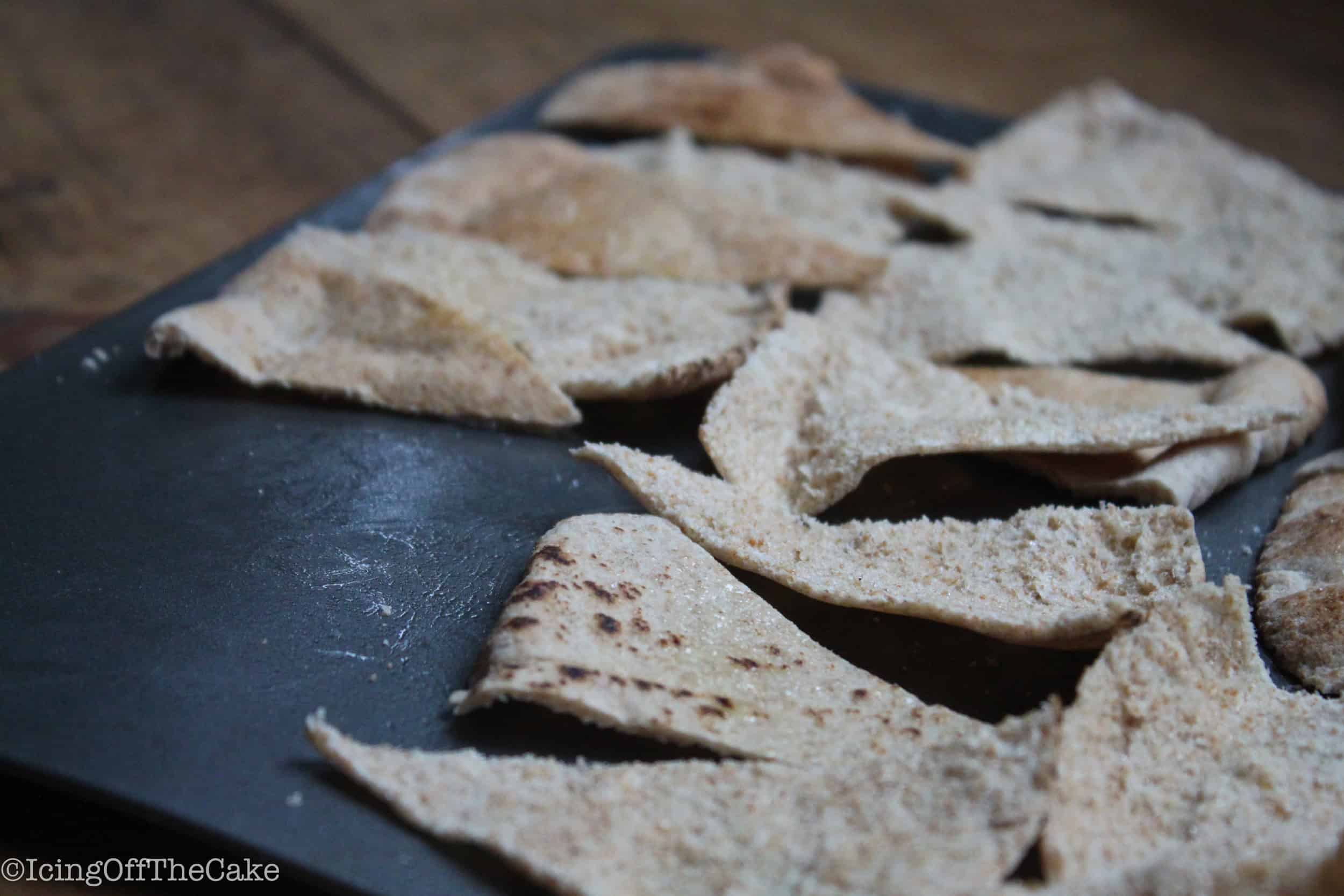 Be Choosy with your Pita
Pita bread greatly varies in quality and nutrition, so pay close attention to the nutritional content and ingredients of the pita bread you're using. Go for something like Food for Life's pita bread, a product that has a small list of recognizable, high quality ingredients.