Sometimes I feel like a broken record with this combination of fruit, cheese, nut, but it just never gets old. If you're looking for a way to enjoy the beautiful figs in season, this is my number 1 recommendation. It's simple and spotlights the figs in the best way.
The sweet: figs an blackberries
The crunch: Spicy candied walnuts
The creamy: Slightly stinky blue cheese
The tang: white balsamic vinaigrette (or a regular one)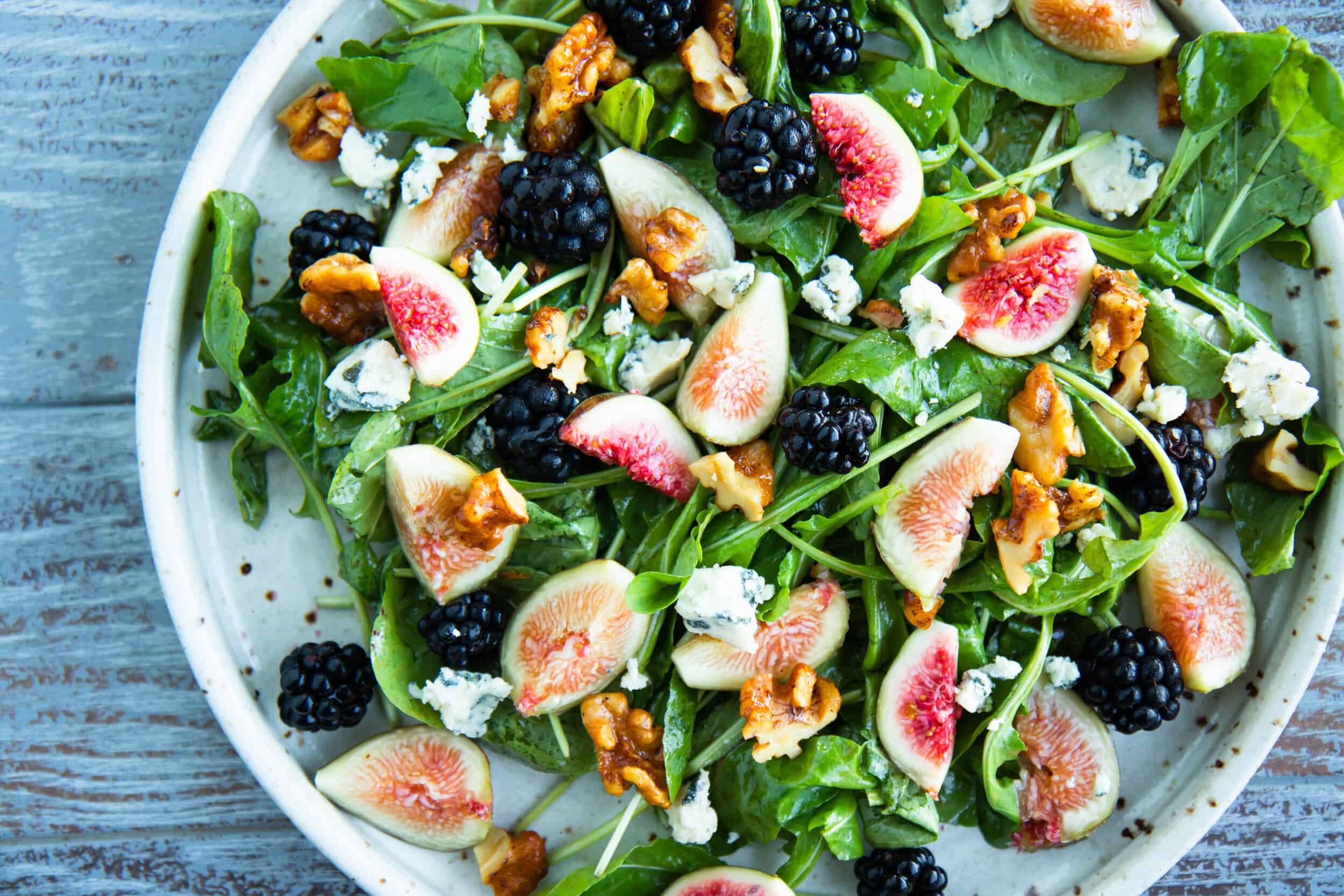 Fig, Blackberry, & Candied Walnut Salad
Place arugula in a large bowl. Pour vinaigrette over and toss.

If transferring to another bowl: Add in walnuts, blue cheese, blackberries, and figs and toss lightly- most of this will fall to the bottom, but when you transfer to another bowl, they'll go to the top.

If not transferring to another bowl: Add in about 3/4 of the toppings and toss very lightly. Then the rest of the toppings and don't toss so they stay on the top.

Season lightly with pepper and salt before serving.
Maple Spiced Walnuts:
1/2 cup walnuts

1 tablespoon coconut oil or butter

1/4 teaspoon sea salt

1/8 teaspoon (just a small pinch) cinnamon

1/4 teaspoon chili powder

1 tablespoon (can also do less if you want) maple syrup

Preheat oven to 375.

Spread walnuts onto a baking sheet. Bake for 6-8 minutes, until fragrant and slightly brown. Let cool slightly.

Heat a medium saute pan over medium heat. Add in coconut oil or butter, salt, cinnamon, chili powder, and maple syrup and stir. Then immediately add in walnuts. Saute for about 1-2 minutes, stirring frequently to coat walnuts in butter and spices. Place in a bowl and let cool before serving. Can be stored in an airtight container for up to 2 weeks.