Sometimes I waver on white fish. It's one of those ingredients that takes some care to make sure it's prepared properly. At its best, it's perfectly flakey and somewhat buttery. At its worst, it can taste really "fishy" (for lack of a better word) and have a chewy texture. The good news? Properly preparing white fish doesn't take time. In fact, one of my favorite things about white fish is that it cooks really quickly so it lends itself to a quick and healthy weeknight meal. This 20-Minute Crispy Lemon Cod embraces that ease while balancing a nice flaky texture with a crispy breadcrumb topping.
The original recipe I adapted this from was from Ina Garten's Modern Comfort Food. The first time I made this was her original recipe. I'm not the biggest fan of Ritz crackers (which made up half of the breadcrumb mixture in the original recipe), but if it convinced Matt to be more open to white fish, I was down. I also figured I could probably make it gluten-free and use different crackers, but wanted to see how the it changed it taste. Over the course of about four trials, I played around with ratios and ingredients. The final result: a lightened up version that uses olive oil, fewer ingredients, and also includes a veggie.
Tips for Cooking White Fish
My biggest tip: use a thermometer. Sometimes I feel like a broken record on this one, but using a thermometer is a game changer (for all proteins, not just white fish). No second guessing or hesitation. No risk. You'll know the texture on the inside with 100% certainty without even cutting into it. For white fish, the ideal internal temperature if 145 degrees. Given the range in time that can naturally occur because of differences in oven temperatures/strength and the thickness of the cod, using a thermometer is key.
A few other small tips:
Ask for the cod to be pre-portioned at the fish counter. I've found they are more than happy to do it and it makes the prep even easier.
Let the fish sit for about 5 minutes after it cooks before cutting into it.
Be generous with your olive oil. Not enough olive oil will lead to a dry fish.
Same goes with seasoning with salt. There's not that many flavors here, so seasoning properly is important.
Breadcrumb Mixture: Making it Gluten Free
Ina Garten's original recipe uses ritz crackers. I'm not a huge fan of ritz and immediately knew I wanted to try this with Simple Mill's almond flour crackers. I found they were just as delicious (and with the added benefit of being gluten-free and made with better quality ingredients). You may be able to try other crackers, although I'd stick to ones that have a somewhat buttery texture and mild flavor.
For breadcrumbs, you can use panko, whole wheat breadcrumbs, or gluten-free breadcrumbs. Aleia's is a brand I've come to really love- it gets very crispy and you don't even notice the difference.
20-Minute Crispy Lemon Cod: Flexible Options/Variations
There are two primary ways in which I've served this cod. The first was more similar to Ina Garten's original recipe, which uses white wine and lemon juice. I've added in artichokes because I think they pair well with these flavors and to be honest, I barely use them! The second option is a bit more streamlined and is done on a sheet pan. I made it on a night when I didn't want to open up another bottle of white wine and found that the cod was just as delicious with only the breadcrumb mixture.
In addition to green beans, broccolini is a great veggie option! I'm sure you could do broccoli too, I just haven't tried it. The broccolini cooks quicker compared to both green beans and broccoli, so if doing that, only add it in only for the second 10 minutes.
To make this a full meal, I like to include a quick and easy grain. Most often this is orzo because it goes great with these lemon/butter flavors. It also cooks quickly, so will be done within 20 minutes. Another easy option is a sliced toasted baguette. I've also served this with roasted potatoes. To do this, begin roasting the potatoes 20-30 minutes prior to the fish.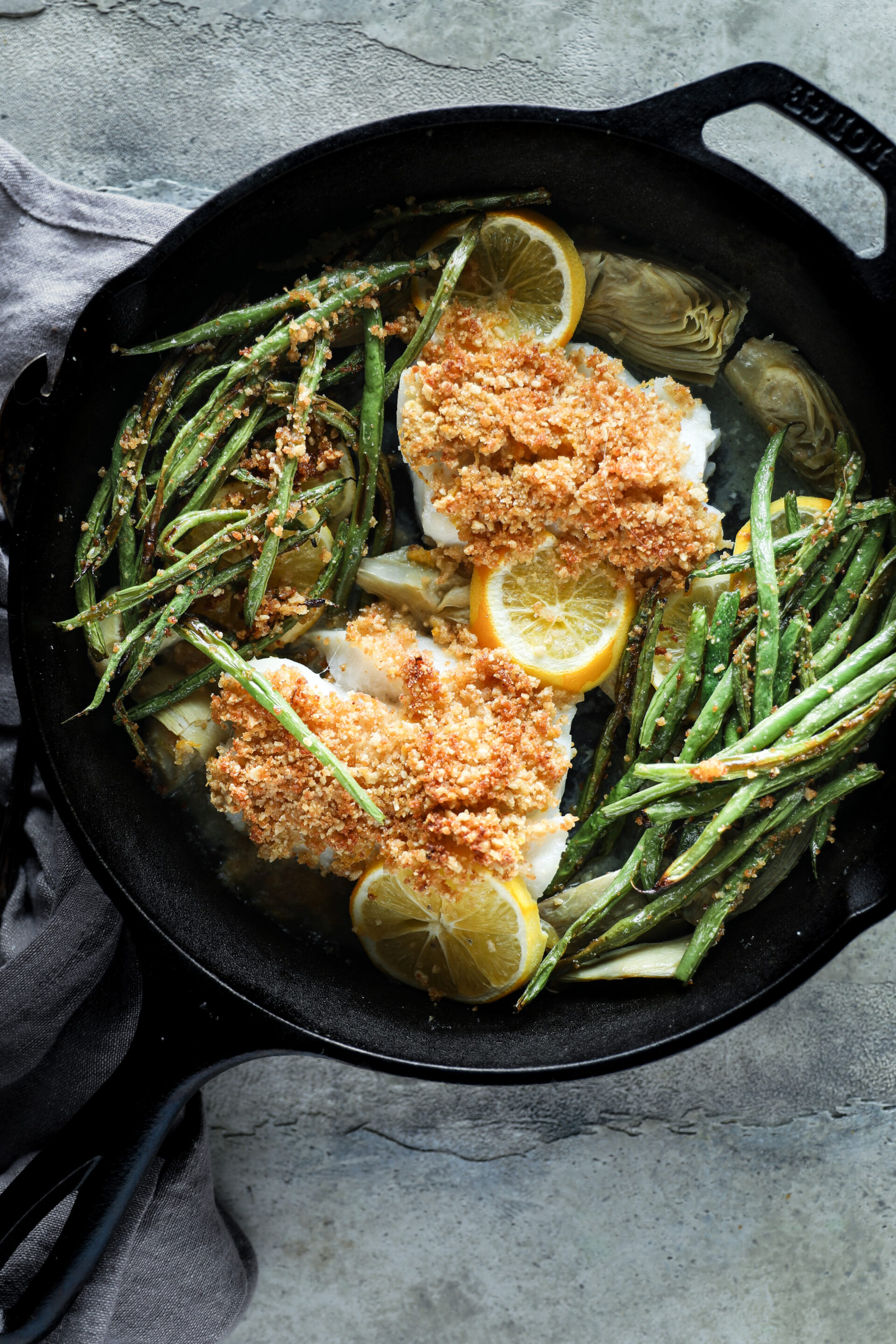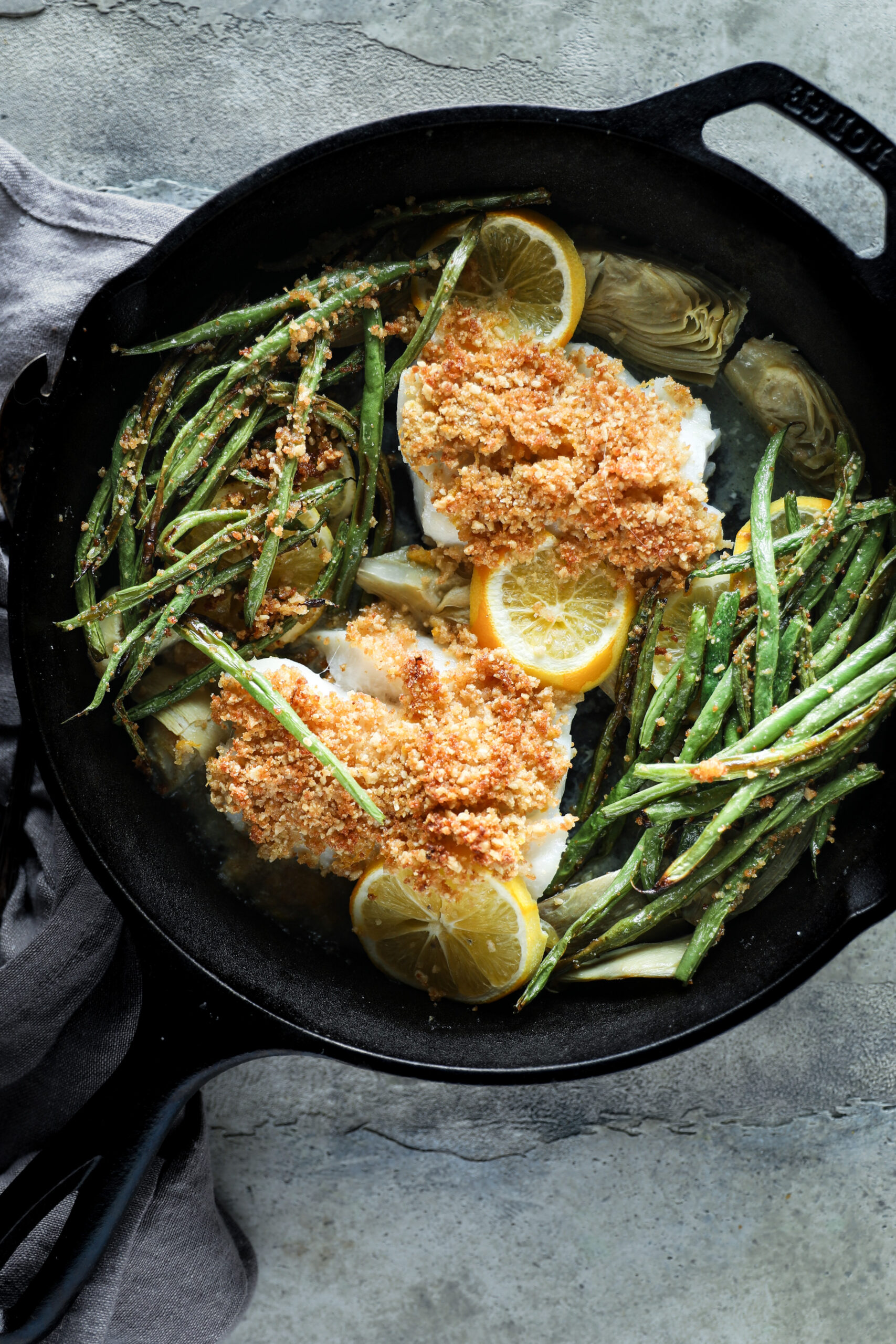 Crispy Lemon Cod with Green Beans & Artichokes
8

ounce

cod

,

cut into 4 ounce portions

1-2

tablespoons

extra virgin olive oil

1/2

teaspoon

diamond kosher salt (if using any other salt, use half the amount)

black pepper

,

to taste
Breadcrumb Topping
1/4

cup

crackers*

,

(see above for notes- I like Simple Mills almond flour crackers)

1/4

cup

breadcrumbs

,

(I like Aliea's gluten free breadcrumbs)

1

lemon

,

zested and quartered

optional: 1

garlic clove

,

, grated or crushed

1

tablespoon

extra virgin olive oil

,

(or melted unsalted butter)
Option 1: Artichoke & White Wine
6

ounces

frozen artichoke

3

tablespoons

white wine

2

tablespoons

lemon juice
Option 2: Sheet Pan Green Beans
8

ounces

green beans

,

trimmed

1

tablespoon

extra virgin olive oil

kosher salt

,

to taste
Make the breadcrumb mixture:
Place crackers in a small food processor. Process until fine. Add in breadcrumbs, lemon zest, and garlic. Pulse to combine. Add in olive oil and pulse to disperse evenly.
Bake the fish:
Preheat oven to 400. For Option 1, Coat bottom of a 3 quart baking dish or 8'' cast iron skillet with some oil.

Option 1: Take a 2'' deep baking dish and lightly drizzle in some oil. Add in the fish. Season fish with salt and pepper and drizzle with more oil. Add artichoke to pan around the fish. Option 2: Line half of a baking sheet with foil- create a small boat with the foil to prevent any liquid from spreading off onto the rest of the sheet. Add fish on top of foil. Season with salt and pepper and drizzle with more oil. Place green beans on opposite side of baking sheet (or use another one). Drizzle with oil and season with salt. Toss to coat evenly.

Bake for 10 minutes. Make the breadcrumb mixture during this time.

Remove pan and add breadcrumb mixture generously to the top of the fish. Use any remaining breadcrumb mixture for green beans.

For Option 2: Add white wine and lemon juice to the baking dish (you can also do this on the sheet pan one into the foil boat).

Place fish back into the oven on top rack (so the breadcrumbs brown more easily). Bake until fish reaches an internal temperature of 145 and is white and opaque and flakes off easily with a fork, another 7-8 or so minutes. The green beans should also be done at this time.