I designed this Easy Microwave Chocolate Buttermilk Cake as part of a collection of recipes I'm doing related to teaching students science through cooking. To keep things accessible, this collection feature recipes are super simple, fairly quick and minimal, and adaptable to a variety of different equipment needs. This cake is special because it doesn't require an oven.
There are a number of chocolate microwave cakes out there- this is nothing new. Who doesn't love the convenience of a microwave, single-serving cake? I should place a caveat here- while I have gone through a number of trials (see below) to make this as tasty as possible, it isn't going to taste exactly like a chocolate cake that you bake in the oven. It just doesn't have the time for the flavors to develop in the same way and microwaving is a totally different heat source than an oven. So don't expect the most delicious chocolate cake you've ever tasted. However, this is a fun treat that takes a fraction of the time and is essentially single-serving.
Easy Microwave Chocolate Buttermilk Cake: Trial & Error
However, I've tried a number that just didn't meet the mark in terms of flavor. In my trials, I had many cakes that had a beautiful texture, but just were a bit bland. I tried using light brown sugar instead of white to give more caramel undertones, browning butter instead of oil, and changing the ratio of cocoa powder to flour. Ultimately, I found that actually reducing the cocoa powder helped because it can have a bit of a bitter flavor (it also can dry out things quickly). Adding in a bit more oil also helped with a gooey, brownie-like texture. And lastly- the chocolate chips are absolutely essential because they have the most flavor. Luckily, a trial takes about 5 minutes so it's easy to do a lot of them.
While I went through a total of about 9 different trials, I originally adapted this recipe from Live Well, Bake Often & Broma Bakery. Try it out and let me know what you think or changed yourself!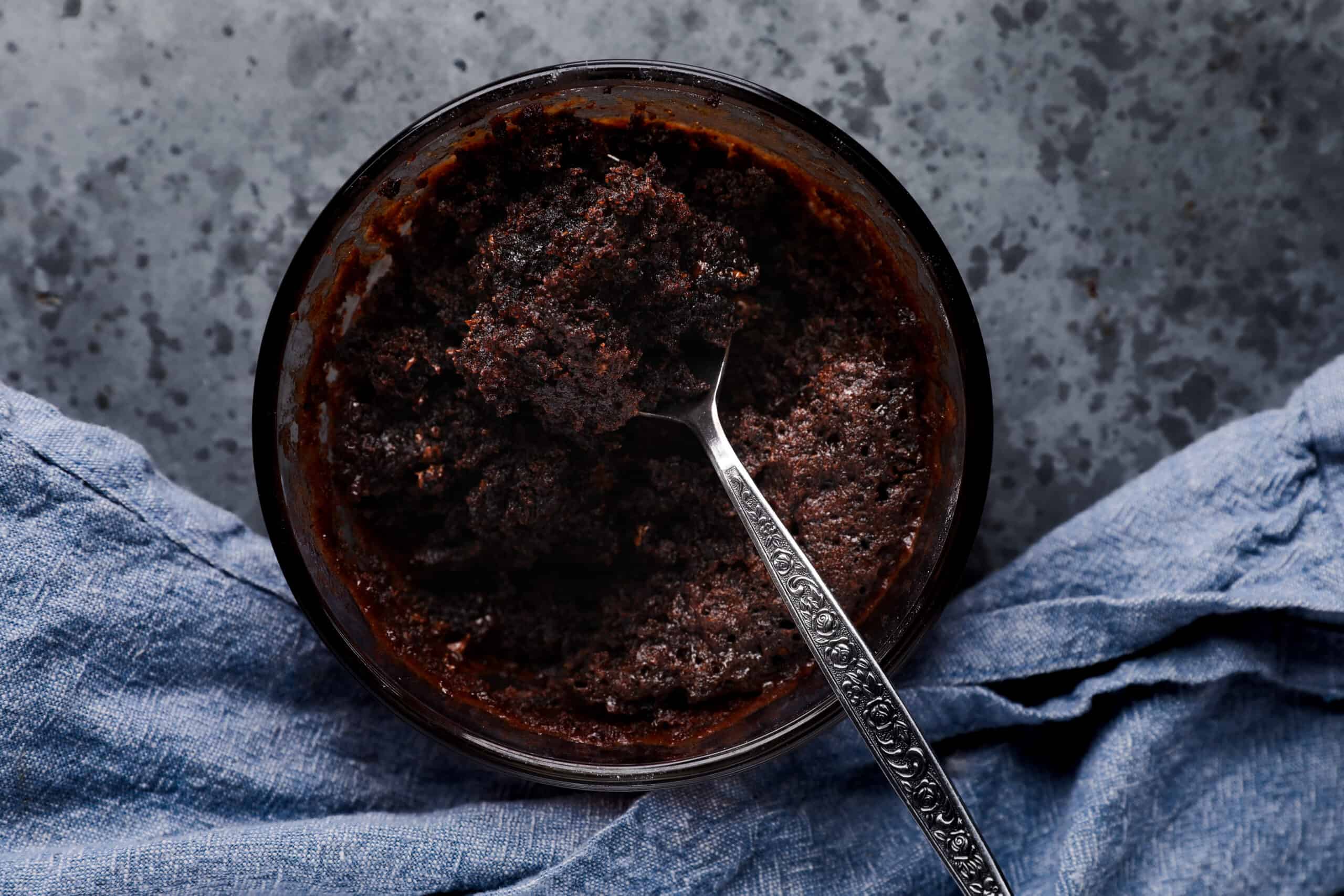 Easy Microwave Chocolate Buttermilk Cake
3

tablespoons (45g)

whole milk

1/2

teaspoon (3g)

white vinegar

1/4

cup (28g)

all-purpose flour

1

tablespoon (5g)

unsweetened cocoa powder

3

tablespoons (36g)

white sugar

1/4

teaspoon

baking powder

1/4

teaspoon

baking soda

1/8

teaspoon

salt

,

(plus a tiny pinch of flakey sea salt on top if you'd like)

3

tablespoons (30g)

canola oil

,

OR other neutral oil like vegetable oil or avocado oil OR melted butter

2

tablespoons

semisweet or dark chocolate chips
Optional: In a small bowl, combine whole milk and vinegar. Let sit while you prepare the other ingredients. You are creating your own version of "buttermilk" by doing this (you could also use real buttermilk). If you don't have the space or time, you can skip this step and just add in the milk and vinegar separetely later when liquids are added.

In a small bowl, add in all purpose flour, cocoa powder, white sugar, baking powder, baking soda, and pinch of salt. Stir with a fork and be sure to break up any clumps of cocoa powder.

Add in oil and milk/vinegar mixture and whisk well with a fork- give a solid whisk for about a minute. Stir in chocolate chips.

Pour into a mug or microwave-safe small bowl (I used a 1-cup pyrex glass bowl) and microwave for 60 seconds, until cake is just set.

Depending on the strength of your microwave, you may need to add an additional 20-30 seconds, but start with 60 and check to see if it has set.