Surprisingly (or maybe not surprisingly) I've never been super into cinnamon rolls. I never had too much of an interest in making them. Most of my experiences with cinnamon buns were often overly sweet and the frosting dominated just about everything. Long story short- I just hadn't explored or tried the right recipe. So if you're like me and need some convincing, these Overnight Spelt Cinnamon Rolls are the place to start.
I wanted to try out some new Christmas traditions and Cinnamon Rolls felt like a perfect brunch recipe for Christmas Day. I found this recipe for Twisty Cinnamon Buns by Smitten Kitchen and loved the simplicity of it. Throw everything into the mixer the night before and then let it rise overnight? It sounded perfect. Halfway through, when shaping the dough, I had a moment of doubt. The dough was incredibly sticky- to the point where my end result looked like a bit of a messy disaster. I threw it int he oven, slightly frustrated by the experience and with low expectations. But then I tasted it. And I was hooked. I couldn't believe how light and fluffy the dough was. It was sweet, but not overly so. And so I was determined to do it again, but adjust the dough a bit to make it easier to handle.
This recipe reminded me of my love-hate relationship with brioche dough. Sometimes it's incredibly simple. Other times it can be incredibly frustrating. It's all about a balance of adding in enough flour to make it easy enough to handle, but not so much to keep the final texture light, fluffy, and soft. The ways in which I tweaked this recipe was to focus on the ratio of dry to wet ingredients. I also used Clarie Saffitz's Walnut Maple Buns in Dessert Person to look a bit more closely at other brioche doughs and different processes. ver the course of about six trials, I adjusted ingredients. I found that changing amounts by even a small fraction greatly impacted the dough.
Rolling Out the Dough
Rolling the Dough & Making the Babkah/Buns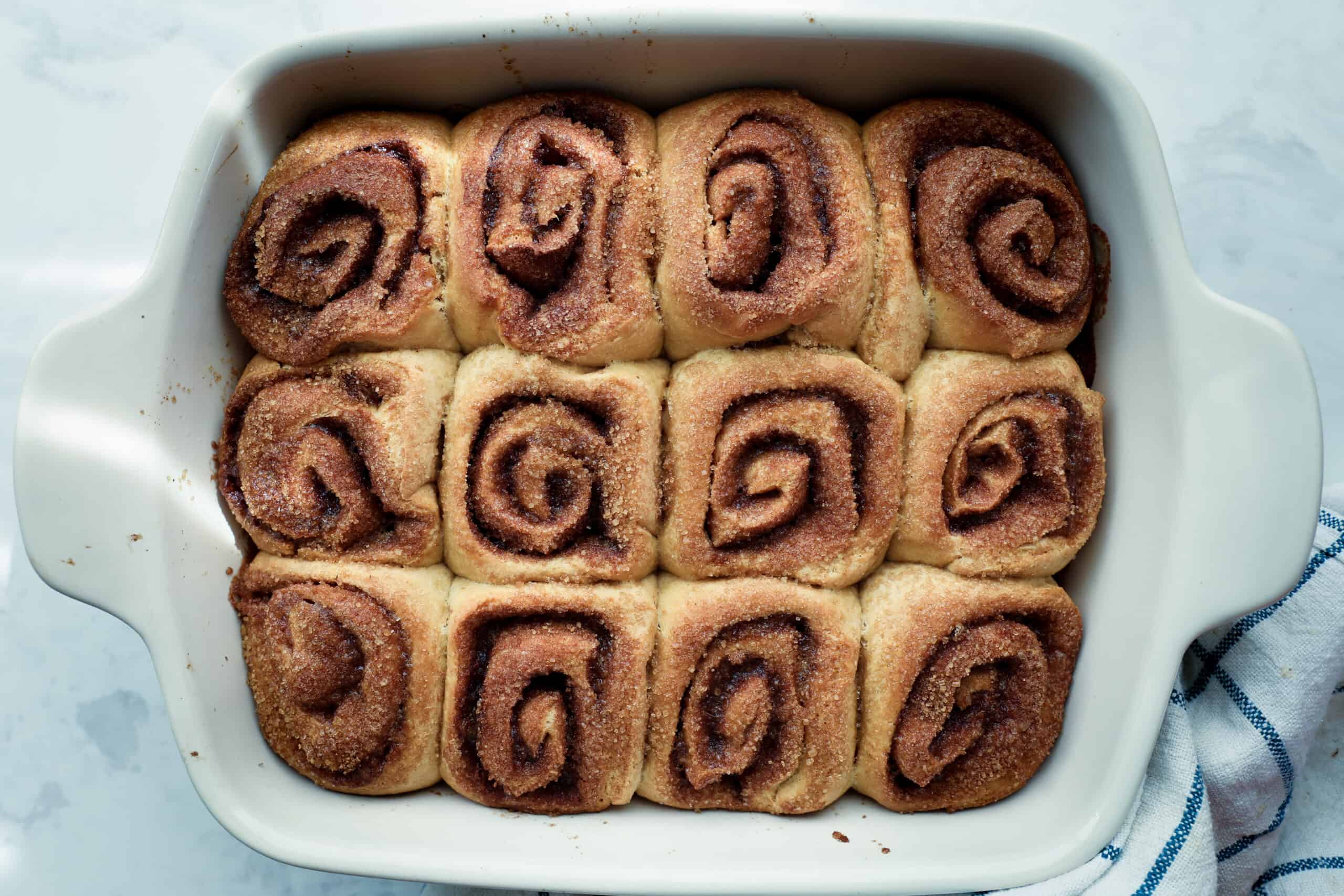 Overnight Spelt Cinnamon Rolls
1

cup

milk

,

8 oz- warmed to 110, about 1 minute in microwave – try 3/4 cup this time

2

teaspoon

active dry yeast

2

cups

all purpose flour

,

256g

1 3/4

cup

224g cup spelt or whole wheat pastry flour (you can also do all all-purpose flour, which is 3 3/4 cup total, 483g), have some extra all purpose flour for dusting and as needed

1/4

cup

white sugar

,

50g

2

teaspoons

diamond kosher salt (if using any other salt, use half the amount)

2

eggs

1

stick (8 tablespoons)

unsalted butter

,

cut into cubes (about 8 or so)
Filling:
1

cup

200g light brown sugar

1

tablespoon

cinnamon

,

another option: do 1/2 tablespoon each of cinnamon and cardamom (I love this combo!)

1/2

stick (4 tablespoons)

unsalted butter

,

3 tb for filling; 1 tb for top next time
Topping
1/4

cup

turbinado sugar

,

(or white sugar)
Place milk in a small bowl or cup and microwave in 20s increments until the milk is just a bit warm, between 100-110 degrees. If you don't have a thermometer, just do 30s total. Add in yeast and whisk. Set aside. You shoudl see little bubbles to show that the yeast is active.

In bowl of a standing mixer, all purpose flour, spelt or whole wheat pastry flour, sugar, salt, eggs, butter, and milk and yeast mixture. Using dough hook, mix on low until ingredients are somewhat combined. Then slowly bring up speed to medium to knead the dough. Knead on medium speed for 8-10 minutes.

Brioche dough can be tricky to determine when it's done. The dough should make a slapping noise against the side of the bowl and should not stick to the outside when it is done. The dough should be tacky and slightly sticky, but not so sticky that it sticks to your hands completely. Depending on the exact ingredients you use and humidity level, you may have to add in just a bit more flour. If you notice the dough is very sticky, add a tablespoon of flour at a time. Wait a minute and see if it needs more. Flour helps make the dough easier to handle, but it also will make the end result tighter and tougher- the goal is to add enough flour so you can handle the dough, but not so much that you compromise the end teture.

Place dough in a large bowl (make sure it is much larger than the dough, because it should double in size) and cover. Place in fridge overnight, or for at least 8 hours.

The next morning: Get filling ingredients ready. In a small bowl, melt the butter. In another small bowl, combine the light brown sugar with the cinnamon (and cardamom if using).

On a lightly floured surface, roll out dough into a thin 18×9 inch rectangle.

Tip: While rolling out, I will constantly move the dough around and flip it to make sure that it is not getting too sticky or sticking to the counter. If you notice this is happening, put it in the fridge to help it cool down and not get so sticky- to do this, place on a piece of parchment and then put on a cutting board or pan and put in the fridge. Wait about 5-10 minutes and then return back to rolling.

Brush on most of the melted butter, leaving a 1/2'' border on the outside. Reserve about a tablespoon or so for the top. Then sprinkle brown sugar mixture on top, also leaving a 1/2'' border on the outside.

Gently the dough widthwise into a tight spiral log

Tip: Be sure to double check which way you are rolling- you want to keep the long edge. I made this mistake the first time I made these!

Trim off the ends of the log. Then cut into 12 even pieces. To do this, I use a ruler and first divide the log into quarters. Then I cut each quarter into thirds.

Arrange buns into a 9×13 pan. Cover lightly with plastic wrap and let sit for another 1-2 hours to allow the dough to expand even further. When you first put the buns in the pan, they will not touch- by the end of this 1-2 hours, they will have expanded enough that they will touch.

30 minutes prior to the end of the second rise, preheat oven to 350 degrees.

Lightly brush on remaining melted butter and sprinkle on turbinado sugar. Bake for 30 minutes, until the inside of the buns registers 190. Place on cooling rack and let cool for about 20 minutes before serving.