Fish tacos are universally popular, for the most part. Especially during the summer. And for good reason. My goal: to create a fish taco recipe that was 1) quick to make 2) made with simple ingredients and spices I usually have in my pantry 3) not fried, but still full of flavor. The mango-peach salsa was a no-brainer; I often throw together some version of this during the summer, especially when making fish. The combo of acidity and sweetness work perfectly with white fish. While you don't HAVE to take the extra time to char your tortillas… if you've never done it: DO IT. Seriously that char is money! It takes these from a homemade taco to a "professional" street taco. And it only takes about 5 minutes.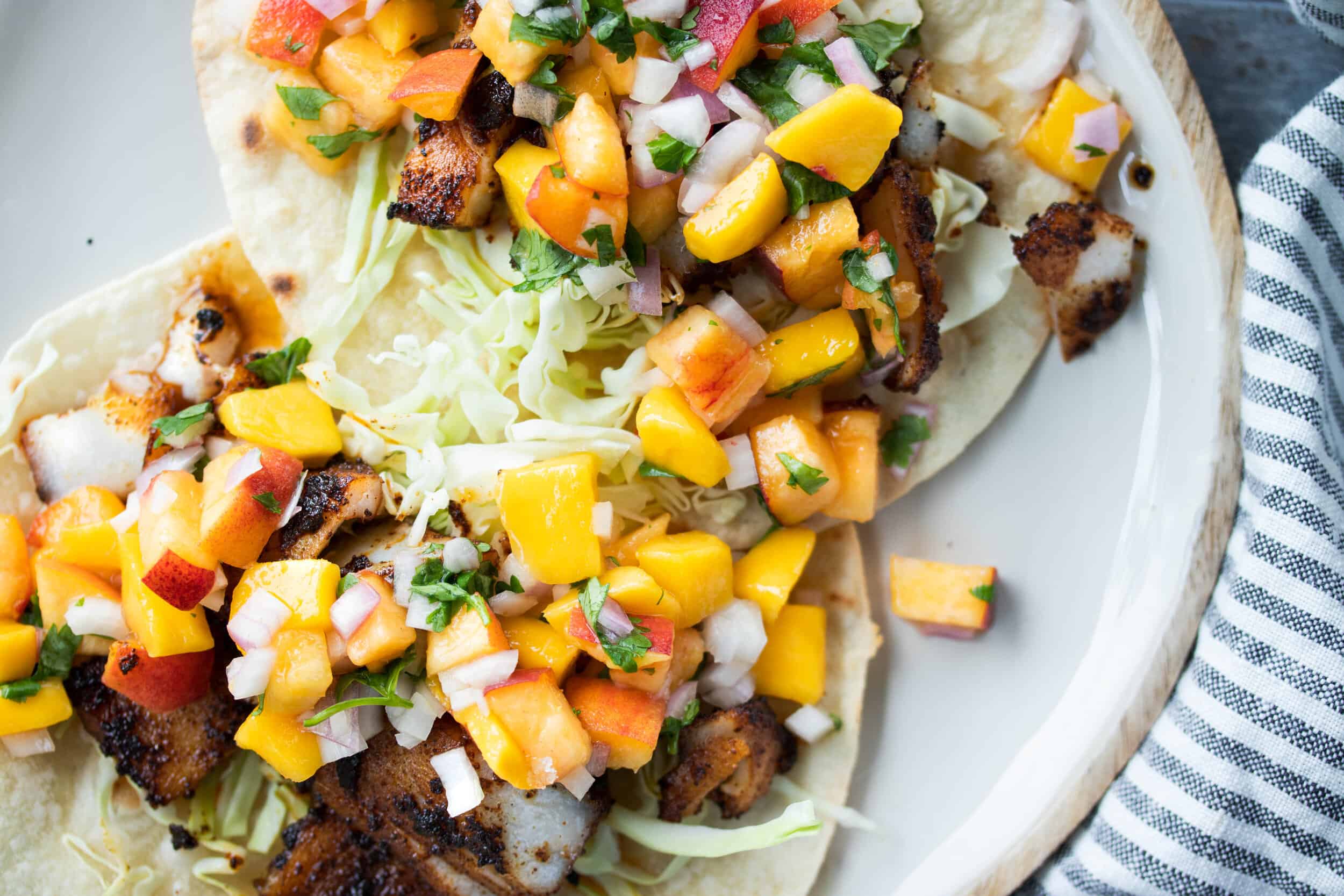 Summer Fish Tacos with Peach-Mango Salsa
1.5

pound

white flaky fish

,

tilapia, flounder, cod

8

tortillas

2-3

tablespoons

avocado or canola oil

,

a neutral high heat oil

spice mixture

,

see below

peach-mango salsa

,

see below
"Optional" Toppings: I'd choose at least one to include!
guacamole

sour cream

,

add in a spoonful of adobo pepper sauce from canned adobo peppers for a spicy kick!
Spice Mixture- The amounts below make two times the amount needed for 1.5 pound of fish- I like making double and then use this later so this recipe is even easier!
2

tablespoons

ancho chili powder

,

can use regular chili powder if you don't have ancho

4

teaspoons

paprika

2

teaspoons

garlic

2

teaspoon

cumin

1

teaspoon

salt

Juice of 1 lime
Peach Mango Salsa
2

small peaches

,

diced (ripe yet still slightly firm)

1 large or 2 small

mango(s)

,

diced

1/4

cup

cilantro

,

diced

1/4

cup

red onion

,

diced (optional- my mom doesn't like red onion so I've omitted for her and it was fine. Up to you!)

juice of 1/2 lime

,

taste as you go*

sprinkle of sea salt
Combine all the spices in the spice mixture (except lime juice- that will be added later) together in a small bag. Please keep in mind this makes double the amount for 1.5 pound fish. I like to make this and then store half of it in a ziploc for another time. You can easily half if you prefer.

Place fish in a large flat container. Sprinkle two tablespoons of the spice mixture over the fish, flipping the fish to evenly coat the mixture. At this point, you can decide if you need more or not- if it's thoroughly coated in the mixture, you're good. If you still see a lot of the white fish, add more. Set aside while you make the salsa and prep the tortillas (anywhere from 15-30 minutes is fine).

Make the peach-mango salsa: Combine all ingredients in a medium bowl except lime juice and toss gently to combine. Add just a bit less than half a lime and taste to see if it needs more lime- how much you need will depend a bit on how sweet the mango and peach naturally are, and how big the lime is. I've found generally half a lime (about 1 tablespoon) is good, but I'll usually start with a bit less, since it's easier to add than remove.

Char tortillas using a medium cast-iron skillet (a nonstick is NOT the way to go for this one! It will smoke). Place cast-iron skillet over medium heat and place tortilla on top (dry; no oil). Once the bottom is brown and slightly charred, about 2 minutes, flip and repeat. Repeat for each tortilla. Yes, this takes a bit of time and can be skipped, but I think it makes a huge difference and highly recommend taking the 5 minutes to do it.

Use the same cast-iron skillet to fry the fish. Heat pan over medium heat. Add enough oil to generously coat the bottom of the pan (about 1-2 tablespoons- you may need to add more later if needed). Squeeze the juice of 1 lime over the fish and then place directly in the cast-iron skillet. Fry on one side until the fish is beginning to turn white and opaque, about 3 minutes. Flip and repeat until fish is fully cooked, another 3-5 minutes (depending on how thick the fish is). Lightly flake fish with a fork. Serve with the tortillas, salsa, and whatever other toppings you want.