Note: I wrote this recipe "Roasted Squash with Toasted Sesame Seeds & Golden Raisins" as part of a bigger feature in Edible Boston's Winter 2021 issue. The feature focused on vegetarian recipes that are straightforward, easy, and feature local winter produce. You can see the feature here on Edible Boston, as well as an edited version of the article published in their print magazine below- in particular, I feel like understanding the "why" behind this recipe was key AND how I hope it's used/read.
It's just not as easy to love local produce in the winter. The glamour of tomatoes and peaches is hard to compete with. But if you explore and get creative, winter produce can be just as colorful, rich, and delicious. I wanted each recipe to be like a blind date: a time to get to know a single vegetable- and maybe in a way you hadn't considered before. (P.S. This recipe: all about the hearty greens. In particular, I wanted to utilize their stunning green color to infuse both color and flavor into rice.)
In my early days of cooking, I felt obligated to strictly follow recipes, even if that meant buying spices that just collected dust in my pantry. Over time, I began to think of recipes more like a template with suggestions. If a recipe calls for a bunch of different herbs, it's okay if I only have a couple of them. While this philosophy was somewhat born out of practical constraints, it also made cooking less stressful- to the point of being fun. I had room to play and be creative.
So I encourage you to see these recipes as a starting point. Try swapping out a spice or two based on your personal taste. You may create something even better (and other times not- but it's just a single meal and still worth trying). As a teacher, I know that some dive into this flexibility and experimentation, while others find it daunting. If you find yourself on the "I follow a recipe to a T" end of the spectrum, be sure to read the description for each recipe. I give specific suggestions and ideas on where there's wiggle room to experiment. The more you make it your own, the more likely you are to make it again.
"Will you make it again?" is always my first question when assessing a recipe and my ultimate goal. It sounds obvious, but this question considers both the final product and the experience of making it. Have you ever finished a recipe, only to stare and wonder if a tornado just went through your kitchen? For me, the final straw was a stuffed pumpkin. After an inordinate amount of steps, the pumpkin was finally in the oven. And then I stepped back and saw the number of bowls and utensils to clean. Even if it was delicious, I knew I probably wouldn't make it again, or at least not anytime soon.
Luckily, a recipe can have minimal ingredients, equipment or steps while still being creative and bold in flavor. While we often have our go-to flavors, I've found the key to consistently cooking most nights and not getting in a rut is mixing it up. So enjoy this collection of cozy vegetarian recipes that features a wide variety of flavors, textures, and aromas while also fitting into your busy schedule.
Recipes in this Feature:
Cabbage Fritters, Two Ways
One-Pot Cilantro Lime Rice with Poached Eggs
Fried Cheese & Roasted Beet Salad
Caramelized Cabbage & Orzo Risotto
Roasted Squash with Toasted Sesame Seeds & Golden Raisins
And now to this recipe… Roasted Squash with Toasted Sesame Seeds & Yellow Raisins
Roasting brings out the naturally sweet, caramel-like flavors of winter squash and can be used on almost any winter squash. The cook time will vary depending on the type of squash, but my favorites for this recipe are delicata and kabocha squash (especially because you can don't have to peel them).
Roasted Squash with Toasted Sesame Seeds & Golden Raisins: Ways to Adapt this Recipe
This dish is made up of several components and is purposefully flexible. When making this myself, some components are a must and I always include because they MAKE the dish. Other parts I sometimes include and other times not, depending on mood and how filling of a dish I want this to be.
Squash and spices: a must because they're the heart of the dish.
Sesame almond topping: I guessss optional, but honestly I'd say key because it makes this dish more special. In my opinion, it elevates this dish and also adds an important crunch factor. You can also make it up to 2 weeks in advance and store in airtight container.
Golden raisins: I love the addition of a dried fruit to add just a touch of sweetness and a new texture. Chopped dried apricots would also be great here if you're struggling to find golden raisins.
Farro & Chickpeas: totally optional and often times I'll do one or the other, but you can also do both! They're perfect to add if you're looking to make this dish more substantial. The farro can easily be made ahead of time and used for other dishes. The chickpeas are best fresh and made day of because they get less crispy over time.
Spices: Sumac & Urfa
While I've seen sumac becoming more widely available and you may be able to find it out your grocery, urfa is a bit harder to find in American Grocery stores. I found it at local Boston bakery Sofra and have been using it in a variety of dishes to get to know it. Sumac has a slightly tart and fruity taste and is commonly used in Middle East. Urfa is a Turkish pepper. Its flavor is similar to sumac in that it's also a bit tart and fruity. But in brings the heat! I personally really like it because it was a more subtle heat.
If you can't find these spices, omit the mint and add in a pinch of cinnamon and chili flakes. While these spices aren't a substitute, they also add a touch of sweetness and heat and pair well with paprika.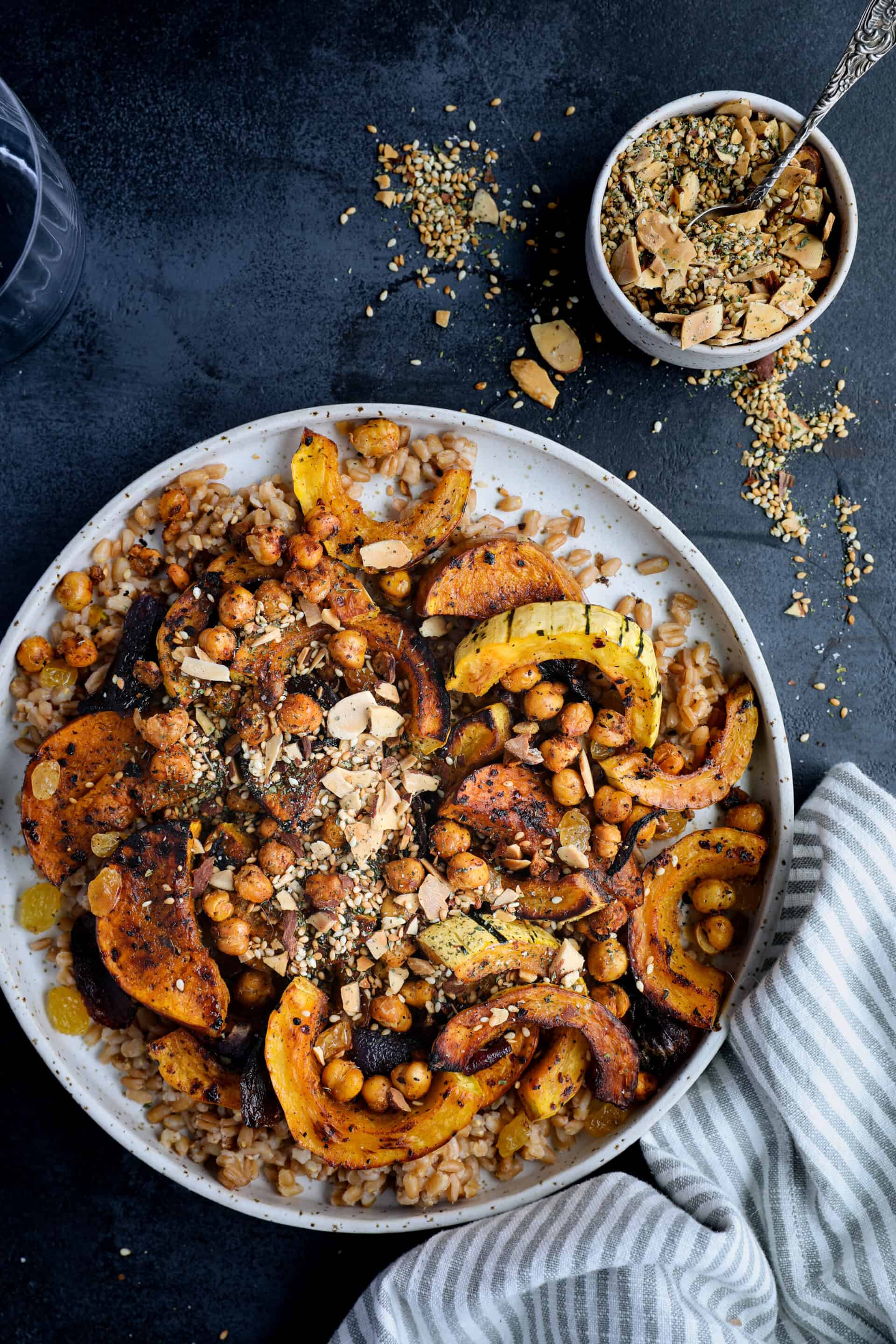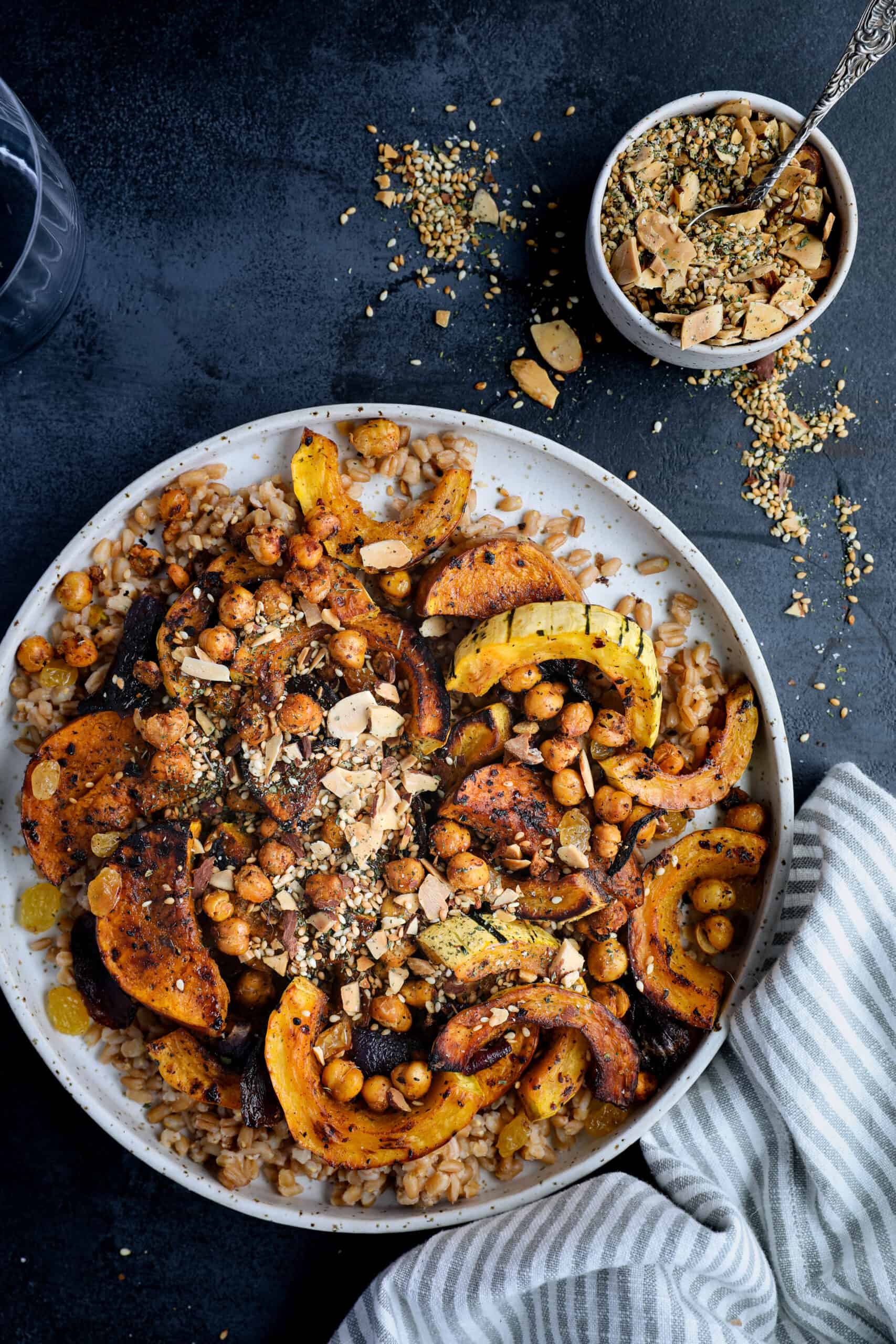 Roasted Squash with Toasted Sesame Seeds & Golden Raisins
3

small delicata or kabocha squash

,

~1.5 pounds

2-3

tablespoons

extra virgin olive oil

optional: 1

can

chickpeas

,

, unsalted, drained, rinsed and patted dry ** If using chickpeas, double spice mix!
Spice Mix: (*be sure to see note above if you're struggling to find these spices)
½

teaspoon

paprika

½

teaspoon

light brown sugar

¾

teaspoon

diamond kosher salt or ½ teaspoon sea salt

¼

teaspoon

sumac*

¼

teaspoon

urfa*

½

teaspoon

dried mint*
Sesame-Almond Topping:
2

tablespoon

sesame seeds

⅓

cup

sliced almonds

1

teaspoon

dried mint

½

teaspoon

diamond kosher salt

,

or ¼ teaspoon sea salt
Other:
¼

cup

yellow raisins

1

cup

cooked farro
Roast the Squash (and option to roast chickpeas):
Note: If you are adding in the optional ingredient chickpeas, you can add them right in with the squash and roast for the same amount of time. Chickpeas take about ~30 minutes, so right around the same time! While you can toss all together, I like having control to remove them if they finish cooking earlier by either placing them on one side of the pan or using a separate pan just for the chickpeas. They will be done when crispy and golden brown.

Preheat oven to 400 degrees.

In a small bowl, combine paprika, light brown sugar, sumac, urfa, dried mint, and salt. Cut delicata squash in half lengthwise and remove seeds. Slice squash into half-moon slices and add to a large bowl.

Add in oil and spice mix and toss to evenly coat the squash in the spices and oil. Place squash onto a parchment-lined baking sheet.

Roast until squash are caramelized and brown, about 30-40 minutes. Check after 20 minutes and flip squash to brown both sides.

Remove squash and set aside.
Make the Sesame-Almond Topping
Preheat oven to 375°. Place sesame seeds and sliced almonds on a clean, dry baking sheet. Bake until both are golden brown, about 6-7 minutes. Let cool slightly.

Ligthly crush the almonds using a knife or placing them in a ziploc bag and banging them with rolling pin (yes, this sounds weird. but yes, it works). To a small bowl, add toasted almonds, sesame seeds, dried mint and salt and toss to combine.
Combine and Serve
Add cooked farro and winter squash to a serving bowl. Top with the sesame seed mixture and yellow raisins.