Ever since eating olive oil cake at our wedding, I've been hooked. The flavor olive oil brings is unique and comes with the added bonus that this cake can sit out on the countertop for a few days and taste just as fresh as it did on the first day. Additionally, everything can be done by hand with just a whisk. The type of olive oil you use can drastically change flavor. I find a more mild, floral olive oil is best. If you can't find meyer lemons, regular lemons will work as well. Seemingly simple, this Meyer Lemon Olive Oil Bundt Cake with Almond Flour actually took quite some time to perfect.
Behind the Scenes: Developing the Recipe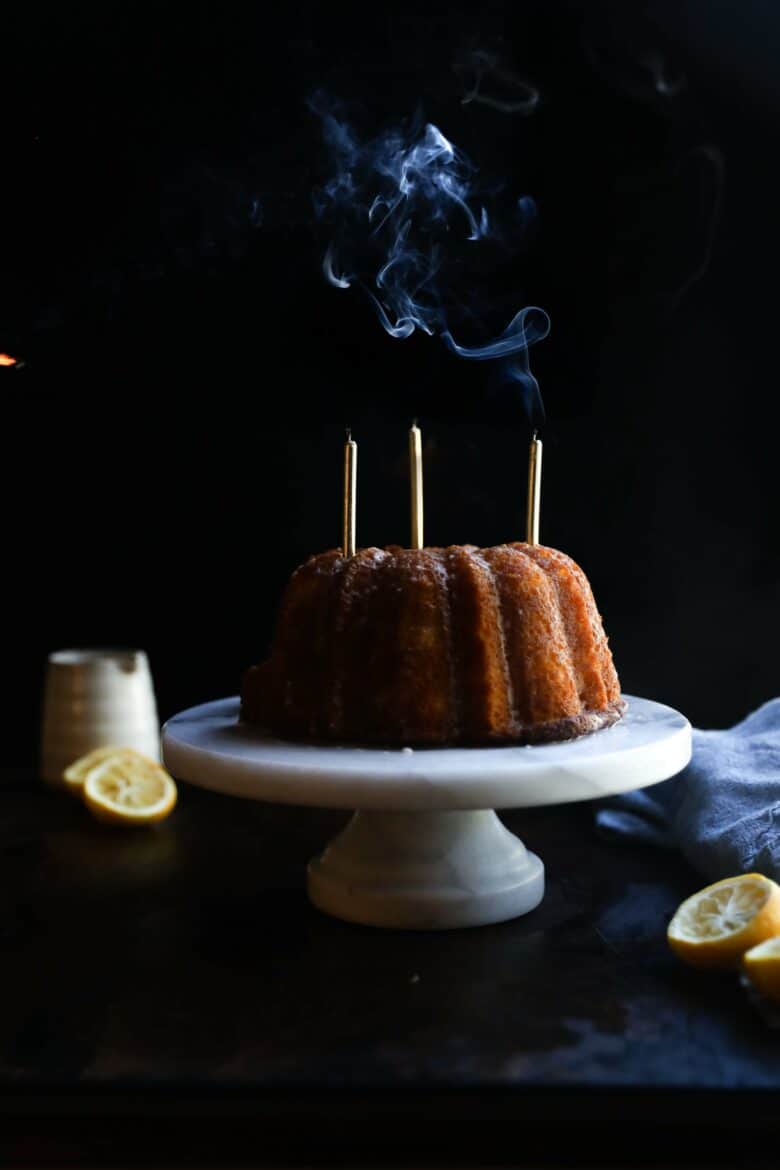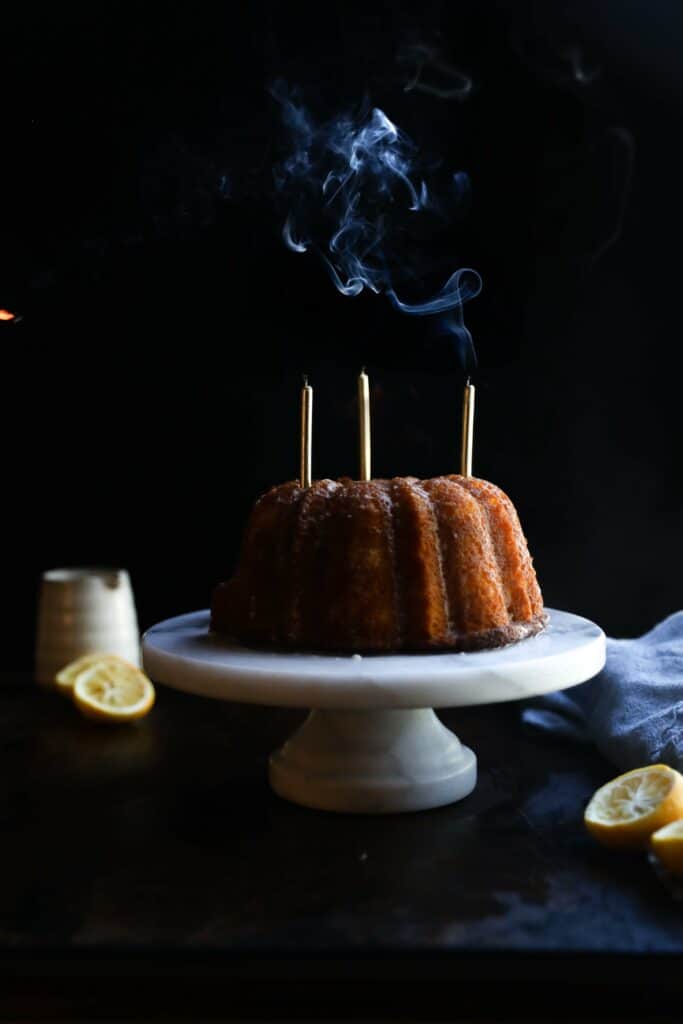 The first time I made olive oil cake was in fall 2019- about a week after our wedding. I used Food 52's "Best Olive Oil Cake" recipe as a start. I adapted it, changing some of the ratio of ingredients and it was delicious. But sadly, I didn't do a great job of documenting my adjustments. The next time I baked the cake, it lacked the same flavor and texture. I tried it again, but it still just didn't have that sparkle I wanted it to have. Disappointed, it took me a bit of time to return back to the recipe.
Then about a year and a half later, Molly Baz's Cook This Book came out. It featured a olive oil cake, but with grapefruit. It was the push I needed to return back to my original recipe. I looked at my old notes. Luckily I had learned from my initial mistake and had three attempts documented and written down. I then made Molly Baz's recipe to compare and see the differences. Ultimately, I took a note from her book to infuse the citrus flavor by massaging it into the sugar and also added in my sugar to my original recipe. The trial was perfect. I tested it out two more times to ensure my ratios were right, and now here we are.
Perhaps it's a lengthy explanation of how I got to this recipe to make this Meyer Lemon Olive Oil Cake, but I personally love going through the behind-the-scenes struggle to show the process behind the product.
Behind the Recipe: Meyer Lemon Olive Oil Bundt Cake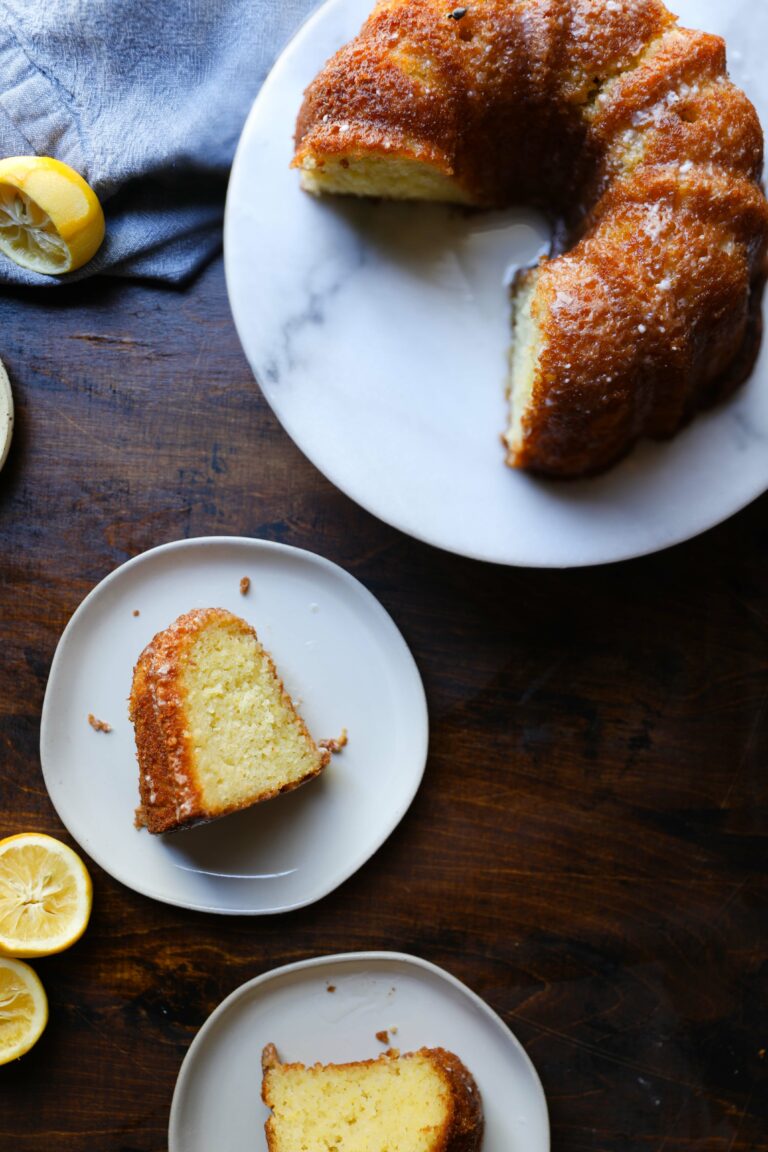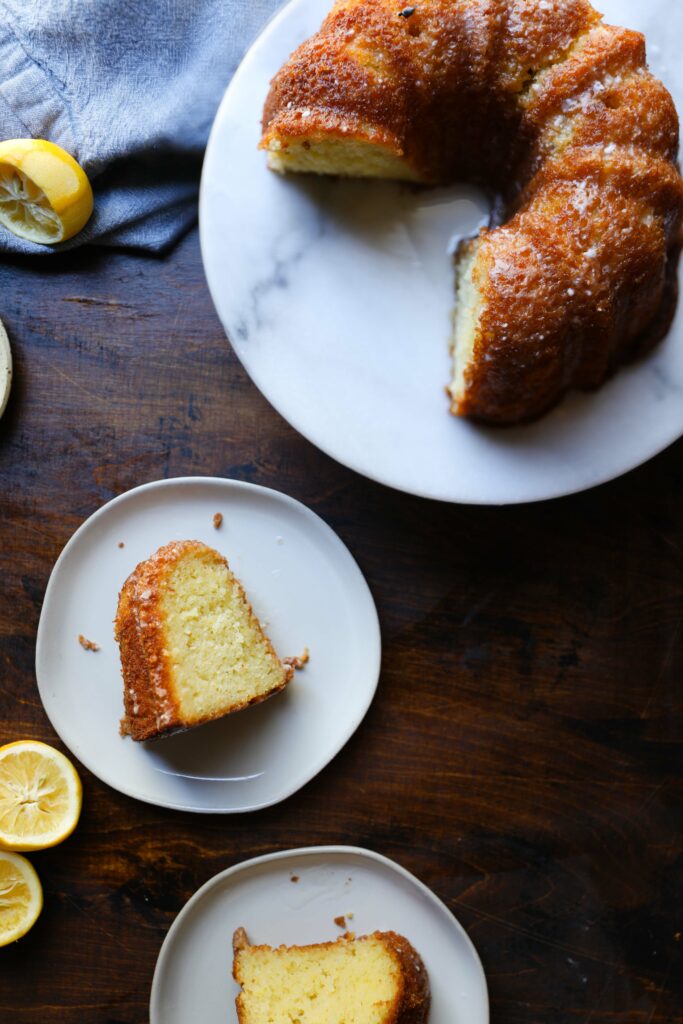 Massaging the citrus into the sugar: This is something I picked up from Molly Baz, as well as a few other cooks. Essentially the zest of citrus is made up of oils and massaging them into the sugar helps bring out these oils and enhances the aroma- both the flavor and taste- of the citrus.
Meyer Lemon: Right now meyer lemons are in season and I'm always looking for ways to take advantage of them. But you can definitely try this with other types of citrus like regular lemon, orange, or grapefruit. If subbing in different citrus, keep in mind that different citrus fruits have different levels of sweet/sour and you may need to adjust accordingly by changing the amount of sugar by a few tablespoons.
Almond Flour: One of my biggest adjustments that I think really add to the flavor and texture of this cake. It compliments the citrus and olive oil and adds to that buttery flavor (without the butter). Be sure to use blanched almond flour and if you notice it's clumpy, run it through a strainer to sift it.
Greek Yogurt/Skyr: It's similar to adding in sourcream or buttermilk, two other dairy products that many cakes often have and traditionally are folded in right at the end. It helps bring a lightness to the entire cake and also will activate the baking powder/soda due to its acidity. This is one of my favorite ingredients to add to my cakes, as you can see in these strawberry lemon cupcakes, brown butter summer berry cake, and upside down apricot cake.
Whole Wheat Pasty Flour: The key to using whole grains in a cake without being tough or too dense. Yes, there is a difference between whole wheat flour and whole wheat pastry flour, and they are not interchangeable. However, if you only have whole wheat flour, use half all-purpose and half whole wheat flour to get a similar result. This will include whole grains while keeping it nice and light and fluffy. You can also just use all-purpose flour if you prefer.
Diamond Kosher Salt: Yes, add 2 teaspoons to this cake. Yes, you read that right. I know it sounds like a lot, but it enhances the flavor dramatically. Just do it. And if you don't have this brand, half it and use 1 teaspoon.
Beyond the Bundt: Other Types of Baking Pans
You can use a variety of pans for this cake: a 9×5 loaf pan, a bundt cake pan, or a normal 8 or 9" cake pan. My favorites are the loaf pan (especially if making more for a snacking cake that you could bring in to work or gift to someone) or the bundt cake (for more of a dramatic show stopper).
9×5 loaf pan: Create a parchment sling and lightly oil the pan before using. When baking, check after 55 minutes; baking time is normally around 60 minutes.
Bundt cake pan: Generously oil the pan before using. When baking, check after 55 minutes; baking time is normally around 60 minutes.
8 or 9" cake pan: Line with parchment and lightly oil the pan before using. Check after 40-45 minutes instead of 60 minutes.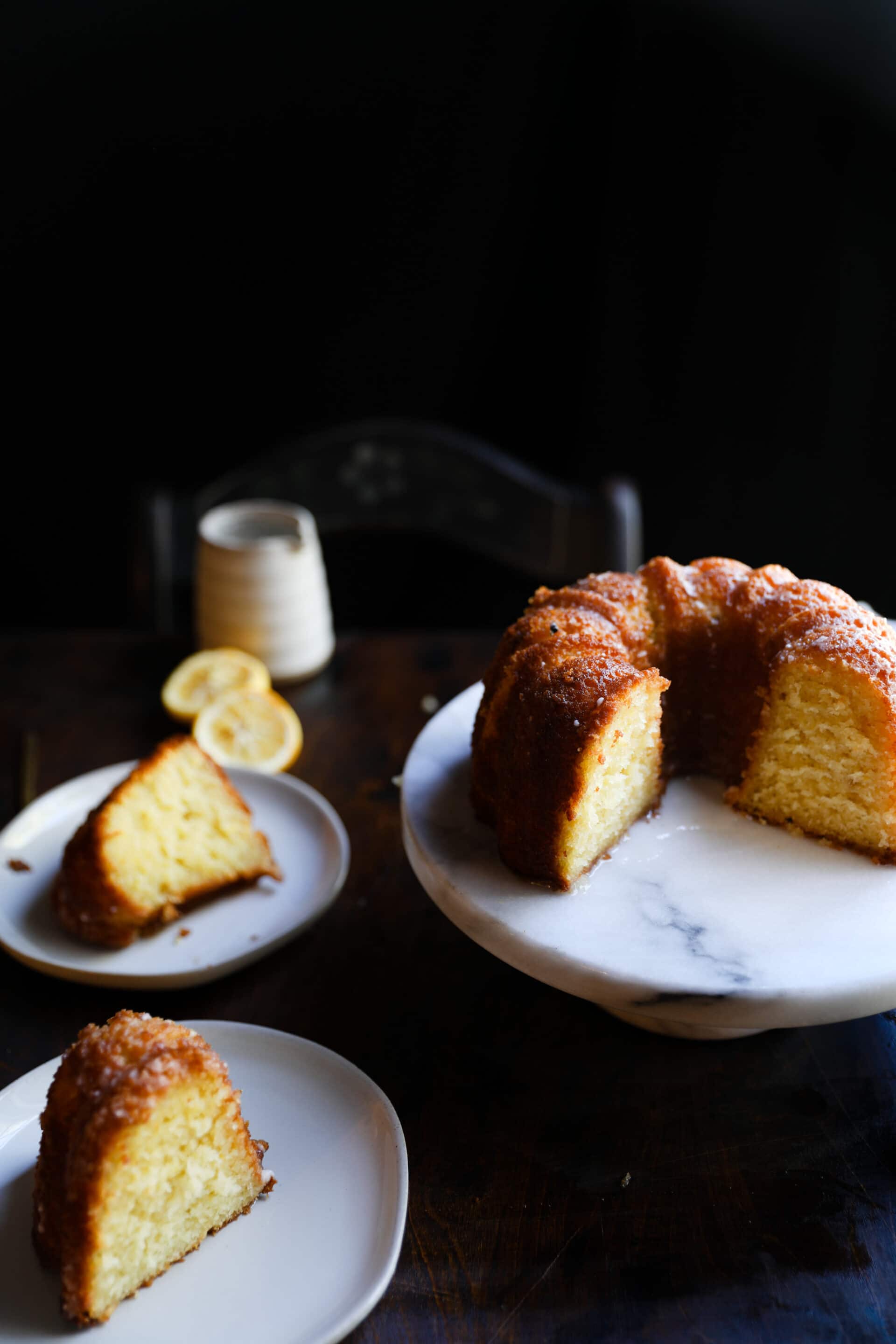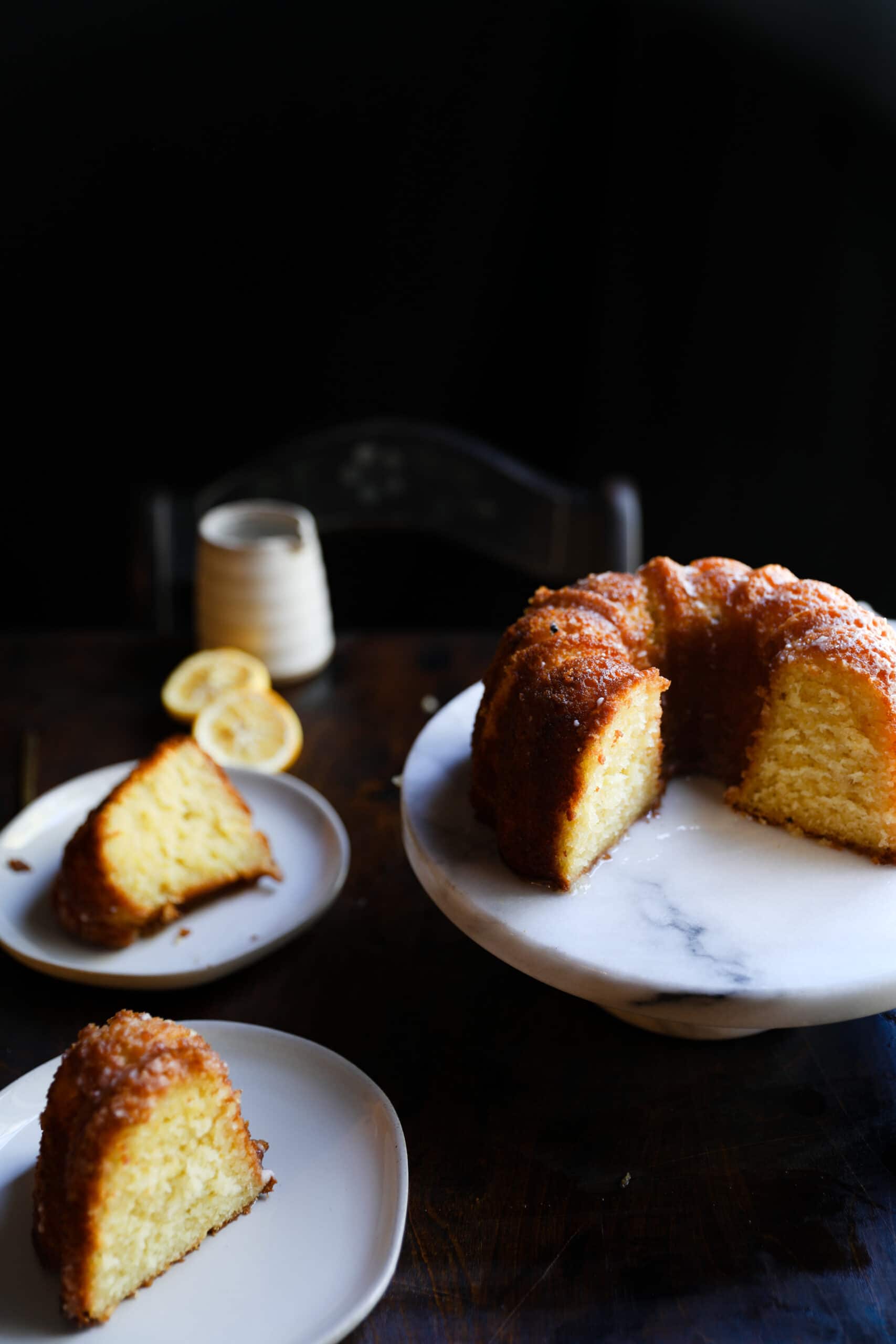 Meyer Lemon Olive Oil Bundt Cake with Almond Flour
1 1/2

cups (156g)

whole wheat pastry flour or all-purpose flour

1/2

cup (60g)

almond flour

2

teaspoons

diamond kosher salt (if using any other salt, use half the amount)

1/2

teaspoon

baking soda

1/2

teaspoon

baking powder

1

cup (200g)

sugar

zest of 2

meyer lemons

1

cup (200g)

extra-virgin olive oil

1/2

cup + 3 tablepoons (155g)

plain full fat skyr or greek yogurt

3

large

eggs

,

at room temperature

1/4

cup + 1 tablespoon (2.5 ounces)

lemon juice

,

(juice of 2 lemons)
Preheat oven to 350. Oil and/or add a sheet or parchment paper to a 8'' cake pan, 9×5 loaf pan or bundt pan.

Mix flour with salt, baking soda, baking powder. If almond flour is clumpy, run it through a sieve.

In a large bowl, add sugar and lemon zest. Massage zest into sugar with hands.

Add oil, skyr, eggs, and lemon juice. Whisk until fully combined and smooth. Add in flour.

Pour into prepared baking pan (bundt or loaf) and bake for 60 minutes, until toothpick comes out clean and edges beginning to pull away.