Chicken Tortilla Soup: Delicious in theory, but not always in practice. I've wanted to like chicken tortilla soup for a while. Sadly, every time I made it I found it to just be… meh. It had so much potential, but often lacked the body and flavor I expected it to have. This Instant Pot Chicken & Veggie Tortilla Soup finally meets the mark of flavor and depth. The key? Making your own broth. And before I lose you- I promise this is super easy and just as simple as most other chicken tortilla soup recipes. And way more delicious.
Behind the Recipe: Instant Pot Chicken & Veggie Tortilla Soup
Using Leftovers Strategically
Generally after roasting a whole chicken, I like to use the leftover carcass to make a broth. Normally I go for this delicious Miso Ramen. However, the recipe I've been currently loving- this Foolproof Slow-Roasted Paprika Chicken– was infused with a strong amount of paprika, so I decided to go a different route. It lent itself perfectly to this tomato-based broth.
This recipe goes one step further, ideally using some of the leftover roasted chicken shredded in the soup itself. I've found that we normally have some chicken leftover when we roast a whole bird, and this is the perfect way to use what's left behind.
Why the Instant Pot
All of the cooking time is spent making this broth- a combination of aromatics and traditional ingredients like carrots, celery, onion, and tomato paste with the chicken bones are cooked at high pressure for 35 minutes. The instant pot makes this incredibly easy- just dump everything in and wait. After, you're left with a deeply infused and wholesome broth that's hot enough that you can just dump everything else in and it's done. Saute for an additional five minutes if you want to play it safe and make sure everything is warm.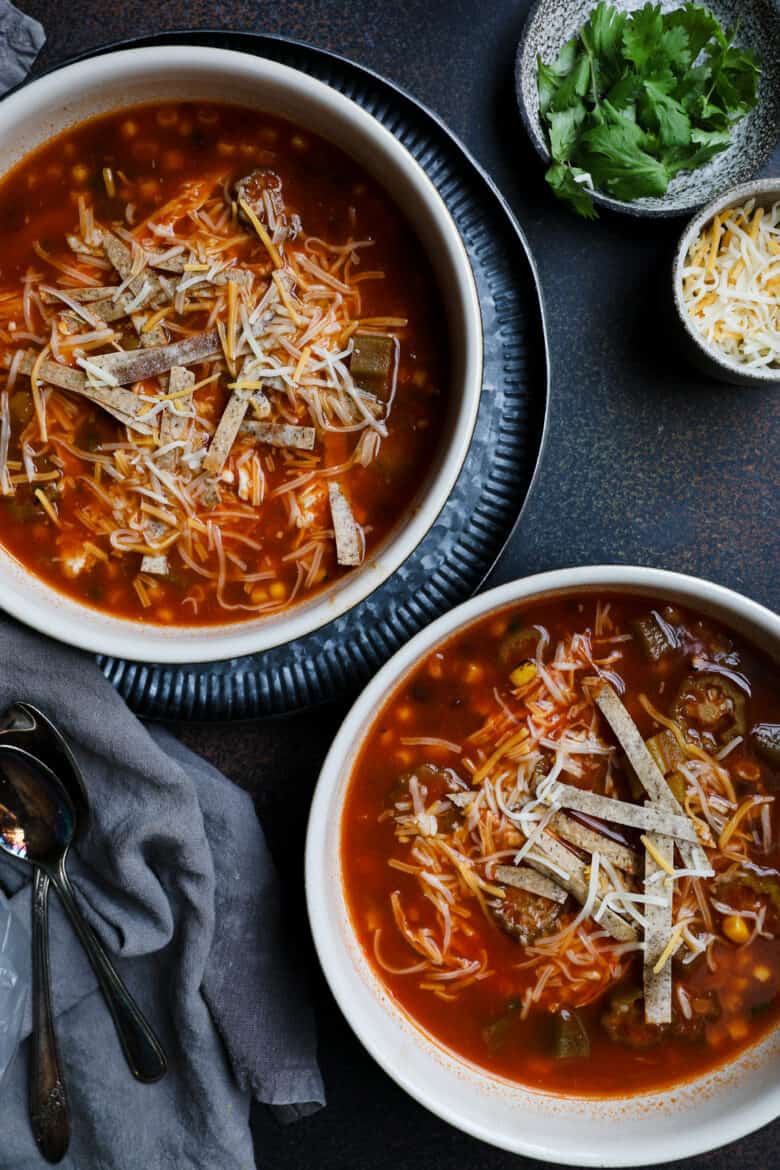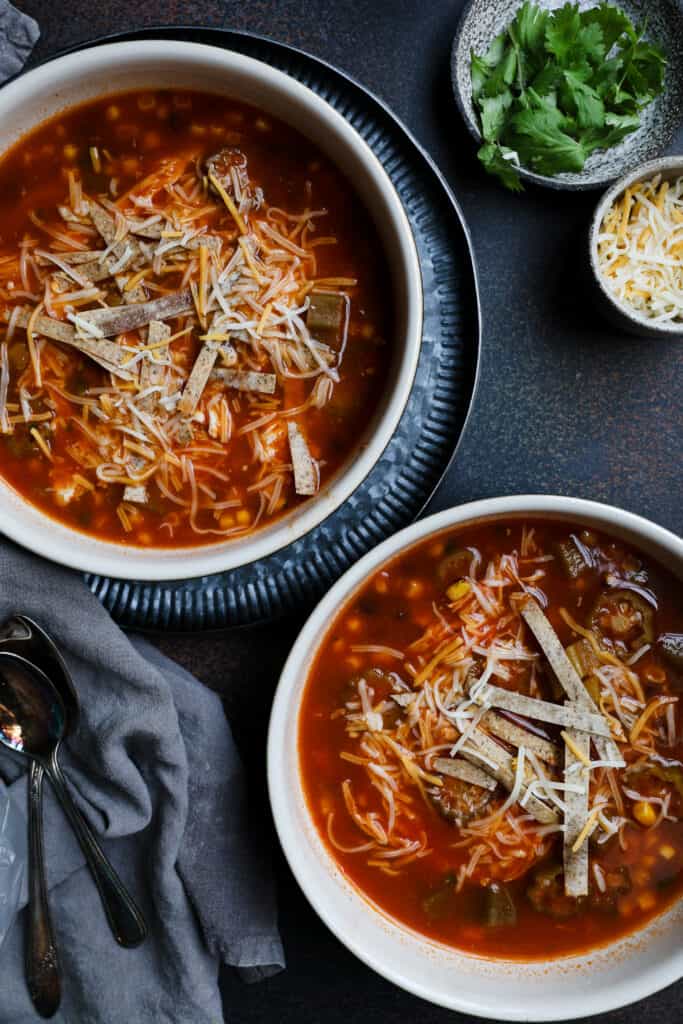 If you don't have an instant pot, you can do the same method but over the stovetop and with a much longer time- I would simmer the stock for about 2-3 hours (covered) instead of the 35 minutes at high pressure.
Using Frozen Veggies: The Perfect Time & Place
I don't often use frozen vegetables, but using frozen corn and okra couldn't be easier- no prep or cutting required. And because it's a soup, you don't have to worry about a weird texture because they were frozen. Just add them directly into the hot broth and they'll be ready to go within minutes. Okra is definitely an untraditional add, but trust me on it.
Tortilla Strips: Worth the Extra Step
I cannot recommend these tortilla strips enough. It's totally worth taking the time to make your own and you can use any brand/type of tortilla you want. I personally love using Siete's almond flour tortillas and have recently gotten into their cassava & chia tortillas too (originally they were a substitute for the almond but I really enjoyed them!).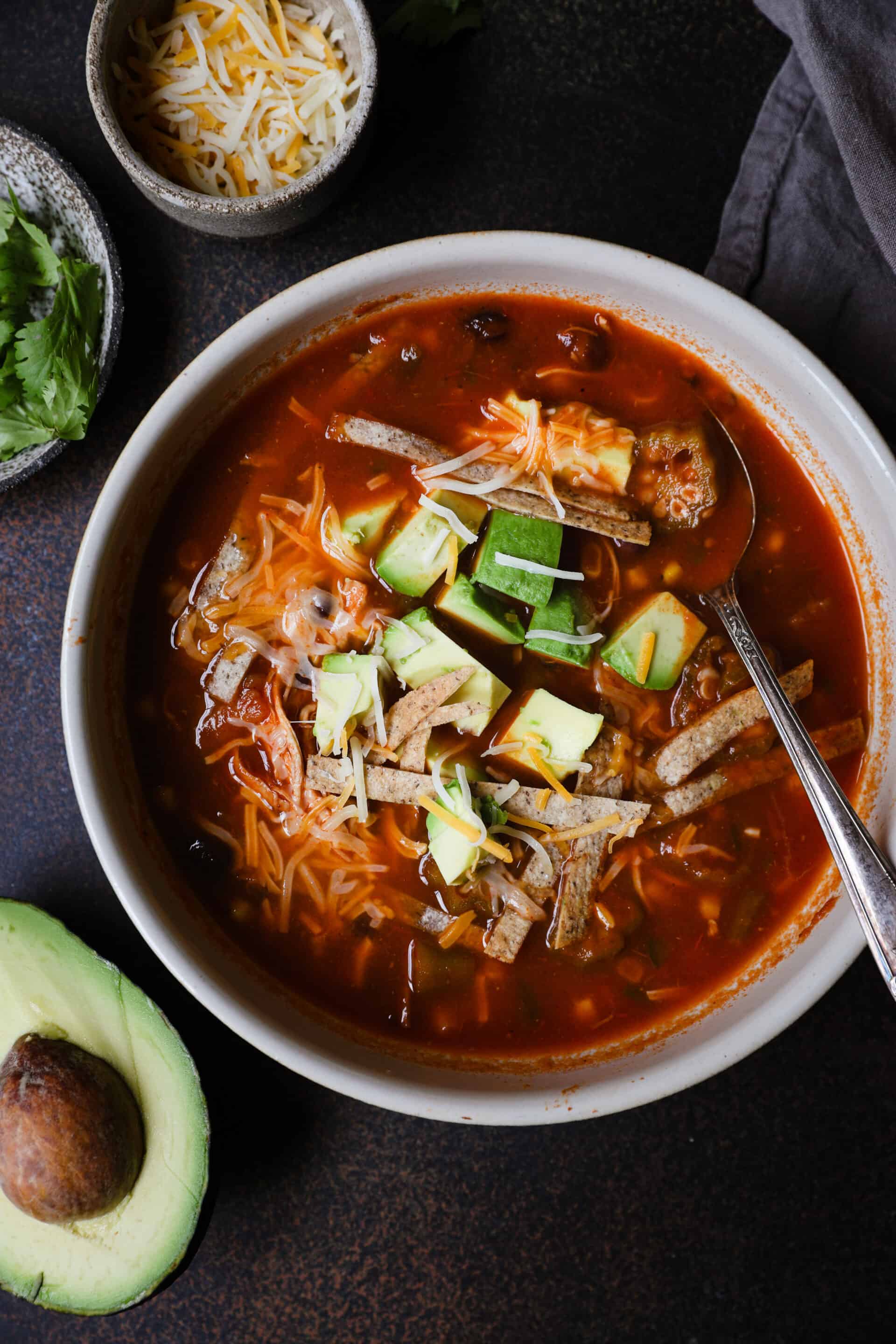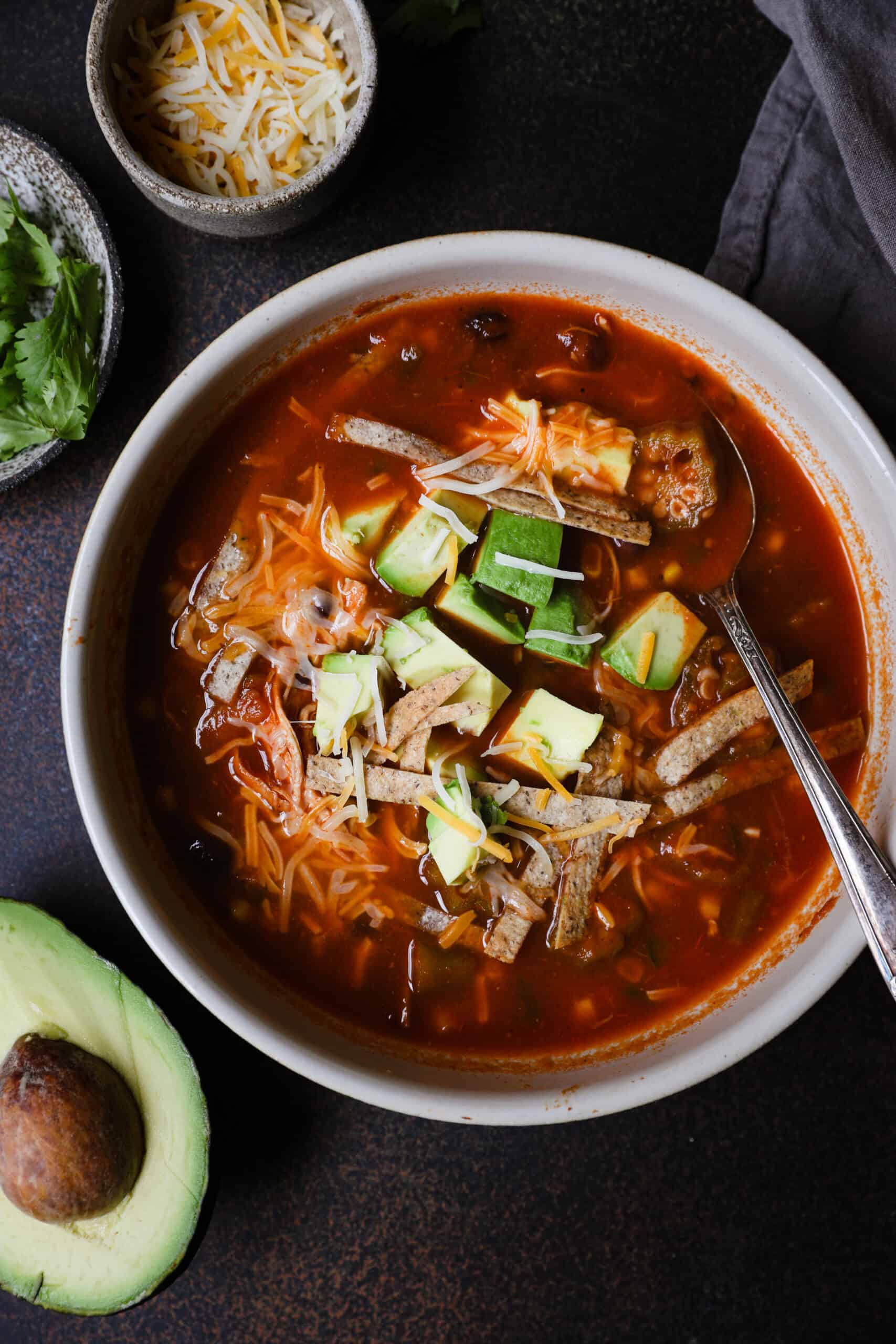 Instant Pot Chicken Tortilla Soup
1

leftover chicken carcass

,

(I use the leftovers form my Foolproof Slow Roasted Paprika Chicken- see above)

1

28 oz can

whole or diced tomatoes

1

teaspoon

peppercorns

1-2

bay leaves

6

cups

water

2

celery stalks

2

carrots

1

tablespoon

salt

1

teaspoon

chili powder

2

cups

shredded cooked chicken

2

cups

frozen corn

,

(fire roasted if you can- Whole Food has it!)

2

cups

frozen diced okra

1

jalapeno

,

minced
Toppings
3

tortillas

1

avocado

,

diced

1/2

cup

shredded Mexican Cheese
Place leftover chicken carcass, tomatoes, peppercorns, bay leaves, water, celery stalk, carrots, and salt in instant pot/pressure cooker. Cook on high pressure for 35 minutes and then manually release pressure.

Strain broth. Add in paprika, cooked chicken, corn, okra, and jalapeno. Saute for 5 minutes until frozen vegetables are completely warm. Top with cheese, avocado, and tortilla strips.
Tortilla Strips
Preheat oven to 375. Prepare a baking sheet with parchment paper. Stack tortillas and cut into strips. Arrange strips onto baking sheet (they should not stack) and lightly spray with oil. Bake for until golden brown, about 6-10 minutes (the time varies depending on the brand/type of tortilla). Store in an airtight container.