Every time I make these Neapolitan Sugar cookies, I repeatedly try each flavor- vanilla, strawberry/raspberry, and chocolate- to determine which one is the best. I never come to a consensus and end up just eating multiple cookies. Usually, I'm all about the caramel notes and add-ins on a cookie, but a bite of these reminds me how good a simple soft and buttery cookie is too.
This recipe is closely adapted from Sarah Kieffer's recipe, which can be found here. I didn't make many adjustments because these cookies are just about perfect! However, I found that adding in cocoa powder and strawberry powder dry out the dough just slightly, so I've included just a bit of water to counter it. Additionally, I've explored different ways to make strawberry powder without needing equipment and furthermore, trying out raspberry too.
Why these cookies are kid-friendly
The bulk of the time is assembling the different color doughs together- a perfect kid-friendly task. It's minimal risk and a fun hands-on way they can be included. Just keep in mind- they may not look as perfect if the ratio of doughs aren't equal. But they'll still be delicious!
No wait time. These cookies don't need to rest in the fridge. In fact, I tried out a batch with the dough resting in the fridge and it had almost no impact on the end result.
Colorful. We all eat with our eyes. Assembling these cookies almost reminds me of play-dough and the colors from the chocolate and strawberry are just fun.
Universal Flavors: I love these cookies because they are a step up from just "any old cookie" but still include fairly universal flavors- who doesn't love chocolate and vanilla? While the raspberry may be a bit less of a universal flavor, strawberry is a win for most.
Neapolitan Sugar Cookies: Different Designs & Methods
Once you have your three different colored doughs, it's up to you how you assemble the cookies. There are lots of ways to do it and maybe some are more efficient than others, but I like to think of this almost like a personality test. How precise do you want to be? Do you want to do it an assembly line?
Having done this a few times, I found the assembly line process the most efficient. Essentially take a tablespoon of each dough until you've used up all the dough. Repeat with another color and begin to put them in a cluster (like you see in picture).
For the designs, there are two main methods (and almost a hybrid of the two):
Stripe Method: Arranging each colored dough in clear segments/lines.
Swirl Method: Arranging each colored dough in a peace sign.
No matter what method you do, the cookies will taste delicious. This is just about how they work.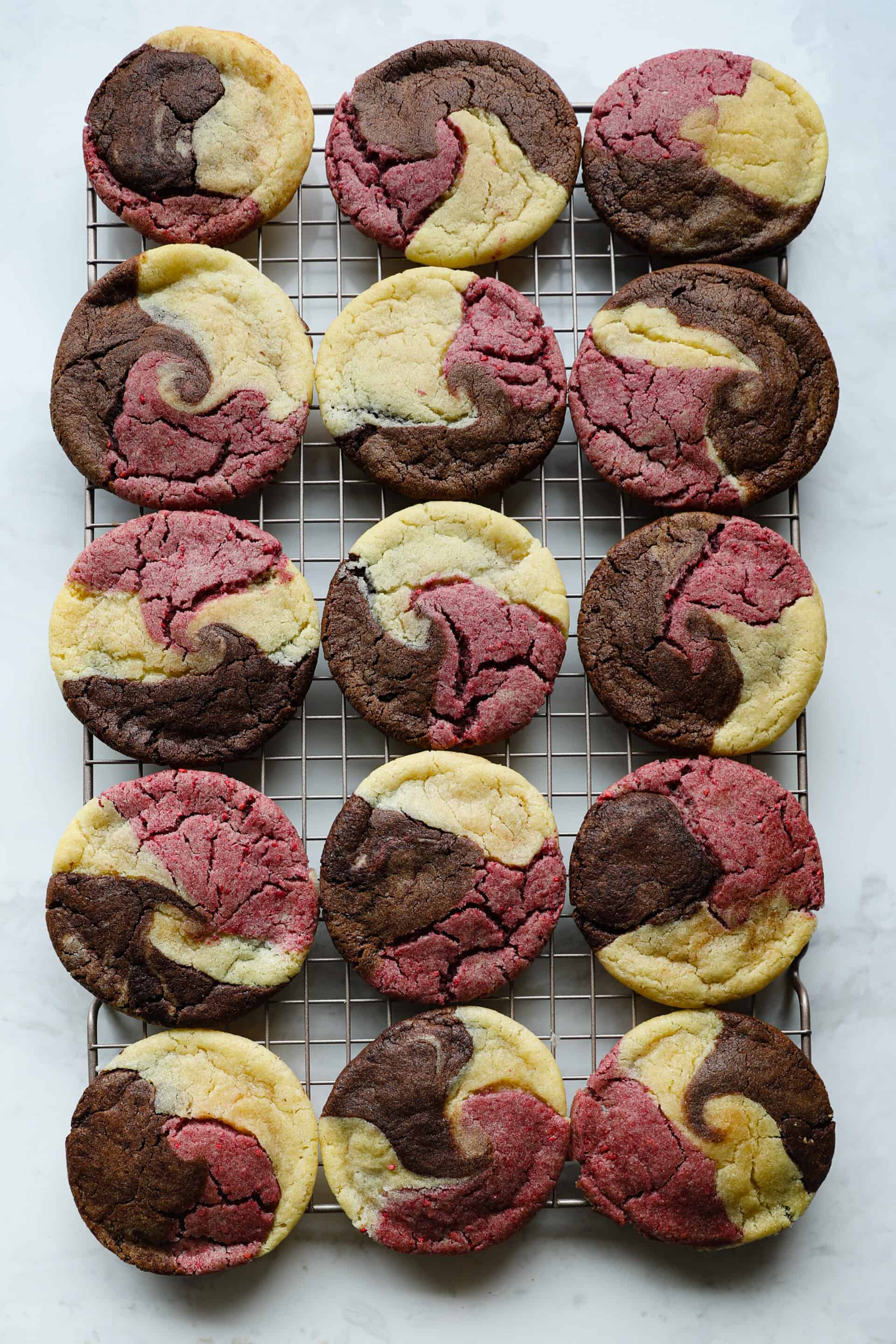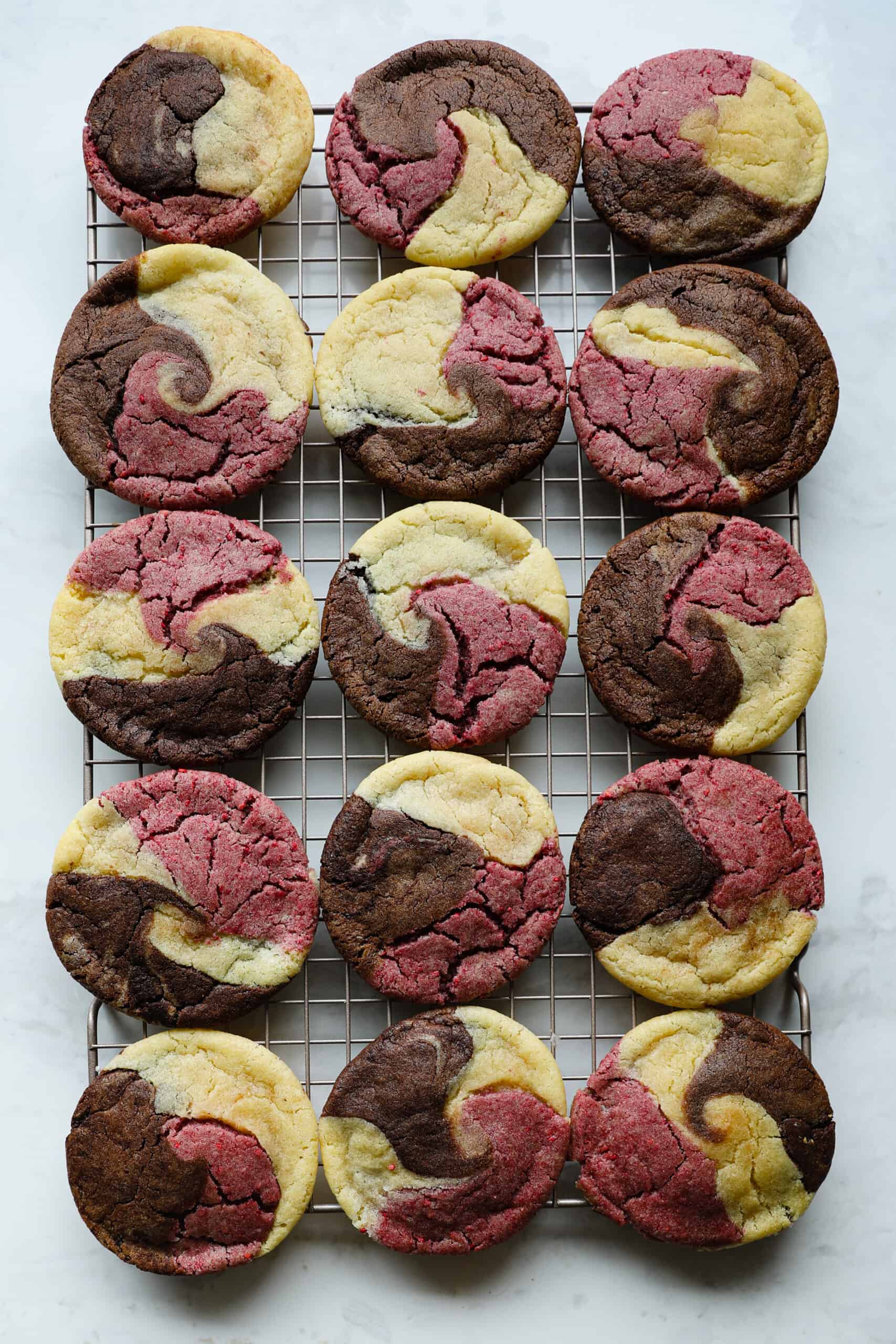 Neapolitan Sugar Cookies
2

sticks (8 oz)

unsalted butter

,

at room temperature

1 3/4

cup (350g)

white sugar

2.75

cups (358g)

all-purpose flour

1.5

teaspoons

diamond kosher salt (if using any other salt, use half the amount)

3/4

teaspoon

baking soda

1

large

egg

,

at room temperature

2

egg yolks

,

at room temperature

2

teaspoons

vanilla extract

3

tablespoons

cocoa powder

1/2

cup (20g)

freeze dried strawberries or raspberries

2

teaspoons

water
Preheat oven to 350 degrees. Prepare baking sheet with parchment paper.

Cream butter and sugar: In a large mixing bowl with a handheld electric mixer or standing mixer with paddle attachment, add in butter and sugar. Cream on medium speed until light and airy, about 3 minutes.

Meanwhile, mix flour and dry ingredients: In a medium mixing bowl, add in flour, salt, and baking soda.

Add in egg, egg yolks, and vanilla to the butter and sugar. Mix on medium speed until well combined, another minute.

Add in flour mixture in two batches. Mix on low speed, until just combined.

Remove 2/3 of the dough from the bowl. Feel free to eyeball. If you prefer to be more exact, I've weighed out the total dough (36 ounces for me based on this recipe) and then divided it into 3. However, I found that a perfect division didn't work because the strawberry and chocolate were slightly more dense upon adding in the chocolate/strawberries. So I'd reserve closer to 10 ounces dough reserved for vanilla and 12.5 ounces dough reserved for the strawberry and chocolate).

Make the pink dough: Take freeze dried strawberries or raspberries and place in a thick plastic bag. Using a rolling pin, pound and roll rolling pin over bag until strawberries/raspberries are a fine powder. Add powder and a teaspoon of water into the dough in the standing mixer and mix on low speed until evenly distributed. Set dough aside.

Make the chocolate dough: Take 1/3 of the reserved dough and place back in the standing mixer. Add in cocoa powder and a teaspoon of water and mix on low speed until evenly distributed. Set dough aside.

Assemble the dough: To make a single cookie, you'll use about a tablespoon of each dough. Once you have a tablespoon of each flavor, roll them together into a large smooth ball. This makes about 18 cookies. I prefer to do this in an assembly line. I'll divide each dough into a bunch of small balls (about a tablespoon or so) and then put the three doughs together. See above for a picture/video for help.Arrangement of Colors: You can either arrange the colors together in a line or more like a peace sign. See above for how each one looks.

Bake cookies: Place cookies on baking sheet- they'll spread a good deal, so give them space! I put 6 on a baking sheet to be safe. Bake until cookies are slightly puffed, about 11 minutes.

Cool: Let cookies completely cool before serving.