I have to admit, it feels a bit odd to just be posting this recipe given how many months we've been making it. This Roasted Tomato & Meatball Pasta with Greens has become one of my go-to's when I need something reliable that I know everyone will enjoy. It hits the spot on all fronts- filling, satisfying, and a nice balance of protein, veggies, and pasta.
So let's be real. What qualifies as a weeknight meal can vary based on the time and person. Overall, every part of this recipe is straightforward, simple, and streamlined. However, there are three components (the sauce, the meatballs, the pasta). While you certainly can make every component on the spot, you'll need a bit more time on your hands. The sauce takes about 90 minutes to make, although 90% of it that time is just roasting time.
So in order to truly make this a quick weeknight meal, I take advantage of being able to make either or both the sauce and meatballs ahead of time. This sauce can be stored in the fridge for about 7-9 days (although I have done 2 whole weeks too and it was fine). The meatballs can be stored in the freezer. Normally I'll make a large batch for a dinner and then freeze half for another time.
I've made the sauce and the meatballs as their own distinct recipes as well. Feel free to mix and match it with other pastas, grains, or proteins.
Behind the Recipe: Roasted Tomato & Meatball Pasta with Greens
The meatballs: This base recipe for meatballs has been in my recipe box for a while now. I barely had to test it to know that a kick of fresh parmesan would make them even more delicious. Use almond flour if you want to keep these grain-free or use panko for a more traditional meatball.
Cooking the meatballs in the sauce: Normally I've pan-fried or broiled meatballs, but I love this method. Be sure to cover the pot while the meatballs cook in order to avoid splatter, avoid reduction/evaporation of the sauce, and ensure the meatballs cook evenly and fully, even if they aren't fully immersed in the sauce.
Pasta types: Honestly you can do any type here. Go for your favorite. My personal favs? Penne, rigatoni, and bucatani (if I can get my hands on it). The pasta you see here in the pictures is this one (primarily because it was on sale and I wanted to try something new; and for the record- we enjoyed it and recommend it).
Kale and green beans: I like having two different green vegetables here, but you can also double up and go for one. Adding them into the salted boiling water at the end of cooking the pasta streamlines the process of making sure they are tender. You can also use spinach, but add with only a minute of cook time for the pasta since it cooks more quickly.
Roasted Tomato Garlic Sauce
This simple homemade Roasted Tomato Garlic Sauce beats store-bought any day. Minimal effort, maximum reward. I've found that using a sheetpan makes the process more hands-off compared to making a sauce on the stovetop and also gives the sauce more depth because of the slight char. It's super versatile so you can make lots of easy weeknight dinners!
Other ways to use this sauce: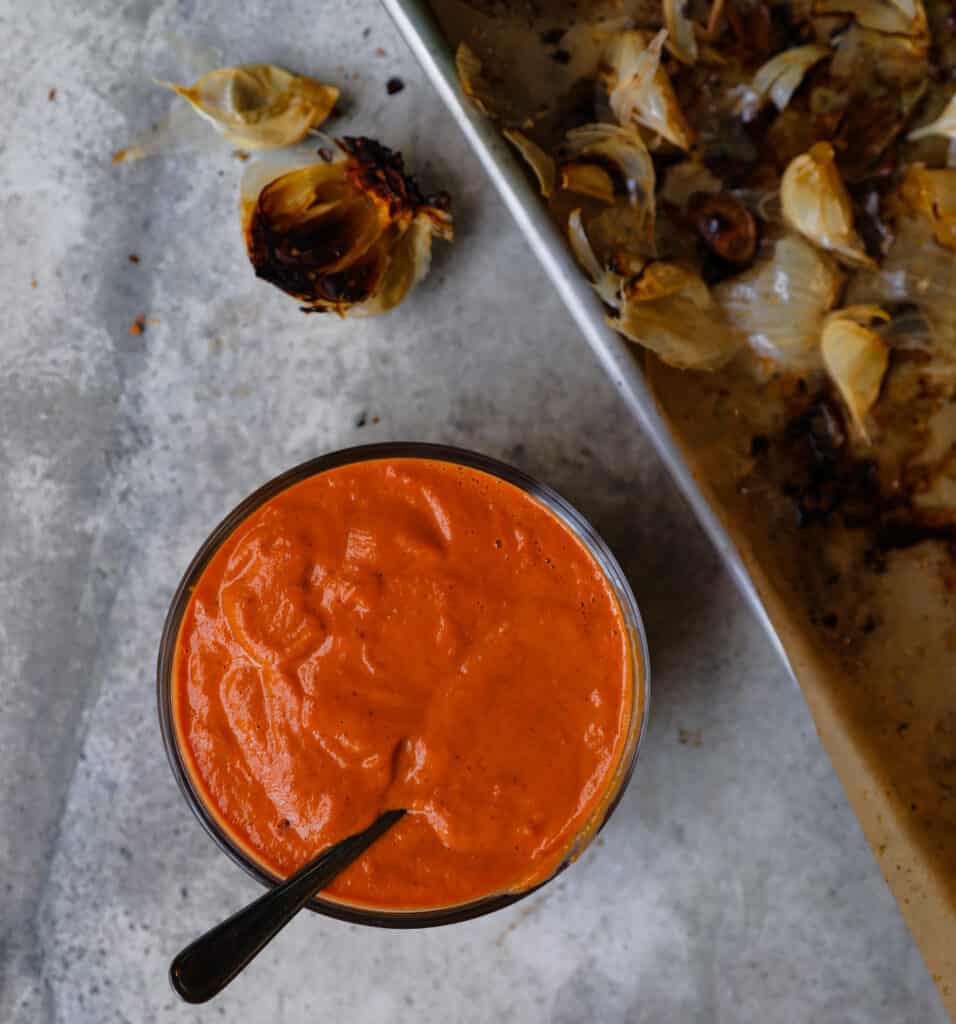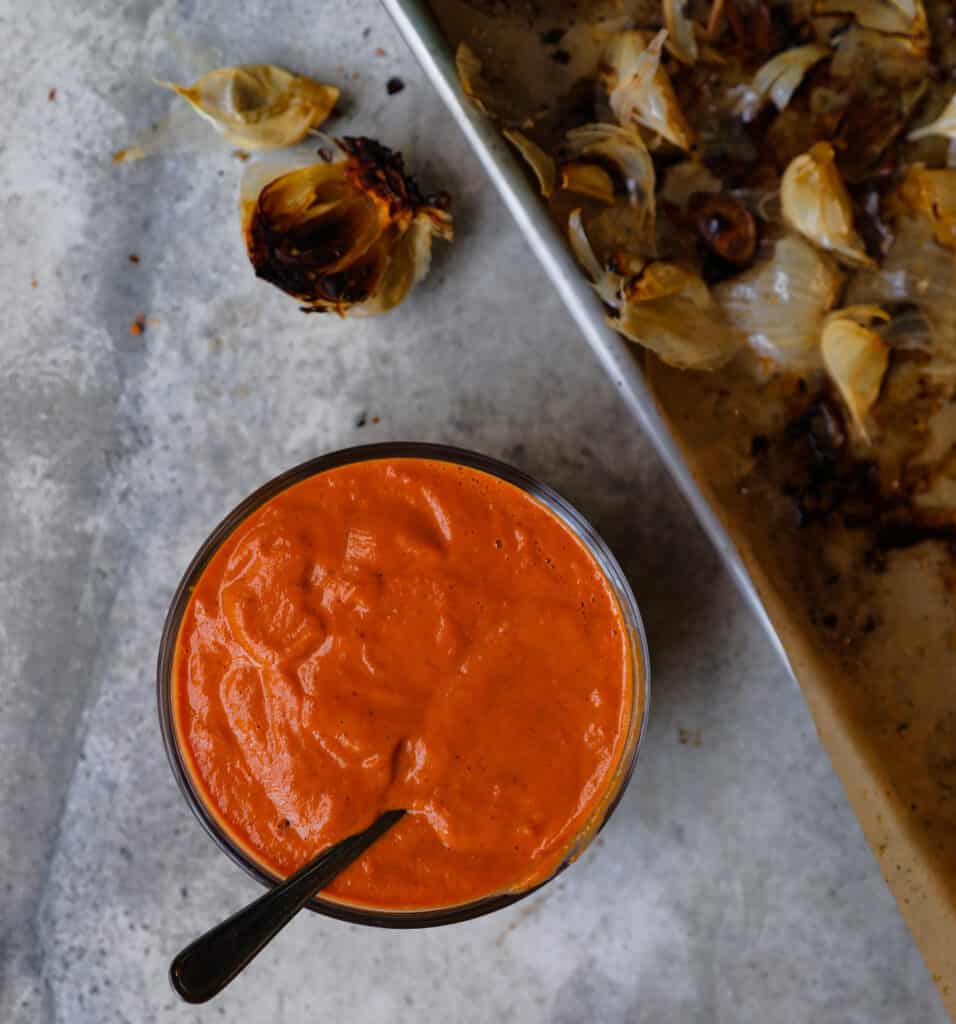 Serve with some simple roasted salmon. Drizzle some salmon with olive oil, salt and pepper. Roast at 375 until the thickest part is 115-120 degrees (usually about 13-15 minutes for a 1 pound filet). Top with sauce before serving.

Grain-Based Sides: Polenta, White Rice, Orzo
Vegetables: This sauce pairs great with roasted broccolini or green beans. If not wanting to use the oven, I'll saute some zucchini or asparagus.

Use as a sauce for pasta. I particularly love using rigatoni or penne with this sauce. I'll then add in some meatballs or shrimp.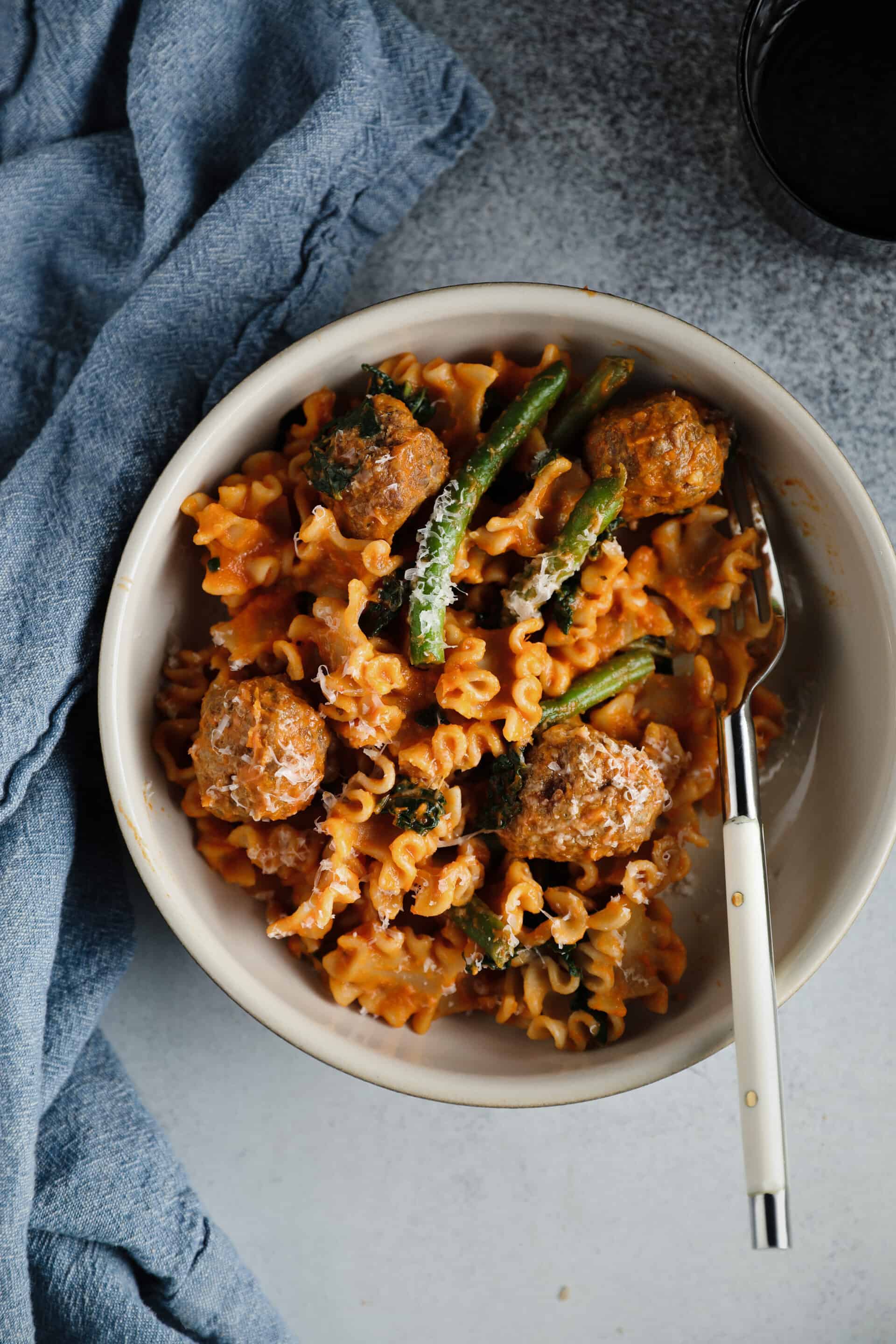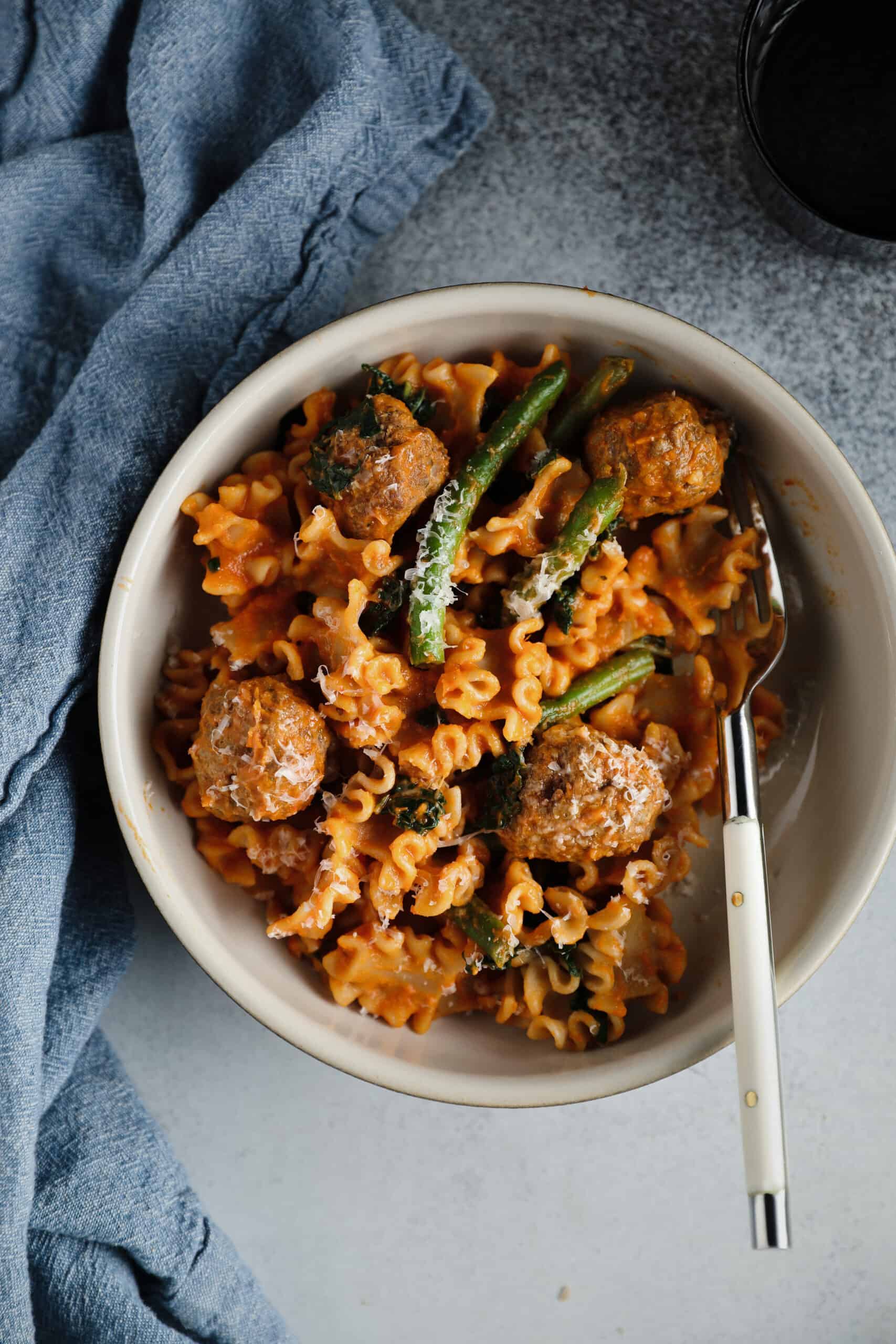 Roasted Tomato & Meatball Pasta with Greens
Parmesan Meatballs (makes double)
1/4

cup (28g)

almond meal or panko breadcrumbs 

1

pound

pound lean ground beef

1

egg

1

teaspoon

diamond kosher salt (if using any other salt, use half the amount)

2 

garlic cloves

,

crushed

1/4

cup

freshly grated parmesan

zest of 1

lemon
Remaining Ingredients (amounts are for 2)
1.5

cups

roasted tomato & garlic sauce

,

(see recipe below; use half of the full recipe)

8

ounces

pasta of choice

1/2

bunch

kale

,

cut into ribbons

2

cups

green beans

,

cut into 1'' pieces

1/4

cup

fresh parmesan

,

for topping
Make roasted garlic tomato sauce (can be done up to 7-9 days in advance).
Make the meatballs: (can be done in advance)
Line a baking sheet with foil and spray with oil.

Using clean hands, combine all ingredients in a large bowl. Shape into small balls* that are about the size of a tablespoon and place on pan.

*I've found that a smaller size browns better and cooks all the way through more uniformly and quickly (especially from frozen).
Cook pasta and vegetables:
Cook pasta according to package directions in a medium saucepot (ideally the same one you'll use for the sauce and meatballs). When there are 3 minutes left in the cooking time, add in the kale and green beans (ex: If pasta takes 10 minutes to cook, add in kale and green beans at 7 minutes). Once cooked, place pasta and greens in a colander and set aside. Lightly clean saucepot, but you'll reuse it so go easy on the cleaning (that's the point!).

Add roasted tomato sauce to the same medium saucepot and heat over low heat. Add in meatballs and cover pot. Simmer until meatballs are cooked through, about 7 minutes.

Remove cover and add in pasta and vegetables. Stir. Top with parmesan and serve.