This hearty vegetarian meal is loaded with flavor and veggies. Don't be scared by the somewhat long list of ingredients- most of it is spices or vegetables. Luckily, these spices are fairly common- I didn't have to buy any spices in particular for this (and if you do- I promise that you'll use them again). Cater the vegetables in this recipe to what you have on hand- other options that could be added here are broccoli, cauliflower, or winter squash (if doing winter squash or potatoes, add those in first and cook for an additional 5-10 minutes, as they will take longer to cook).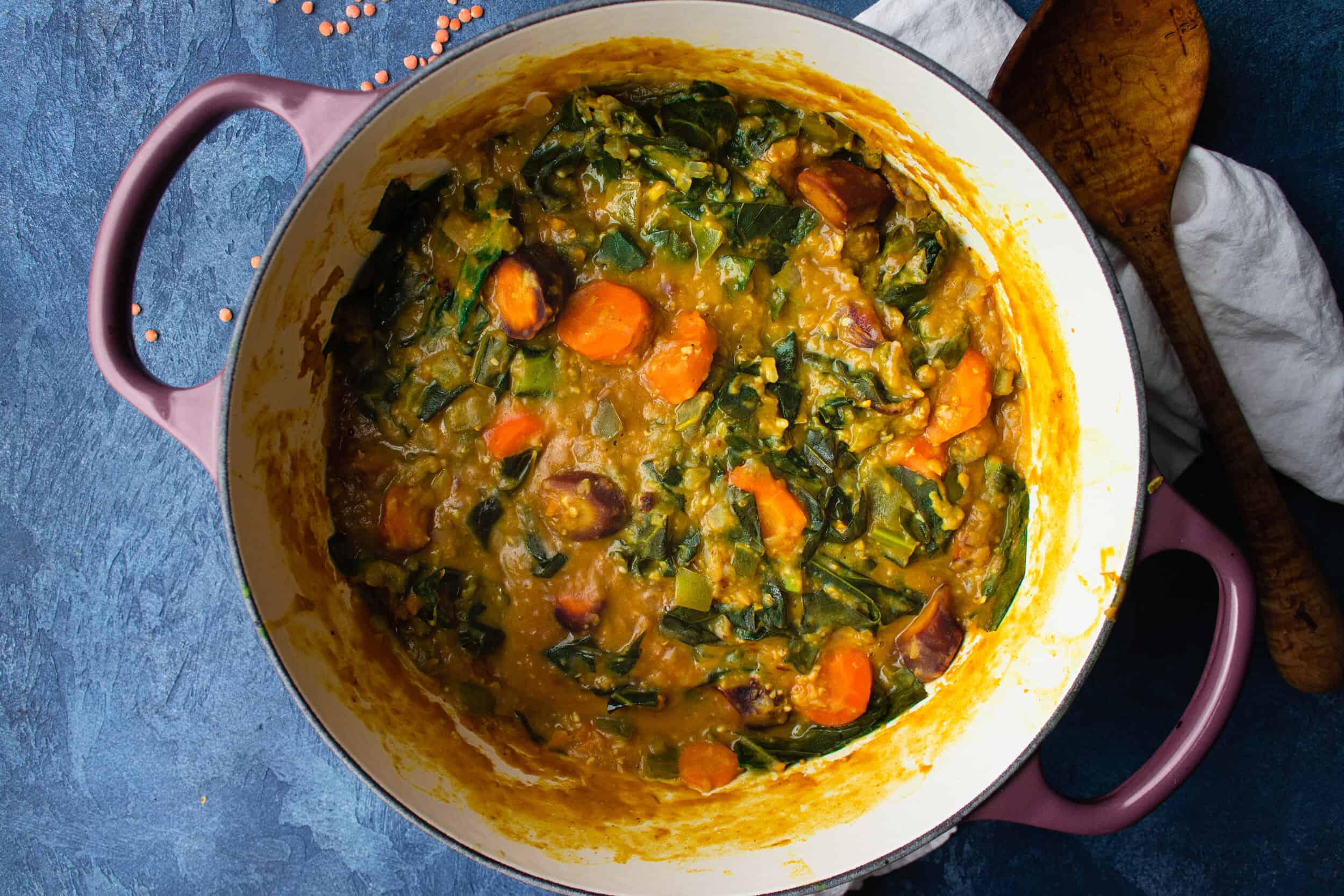 Instant Pot Turmeric & Ginger Red Lentil Stew with Greens
2-3

tablespoons

extra virgin olive oil

,

enough to generously coat bottom of pan

1

yellow onion

,

diced

2

tablespoons

minced garlic

,

, about 5 cloves

1

ounce

fresh ginger

,

grated or minced

1/2

ounce

fresh turmeric

,

grated or minced OR 1 teaspoon dried turmeric

2

teaspoons

yellow curry powder

1

teaspoon

sea salt

1

teaspoon

cumin

1

can full-fat coconut milk

1

cup

red lentils

4

cups

low sodium vegetable stock

5

carrots

,

cut into 1/4'' rounds

2

green peppers

,

diced

1/2

bunch collard greens

,

cut into ribbons * can also use spinach or kale!
Place a large soup pot over low to medium heat. Add in oil and onion. Saute onion until translucent and light brown, about 5-7 minutes.

Add in all the spices (garlic, ginger, turmeric, curry, sea salt, and cumin) and stir to evenly coat onions.

Add in coconut milk and saute for an additional minute or two.

Add in red lentils and vegetable stock. Bring to a boil and then reduce heat to a simmer.

Simmer, covered, for 25 minutes, until red lentils are mostly broken down.

Add in carrots and green peppers and continue to simmer, covered, until carrots are just about tender, about 8-10 more minutes.

Add in greens last- if using a heartier and tougher green like collards or kale, you'll need to cook them for about 5-8 minutes. For spinach, 2-3 minutes will do. When adding the greens, don't worry about them stacking and steaming on top- just add the greens on top of the lentil mixture, cover the pot, and let them steam to reduce in size. After a few minutes, you can then stir the greens easily into the mixture and let them continue to cook as needed.

Serve with basmati rice and (more) vegetables of your choice- I like serving this with green beans. Veggies galore!