I'm gonna be honest: I've tried a lot of zucchini fritter recipes. A good zucchini fritter= SO GOOD. However, from my experience with multiple recipes, they often can be a bit temperamental, resulting in fritters that fall apart, have a more pancake-like texture, or suffer from watery zucchini… which also felt like it took an hour to prep. There's nothing worse than feeling like you took painstaking measures to drain zucchini and then it still doesn't work out.
These fritters though? They're perfectly crispy, unfussy and hold together, and super flavorful thanks to red lentils, ginger, and turmeric (which also keeps it gluten and dairy free). Red lentils act as the base in this recipe, adding both flavor and texture while also helping bind the fritters.
Never used red lentils? Don't worry. Nothing to fret about. This is the perfect recipe to try them out for the first time. Unlike other lentils and beans, you don't have to pre-cook these. Literally all you do is soak them for at least 45 minutes and then process them in the food processor. They will then cook when you fry up the fritters.
One other tip- don't grate zucchini. Instead, I use a mandolin to slice it very thinly and then slice it into thin strips. It sounds like it takes more time, but it doesn't (and grating can be a watery mess).
P.S. If you're wondering what a mandoline is… or thinking this is an unnecessary piece of kitchen equipment, I'm here to tell you it's a worthwhile piece to get in your kitchen. I use it on almost a daily basis for cutting and slicing vegetables for salads and dinners. Sadly, I haven't been able to track down my favorite mandoline I got about 10 years ago, but it's somewhat similar to this OXO one on Amazon. This one I can attest to as well- it's a bit larger so if you're tight on space, I recommend the OXO one, but this is the one I convinced my mom to get and it works very well! It's also cheaper than the OXO one. If you're looking for something less expensive, there are options for around $20 on Amazon that have good reviews, I just haven't used them.
This recipe is adapted from Bon Appetit- such a genius way to add in and use these red lentils! I've just simplified a bit and changed the flavors, but see the original recipe here.
What to serve this with:
Vegetarian Option: Grilled or Sauteed Zucchini/Summer Squash, and Yellow Tomato with White Rice
Fish Option: Ginger Turmeric Roasted Fish– this takes about 10-15 minutes to make and uses similar flavors/ingredients.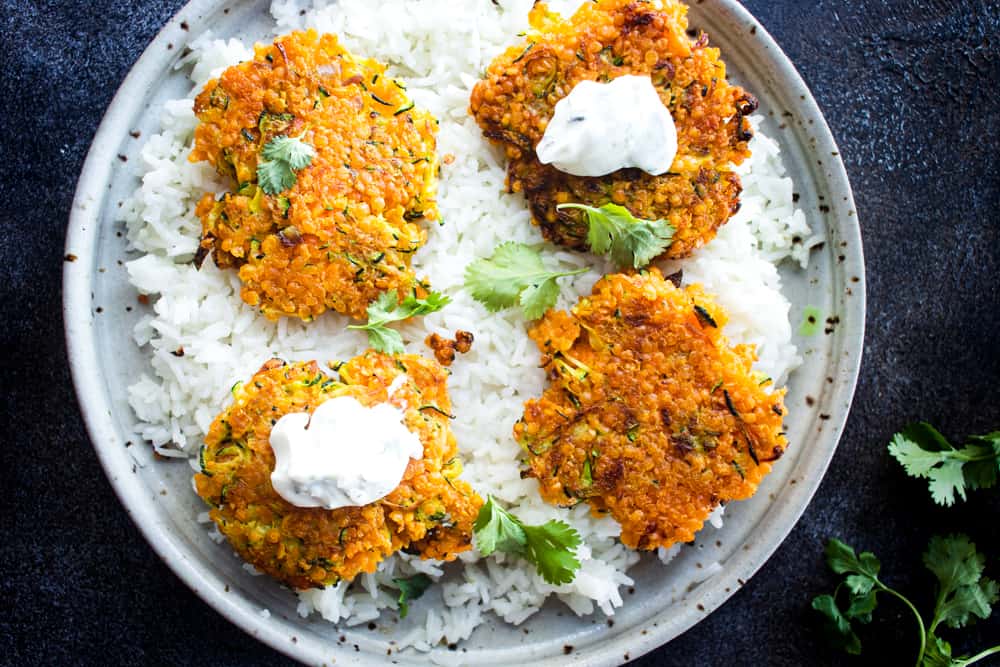 Crispy Zucchini & Red Lentil Turmeric Fritters
Adapted from Bon Appetit. See above for my recommendations on what to serve this with!
1

large (about 7-8 ounces)

zucchini

,

,sliced super thinly with mandolin (super thin) and mathsticked

1

cup

red lentils

,

, soaked for at least 45 minutes (ideally 60 minutes)

1/2

teaspoon

salt on zucchini

,

1/2 teaspoon salt in patties (let zucchini sit for about 30-60 minutes; then pat dry)

1/2

teaspoon

turmeric

2

garlic cloves

1

shallot

,

chopped

1

tablespoon

minced cilantro

Zest of 1 lemon or lime

1/4

cup

coconut oil
Place red lentils in a big bowl of water. Soak for at least 45 minutes, up to 12 hours.

Slice zucchini into thinnest round slices possible (use a mandoline if you have it). Then slice zucchini into 1/4'' thick matchsticks. Place zucchini in a colander. Sprinkle with 1/2 teaspoon kosher salt. Put a paper towel over them and place a can or something with some weight over them to help them drain. Let sit for 30-120 minutes, until at least 1 tablespoon liquid has been released. Gently pat dry with paper towels. Less water= cripsier fritters.

Place garlic and shallot into food processor and run to chop. Then add in lentils (drained and patted dry), another 1/2 teaspoon salt, lime zest, and cilantro. Run food processor until a puree forms.

Add in zucchini and briefly pulse to combine and mix. If you have a smaller food processor and it's tight on space, you can also do this in a large bowl.

Heat oil in a cast iron skillet or nonstick skillet- be generous so it doesn't stick. Create small patties, about 1/4 cup or the size of your palm. Try to keep them somewhat thin.

Fry on each side until nice and brown, about 2-3 minutes per side. You do need to be a bit gentle with the fritters initially, but they should firm up as they cook. Once fully cooked, place fritters on a paper towel to drain excess oil.

Serve immediately with some cilantro. Sometimes I'll serve this with guacamole or tzatziki sauce. This does keep for a few days after- I recommend reheating in oven at 350 for a few minutes to keep them crispy, but you can also microwave if needed (they just won't stay as crispy).