Finally the leaves are changing and I'm ready to get in the fall spirit. These healthy-ish pumpkin chai muffins are full of quintessential fall flavors and an additional kick of chai makes them just a bit special. They're also whole grain and reduced in sugar compared to your typical muffin.
These pumpkin chai muffins are a play on my oh-so-favorite one bowl banana muffins. It's become my go-to for any muffin recipe because it has the perfect balance of being sweet, without loads of sugar. The rest of the ingredients are fairly clean as well, so this functions as a great snack too.
The goal was to create a fall version of these muffins and although perhaps cliche, nothing seems more like fall than pumpkin. However, after several recipe trials, I realized you do have to be careful with using canned pumpkin. Originally I tried to create a recipe that used a whole can of pumpkin. Sadly, it was way too much. It's a bit dene and so too much pumpkin created a texture that was somewhat gummy and unpleasant. On the other hand, I was wary of reducing the pumpkin so much that it's flavor doesn't come through.
Which is where the other spices come through! A heavy dose of pumpkin pie spice helps bring out that pumpkin flavor and everything we associate with it. Then I added in loose chai tea, which is full of warm spices like cardamom, cinnamon, and cloves. While I don't do it as often as I should, adding in tea is such a fun way to add a boost of flavor to any cake. At first, I was a bit skeptical loose tea would be overpowering, but this Earl Grey Tea Cake by Molly Baz convinced me otherwise. While some recipes steep the tea in cream, I don't think it's necessary for the flavor to come through (and the texture is fine).
One last note- you may think that the amount of salt and spice in here is a bit aggressive. Yes, it's more than a traditional recipe. Why? Because the amount of sugar is less than a traditional recipe. I recently learned from Joanna Chang in my science class that in some ways, sugar is like salt- it helps brings out the flavor and intensifies it. So if there's less sugar in a recipe, the other ingredients that are adding in flavor need to be amplified.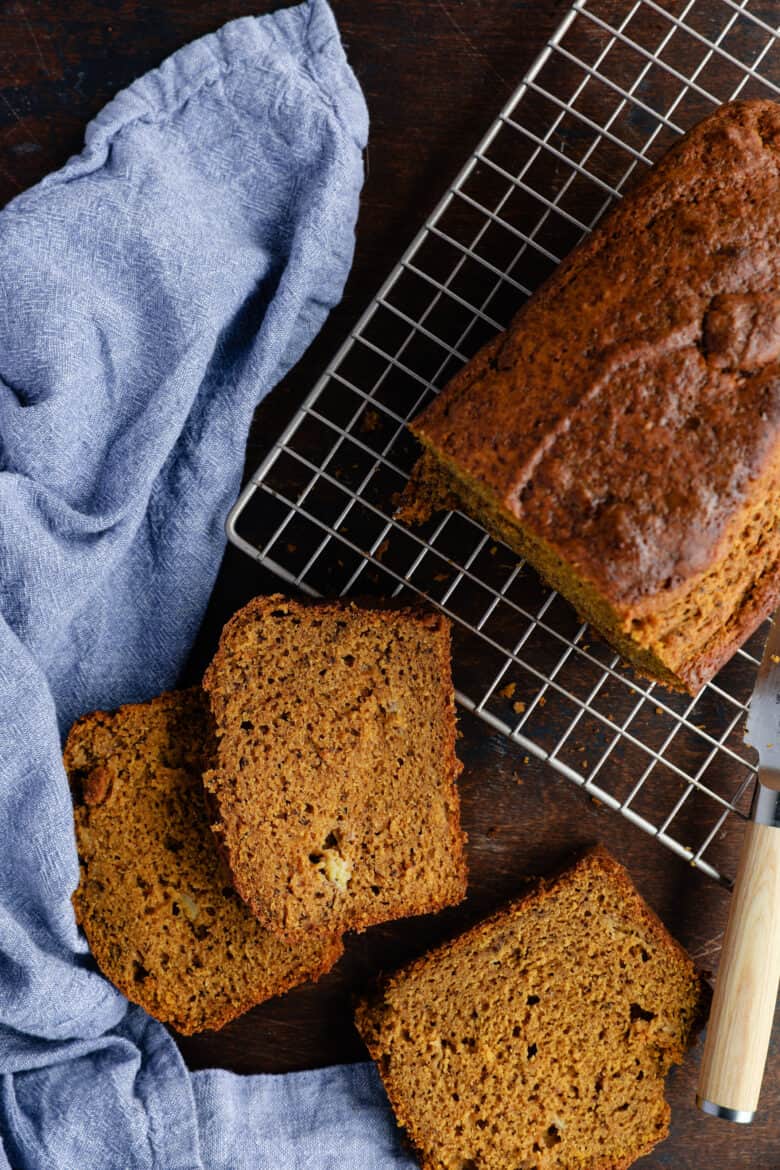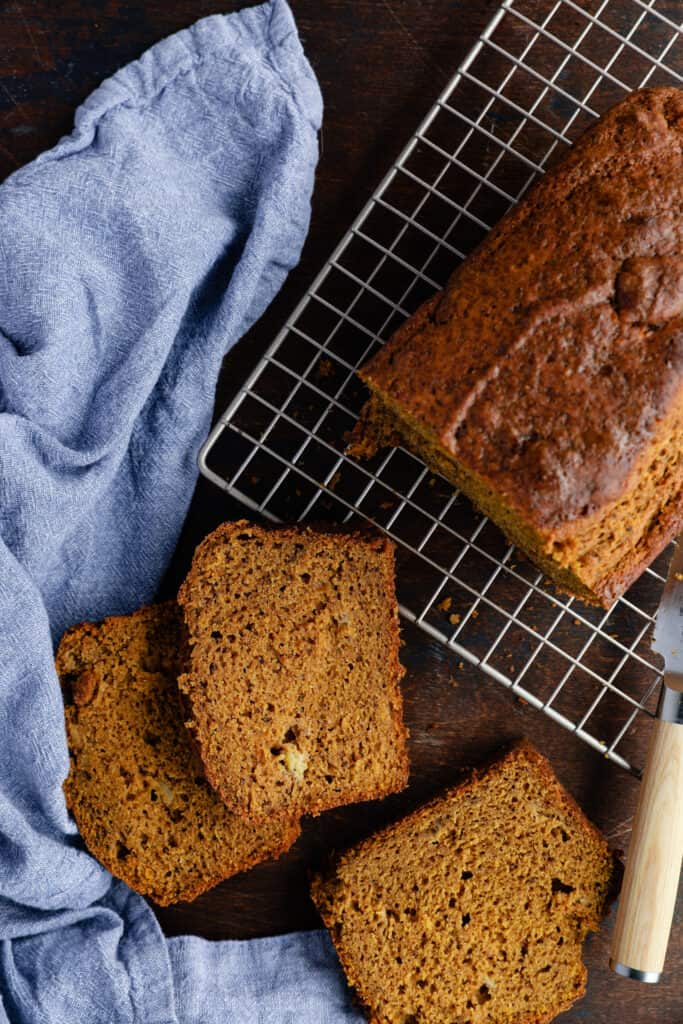 Make it a Loaf: Pumpkin Chai Spiced Bread
Guess what? You can also use this same recipe to make a quick bread. This is great if you don't have a muffin tin or looking to make this for a group.
Here's how:
Use a standard 8×5 or 9×5 loaf pan.
Increase the baking time to 45-60 minutes. I like to check after 45 just to be safe, but it usually is closer to 50-60 minutes. A toothpick should come out clean when put into the center. Cool on baking rack.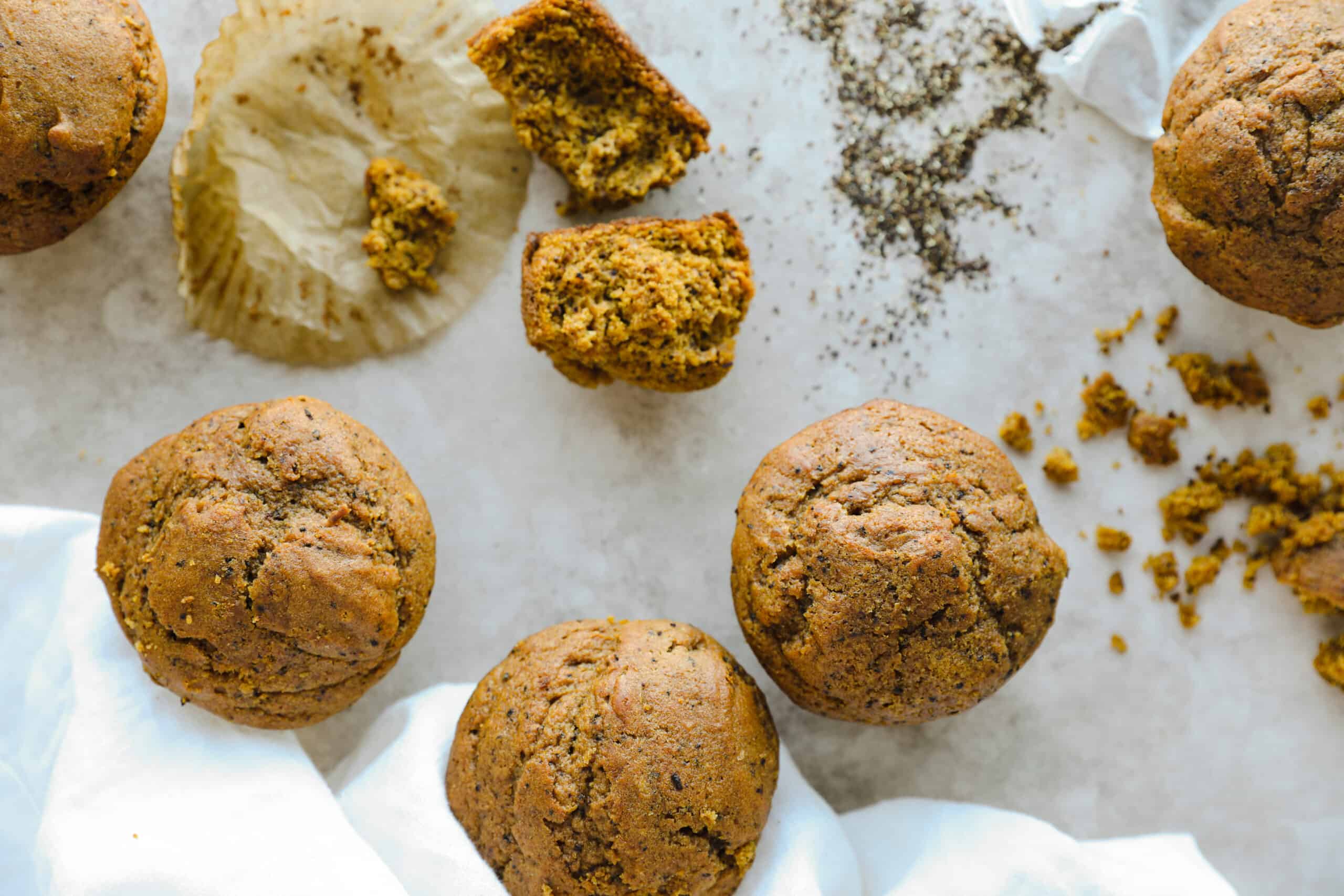 Pumpkin Chai Muffins
3

eggs

1

cup (240g)

pumpkin

1.5

teaspoons

vanilla extract

1/4 cup + 2 tablespoons

(75g)

white sugar

1/4 + 2 tablespoons

cup (75g)

light brown sugar or coconut sugar

3/4

cup

neutral oil (grapeseed or canola)

1 3/4

cups (225g)

whole wheat pastry, AP, or gluten free AP flour (I've used bobs red mill gluten-free flour and it worked great!)

1.5

teaspoons

baking powder

.5

teaspoons

baking soda

1.5

teaspoons

kosher salt

1.5

teaspoons

pumpkin spice

3

chai tea bags

optional: 1/4 cup

chocolate chips
In a large bowl, add eggs, pumpkin, vanilla extract, white sugar, and light brown sugar/coconut sugar. Whisk vigorously to combine.

Add in oil to the large bowl while whisking the mixture. Set aside.

In a medium bowl, add flour, baking powder, baking soda, kosher salt, pumpkin spice, and chai tea bags (cut open the bags and add in the loose leaf tea). Mix to combine.

Add in flour mixture to the wet ingredients and stir to combine using a whisk. Stir in chocolate chips if desired.

Prepare a muffin tin by adding cupcake liners to 9 cups. Using 1/4 cup measuring cup, add in a heaping 1/4 cup into each cupcake mold. If you'd like, you can sprinkle a bit of sugar on top of each muffin for a little sugary crunchy on top.

Place in oven and bake until a toothpick comes out clean, about 18-20 minutes.