This Sheet Pan Gnocchi with Winter Squash, Kale & Chicken Sausage is just one of the many remixes I've done on sheet pan gnocchi. Ever since I discovered the glory of sheet pan gnocchi in August, I've been remixing it with whatever veggies I have on hand. It's hands down the recipe I've made the most in the last four months. Here's why:
It takes about 5 minutes of prep (yes I'm serious), requires one pan, has endless possibilities, and is an all-in-one meal. It can be made of one, two, or more (although more may require a second sheet pan). Clean up is about as easy as it gets. The only con: you have to be patient while it roasts. Luckily even that is pretty quick: 20 minutes + another 5 after you add the cheese. Just enough time to clean or tidy, set the table, or even take a shower (yes, I speak from experience).
Endless Possibilities & Combinations: Sheet Pan Gnocchi with Winter Squash, Kale & Chicken Sausage
Recently I've been adding in some fall/winter produce and chicken sausage to add an easy boost of protein. See below for some of the variations I've made, but the point is you can really add almost whatever you want. See below for recommendations based on what I've done.
Favorite Vegetables to add that are in season:

Cauliflower- make sure to do tiny florets so they cook within the 20-25 minutes!
Winter Squash (includes butternut, red kuri, blue kuri, and other varities I've spotted at the market)- dice into tiny cubes to make sure they cook within 20-25 minute.
Kale- cut into ribbons and add in for a dose of greens that get quite crispy (think kale chips). If you don't like it on the charred/crispy side, either add in 5-10 minutes late or take out early.
Brussels Sprouts- cut in half and try to place cut side down for maximum browning.

Oyster Mushrooms- keep in large chunks because these have a quicker cooking time. Make sure to generously coat them in oil so they don't dry out.
Green Beans**: not seasonal right now, but my go-to vegetable that I never get sick of. Keep beans whole or cut in half.
Asparagus**: also not in season, but a similar vegetable to green beans in that they require almost no prep (literally cut once!) and they add a great boost of nutrients.

Other Vegetables that would probably work, but I haven't actually tried:
While I kept my sheet pan gnocchi dinners vegetarian in the summer, I've been adding more protein to my dinners to make them more filling. Chicken sausage is the perfect way to do this! It's so easy- just slice and toss it in with the rest! My personal favorite is Bilinski– great flavor and it's low in fat and high in protein. They have lots of flavors, although the Mild Italian is my favorite because it's quite versatile.
Get Inspired!
Here are some of the different combinations I've done. They all are a bit similar, but I hope this shows you how you can change it up with a vegetable or two!
Kale, Winter Squash, & Chicken Sausage Sheet Pan Gnocchi with Asiago & Parmesan
Red Kuri Squash, Cauliflower, Kale, Green Bean, & Sausage Sheet Pan Gnocchi with Arugula Pesto

Dice the squash into quite small pieces so they get tender more quickly. If you keep them in larger chunks, they will require a longer cooking time compared to everything else.
Similarly, make sure the cauliflower is in quite small florets.
The kale will get a bit crispy and close to charred by the end. Feel free to remove it a few minutes early, but I've found that 20 minutes is fine for it.

Butternut Squash, Brussels Sprouts, Green Bean & Chicken Sausage Sheet Pan Gnocchi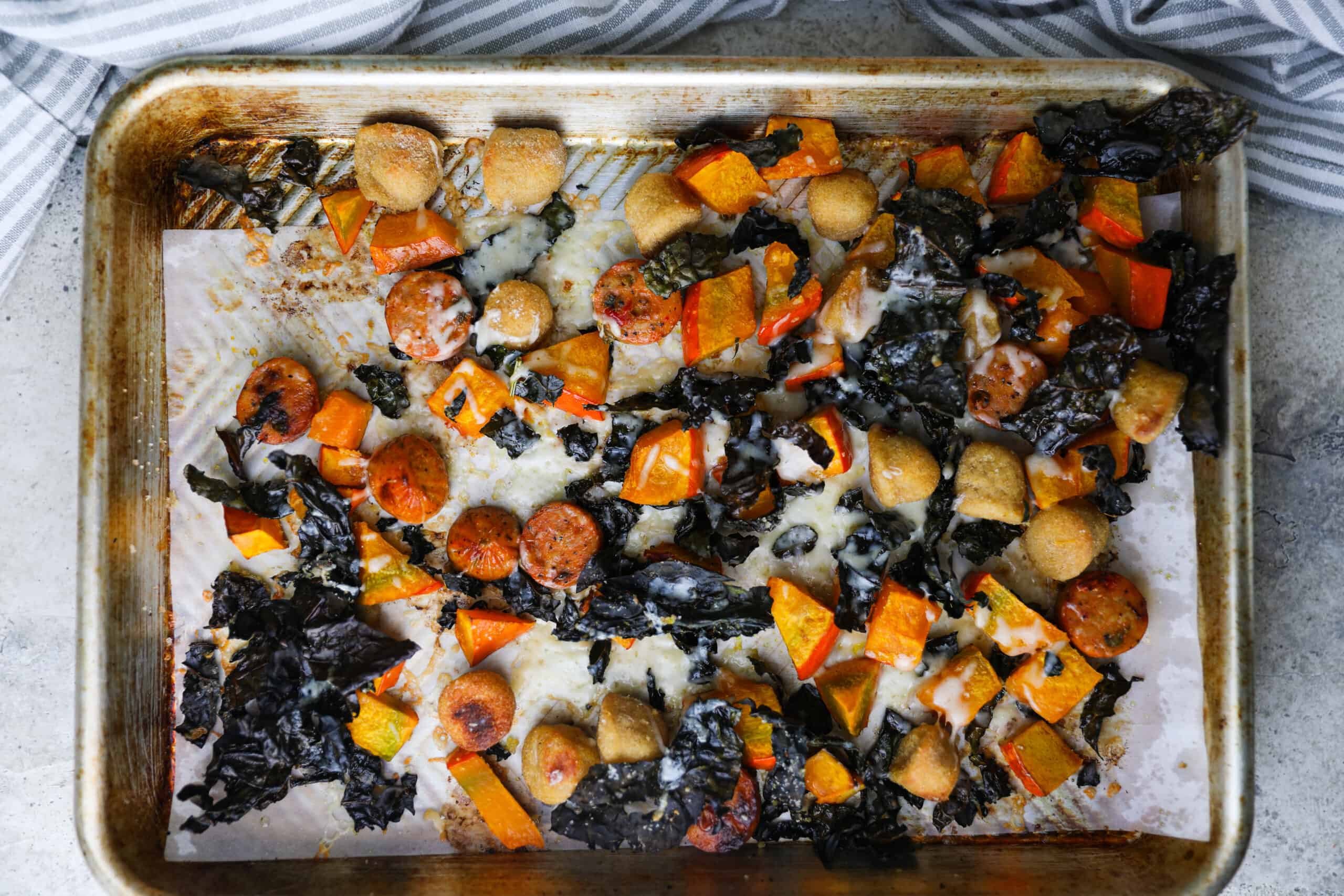 Sheet Pan Gnocchi with Winter Squash, Kale & Chicken Sausage
8

ounces

cauliflower gnocchi

,

, or other gnocchi of your choice

1/2

pound

cauliflower florets

,

(about 1/2 small cauliflower head)

1

pound

diced winter squash

,

(like butternut or red kuri squash)

2

cups

lacinato kale

,

, cut into ribbons

2

chicken sausage links

,

, sliced

1

teaspoon

diamond kosher salt (if using any other salt, use half the amount)

1-2

tablespoons

extra virgin olive oil

1/4

cup

parmesan or Whole Foods shredded Italian blend

optional:

arugula pesto (see recipe below- this lasts for 1-2 weeks in the fridge!)
Line a baking sheet with parchment. Add gnocchi, vegetables, and chicken sausage. Season with salt and extra virgin olive oil and toss to coat in oil.

Roast until veggies are browned and gnocchi is beginning to brown, about 20 minutes. Remove from oven for a second to sprinkle on parmesan/cheese and remove kale if it looks like it's close to charring too much.

Place back in oven for an additional 5 minutes on an upper rack (closer to the top- around 6'' from top), until cheese is fully melted. Serve (add arugula pesto at end if using).